Grocery Pup is a Texas-born and -bred company that provides fresh sous-vide dog food. The sous-vide cooking technique locks in the nutrients, taste, and texture of its meats, whole vegetables and fruits. All of its ingredients are human-grade, non-GMO, and pesticide free.   The meals are delivered right to your door on a subscription basis, or you can test it out via their sampler pack.
Get 30% Off your Pup's 1st Meal Delivery with code FRESH30 when you subscribe at Grocery Pup!
Today, I will be reviewing a Grocery Pup Meal Delivery! My beautiful dog, Lorelei, normally couldn't care less about my subscription box deliveries. She wouldn't leave this box alone though! She must have known that there was some yummy food for her inside of it….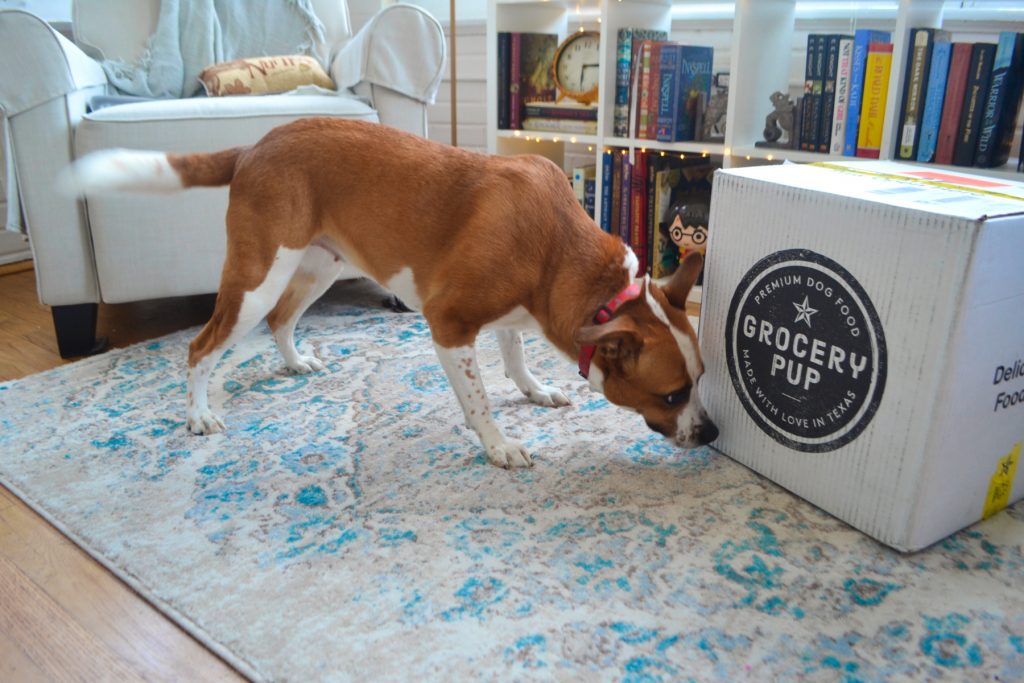 When I first opened the box, this brochure was lying on top of the packing materials. The brochure contained helpful information about the dog food  such as details about the cooking process, ingredients for all of their meal options, and instructions on how to use the food.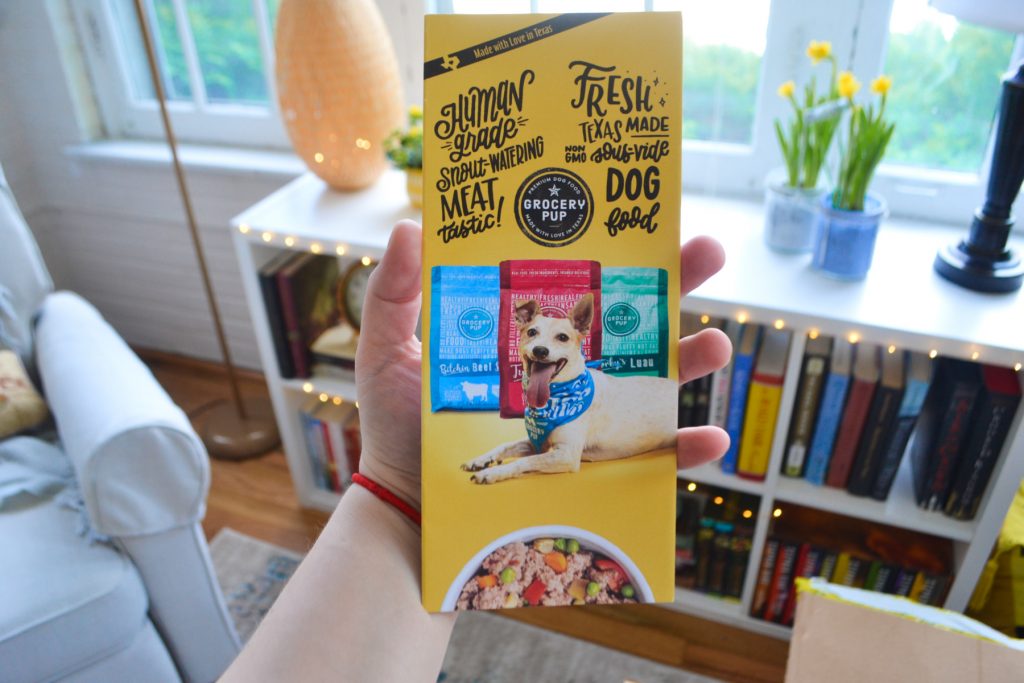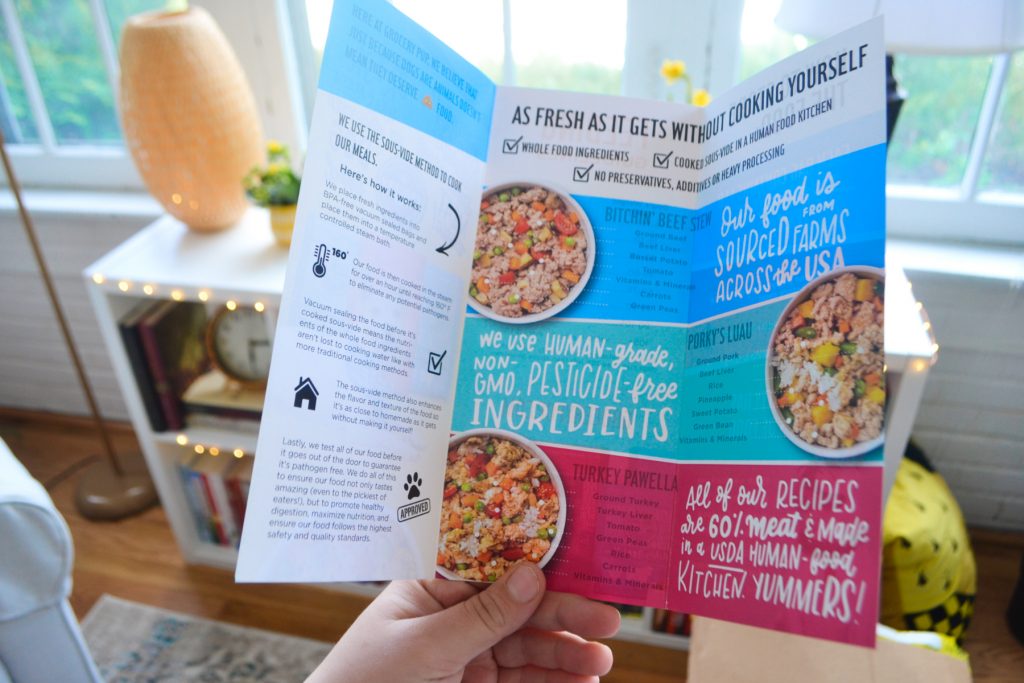 The bags of food were insulated in a thick layer of foam, with ice on the bottom. This ensured that they arrived frozen and safe for my pup to eat.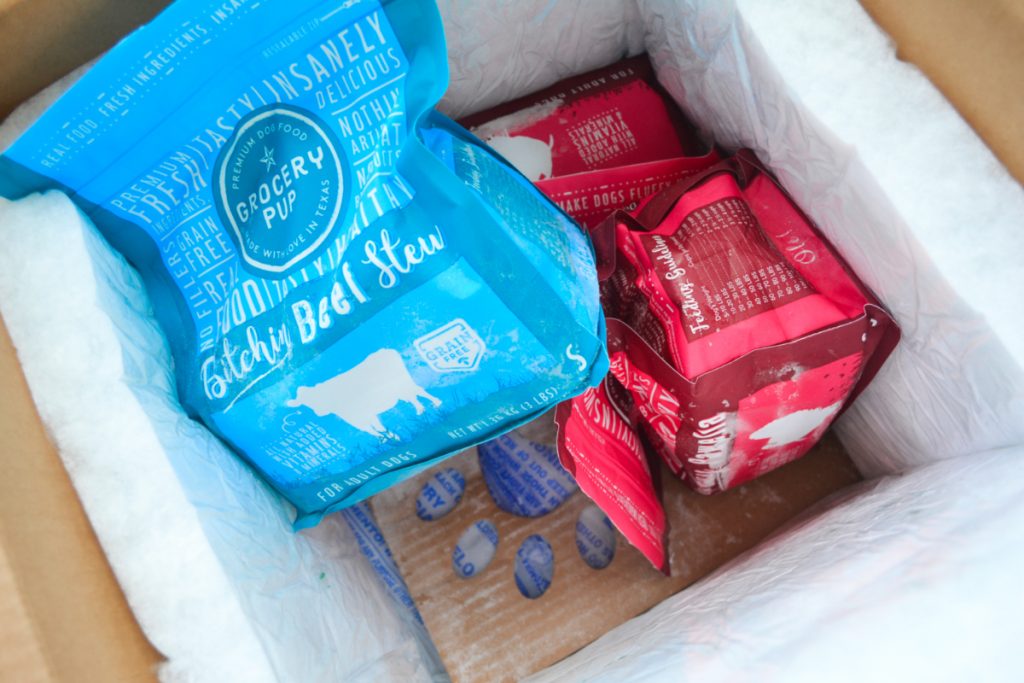 You have many options in the Grocery Pup store! You can purchase a sampler pack with Bitchin' Beef Stew, Turkey Pawella, and Porky's Luau.  Or you can purchase two bags of the individual varieties. I received a sampler pack, except with two bags of Turkey Pawella, and Porky's Luau was omitted per my request. Alternatively, you can sign up for their Subscribe+Save program, where you pick individual flavors or a variety pack of two flavors. If you are part of the Subscribe+save program, the food is reduced from $11.66/lb to $6.78/lb! Those are significant savings.
The Turkey Pawella is great for sensitive tummies! It's nutrition breakdown is: a minimum of 12.32% crude protein, a minimum of 5.86% crude fat, a maximum of .5% crude fiber, and a maximum of 72.8% moisture. This food is great for sensitive tummies! A 3 lb bag comes with 3 patties, which are 543 kcal each.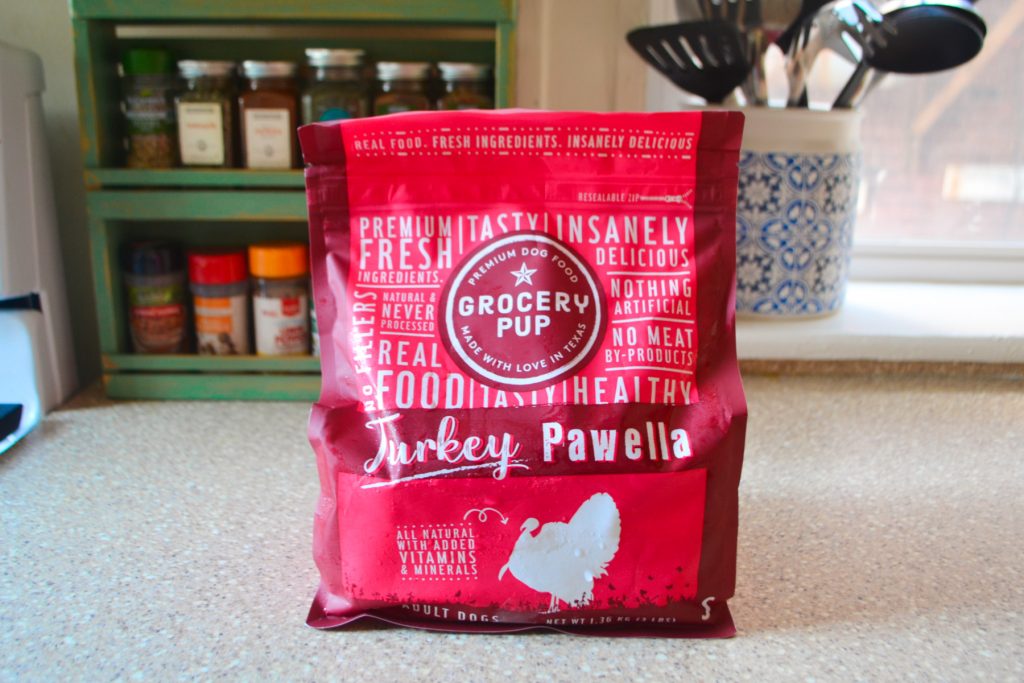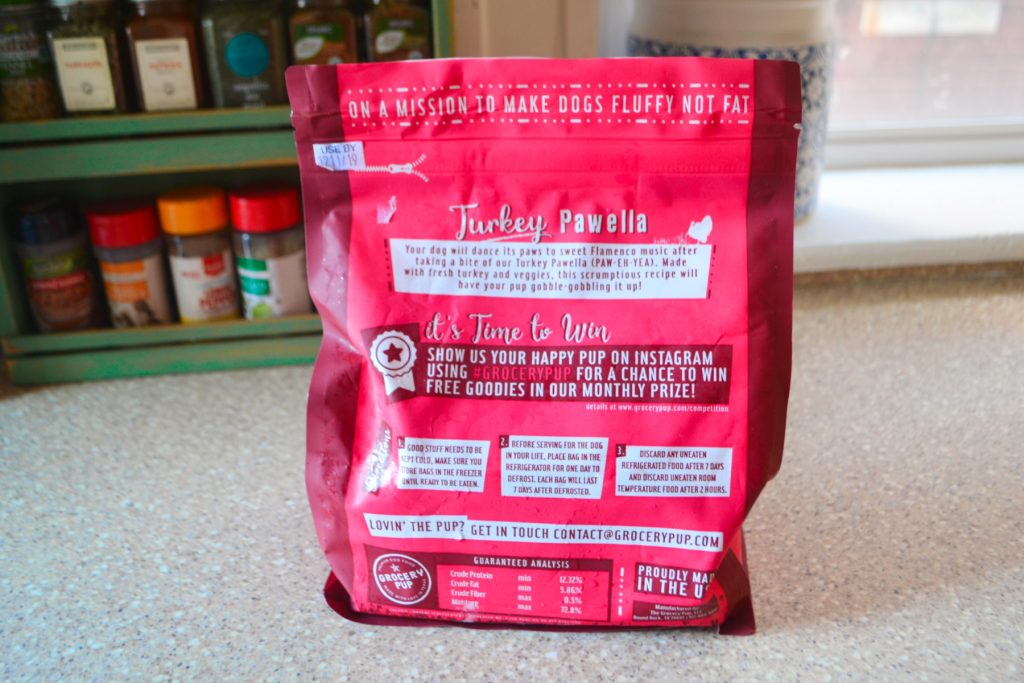 Bitchin' Beef Stew's nutrition breakdown is: a minimum of 12.6% crude protein and 6.52% crude fat. A maximum of 1.1% crude fiber and 72.6% moisture. A 3 lb bag comes with 3 patties, which are 549 kcal each.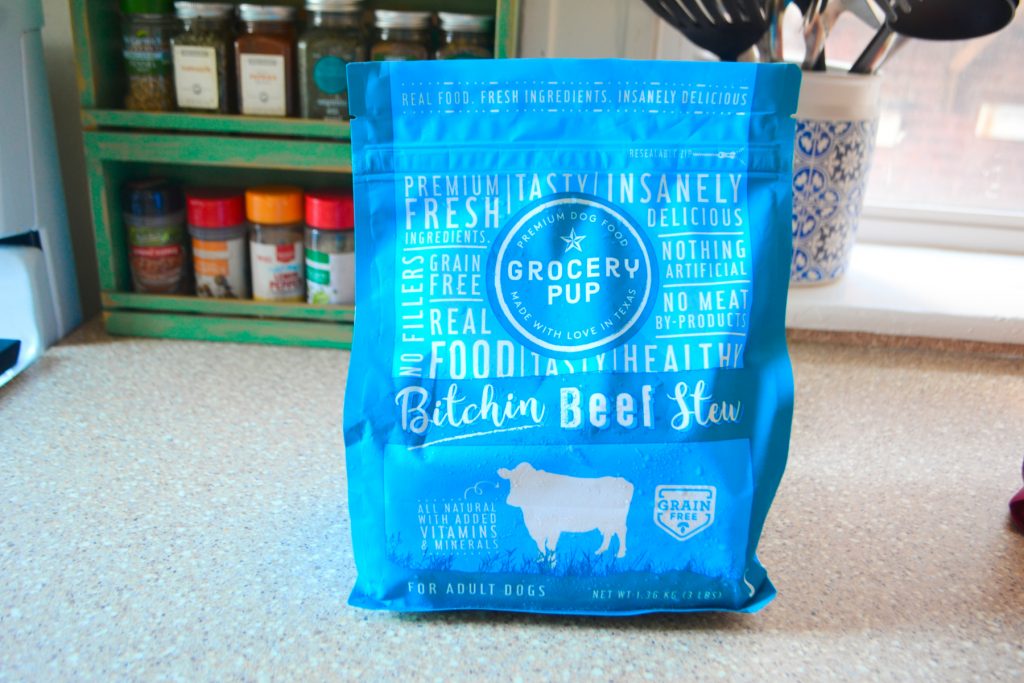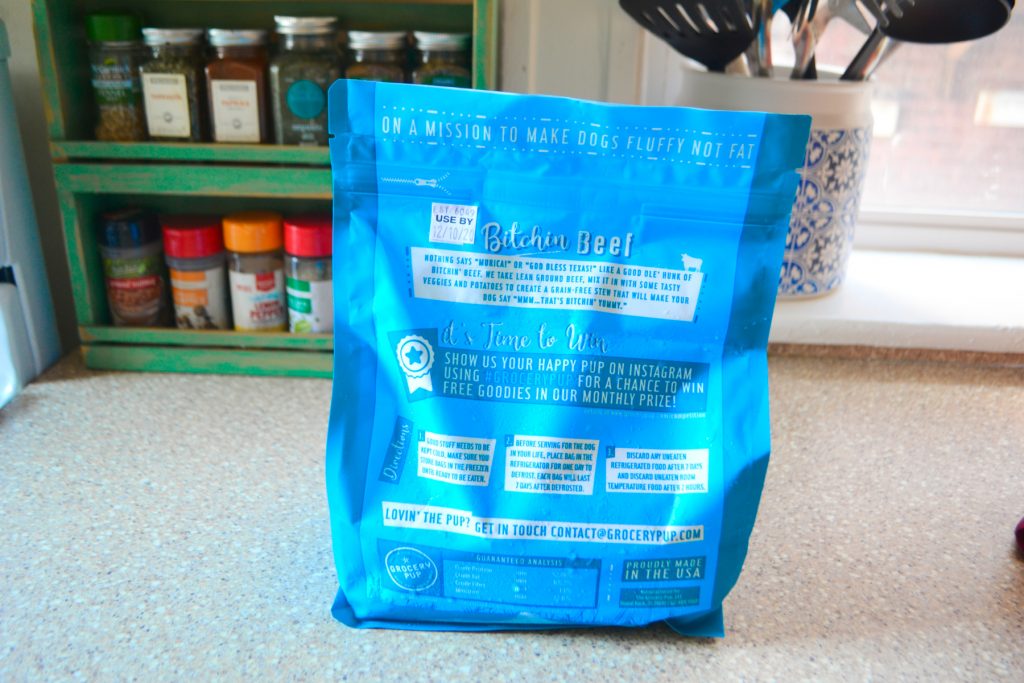 Here are what the "patties" look like. I kept the bags in the fridge, and stuck each patty in the fridge the night before I needed to use it. Each patty is one pound, and the equivalent of 2 cups of food.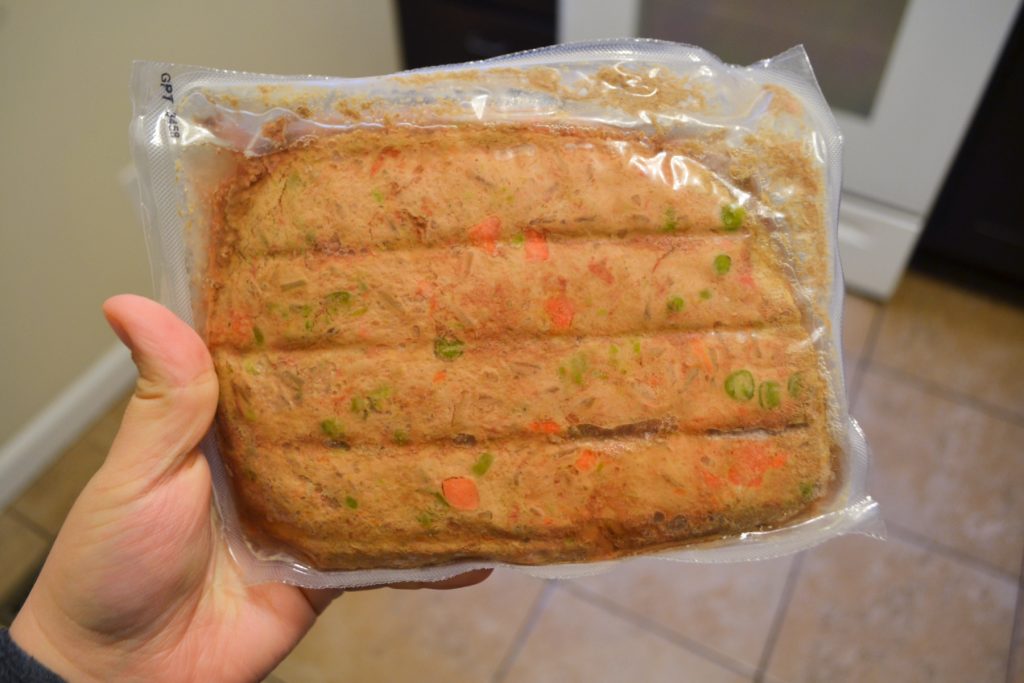 Every time Lorelei heard me getting her dog food out of the fridge, she ran to the kitchen and waited patiently! Normally, she grazes her food over the course of 12 hours. However, she just can't get enough of Grocery Pup!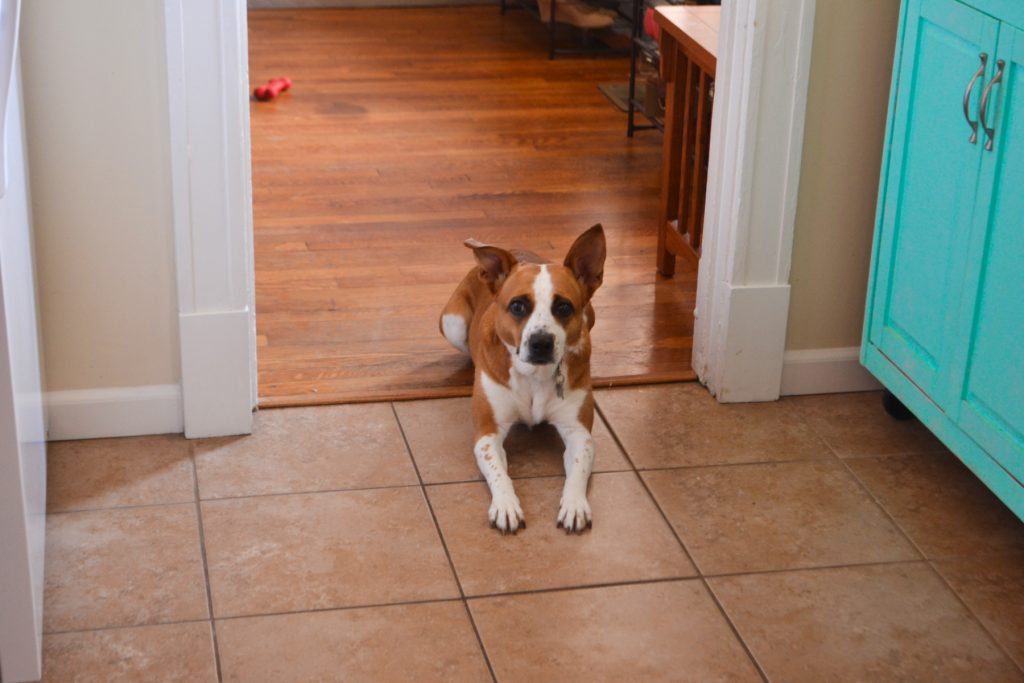 Here is what one patty of Turkey Pawella looks like. Lorelei is 35 lbs, so I gave her one full patty. The Grocery Pup brochure has feeding guidelines with a chart for different weights; if you lose the brochure, you can just check their website.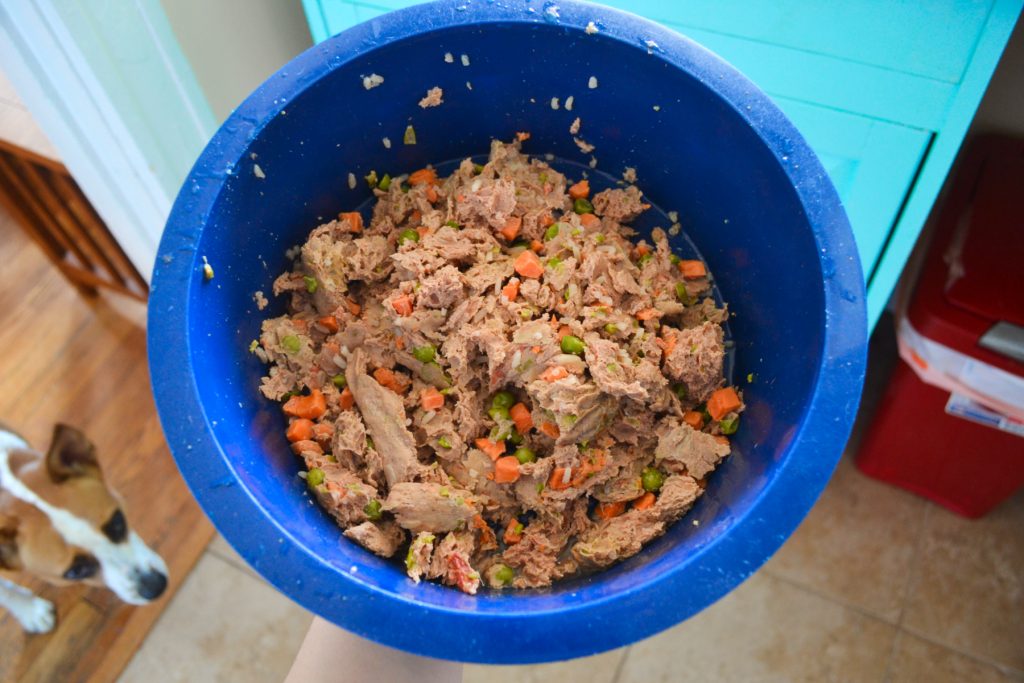 The moment I set her food down, she gobbled it right up! I have never seen her eat so vigorously before, and it was seriously heart-warming.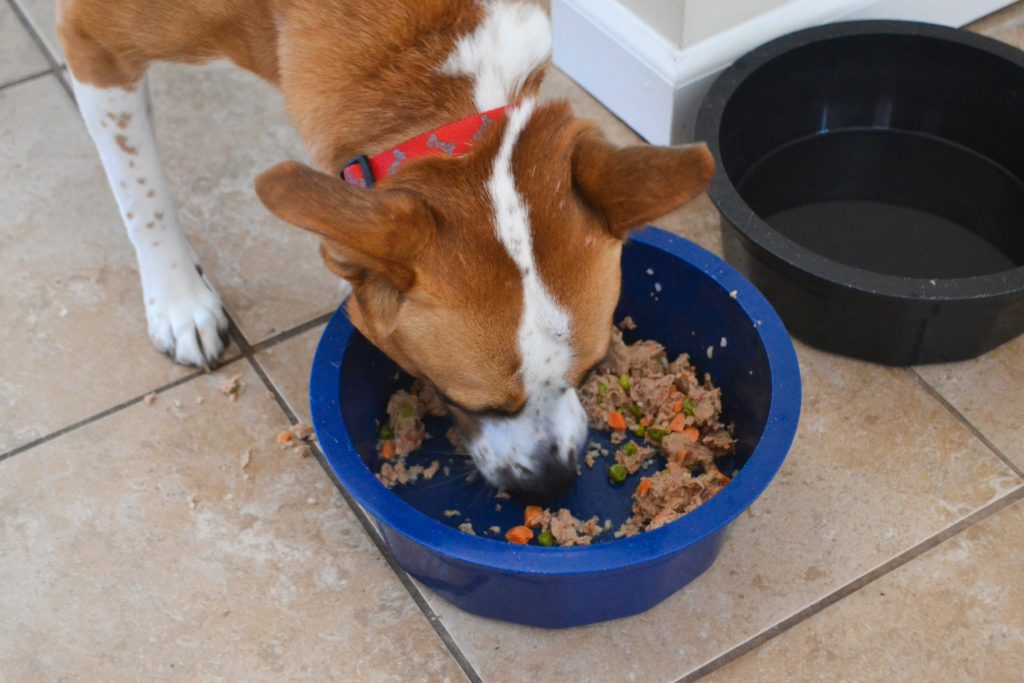 Grocery Pup is an awesome way to give your dog high-quality, tasty food. You can tell that there was a lot of care put into developing the recipes. They are made with wholesome ingredients, and are a great choice for most dogs. If you sign up for the Subscribe + Save program, you can get a significant discount. If you don't think you can afford a full plan, you can always purchase a half plan and mix it with dry food. A diet made of entirely dry food is the  most affordable way to feed a dog – BUT it is not necessarily best for their health. Your pup is a member of your family, and deserves to have healthy, delicious food just as much as you do!