Tarot N Tea combines the wondrous ritual of tea with personalized tarot readings. There are three subscription tiers: a Sampler, a Forecast Box, and a Fortune Box. The sample costs $9.99 per moth, and contains 4 3g teas and 4 card readings. The Forecast box costs $36.99 quarterly, and contains 4 7g teas, 4 card readings, and 4-5 tea and ritual accesories. The Fortune box costs $79.99 quarterly, and contains 6 7g teas, 6 card readings, and a wide range of accessories.
Today, I will be reviewing the Winter 2018 Fortune Ritual Tea Box. The box was a lot heftier than I anticipated! I was happy to see that Tarot n Tea uses recycled materials to keep the items secure.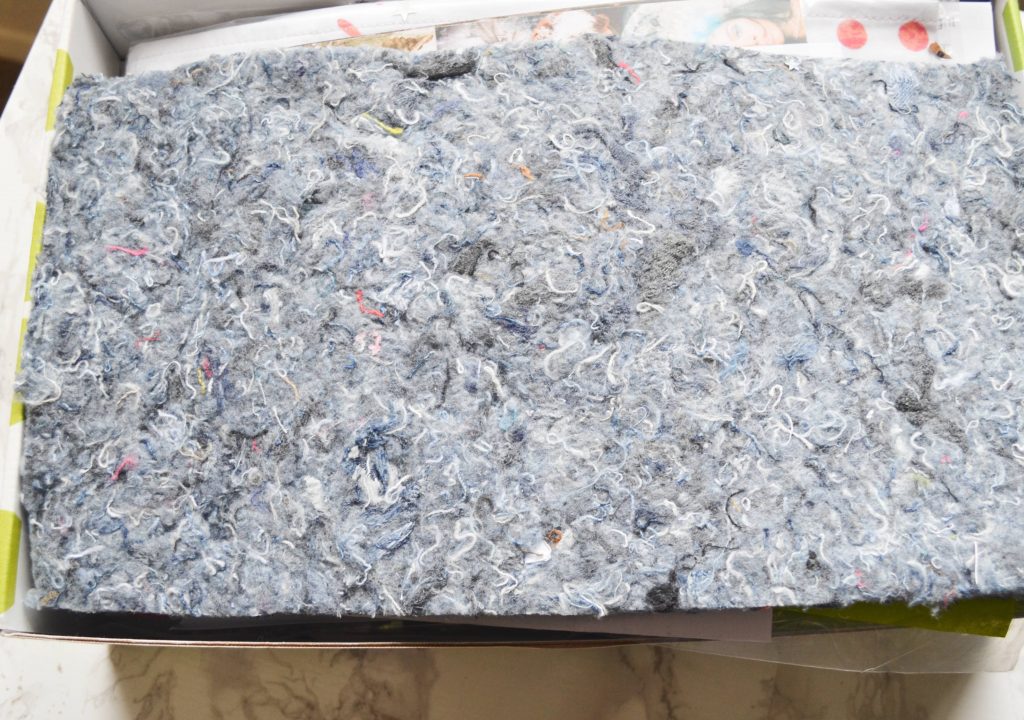 The Tarot N Tea box contained a LOT of inserts; let's take a look through them!
First, I received a holiday card with the opportunity to win a $50 amazon gift card for providing feedback.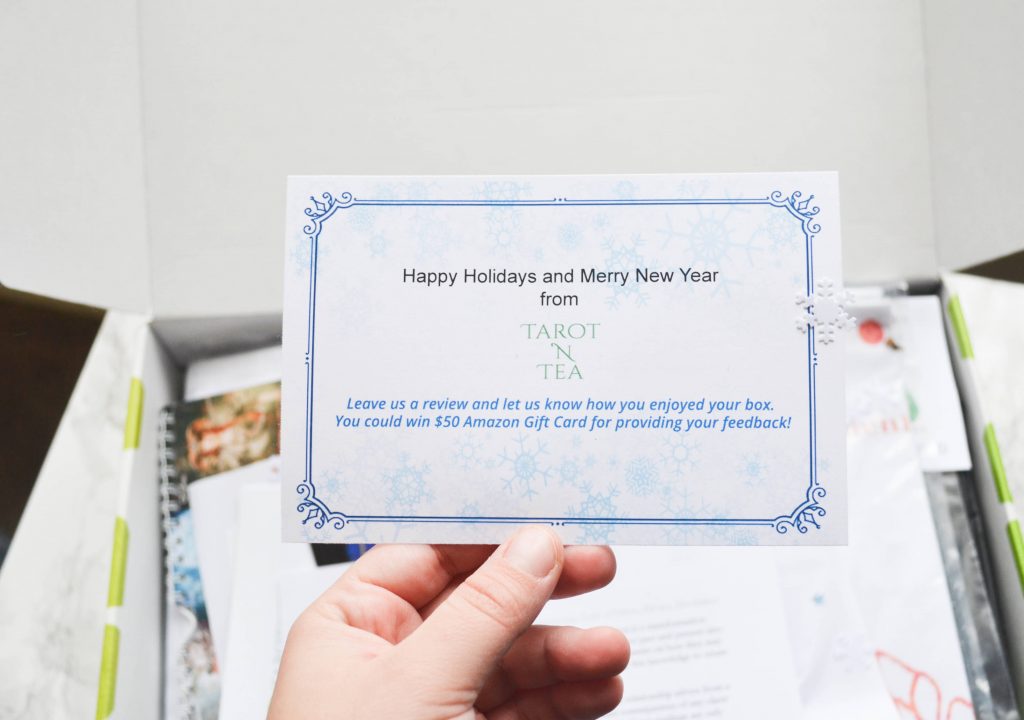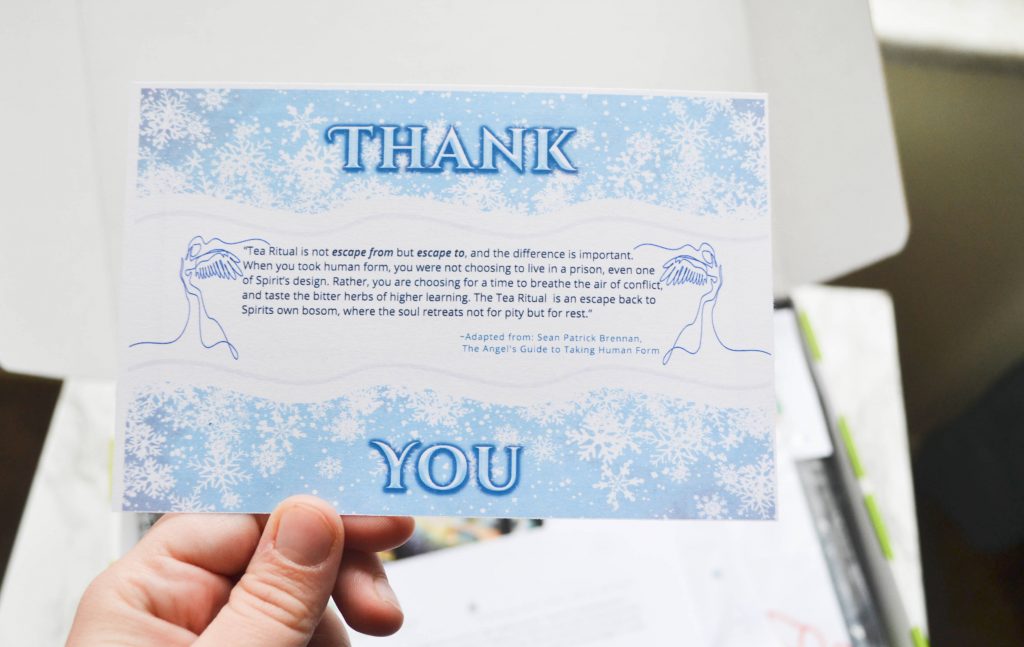 Tarot N Tea also sent out a box change notice, which explained that their cookie shipment was destroyed & that they were adding an extra tea towel to the box.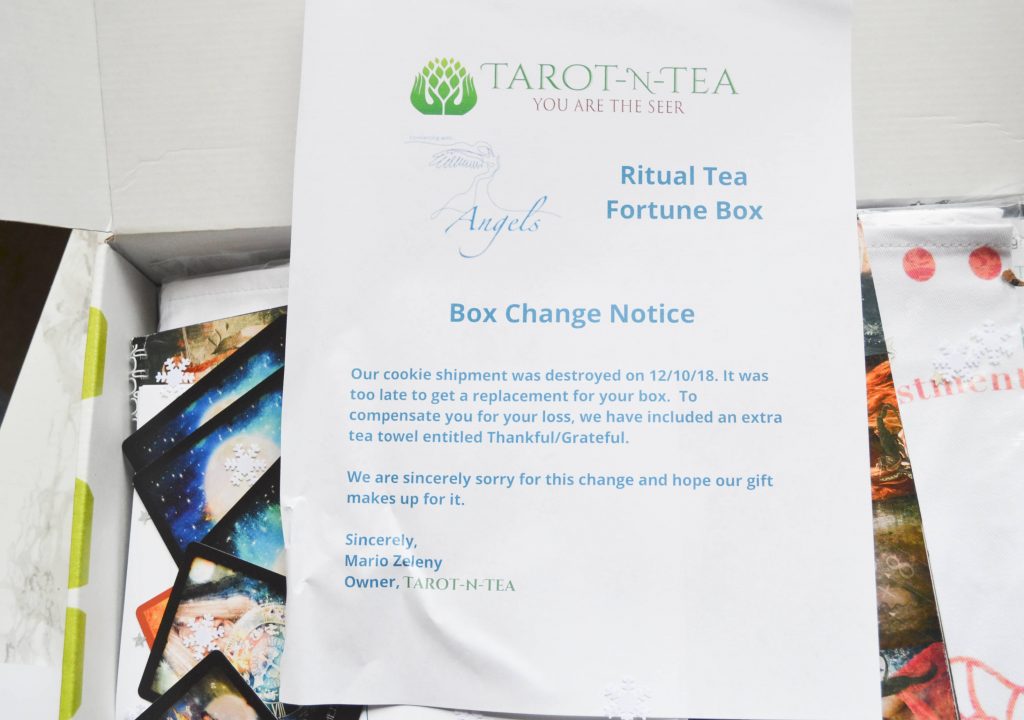 Next, I received a Box Guide, which contained pictures and information about each product in the Winter 2018 box.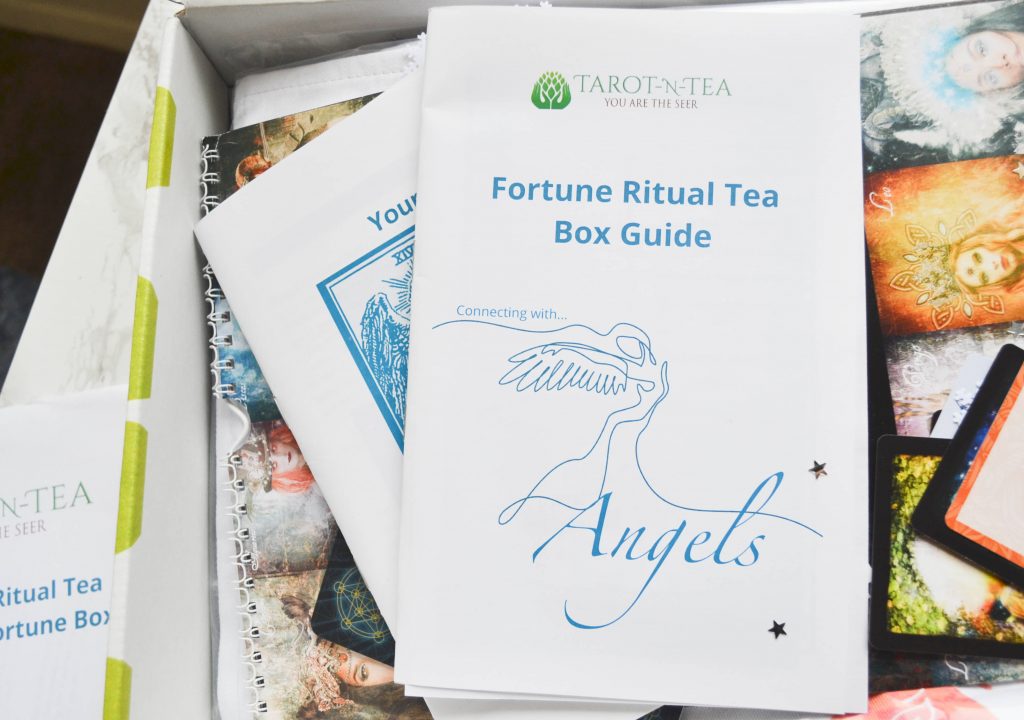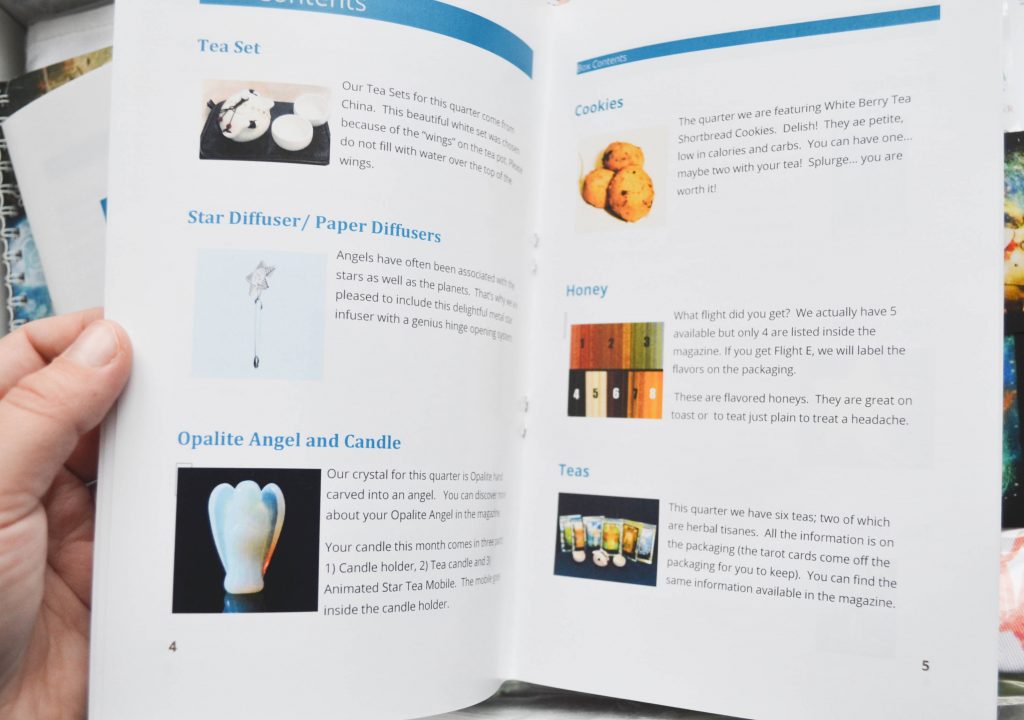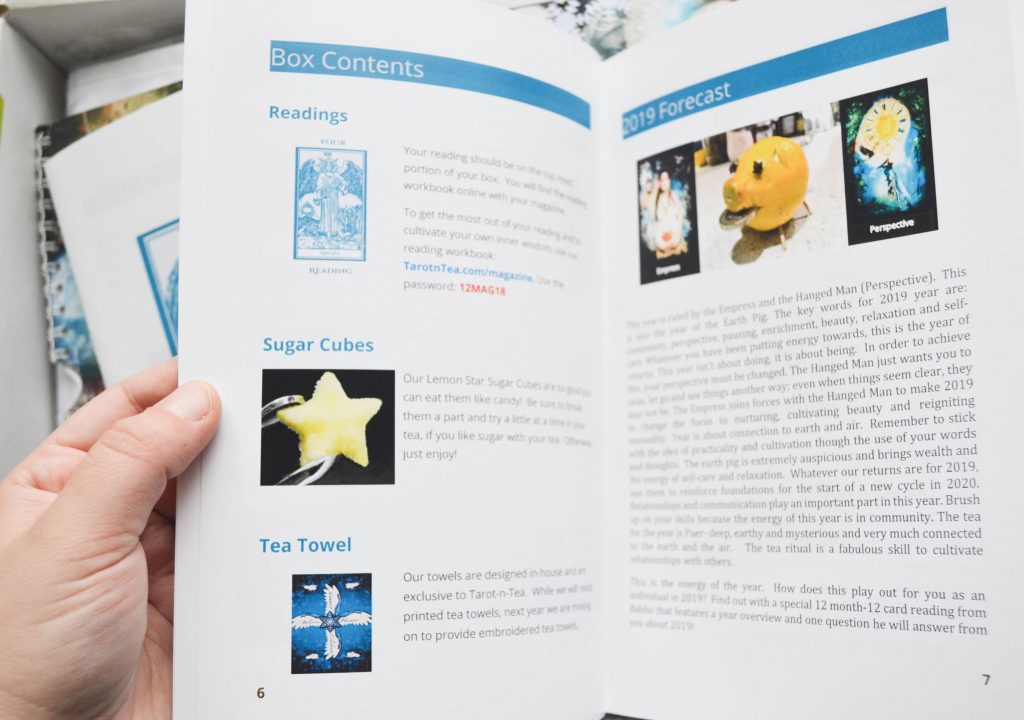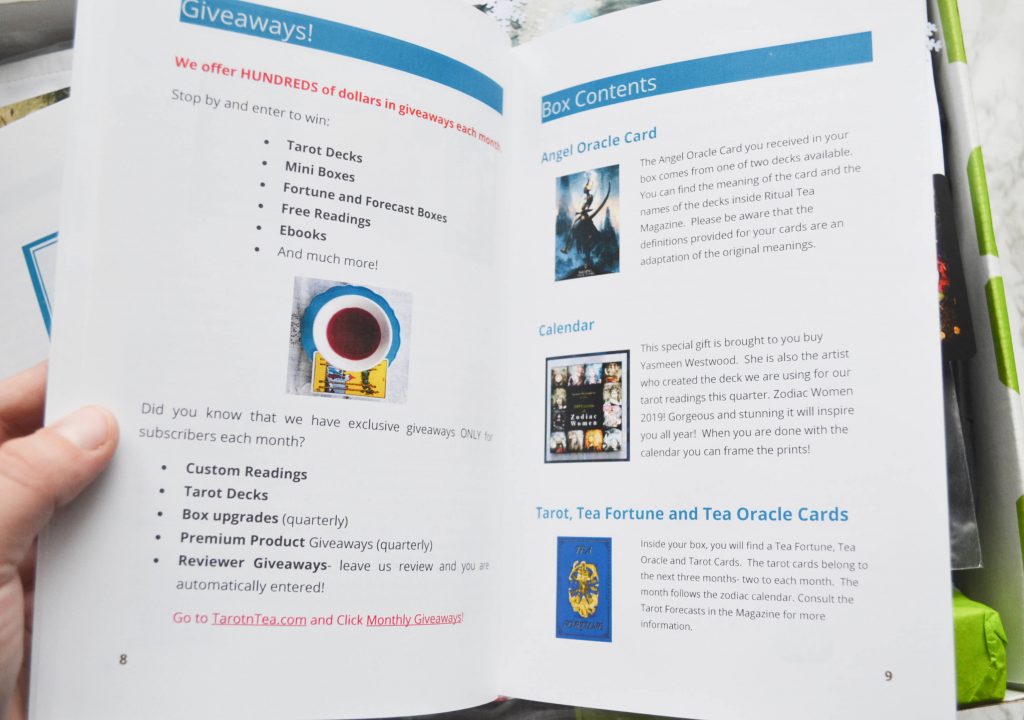 The final insert in the box was a Tarot Reading, which explained the meaning behind the included tarot cards.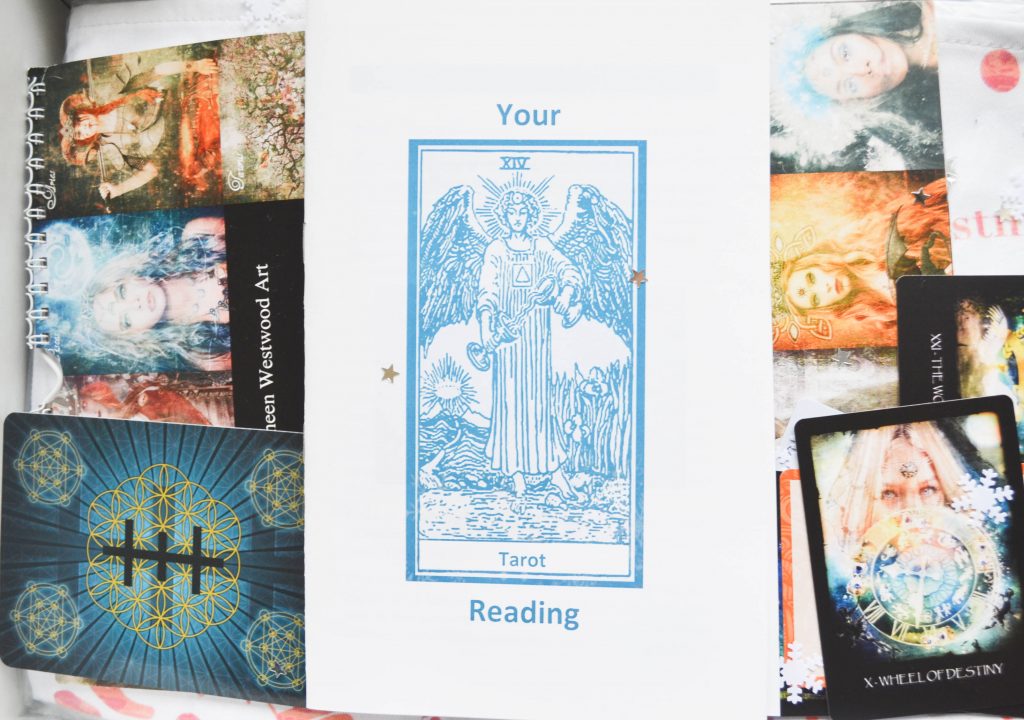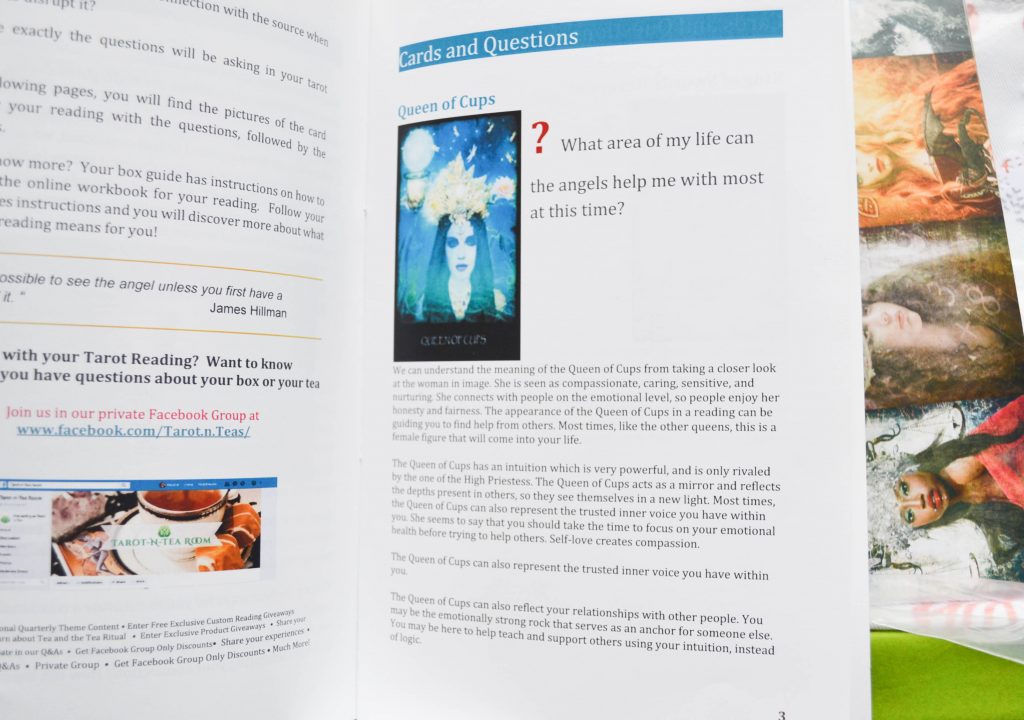 Now that we've read through the inserts, let's take a look at every item in the Winter 2018 Fortune box. The item I was immediately drawn to was this Zodiac Women 2019 calendar. Each page features a gorgeous, full-sized illustration of zodiac women. The calendar has a very steampunk feel, and it makes me feel empowered to celebrate the strength and beauty of womanhood. This calendar is worth £10 ($14) according to Yasmeen Westwood's website.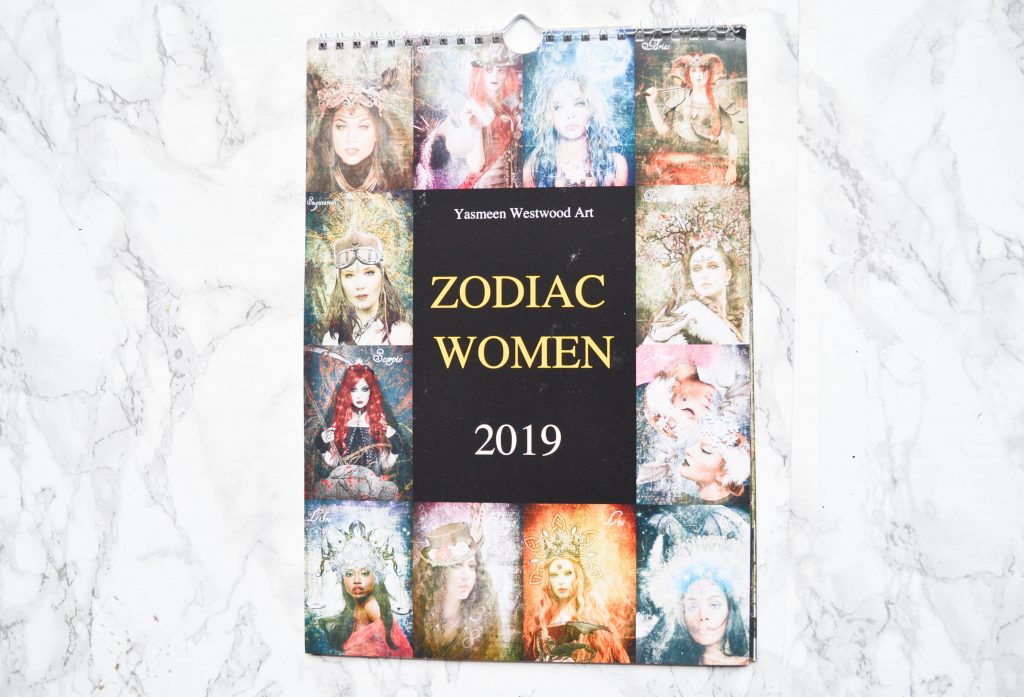 Here's a look at a couple of the pages: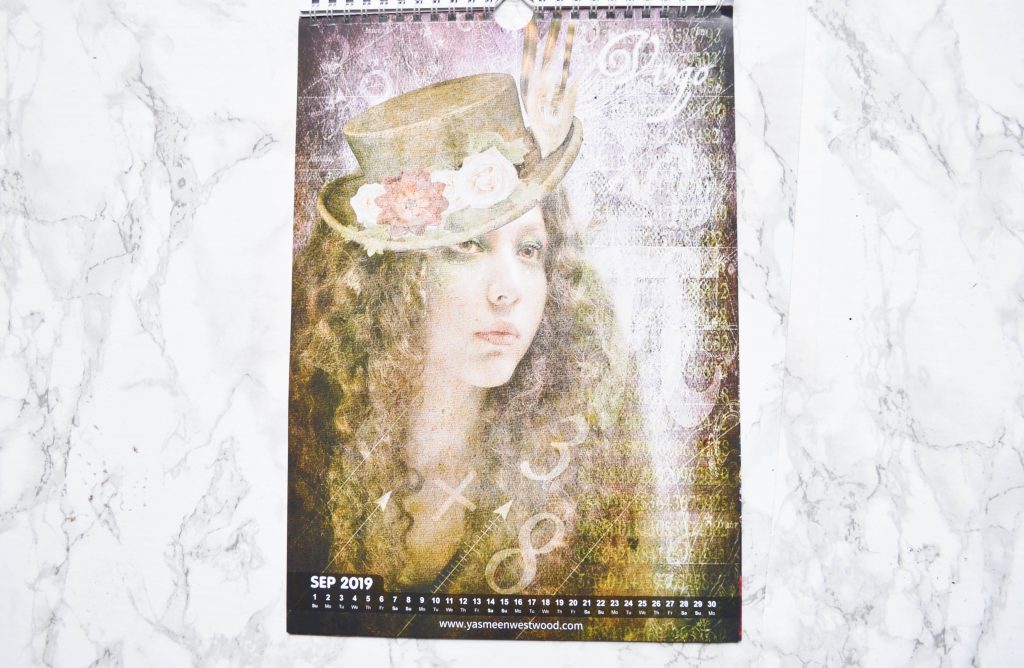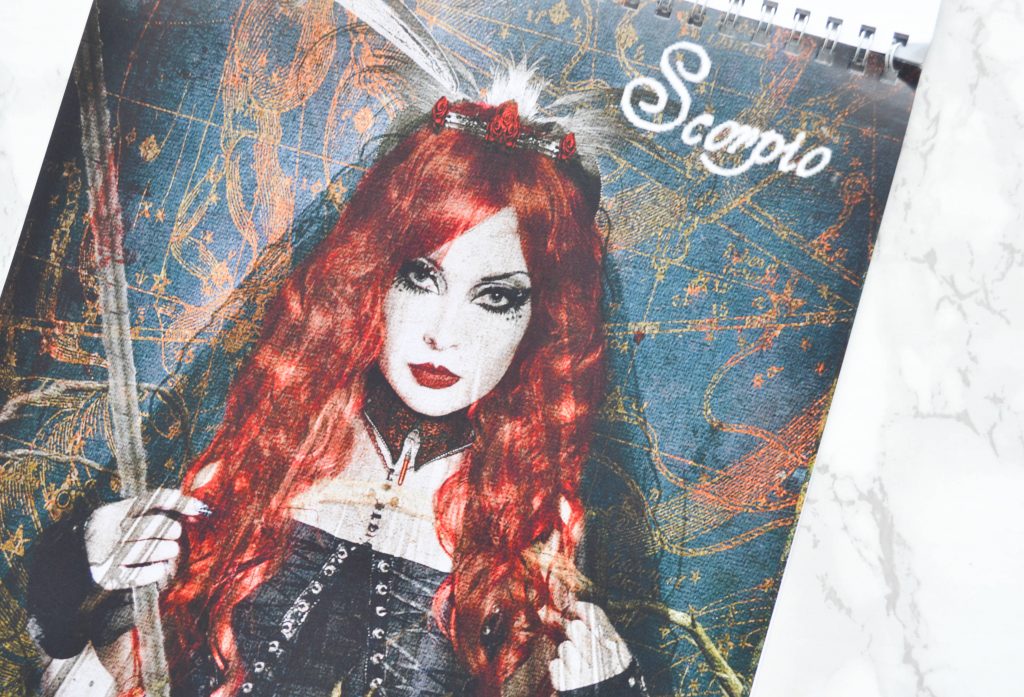 Next, I received two printed tea towels. There is normally only one tea towel in each box, but they included two to make up for a missing product. These are printed tea towels, but next year Tarot N Tea will being including embroidered towels! I love using tea towels for everything from a hand towel, to a pot holder. The quality of these tea towels aren't great; they are quite thin, and the material is scratchy. I would estimate these as being worth about $2 each, similar in cost to wholesale towels found online.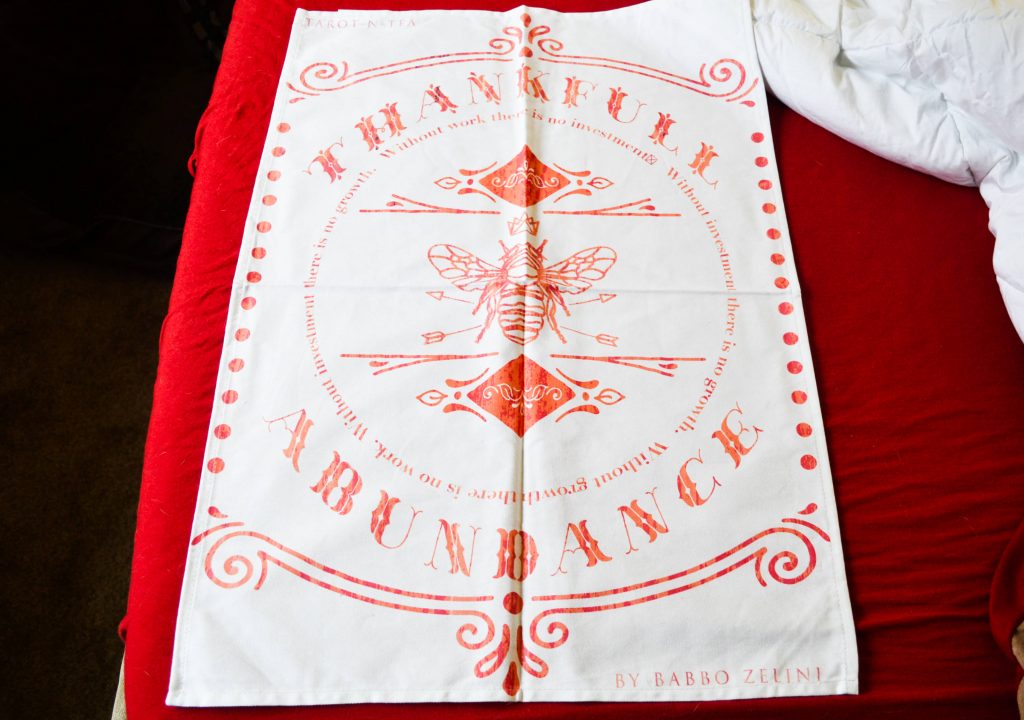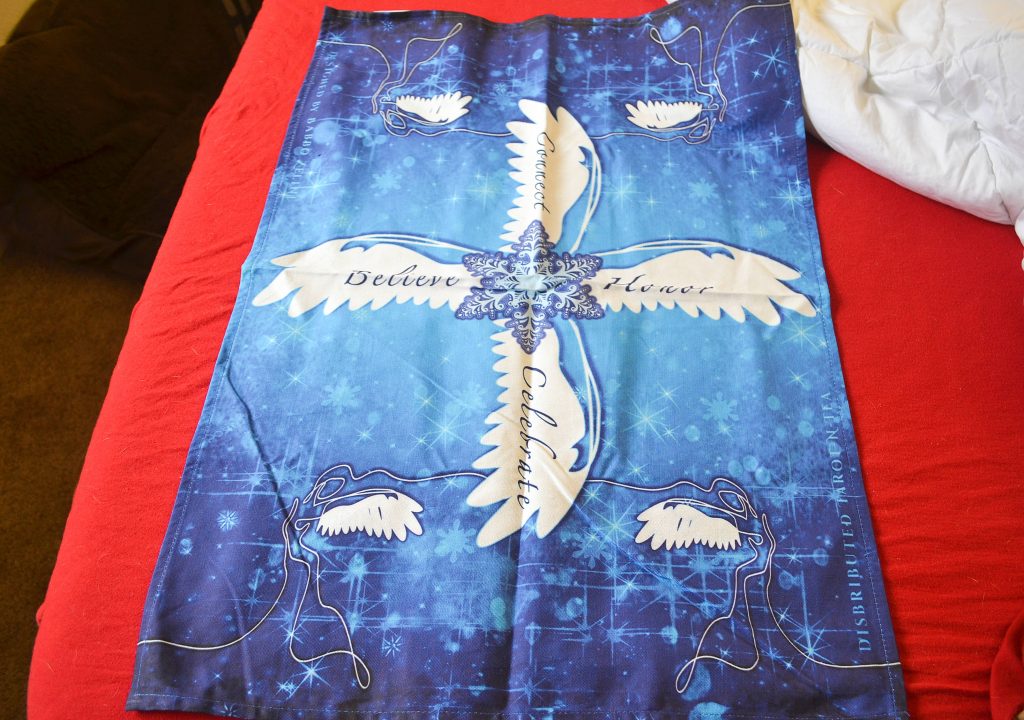 The Winter box also included an adorable white tea set that had "wings" for handles. They arrived securely packaged in a zippered tote with a styrofoam insert. I love how the teapot looks, and the two accompanying tea cups are just too cute. This is a perfect way to enjoy the featured teas in this box. I found this exact product on a wholesale site for $10.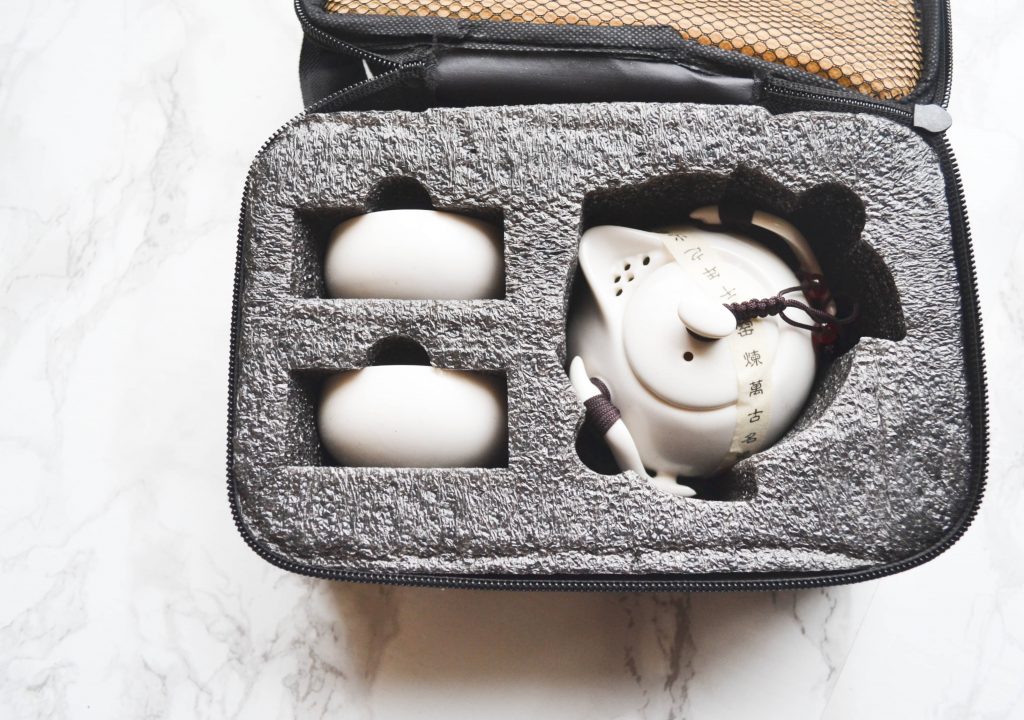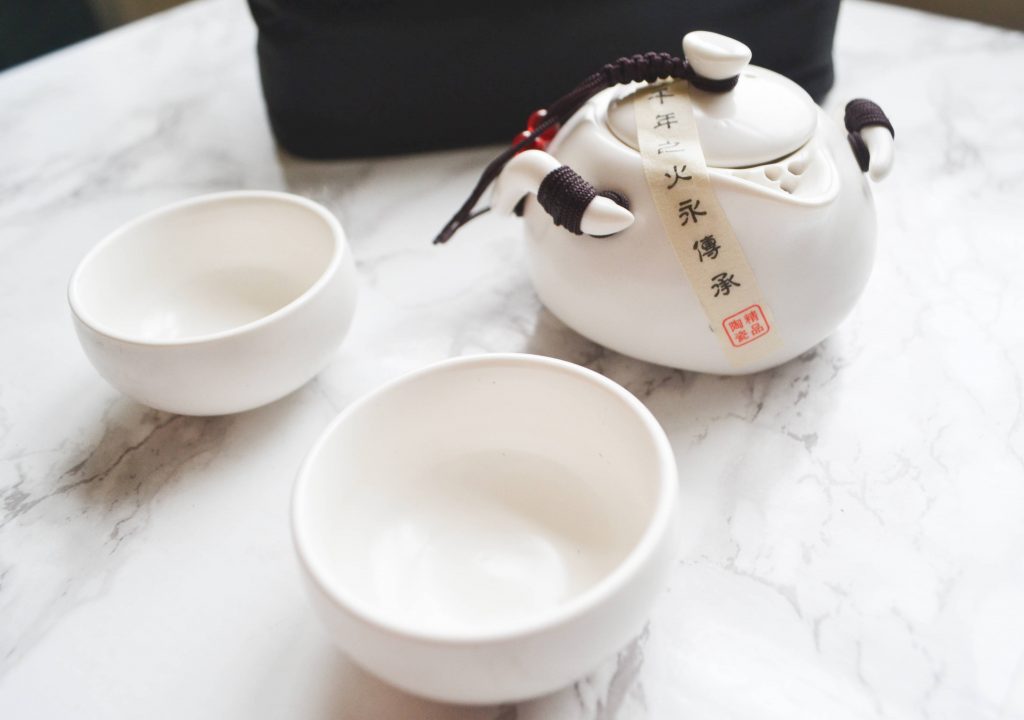 Next, I received an animated Star Mobile. It required minimal assembly, and the finished result rotated gently. It felt pretty cheap, but it was still fun to put together & look at. This mobile is sold on wholesale Chinese websites for $3. Tarot N Tea included a tea candle, but I used a mahogany scented one from World Market.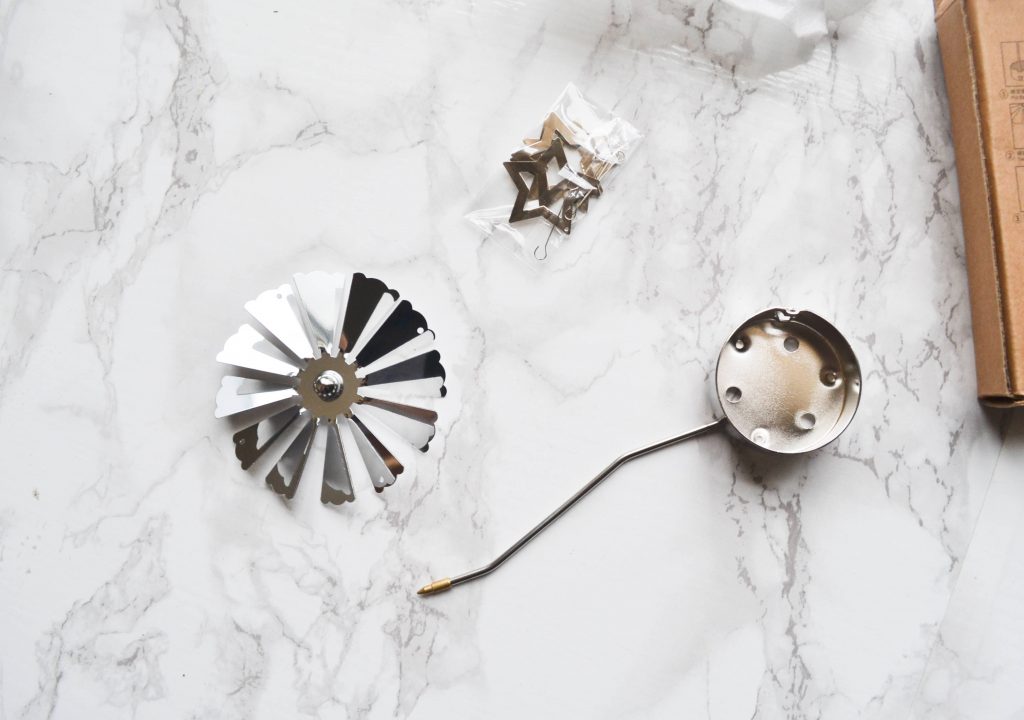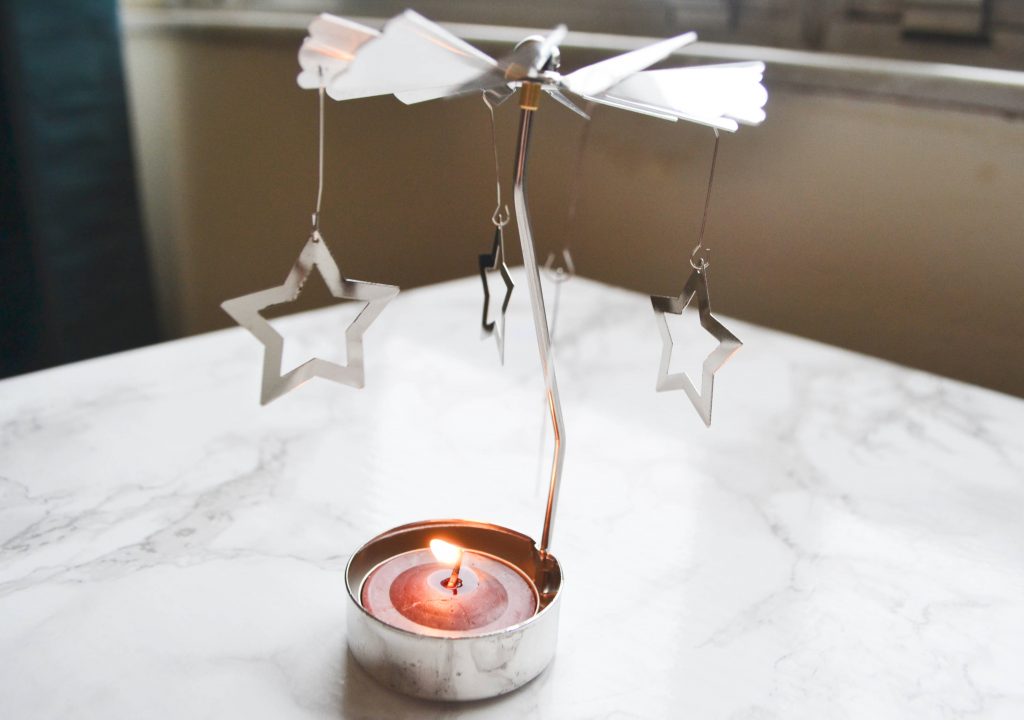 Tarot N Tea also included a tea candle holder for the mobile to sit in, but the mobile didn't fit properly and just looked awkward. I'll be using it as a regular candle holder. I found similar items online for $1.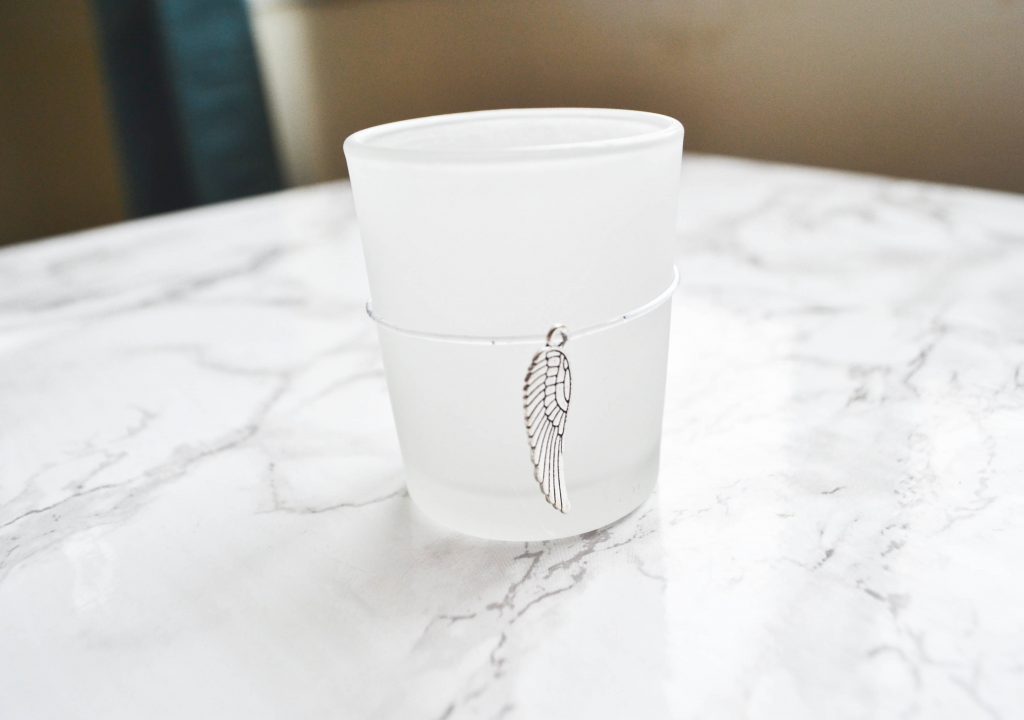 Next, I received a star shaped tea diffuser, with a cool hinge opening system. My previous diffuser broke recently, so I'm glad to have this on hand. I really like the little face on the star! This diffuser can be found on Ali Express for $5.60.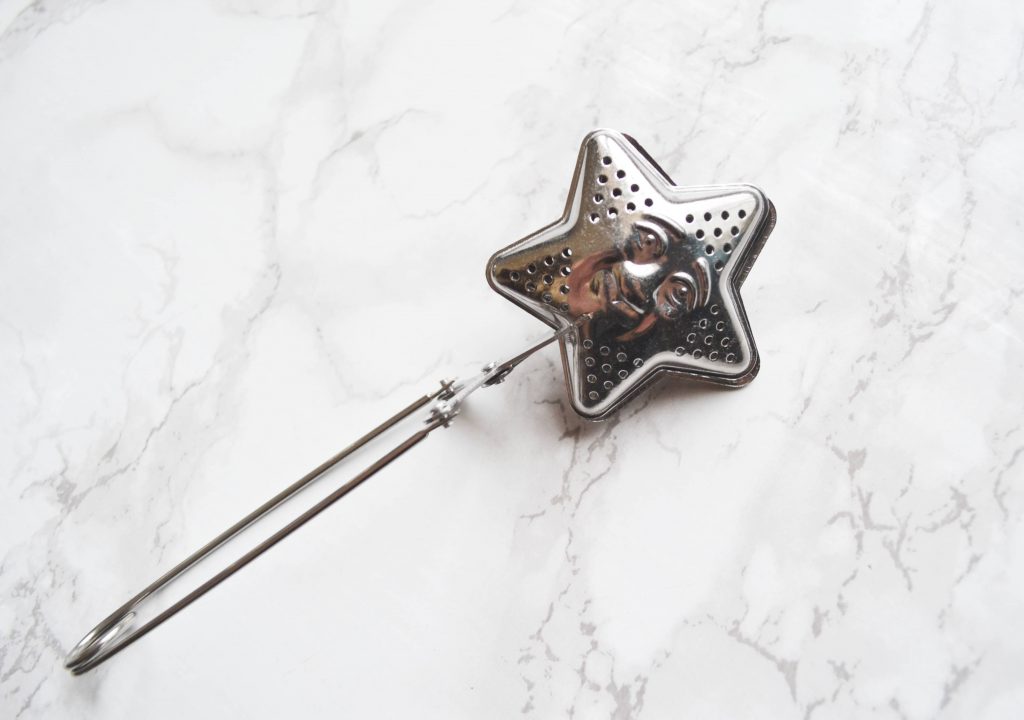 Again, this next item can be found on Ali Express for $2… Do you see a pattern? This Opalite Crystal Angel is about 2 cm tall, and can be turned into a pendant. I prefer to let it sit on my bookshelf! I really like the way it looks when the light shines through it.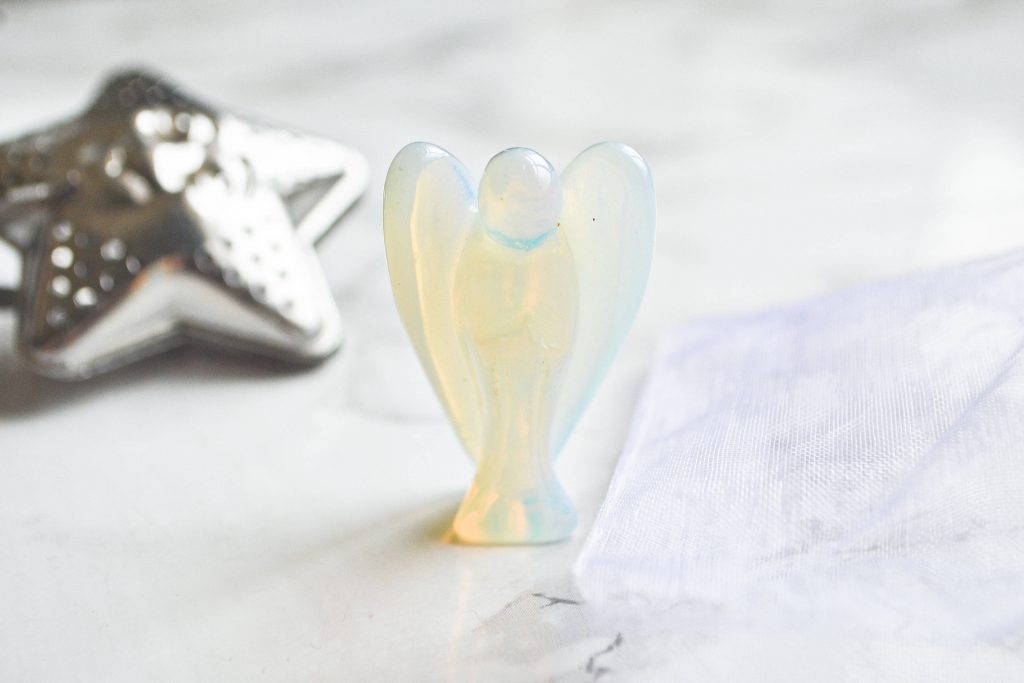 Next, I received this glass candy dish – or perhaps it is a short stemmed martini glass? This product was not included anywhere in the box guide. I couldn't find this exact dish online, but there is an extremely similar one on Ali Baba for 35 cents. Based on all the other products that were from wholesale companies, I don't doubt that this was purchased from there.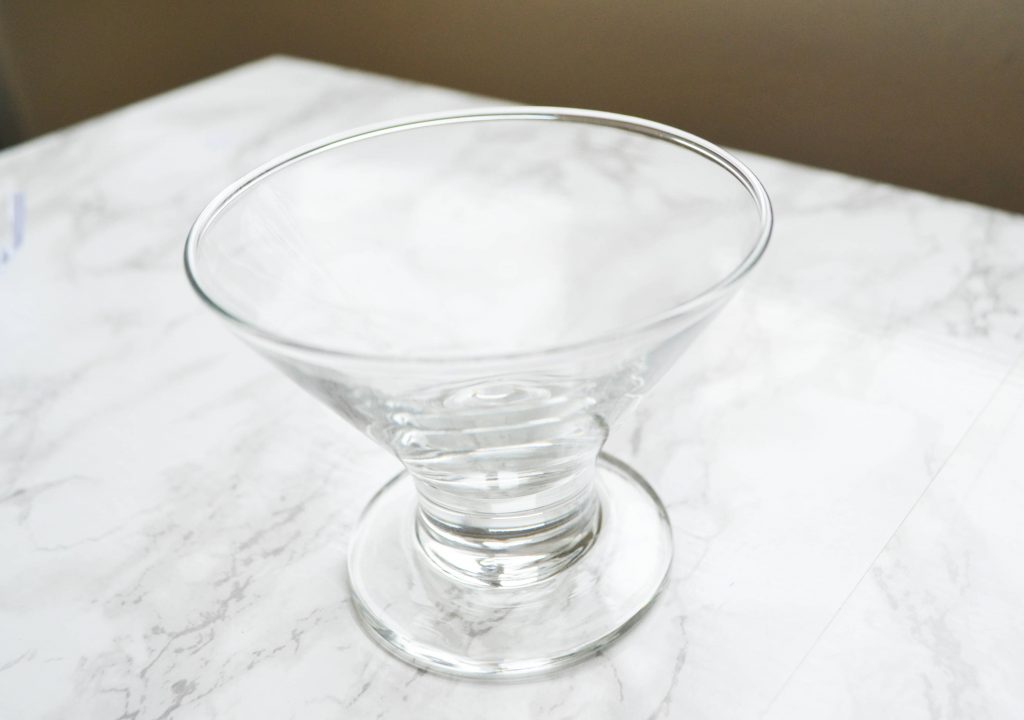 All right, let's move on to tea and tea accessories. Tarot N Tea included this set of flavored honey sticks to use with the flavored teas. You can pick up honey sticks for about 15 cents each, so these are worth just under 50 cents. Subscribers received one of several flavors, and were supposed to be able to see what the flavors were on the Tarot N Tea online magazine. Unfortunately, I was unable to access the magazine.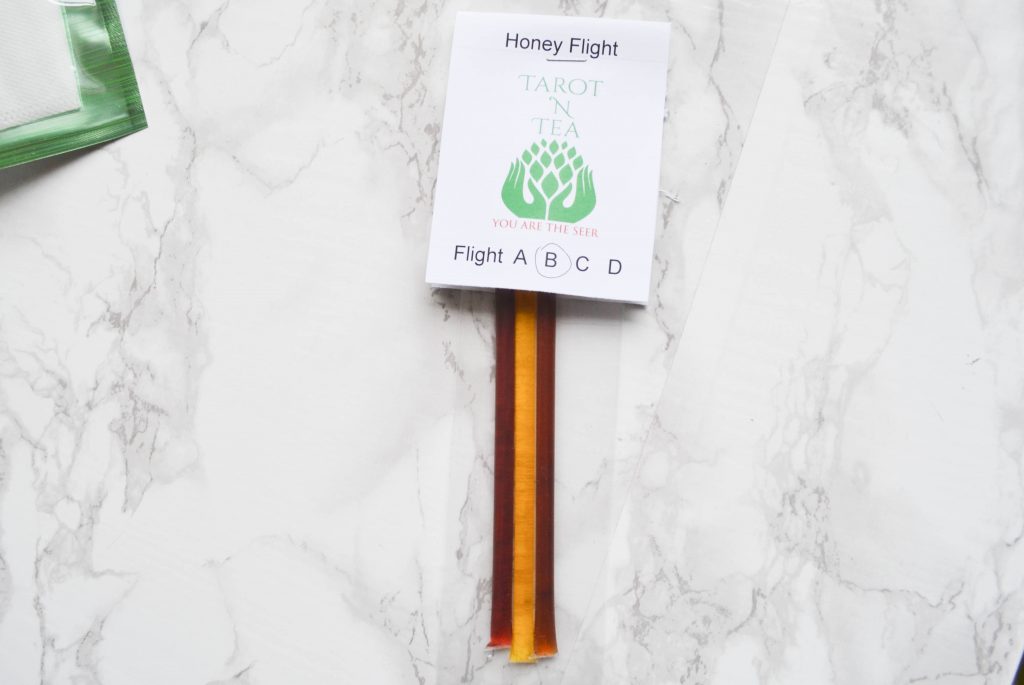 Now on to the teas! Tarot N Tea included 6 tea samples. I drink a fair bit of tea, and the average loose leaf tea sample on the market comes in 1 oz packages. These contain .1 – .25 oz, so they re much smaller than the average sample. I would estimate these samples to be worth $1 each.
Queen of Coins has notes of chocolate, mushroom, and toasted rice. This is such an interesting combination!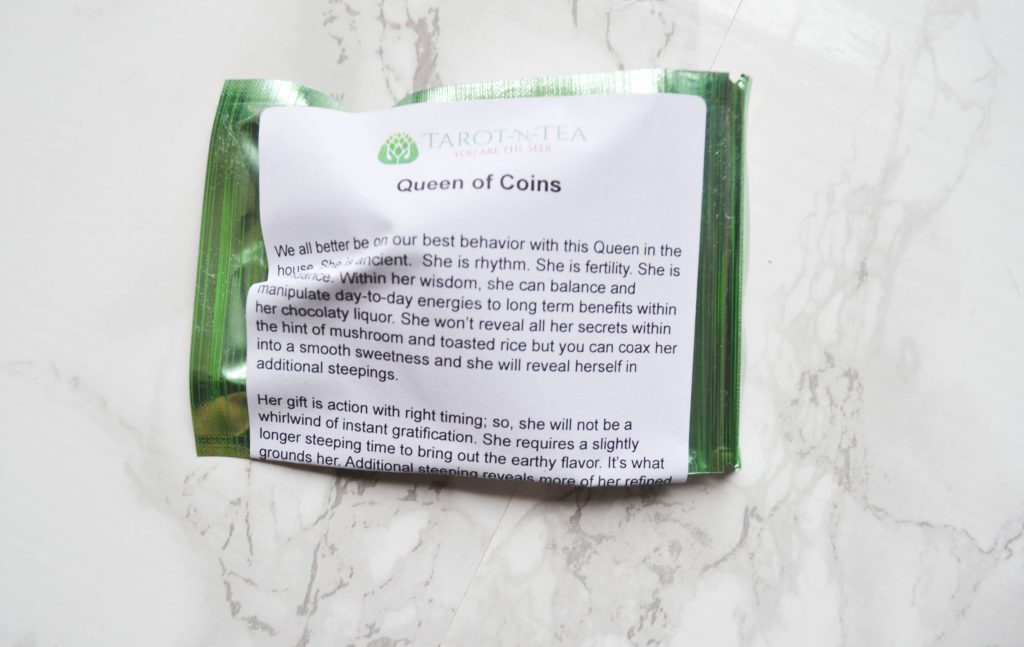 The Ten of Pentacles is a white tea with floral notes, and its bud can be enjoyed for up to five infusions.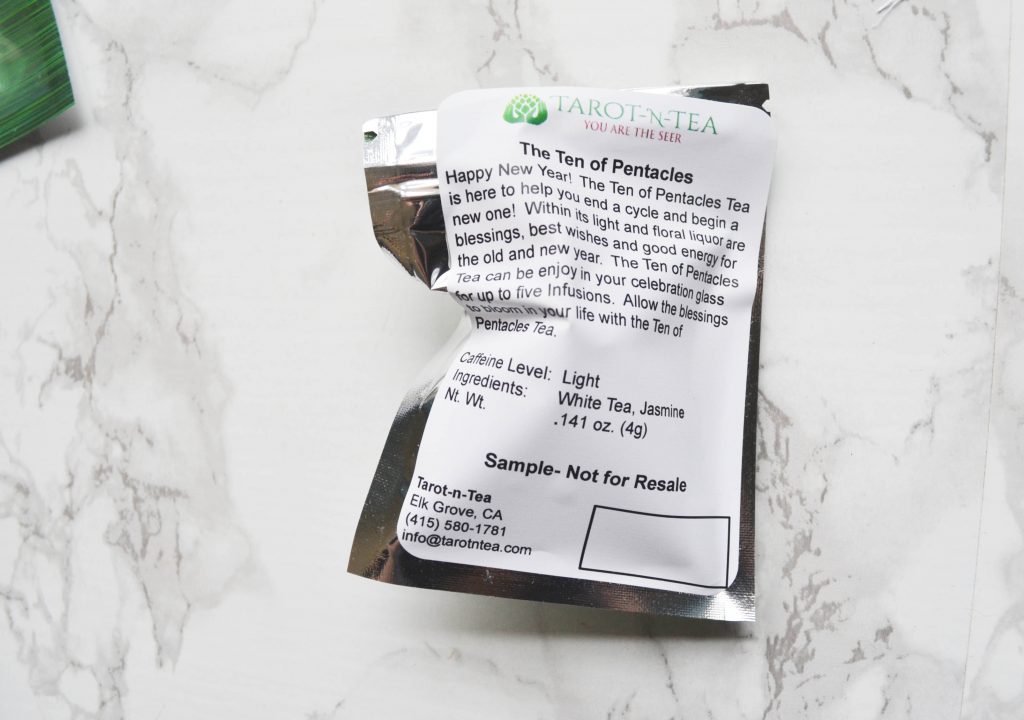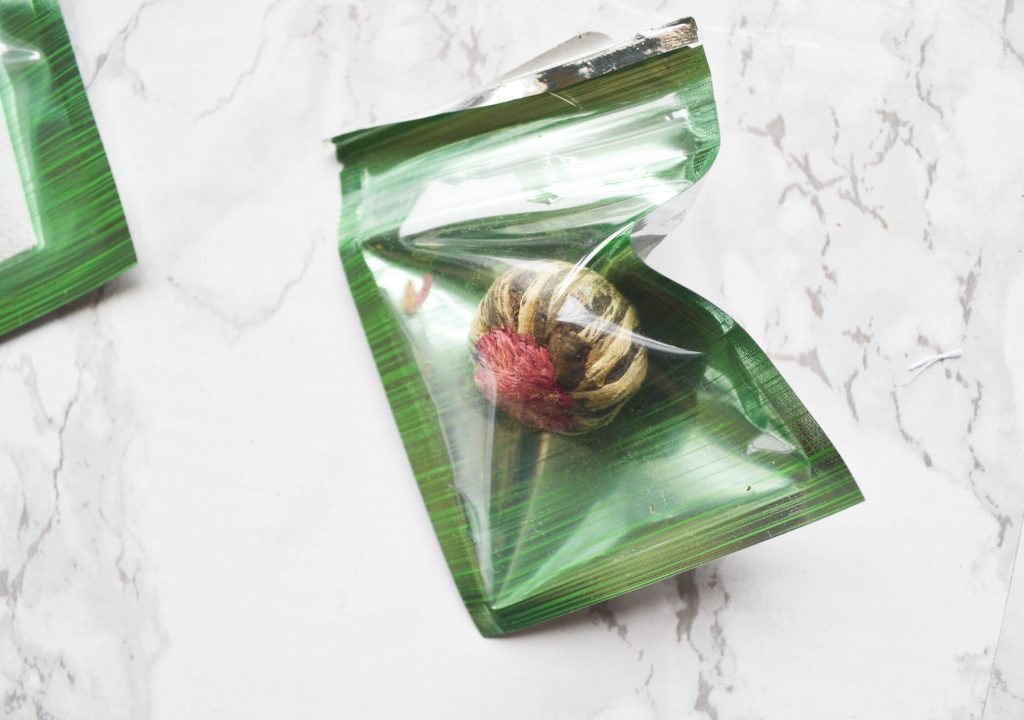 Seven of Swords is a black tea, with bits of cinnamon and notes of fig. This sounds perfect for cozying up on a cold day.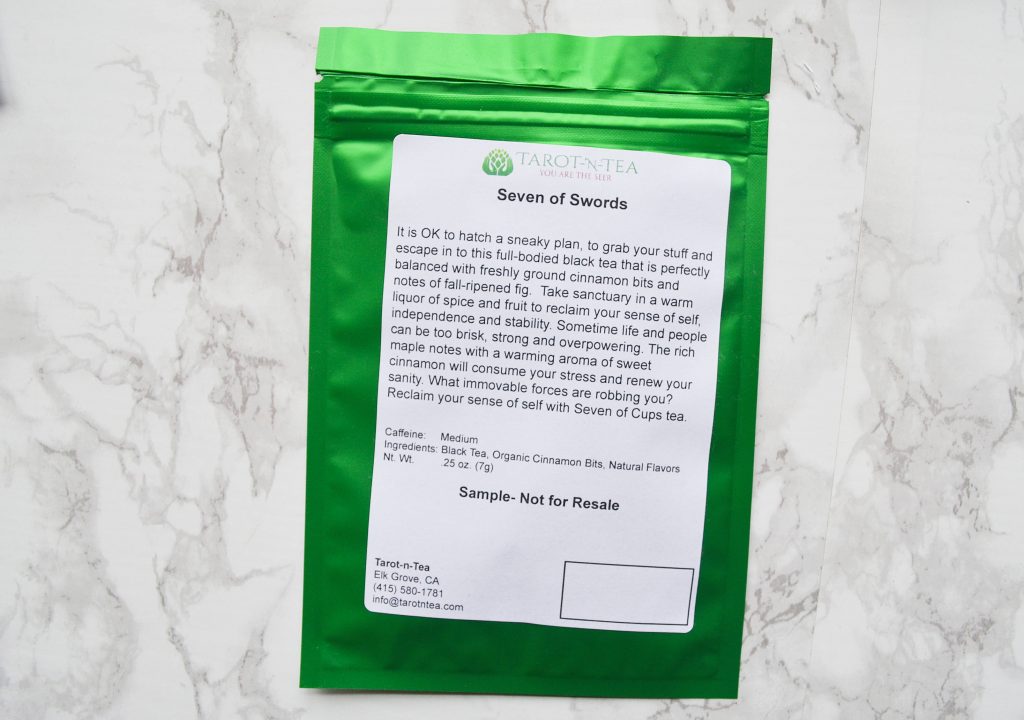 The Magician is a White Bai Mu Dan with juniper berries. I was unfamiliar with this type of tea, but it is apparently leaves and buds from peony flowers. You can see the vibrant purple petals in the tea!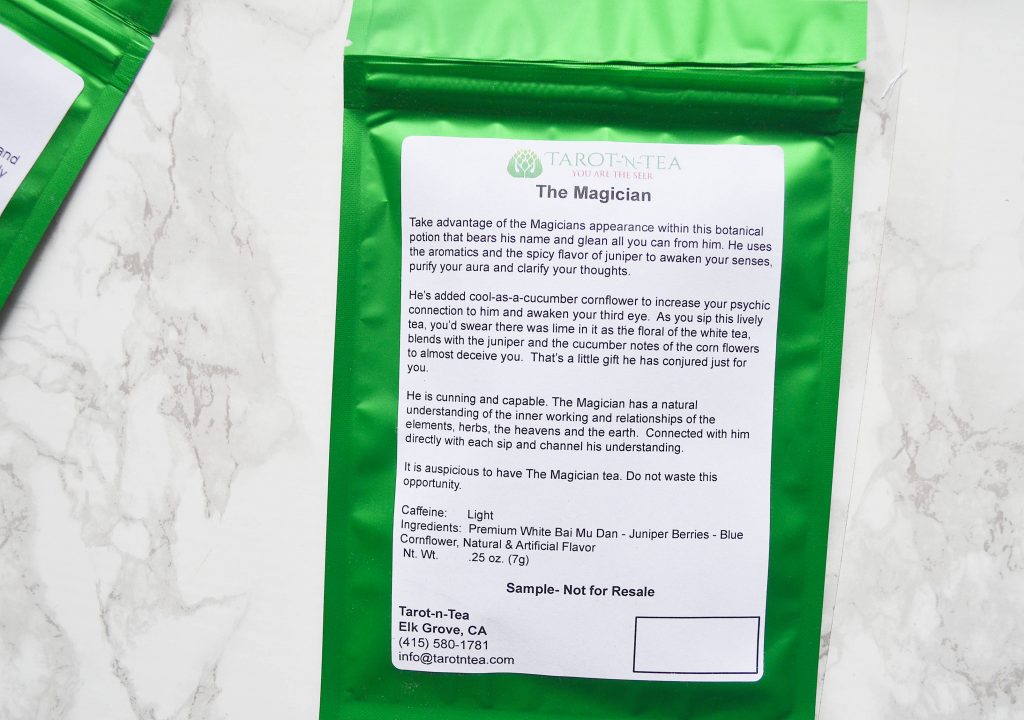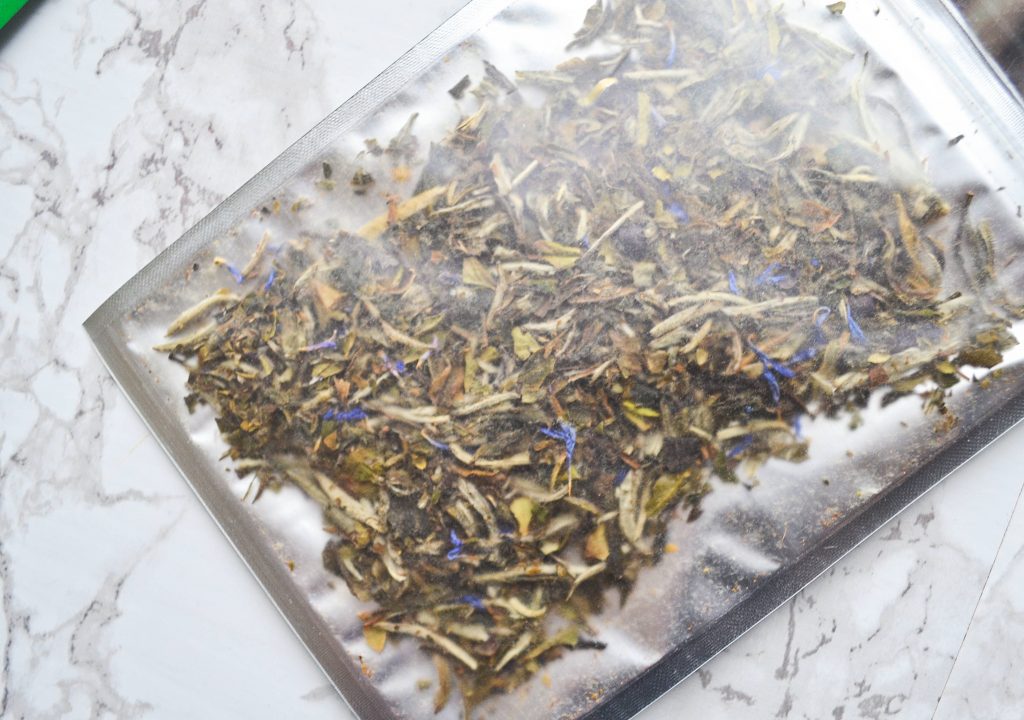 The Seven of Cups tea is made from a grass that blooms in the Himalayan winter. It is said (although not verified) that it can boost your immunity and has antibiotic properties. I definitely need to keep this on hand, because I fall ill pretty often.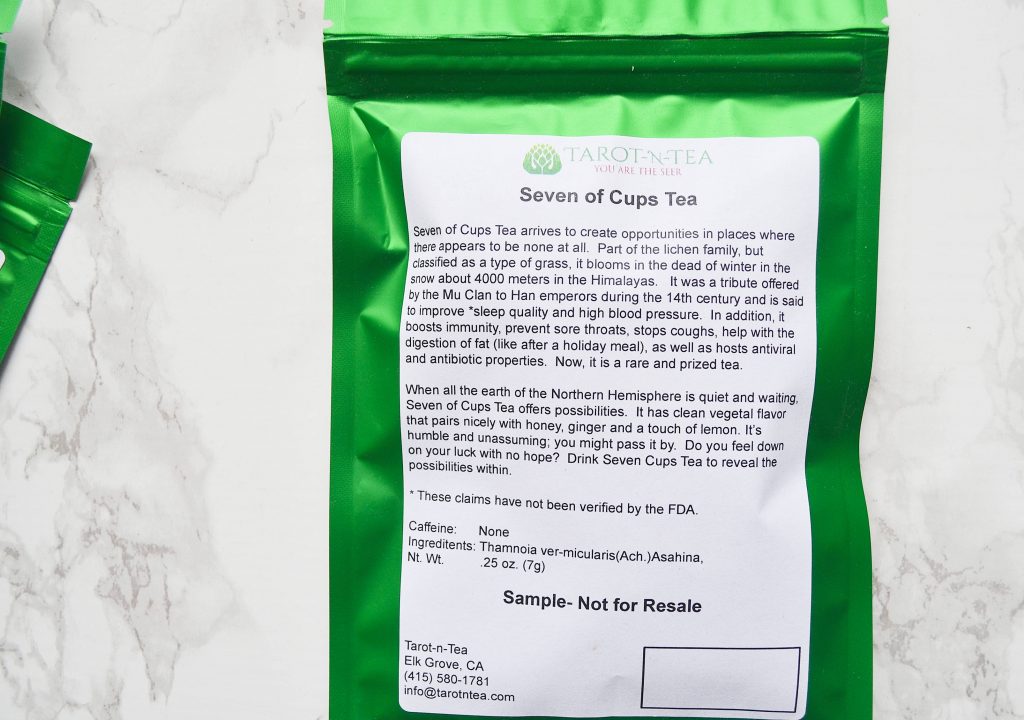 The final tea was the Page of Pentacles, which is a black tea with a creamy texture and notes of orchard and barley.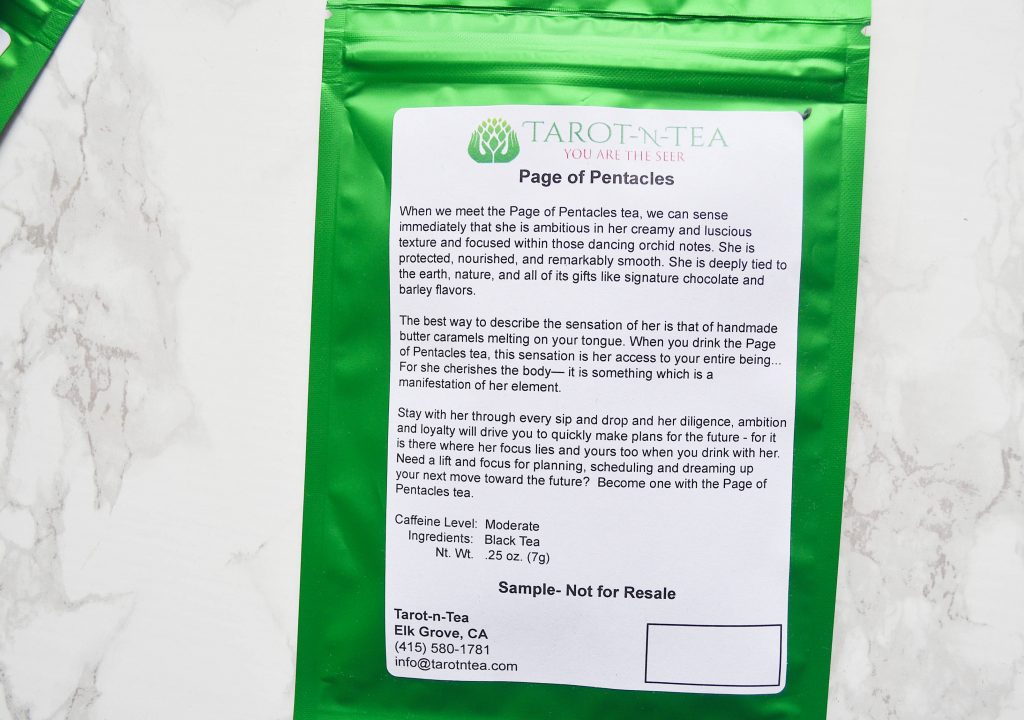 Tarot N Tea included a few star shaped lemon sugar cubes, to be enjoyed with the tea. The sugar cubes arrived smashed, but still usable and delicious. You can usually buy a huge jar of sugar cubes for $10, so the three sugar cubes in this container would be worth about $1.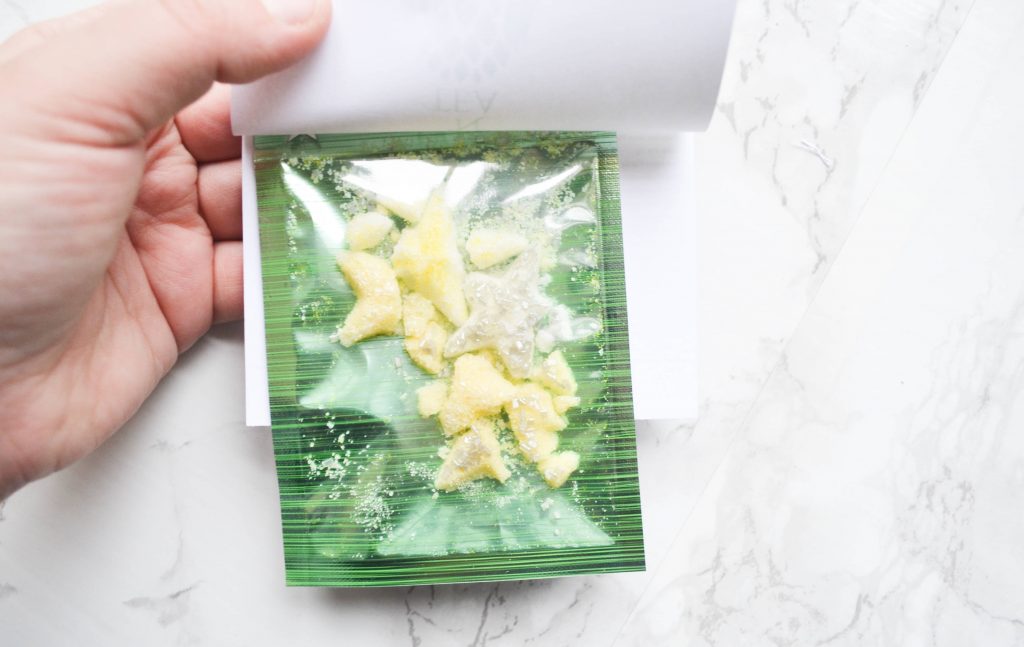 The final items in my box were these Tarot cards, and they were illustrated by the creator of the Zodiac Women Calendar, Yasmeen Westwood. You can purchase the full deck (Tarot of Enchanted Dreams) on Yasmeen Westwood's website, and it includes 78 cards. The full sized tarot deck is worth £40.00 (about $50) – so this sample deck is worth about $7. I am glad to see small artists being supported in this box!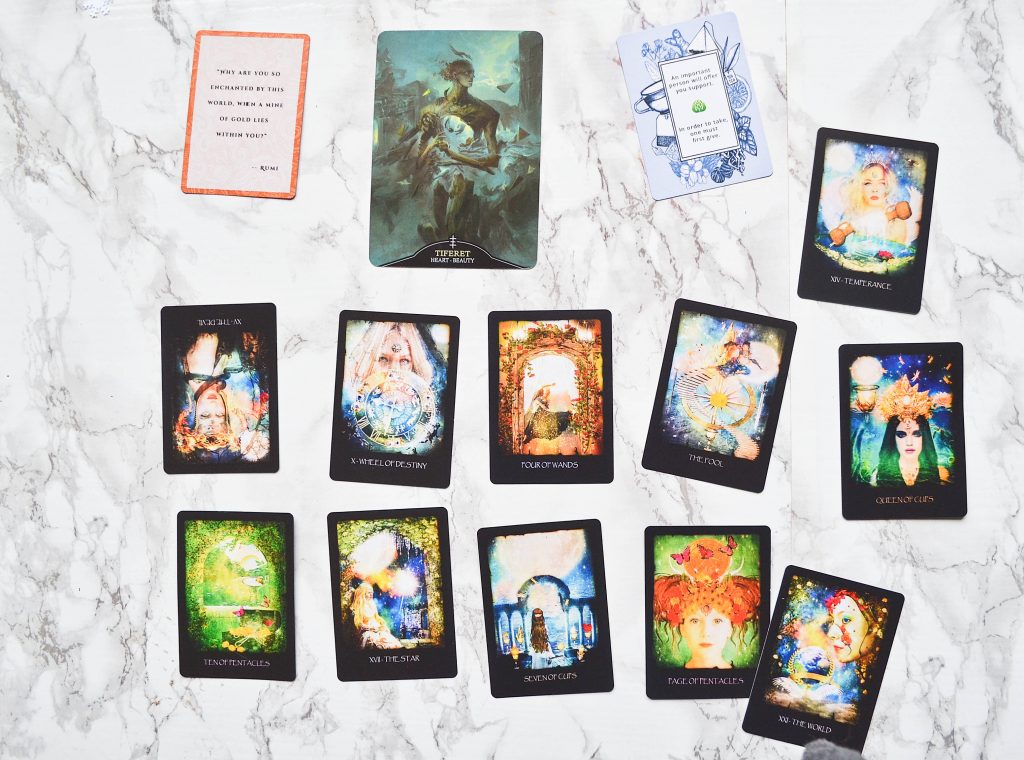 Overall, I am disappointed by the wholesale nature of the items in this box. So many of the items found can be found on Ali Express for only a couple dollars. The mobile and the tea towels felt cheap and flimsy, and the items were generic. The only real stand out items for me were the calendar and cards illustrated by Yasmeen Westwood. I am normally not this negative with box reviews, but keep in mind this box cost $80! Most boxes at that price point contain several hundred dollars worth of HIGH quality products, not trinkets you can buy for pennies online. This box is supposed to empower women, but it is really taking advantage of them by reselling cheap items at a huge markup. The box is worth about $55, so that is a 45% markup.