This March, Bespoke Post has launched their new Bespoke Post Shelter Box. Bespoke Post boxes include an assortment of unique products from top men's lifestyle and grooming brands.
Recapture that old-school & distinguished study feel with water-fighting gear that's as well-crafted as it is handy.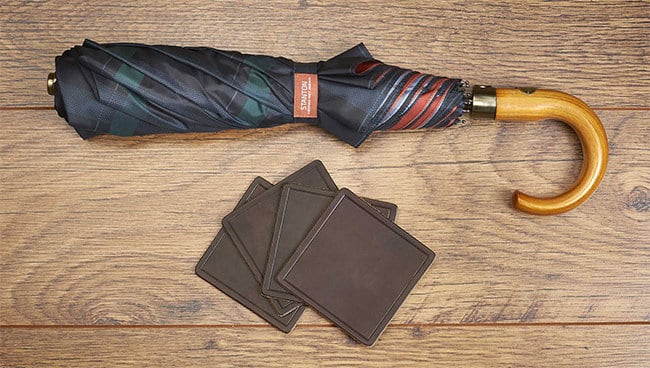 The Bespoke Post Shelter Box is designed to help you survive rainy days – whether sipping on scotch or out braving the elements – and includes:
The Stanton Umbrella
Next time you venture into the storm, set aside that drugstore umbrella and match your polished getup with this custom-crafted piece. A year in the making, it'll see you through rain-soaked downtown dates and stormy walks to work alike, all with a must-have edge.
Horween Leather Craft Coasters
Drop your umbrella in its stand, loosen your tie, sink into a plush leather chair, and reach for a glass. These rich & waxy 4″ x 4″ beauties will protect your expensive coffee table (or at least make an IKEA one look like it's worth protecting) while adding to your room's sophisticated tone.
Want to get the Bespoke Post Shelter Box? Subscribe to Bespoke Post today and snag this box for just $45 or buy a single box without a subscription for $55.