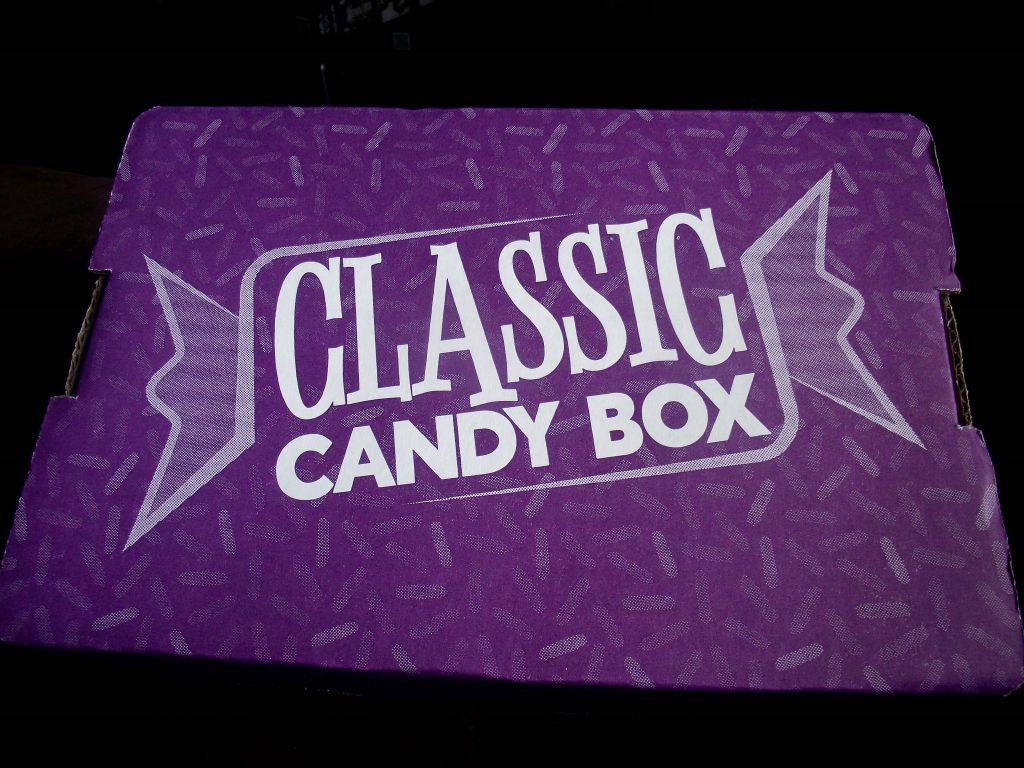 The Classic candy box is sugar, spice and all things nice. Every month they send you anywhere from 1-1.5 lb of candy which averages out to at least 25 pieces of candy. The candies are anywhere from 1900s-1980s. They have various prepay options including monthly for $18.97, 3 months for $17.97 a month, 6 months for $16.97 a month, and yearly for $15.97 a month. Today I will be reviewing the box I received for August.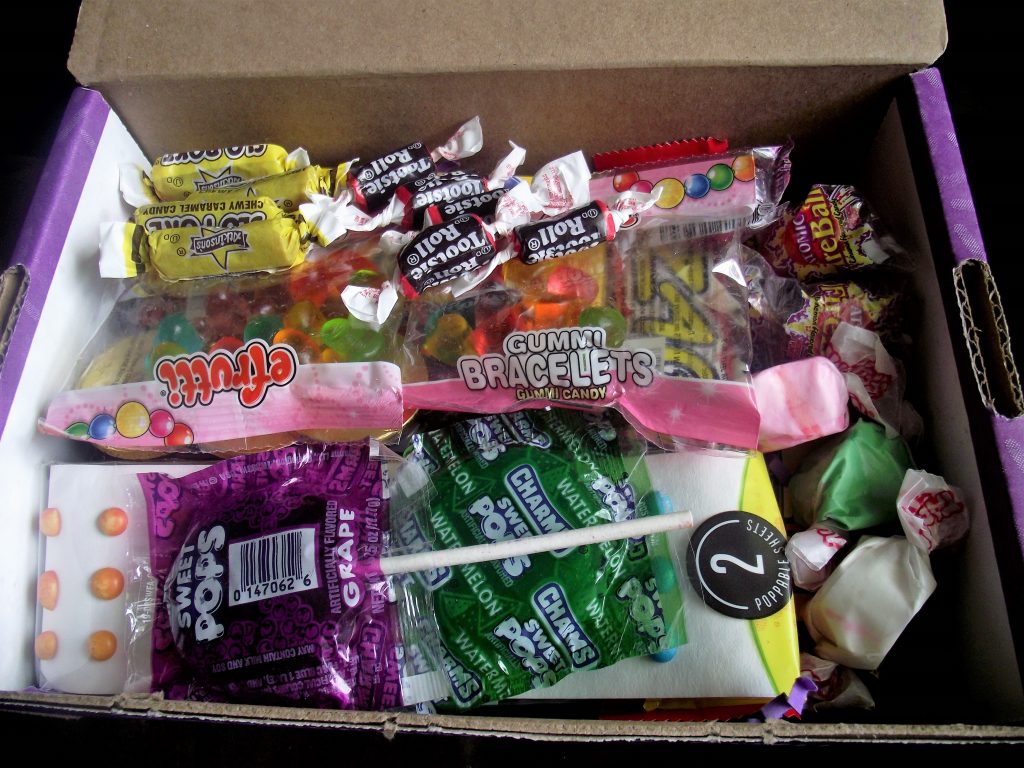 The box itself shipped quickly and arrived in really good condition. I am not sure what it was about this box but even the chocolate was not really melted in the Florida heat. There was  so much candy in the box it was stuffed to the brim but it still had some fun purple packaging paper as extra safety. So let us get down to business! The first item in the box is a fun handout explaining each item and the year it comes from. As you can see there are so many listed for this month!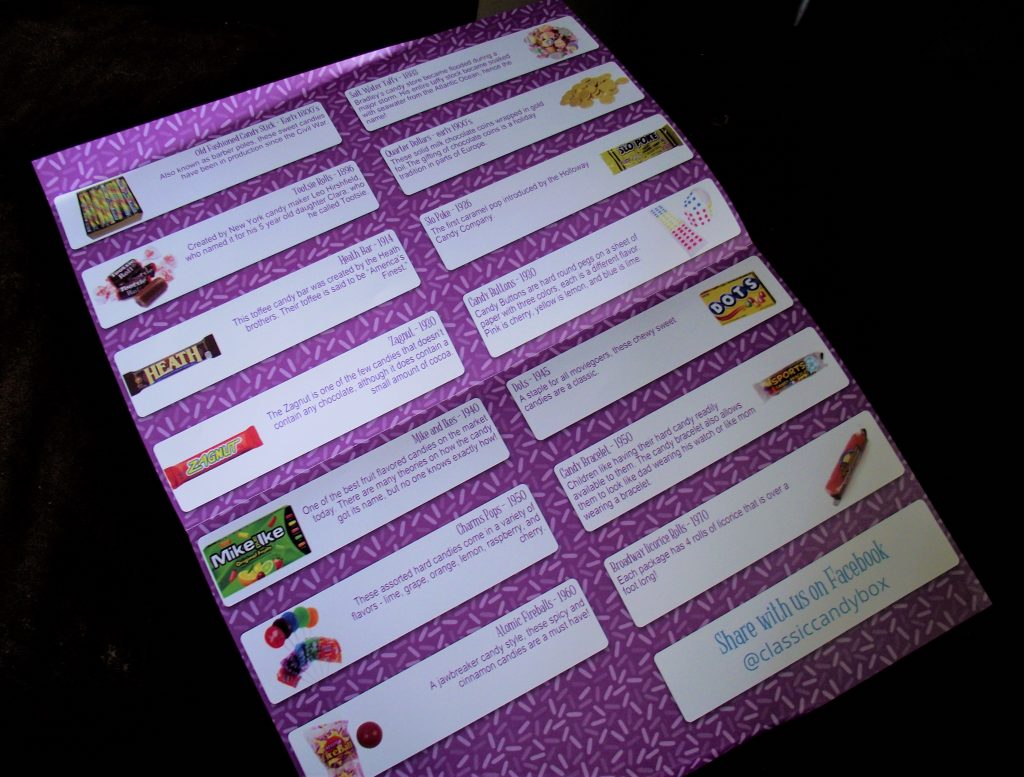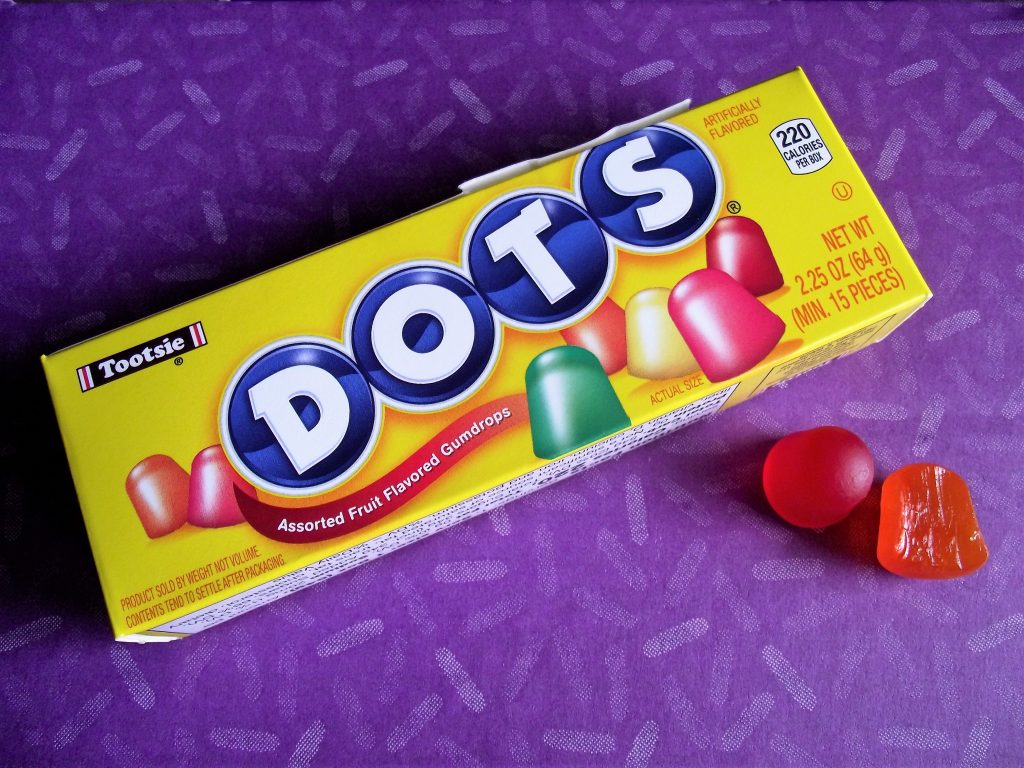 So now we are on to the sweet stuff. Man is sweet the word for these delicious Dots candies. According to the paper these came out in 1945 but they are timeless. The best way for me to describe them is as solid gummy gumdrops. they have their own fruity flavors based off the color and they are one of the candies that is actually distinct in my opinion. These are good for people of all ages and I love them.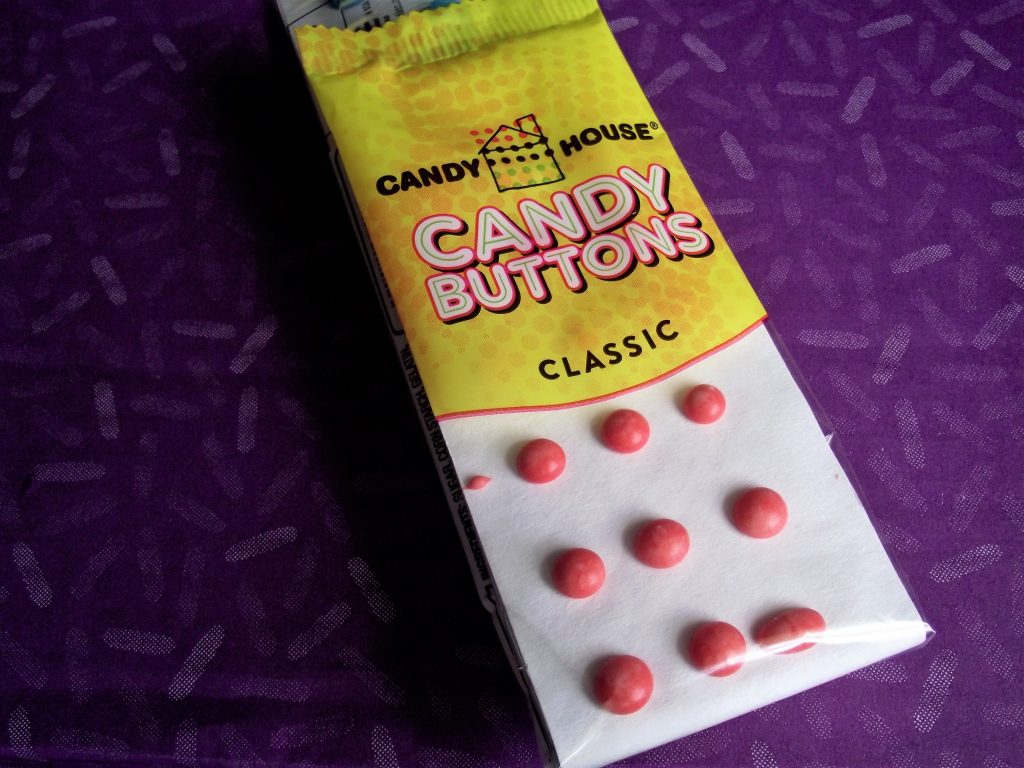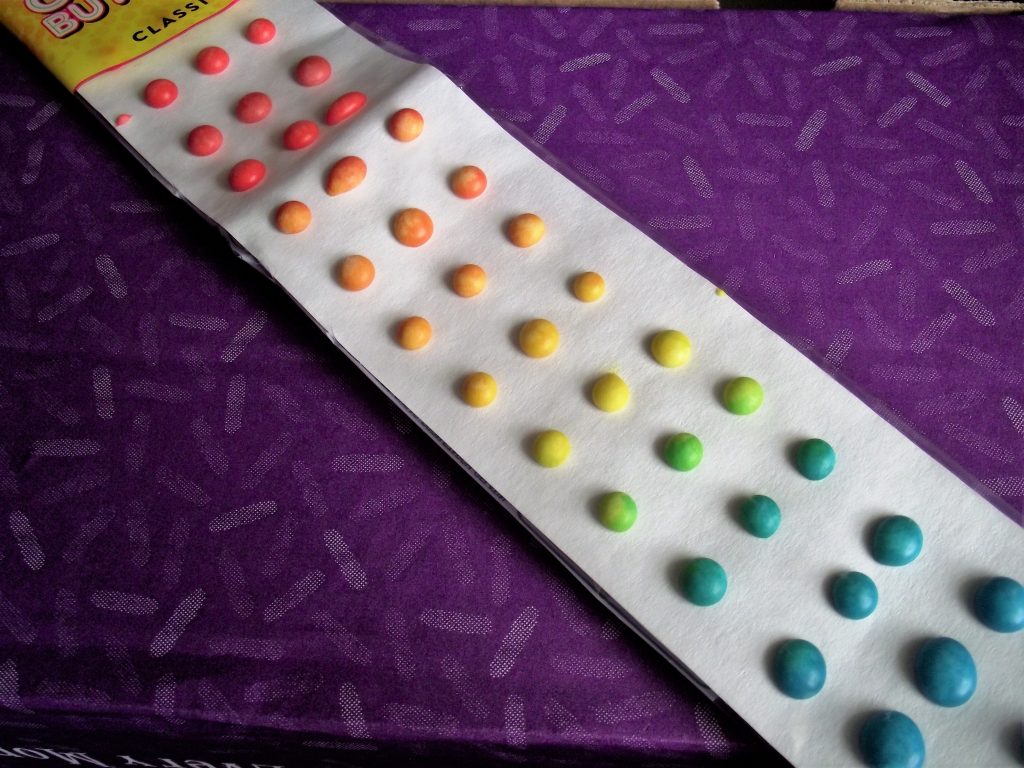 These next candies were my absolute favorite growing up. I even had dreams about them. Hailing from 1930, I give you Candy Buttons! They are super small dots of sugar on paper and the color changes as you go down. They are a hard candy. The one issue I had with them growing up was that I struggled getting them off the backing without a little paper leftover so sometimes I would end up with paper in my mouth. I really loved seeing them debut in an episode of Project runway when a designer used them as the staple of her outfit. I secretly hoped I would get these in the box.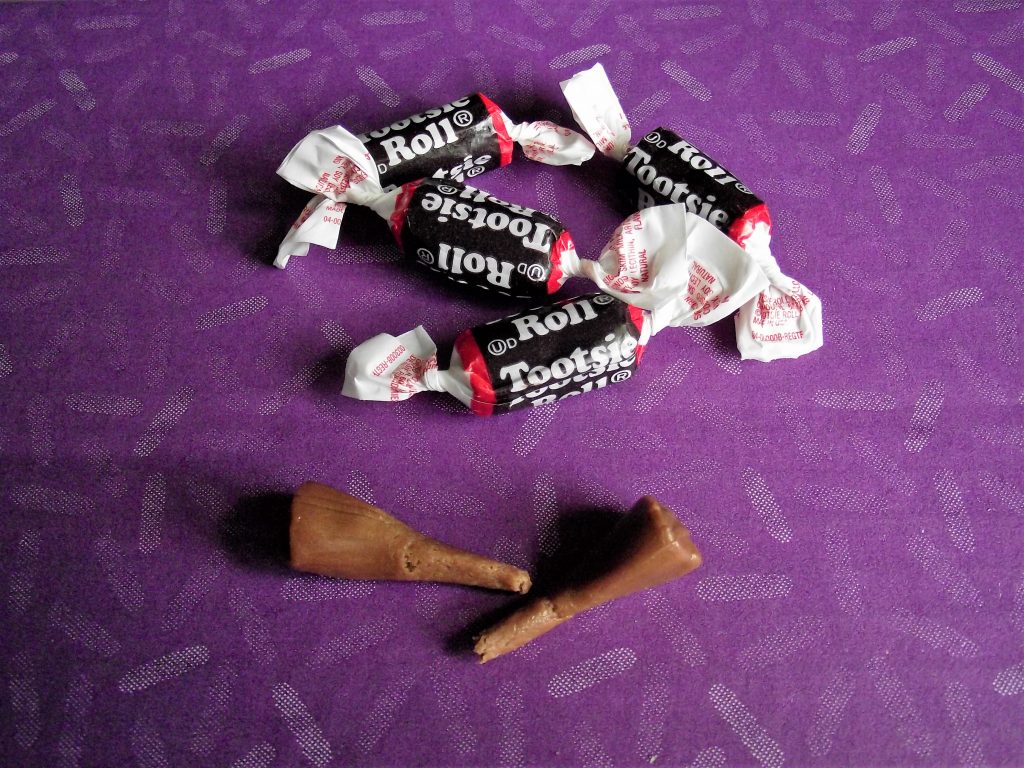 Tootsie rolls are the epitome of classic candy as far as I am concerned. They were created in 1896 and are super simple but super sweet. Texture wise they are almost like a chocolate taffy and can be found anywhere. They are healthy enough of a candy that even gyms will stock it at their front desk! The fun fact about this sweet treat is that it was named for the creators 5 year old daughter!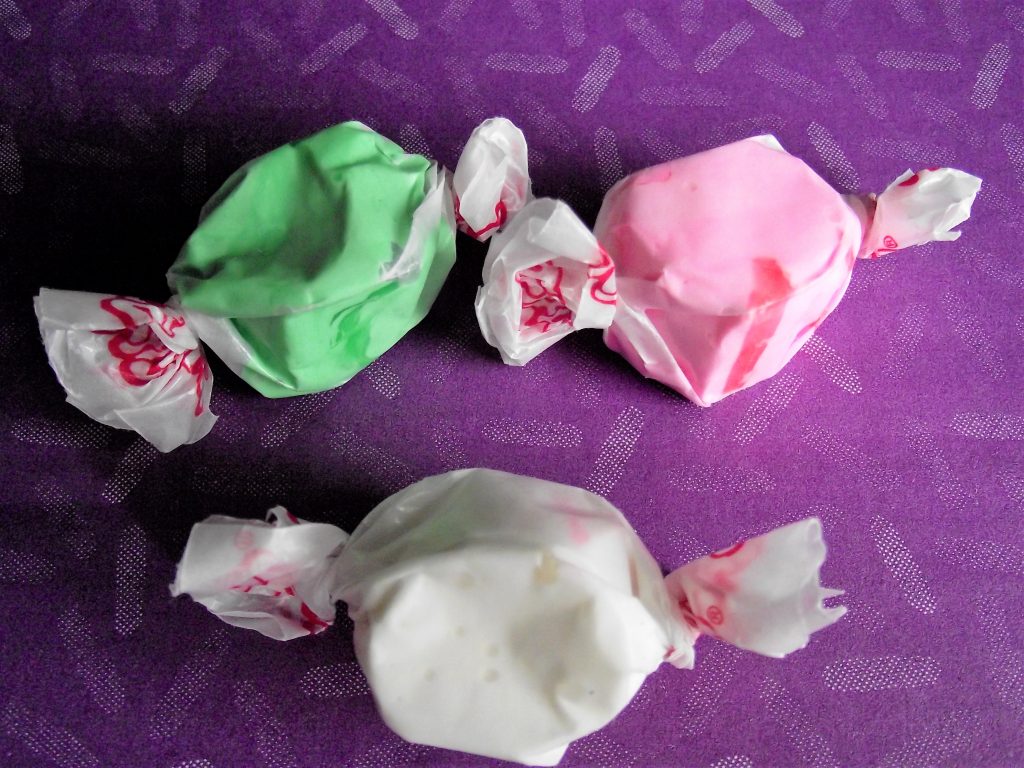 On the taffy kick next up is Saltwater Taffy! I love the story behind this candy. In 1883 a candy store flooded with water from the Atlantic Ocean which soaked their entire stock of taffy! I would say its a good mixup as the bit of salty flavor is a great mix with the chewy sweet flavors of the taffy. I am so stoked that they put these in the box!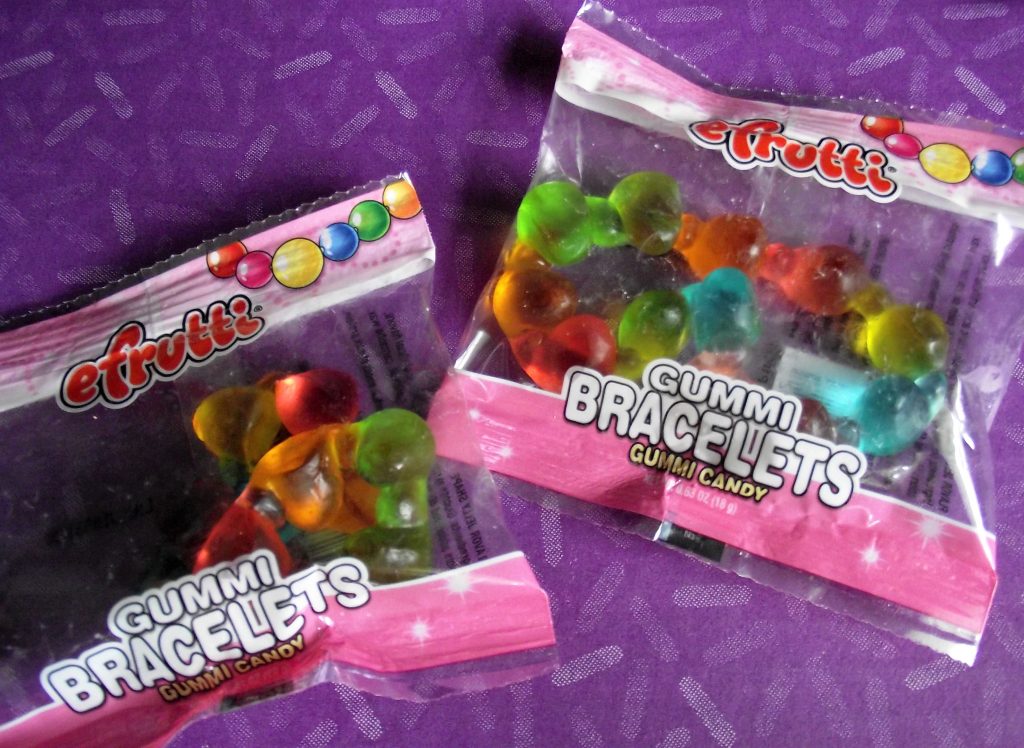 Candy bracelets were a staple of life growing up. However I have not had these gummy bracelets before. They were released in 1950 and are perfect for any little kid. They can be worn around to be like mommy or daddy and then when you just can't take it anymore you take a bite! I am excited to give these to my girls to try. They will be giddy.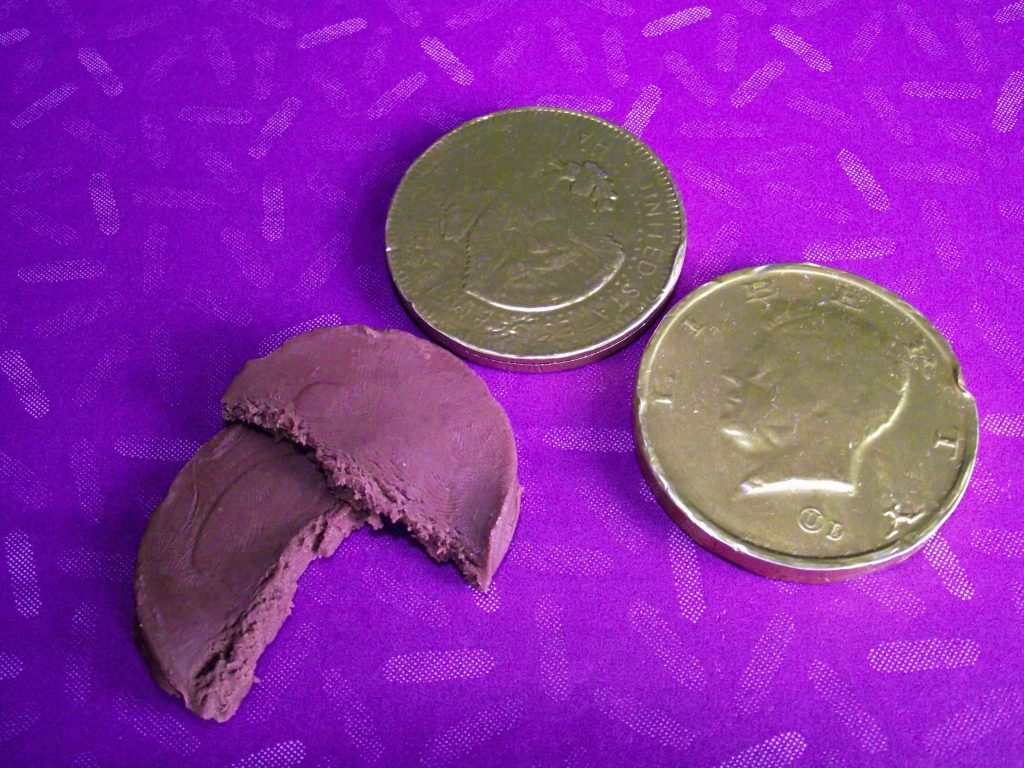 Surprisingly this is one of the few items in the box pertaining to chocolate. Quarter Dollars, more commonly known as candy coins, are a fun treat. They were released in the early 1900s and in many places are considered part of tradition. They are a novelty and a fun addition to the box.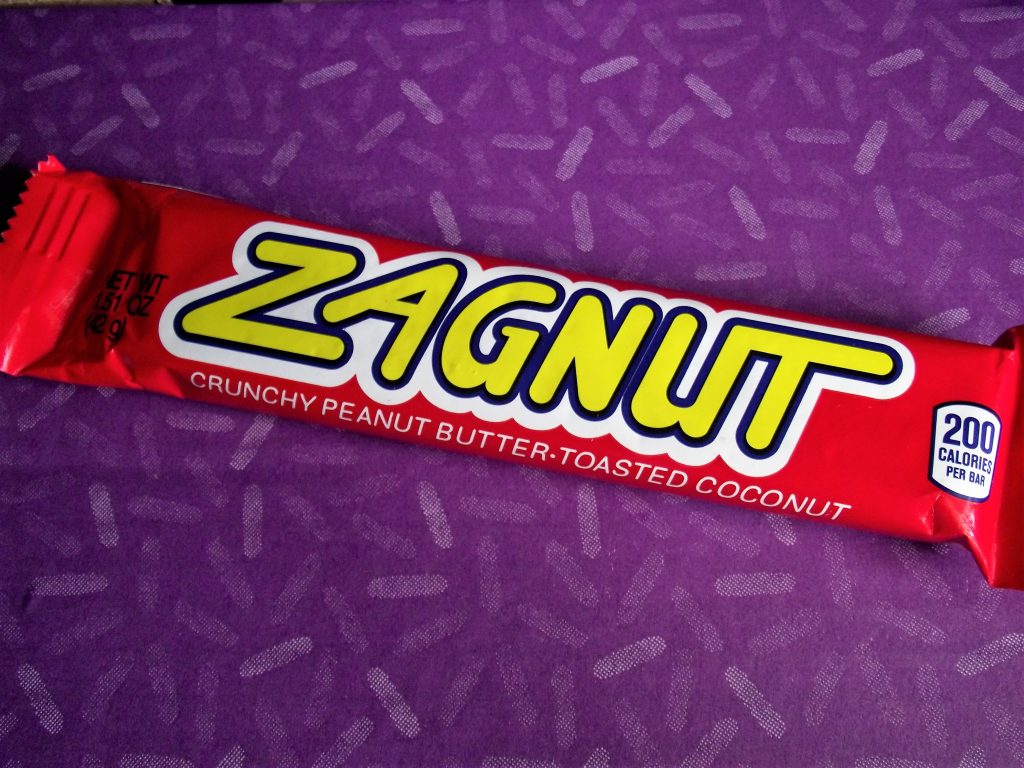 This candy took me by surprise. I honestly gave it to my husband from the get go because I had never heard of Zagnut. It was released in 1930. Once my husband opened it I was actually really disappointed I gave it to him! One of my favorite candies is a butterfingers and the Zagnut is essentially that except it has no chocolate outer. Thankfully he did share a bite with me and man it was delicious!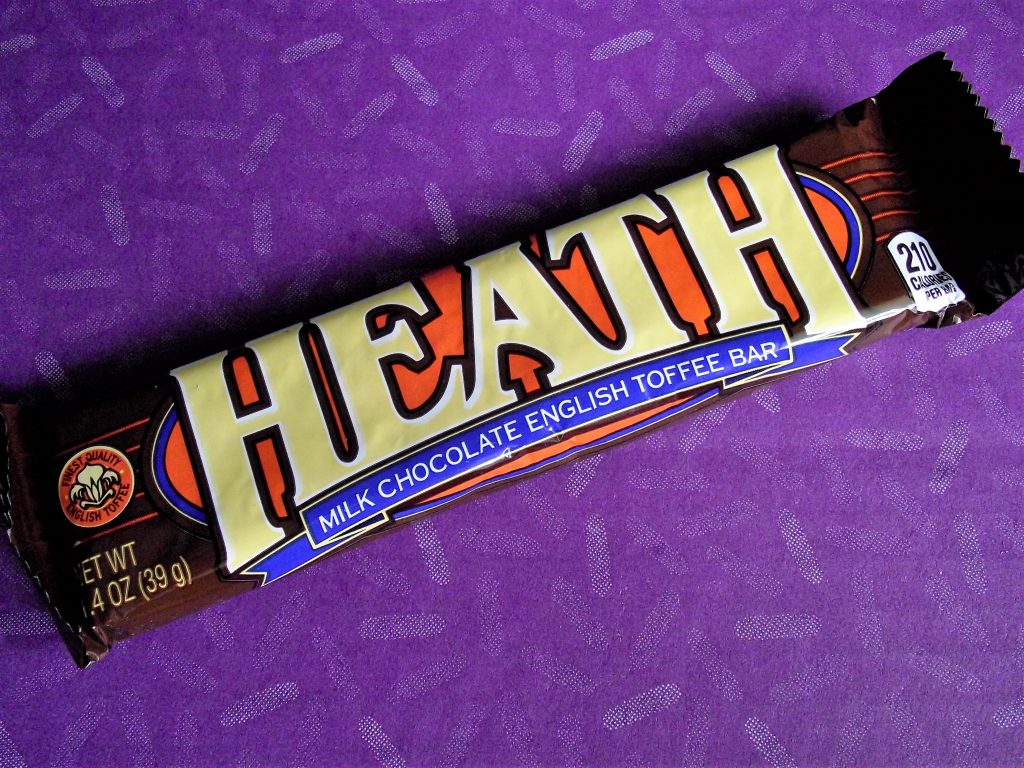 Heath bars are big in ice creams and such nowadays, but I had never had a whole one before. Heath bars were released in 1914 and are said to have the best toffee. I am not sure about best but it certainly was some good chocolate covered toffee. It has a nice crunch which can be fun in some candies!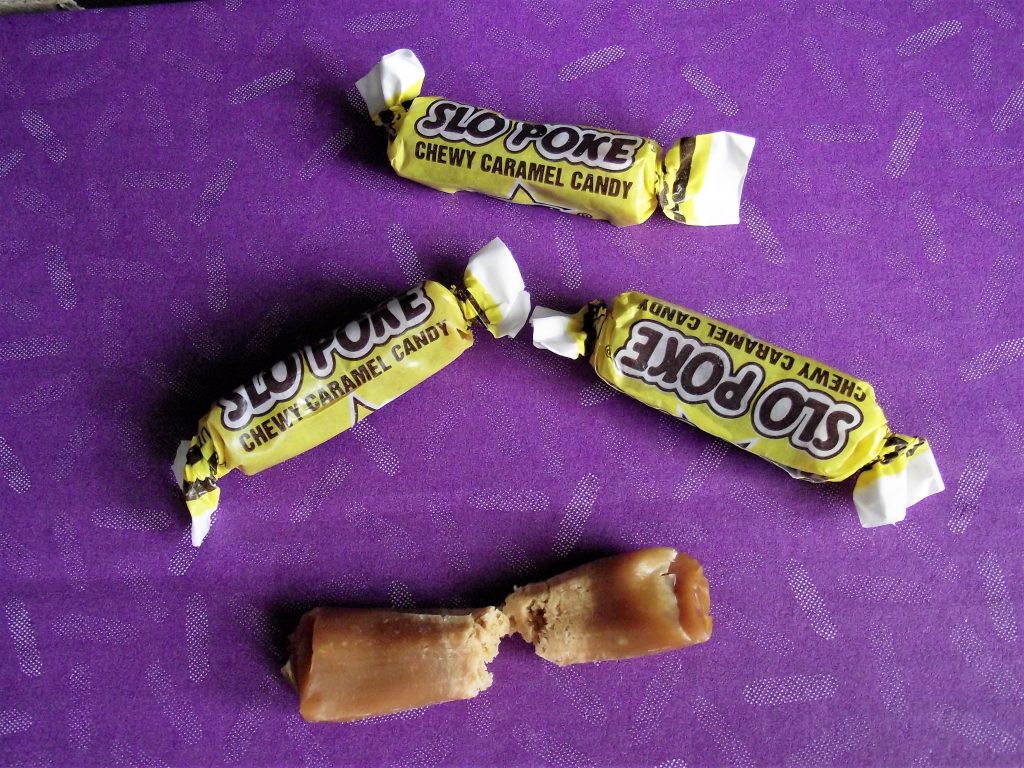 One candy I was not super keen about in the box was the Slo pokes. I personally do not like soft caramels. it is just a personal preference though. they were released in 1926. Thankfully my girls like caramel so they enjoyed these sweet treats!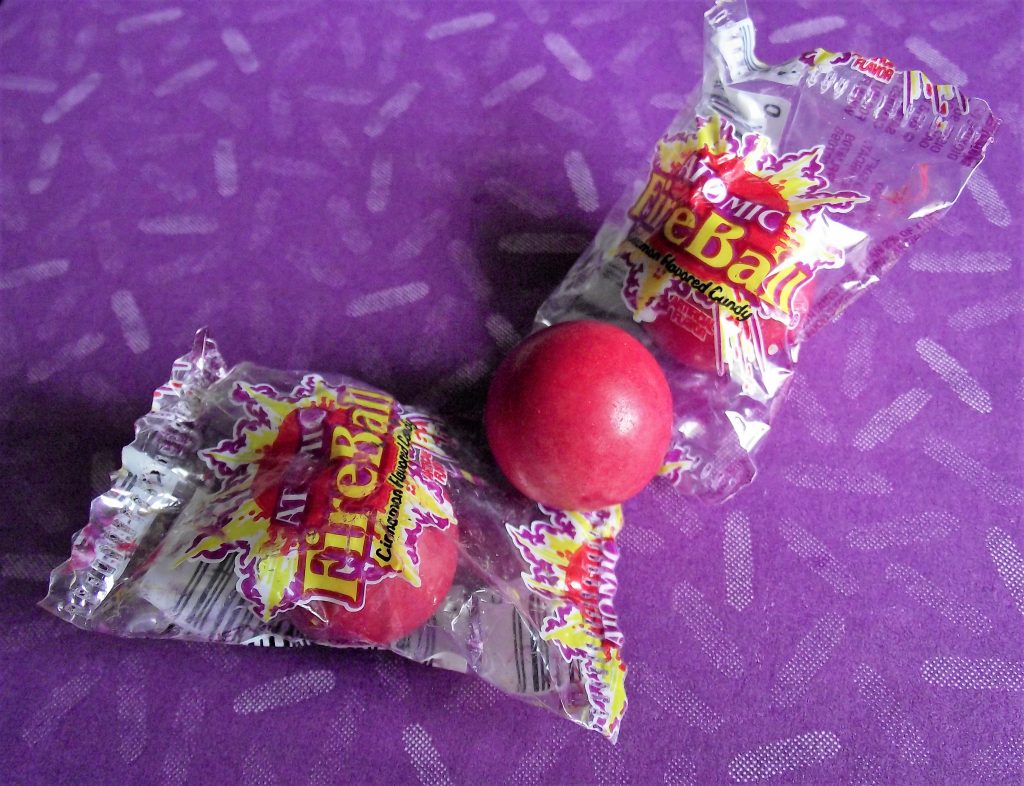 If you like cinnamon or red hots these Atomic Fireballs are just for you! They are about the size of a standard gumball and are really spicy for a candy. My husband absolutely loves these but even he didn't know they released in 1960. They are the perfect candy for someone who does not actually want a whole lot of sweet.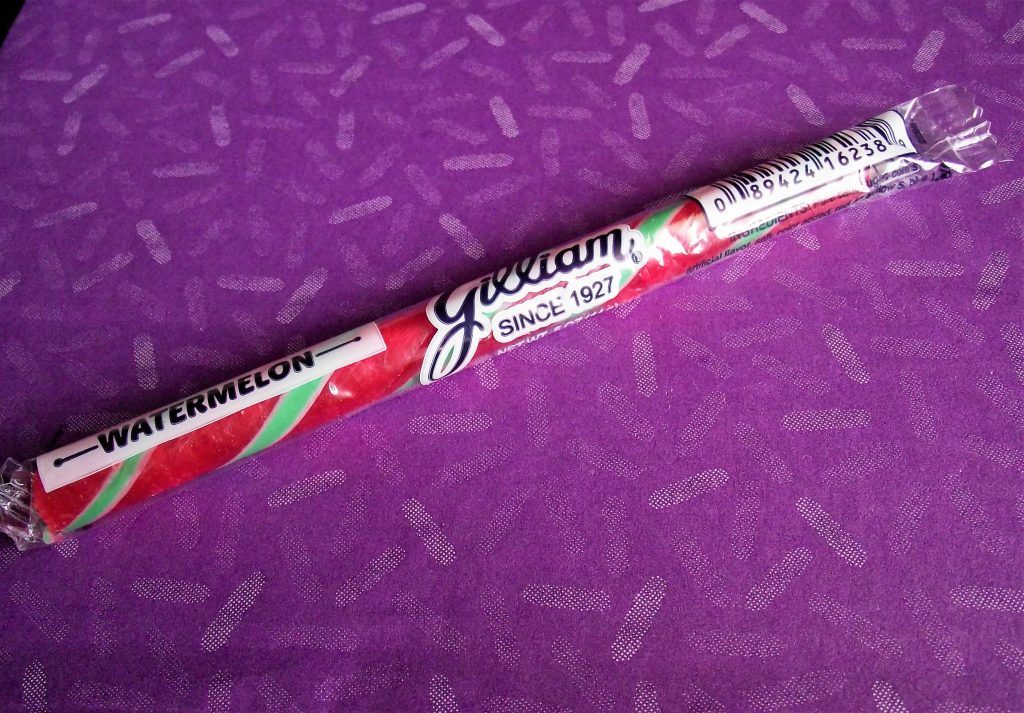 These Gilliam Candy sticks have their date right on the package! They have a variety of flavors but the one I receive in this box was a delicious Watermelon. It has the same concept as a peppermint tick. Just stick it in your mouth and lick as it melts away! be sure to keep the wrapper on or you will get sticky though!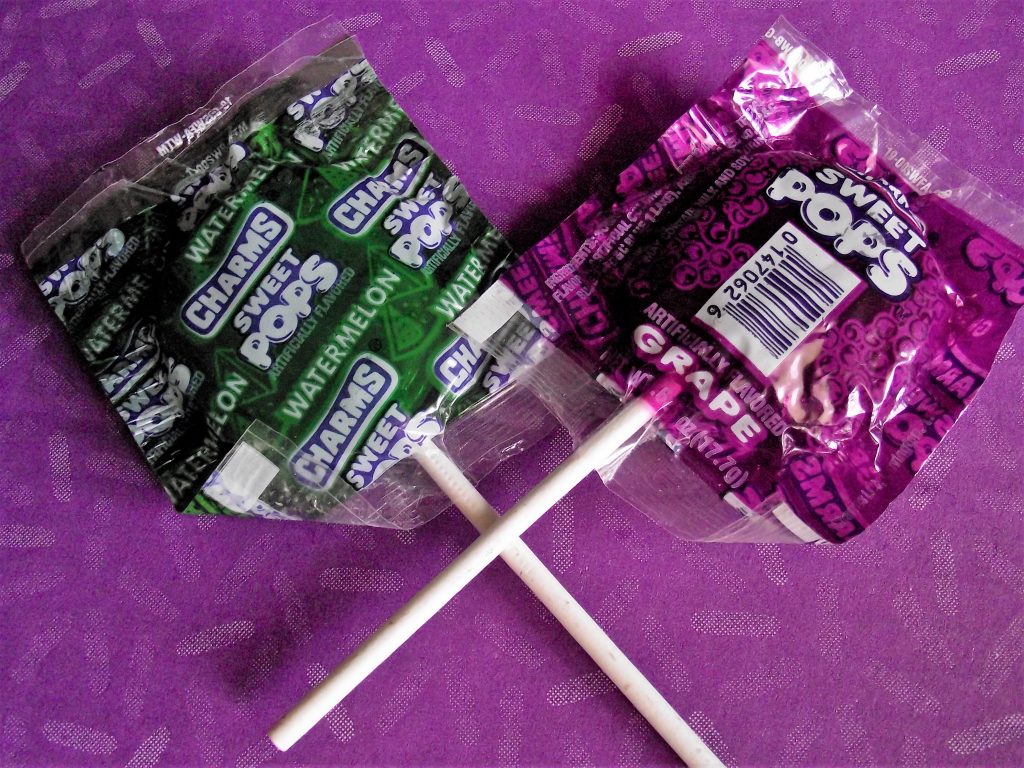 I showed my mom the box when I received it and the first thing she said was how much she loved the Charms Pops growing up. Lollipops are always appreciated as the act of eating them can be so relaxing. They sent two flavors, grape and watermelon which are among my favorite flavors!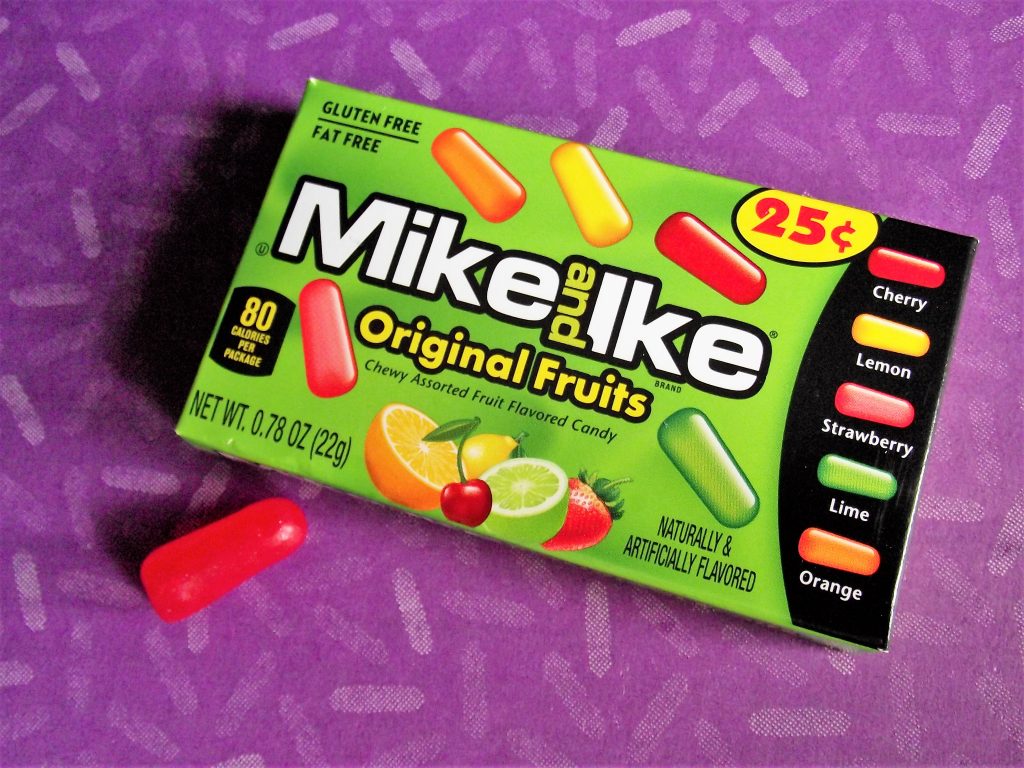 From 1940 comes these delicious Mike and Ike! Mike and Ike are still around today although they have had name changes and honestly I am not sure if they are back to the original name or not. However, no matter the name they are still the same soft candy with a semi hard coating. They are the size of small pills and are fun to bite in half! They have so many flavors but these are the classic flavors. These candies are perfect for the movie theatre or sitting at home!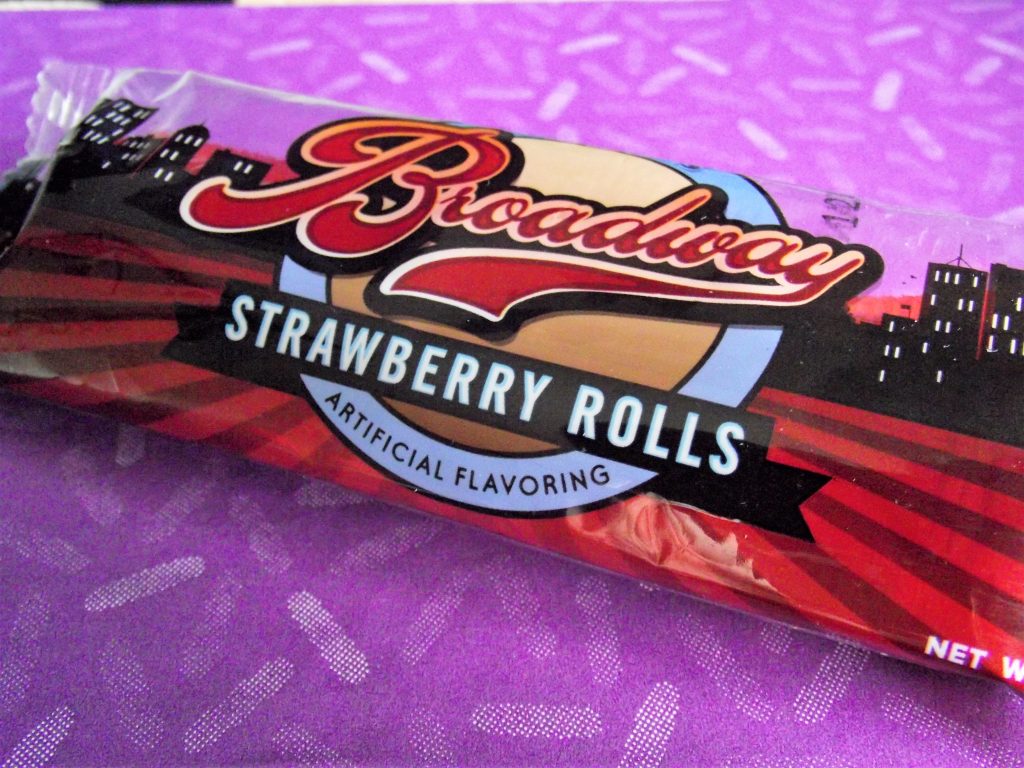 The last candy item in this sweet sweet box is the Broadway Licorice Roll from 1970! Licorice is amazing, as long as it isn't that black licorice…yuck. This licorice is no exception! It comes rolled up but pull apart as well. It is fun to play with and eat!
This whole box is full of memorable, amazing classic treats. It is so worth the price and then some! I suggest you try the box! If you are interested, click here!