Dollar Shave Club is a monthly subscription box that helps subscribers get a better shave at a better price. Subscribers can choose from one of three Dollar Shave Club Blades – the Humble Twin (2 blades), The 4X (4 blades, aka "The Lover's Blade"), and The Executive (6 blades) – and get 4-5 new blade cartridges automatically delivered to their door for as little as $3 a month. Dollar Shave Club also offers three shaving and grooming products you can add to your box to help you create your perfect monthly shaving subscription box.
Today, we're featuring a review of our December 2014 Dollar Shave Club Box.
The Dollar Shave Club box is a sturdy cardboard box with the Dollar Shave Club logo and their "Shave Time. Shave Money." tagline printed on the sides.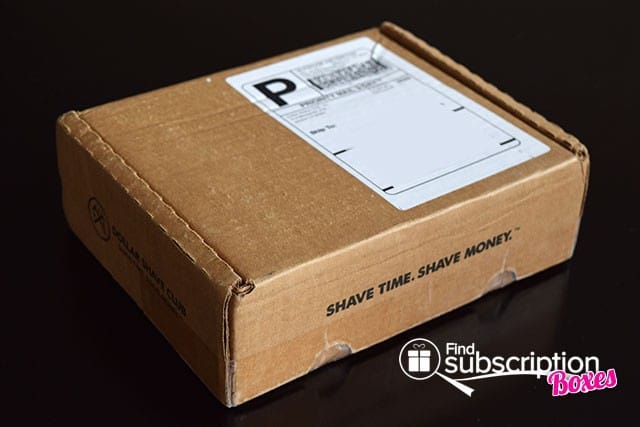 Under the tissue wrapping we got our first look at our December 2014 Dollar Shave Club shaving subscription box.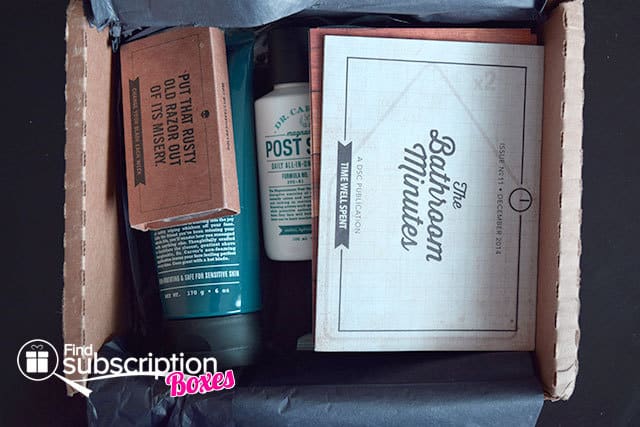 Dollar Shave Club included a fun "Bathroom Minutes" flyer that had fun bathroom facts that were perfect bathroom reading material. They also included product cards that described the shaving and grooming products in our Dollar Shave Club box.
Inside the December 2014 Dollar Shave Club Box
Our December 2014 Dollar Shave Club Box included 5 items.

1 & 2. The 4X Razor Handle & 4 Razor Blade Cartridges, Retail Value – $6
Dollar Shave Club automatically includes a new handle in your first Dollar Shave Club box. The 4X Razor has 4 stainless steel blades and a lubricating strip to help moisturize and soothe the skin. The 4X also has a full 90-degree pivot head to provide a smooth all-over shave.
3. Dr. Carver's Easy Shave Butter, Retail Value – $8
You've never used a shaving product like Dr. Carver's Shave Butter. This transparent butter helps you get the closet shave yet without clogging your razor blade. It goes on clear so you can see what you're shaving, and has a non-irritating formula that fights razor bumps and helps prevent ingrown hairs.
4. Dr. Carver's Magnanimous Post Shave, Retail Value – $9
This daily all-in-one moisturizer instantly calms and soothes your skin before hydrating and locking in moisture. It has a very light, clean scent and has a non-greasy formula that leaves your skin feeling great all day.
5. One Wipe Charlies Flushable Moist Wipes, Retail Value – $4
These flushable and biodegradable buttwipes made for men soothe, calm and refresh for the "one true clean."
December 2014 Dollar Shave Club Box Wrap-Up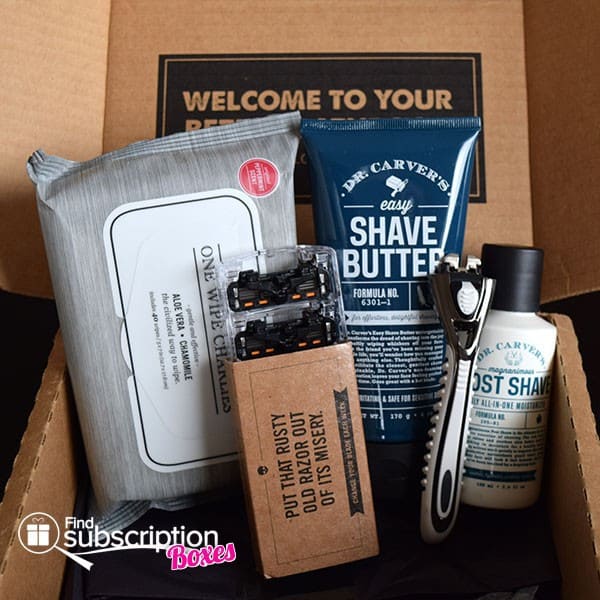 Our Dollar Shave Club tester was very impressed by the quality of products in their December 2014 Dollar Shave Club Box. Not only did he achieve "the smoothest shave ever", but the overall shaving experience was easier. Our tester noted that with The 4X Lover's Blade wide-open back design and the Shave Butter, it was much easier to rinse the blade which made the shaving process quicker. The total retail value of our December 2014 Dollar Shave Club box was $27.
With Dollar Shave Club subscriptions start at just $3 per month for monthly deliveries of The Humble Twin, how much could a Dollar Shave Club subscription save you on shaving?