Hello everybody! Today I am reviewing Graze: a healthy snack variety box that ships out weekly, bi-weekly, or monthly. Each snack uses high-quality, wholesome ingredients and is perfectly portioned for guilt-free snacking. I was subscribed to Graze from 2014-2016, and I am excited to see if the subscription is as great as I remember.
Graze currently has three box options:
8 Snack Variety Box (101 snacks available) for $13.99/box
8 Snack Calorie Count Box (51 snacks under 150 calories each) for $13.99/box
8 Snack Protein Box (36 protein-packed snacks available) for $13.99/box.
You can schedule how frequently you would like to receive your boxes, and you can easily place your subscription on hold if necessary.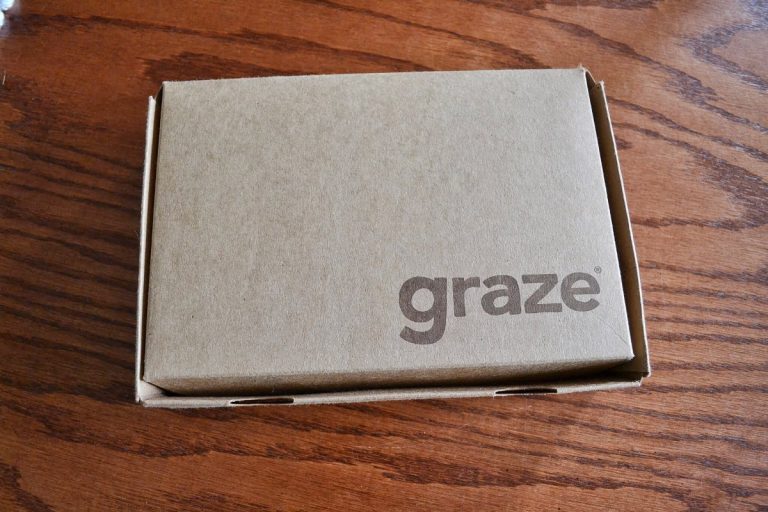 This week, I am reviewing the 8 Snack Variety Box. When you have a Graze subscription, you can access their snack inventory and rate each snack as a "love", "like", or "dislike". I have tried many of Graze's snacks, so I went through and rated a lot of their inventory before my first box shipped. That way, this box was very tailored to my preferences! You can also use the Graze interface to completely rule out certain kinds of snacks, such as those containing any nuts.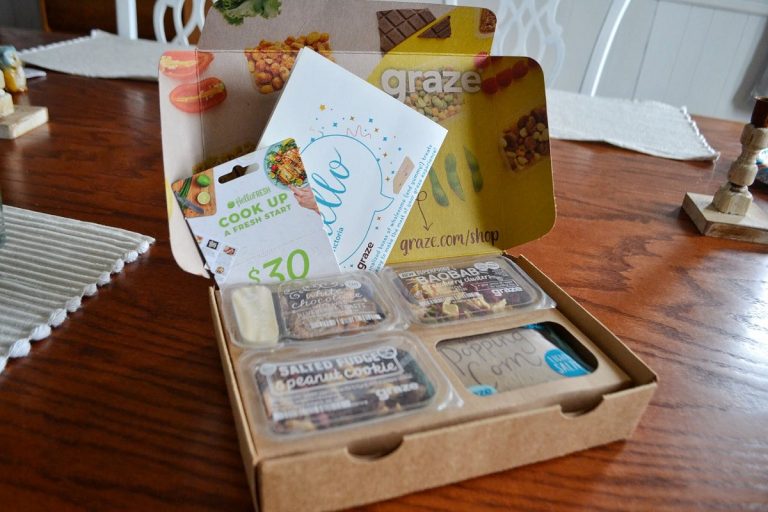 Let's go ahead and take a look at my personalized 8 Snack Variety Box! Each snack arrived in perfect condition. There was minimal packaging, and the box is 100% recyclable. The snack packs are made from PET number 1 plastics, which can also be recycled. Unfortunately, the plastic top to the packs are not recyclable, but can be incinerated for energy. I love that Graze is making an effort to minimize their environmental footprint!
In the top row of snacks, I received White Chocolate with Wild Blueberry Toasts, Baobab and Raspberry Clusters, Salted Fudge and Peanut Cookie, and Lightly Salted Popping Corn.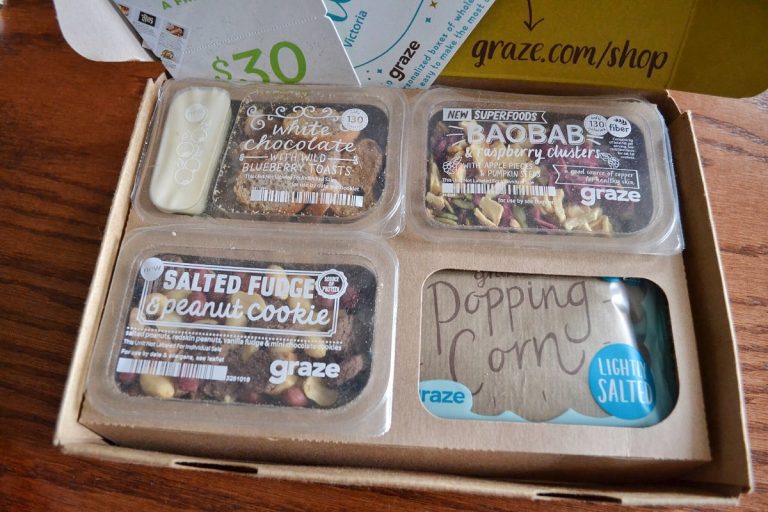 In the bottom row of snacks, I received Original Fruity Flapjack, Eleanor's Apple Crumble, Louisiana Wild Rice and Beans, and Soy Roasted Seeds.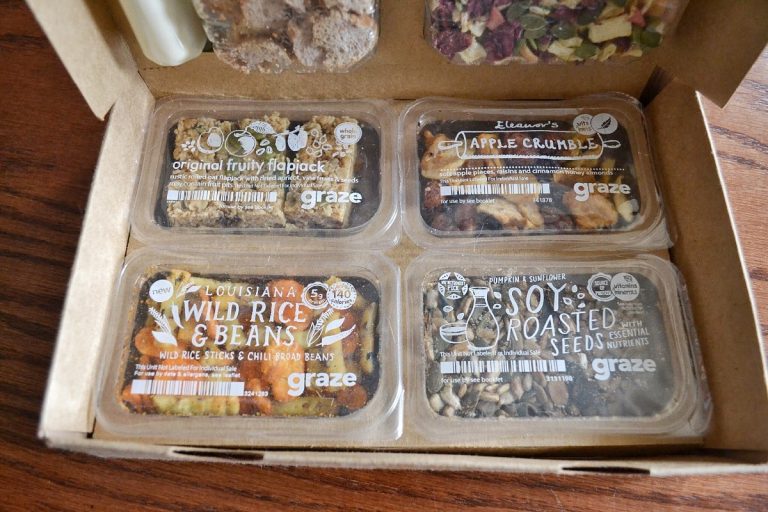 Here is a shot of all the snacks I received this week: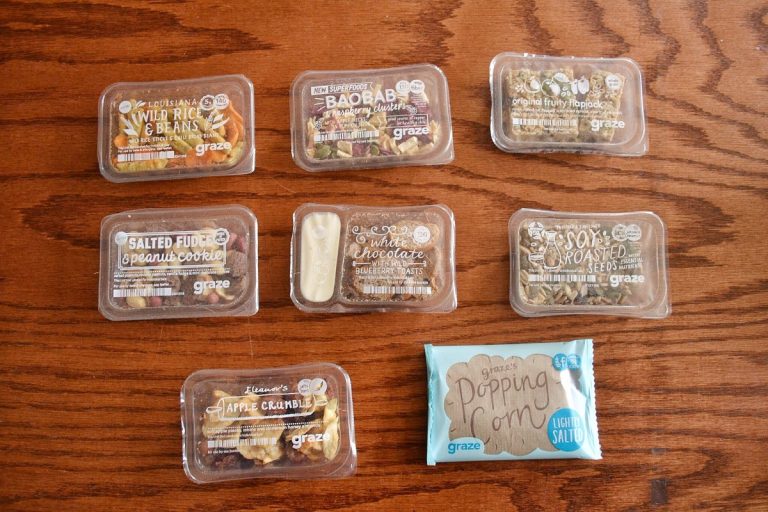 My box also included a small pamphlet with nutritional information and ingredient lists for each snack.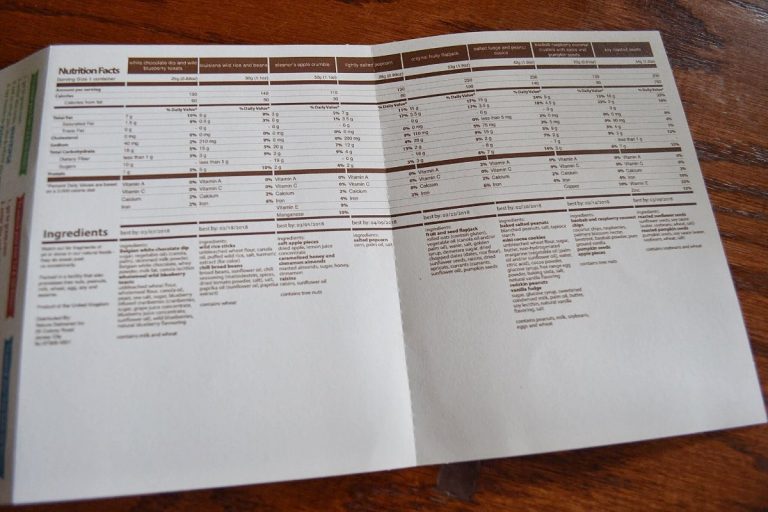 The final thing the box contained was a $30 off coupon for first-time HelloFresh users. This is a meal subscription service that I have purchased before, so I will not be able to use the coupon.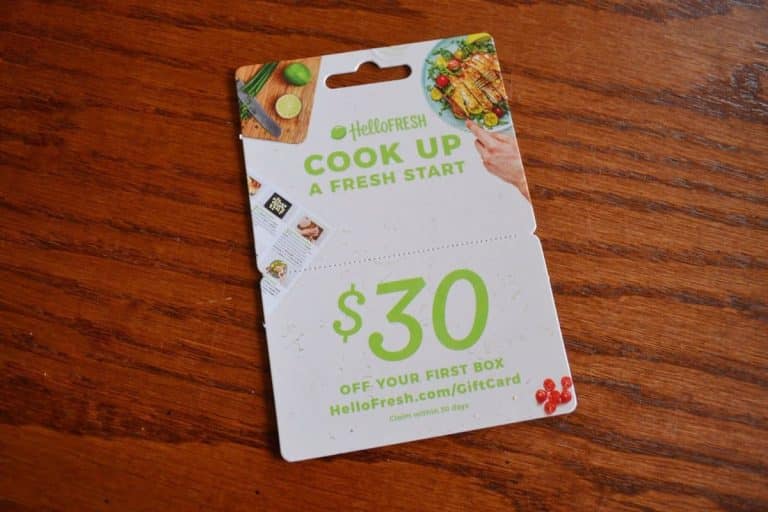 Now, let's take a look at the individual snacks that were in my box.
Louisiana Wild Rice and Beans: Wide Rice Sticks & Chili Broad Beans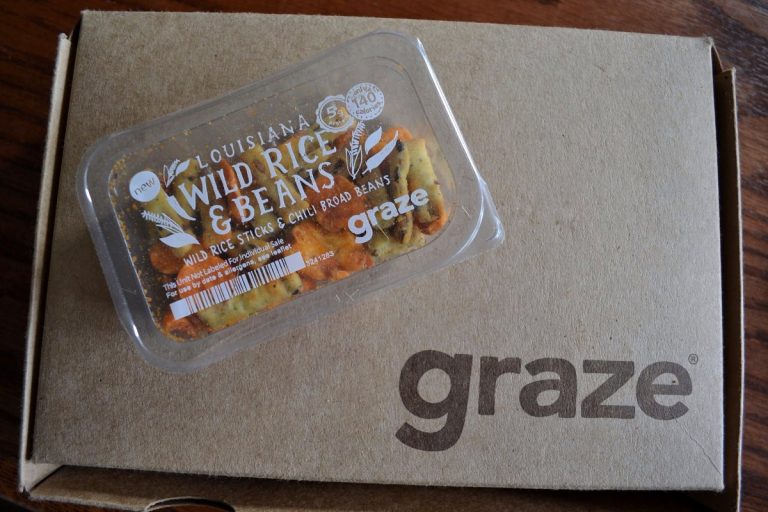 These were a perfect savory snack! Crunch and salty, with a little spicy kick. This was my first time eating broad beans (also known as fava beans), and I really enjoyed them.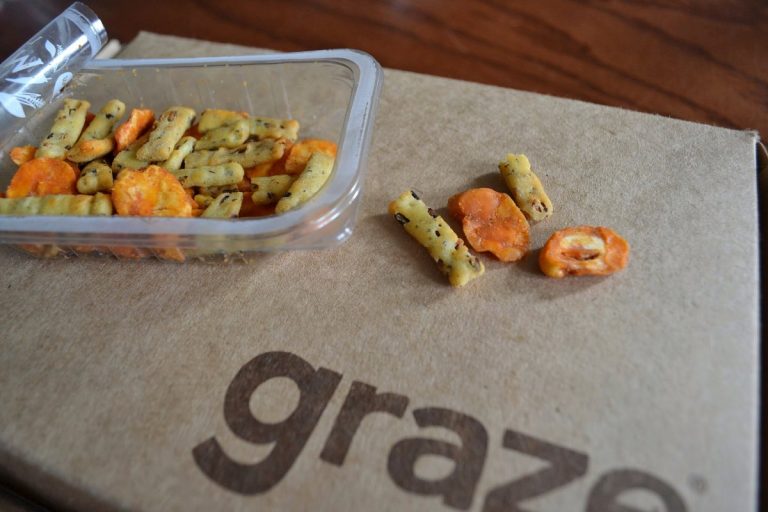 White Chocolate with Wild Blueberry Toasts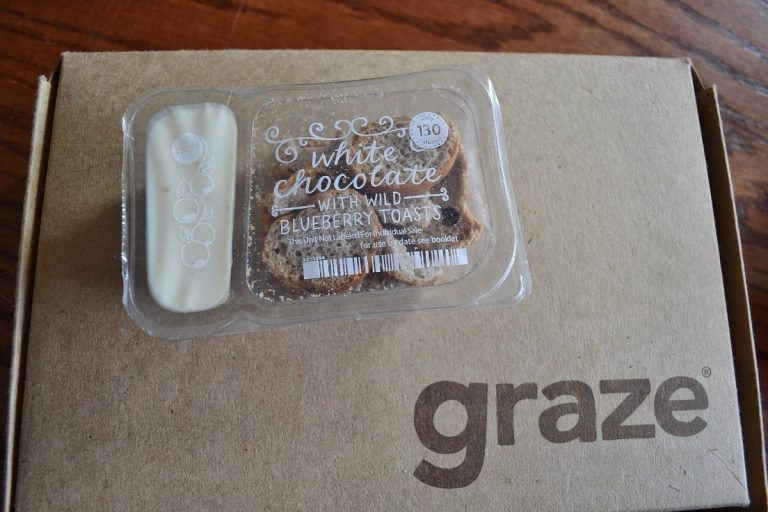 This was my favorite item in the box! I have a sweet tooth, and the white chocolate hit the spot. At only 130 calories, it was a delicious, guilt-free snack.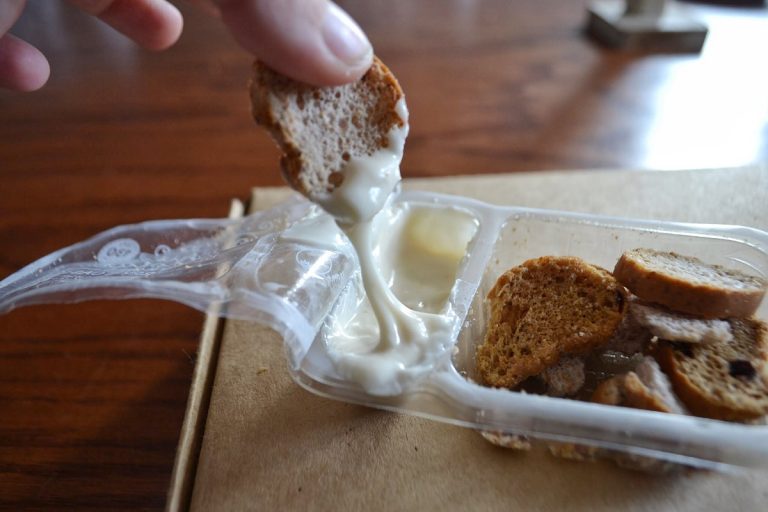 Pumpkin & Sunflower Soy Roasted Seeds

These roasted seeds were combined with soy sauce to create a delicious snack with 7g of natural protein. It can be easy to overindulge on seeds, but this portion is only 200 calories.

Eleanor's Apple Crumble: Soft Apple Pieces, Raisins, and Cinnamon Honey Almonds

 The cinnamon honey almonds were the star of this snack! Their crunchy coating was sweet and satisfying. I also liked the golden raisins, but I wasn't a big fan of the soft apple pieces.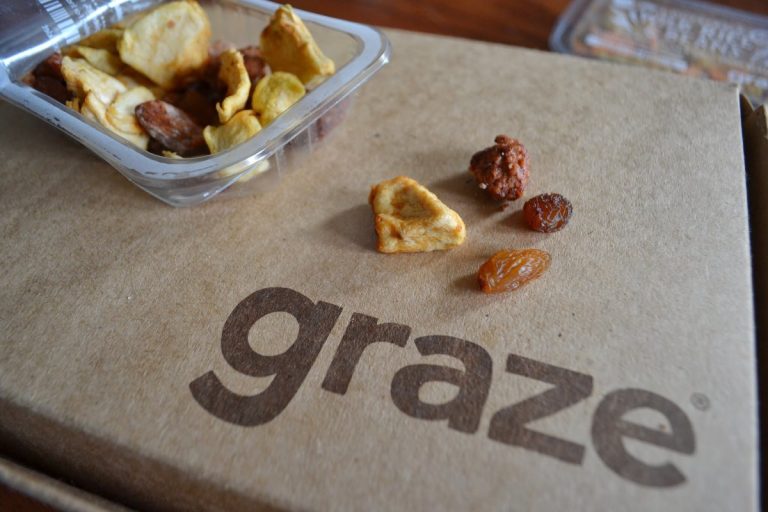 Baobab and Raspberry Cluster with Apple Pieces and Pumpkin Seeds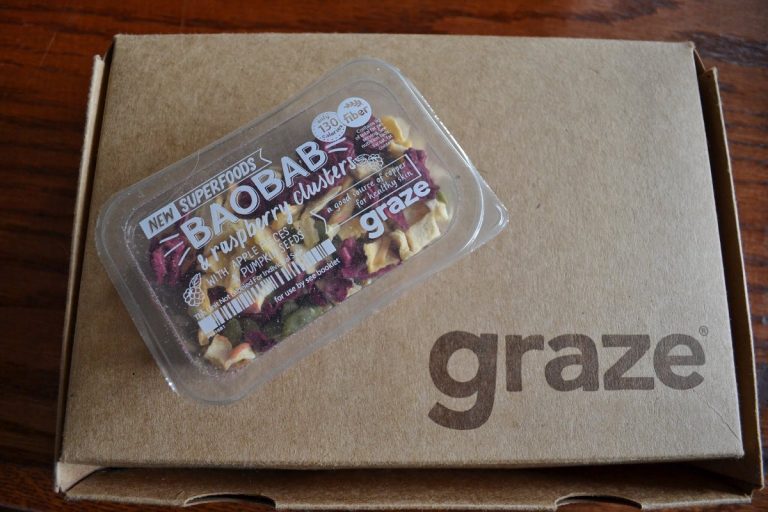 I had never head of Baobab before, but apparently it is a superfruit that is rich in antioxidants, potassium, and fiber. It is also the only superfruit that dries on the tree! This snack was made by combining raw coconut pieces, raspberry sauce, vanilla, and baobab. The resulting clusters are air-dried for an extra crunch, and combined with pumpkin seeds for an extra nutritional boost. This is not a snack I would eat on it's own, but it is definitely tasty when sprinkled over a smoothie bowl!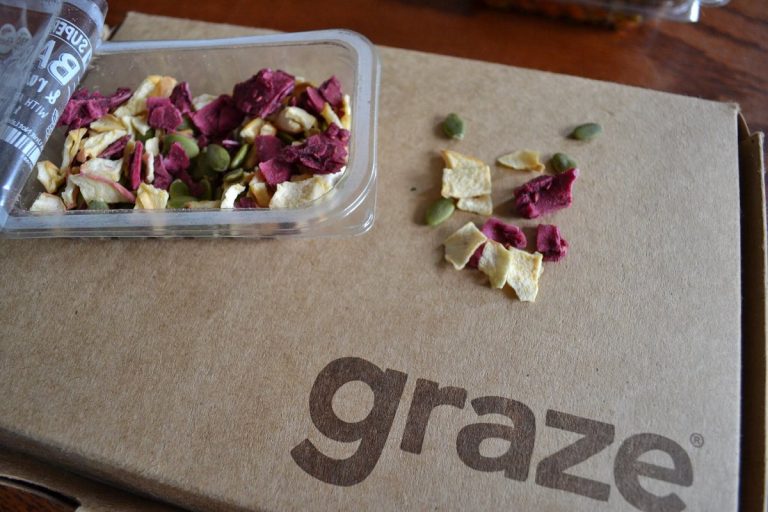 Salted Fudge and Peanut cookie: Salted Peanuts, Redskin Peanuts, Vanilla Fudge & Mini Chocolate Cookies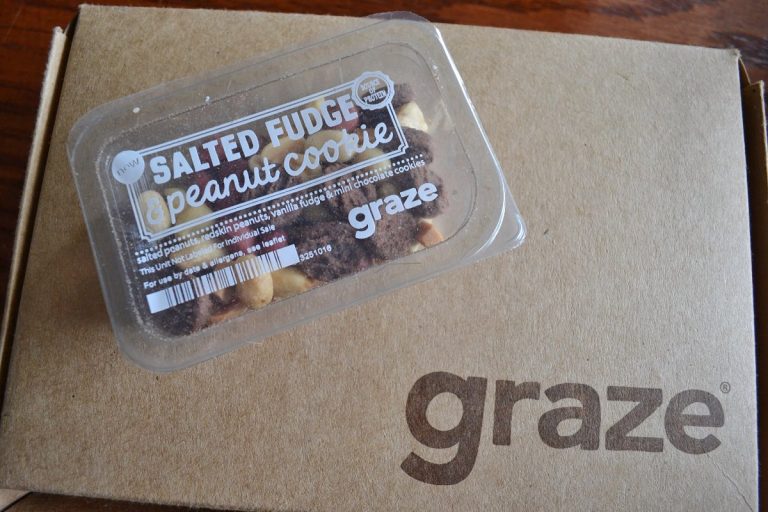 This was another one of my favorite snacks. I love the Graze snacks that include fudge. They are tiny little squares of chewy goodness! This deconstructed cookie is sweet and salty, and a good source of protein.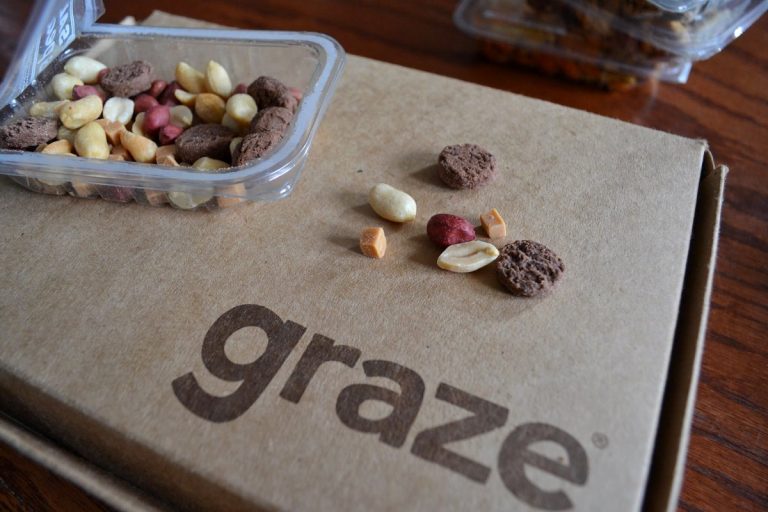 Original Fruity Flapjack: Rustic Rolled Oat Flapjack with Dried Apricot, Vine Fruits, and Seeds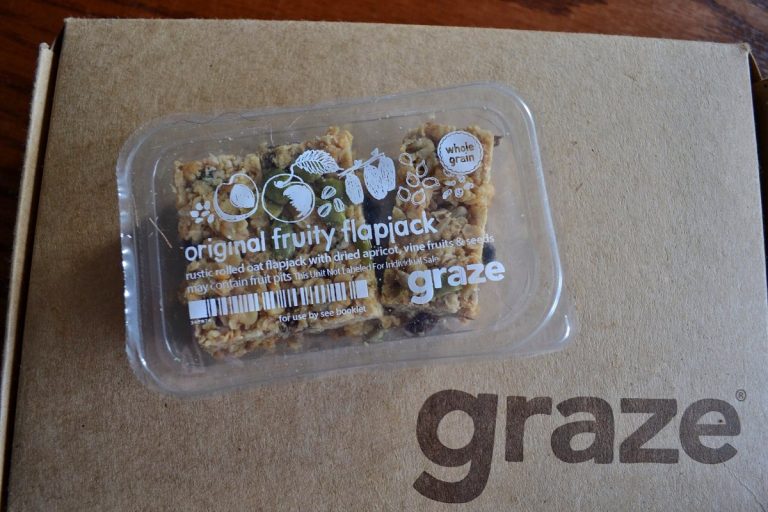 I was a little confused when I saw this snack, because I always thought "flapjacks" is another word for pancakes. However, that is a thoroughly Americanized concept. Flapjacks in the UK are a tray bake made from sugar, butter, and oats and are served with honey. These were sweet and chewy, and reminded me of a granola bar.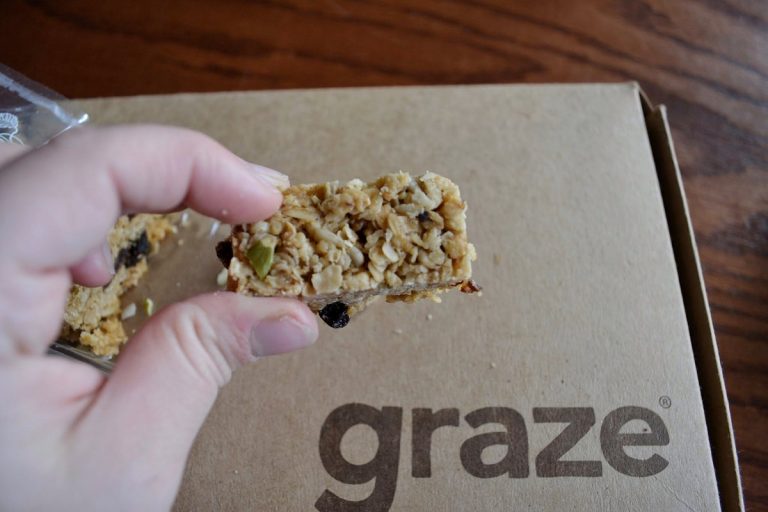 Lightly Salted Popping Corn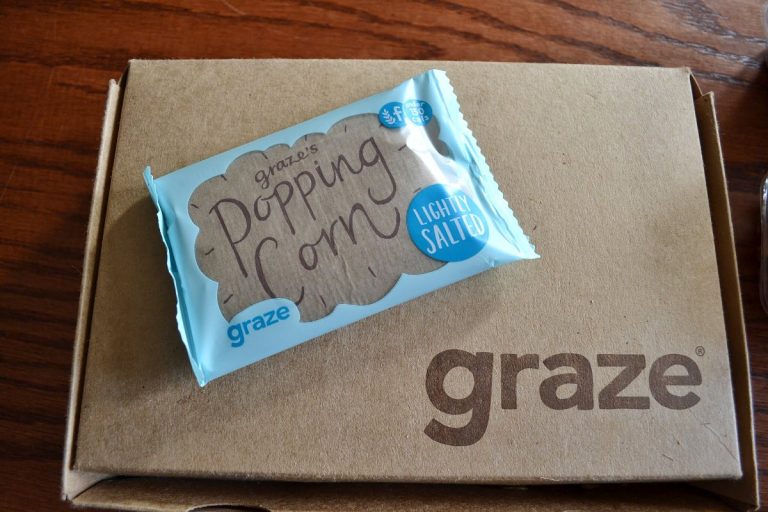 I love popcorn! I usually make it on the stovetop rather in the microwave, but this is great for when you want it in just a matter of seconds. This popcorn was light and fluffy, and much better than traditional microwave popcorn in my opinion.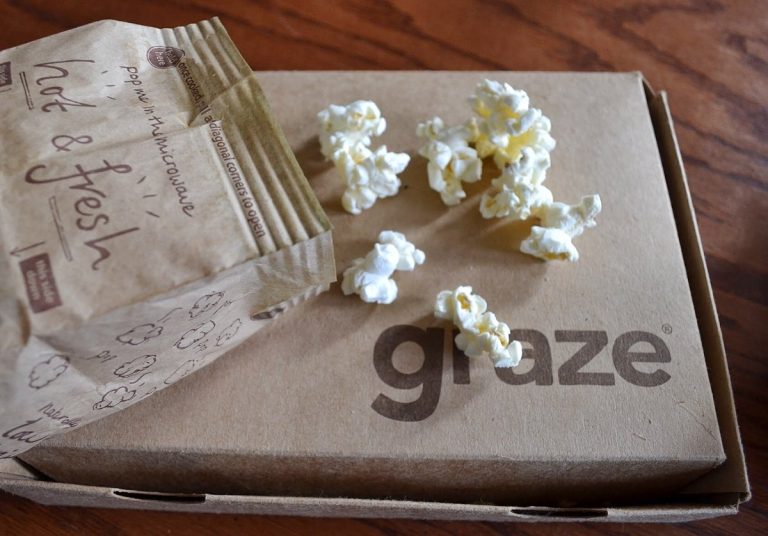 Those were all of the snacks I received in this week's Graze box! The awesome thing about Graze is that you can purchase packs of the individual snacks that you enjoyed. I am definitely considering purchasing a pack of the White Chocolate and Blueberry Toasts.
Keep reading for my final verdict of the box!