Sci-Fi Block is a monthly sci-fi subscription box for science fiction fans. Every month, Nerd Block hand-picks a collection of licensed merchandise and collectibles representing the very best in science fiction entertainment to include in your monthly sci-fi box. With today's Sci-Fi Block review, we're unboxing the June 2016 Sci-Fi Block.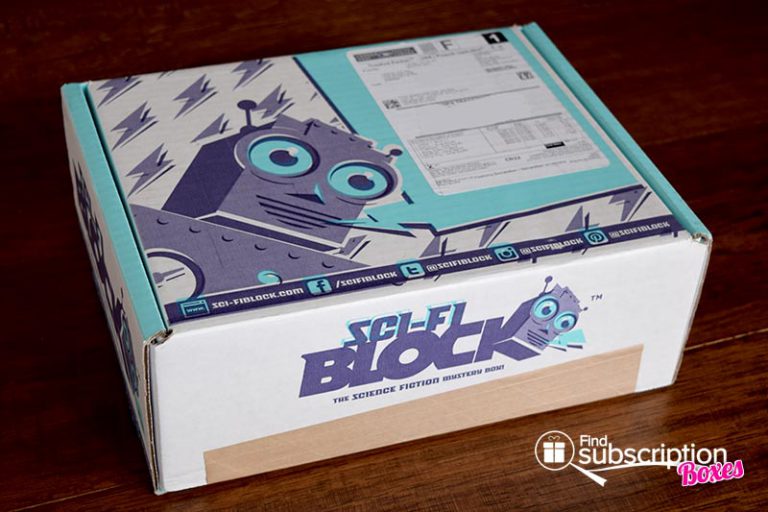 Sci-Fi Block includes a colorful product card that has the information about the science fiction collectibles in that month's box.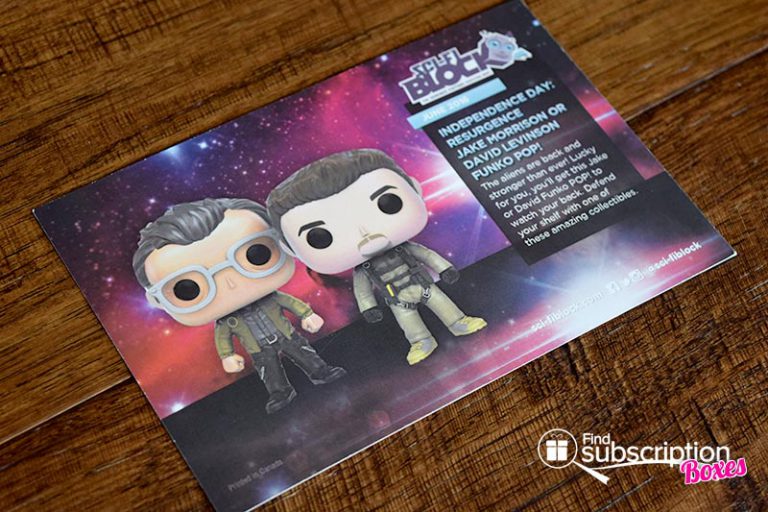 Here's a first look inside our June Sci-Fi Block.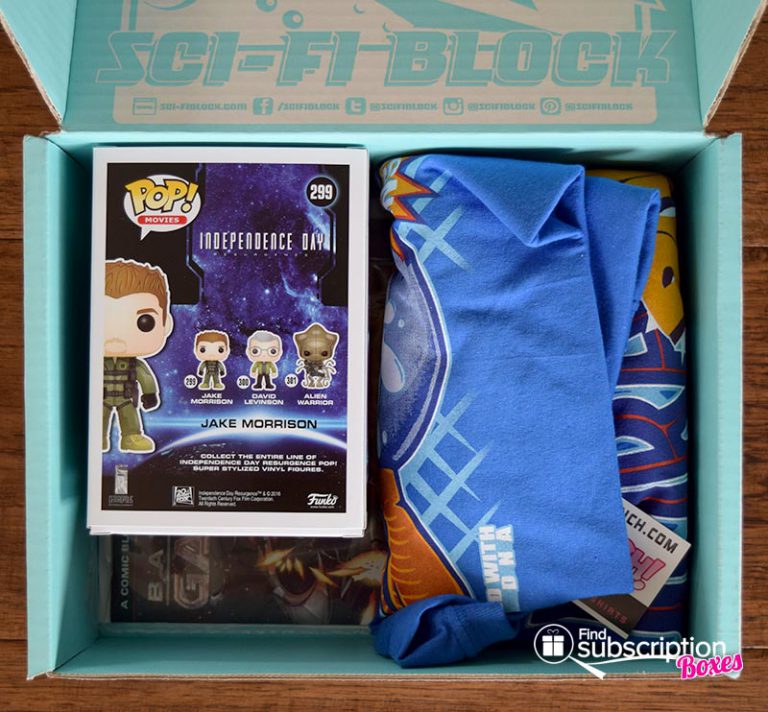 Inside the June 2016 Sci-Fi Block

There were 6 sci-fi items in our Sci-Fi Block July 2016 monthly sci-fi box.
EXCLUSIVE T-Shirt: Jurassic Pops
This fun Jurassic Pops tee pays homage to one of our favorite prehistoric movies.
Independence Day: Resurgence Jake Morrison or David Levinson Funko Pop!
The aliens are back with to attack Earth. These Jake or David Funko POP!s will help you defend your planet.
EXCLUSIVE Aliens vs. Colonial Marines Army Men
Create your own battle fields and wage war against the aliens with these exclusive army men.
EXCLUSIVE Back to the Future: 4-Pack Coaster Set
Make water rings on your table a thing of the past with this exclusive coasters featuring Back to the Future artwork from different era.
Back to the Future Delorean Art Print
Decorate your walls with this Pop Art Delorean print, featuring colorful copies of the time traveling vehicle.
EXCLUSIVE Battlestar Galactica Comic
Featuring an exclusive variant cover, this issue of Battlestar Galactica follow's the crews struggle against robot Cylons.
June 2016 Sci-Fi Block Review Wrap-Up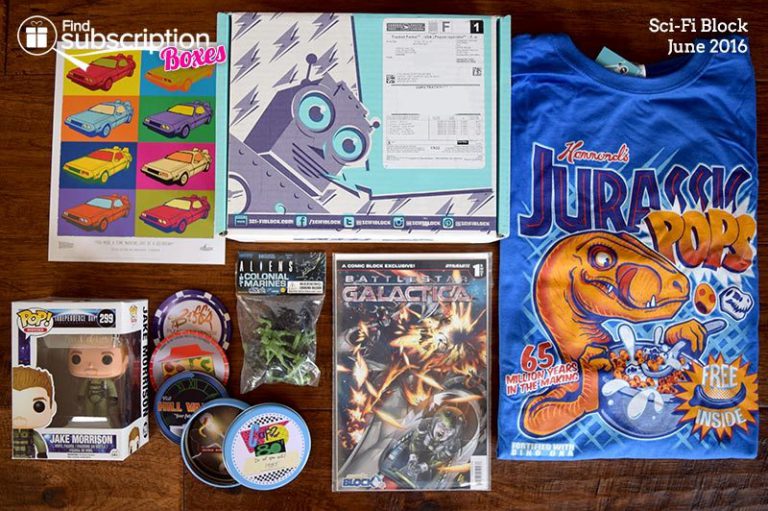 June's Sci-Fi Block was loaded with exclusives and collectibles from a variety of classic and current pop culture sci-fi films and shows. Who isn't a fan of Marty and the time-traveling Delorean? The BTTF coasters have fun Back to the Future designs that span the decades and will protect your table from water rings. As an additional piece of art, The Delorean print features a bright retro design that will brighten up even the gloomiest wall or garage.
Jurassic Park fans will love June's sci-fi t-shirt. The Jurassic Pops t-shirt is one of our favorite nerdy/geek t-shirts thus far. The colorful shirt features a Velociraptor chowing down on his favorite Jurassic Pops breakfast cereal.
Next, Sci-Fi Block took us into outer space! The Battlestar Galactica comic has exclusive variant cover and is a great fun adventure for sci-fi fans.. Both young and older sci-fi nerds can re-create their favorite battles with an EXCLUSIVE bag of aliens and colonial marines army men. Finally, you can celebrate Independence Day and the day we beat the aliens (again) with this Funko Pop! vinyl figure from Independence Day: Resurgence.
What was your favorite June Sci-Fi Block nerd collectible?
Sci-Fi Block Coupon Code
For a limited time, save 15% off your first Sci-Fi Block with new monthly subscriptions. Use Sci-Fi Block coupon code FindSubBox16 to at checkout to get your discount.