We're revealing the March 2016 Firefly Cargo Crate box contents! Brought to you by Loot Crate and QMxInsider, the Firefly Cargo Crate is a bi-monthly subscription box for Firefly fans. Every other month, you'll receive a collection of 5-7 exclusive Firefly collectibles delivered to your door.
The March Firefly Cargo Crate #1 theme was SHINY!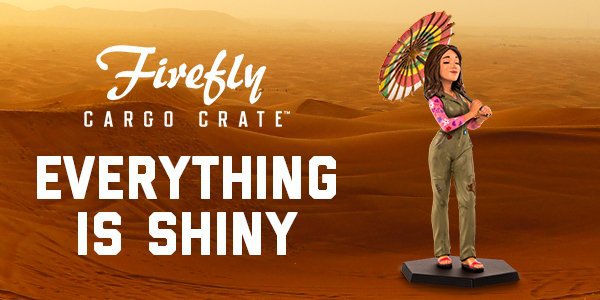 Inside the March 2016 Firefly Cargo Crate
There were 8 Firefly collectibles in the Shiny March Firefly Cargo Crate.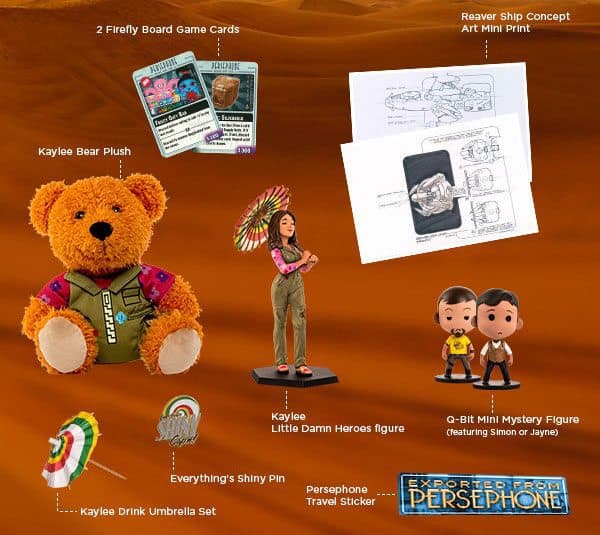 Kaylee Little Damn Heroes Figure
Q-Bit Mini Mystery Figure (featuring Simon or Jayne)
Kaylee Bear Plush
2 Firefly Board Game Cards
Reaver Ship Concept Mini Art Print
Kaylee Drink Umbrella Set
Persephone Travel Sticker
Everything's Shiny Collectible Pin
What was your favorite March Firefly Cargo Crate collectible?
The May 2016 Firefly Cargo Crate theme has been announced! See what it is.