The April 2017 Target Baby Box is here! On sale for just $5 + FREE shipping, Target has just released their new April Target Baby Box of favorite baby products to help you care for your little one.
April 2017 Target Baby Box Complete Spoilers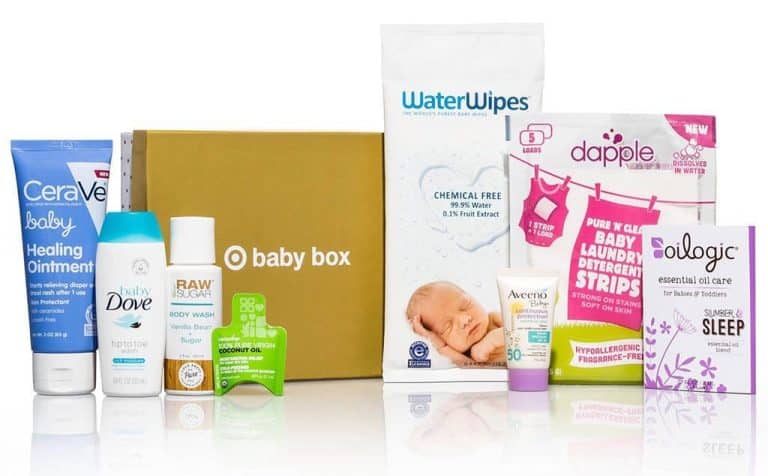 The April Target Baby Box has a handpicked collection of solutions to care for your little one. This super-cute box has a bit of everything – from skin care to wipes to laundry detergent strips. On sale for just $5 plus free shipping, the April 2017 Target Baby Box has 7 baby product samples including:
CeraVe® Baby Healing Ointment (3.0 fl oz) is formulated with three essential ceramides to help repair and restore the natural skin barrier. It helps treat and prevent diaper rash. It also helps protect, soothe and relieve extremely dry, cracked and chapped skin. It is gentle on skin, non-irritating and hypoallergenic. Plus it is accepted by the National Eczema Association.
Raw Sugar Vanilla Bean + Sugar Natural Body Wash (2.0 fl oz) will make your next bath or shower a treat. Carefully crafted in Southern California with ethical, sustainable, cruelty free ingredients-Raw Sugar Vanilla Bean + Sugar Natural Body Wash is processed through ColdPress Technology® to keep the good stuff in. Rich in antioxidants, vitamins and minerals with the soothing properties of vanilla bean this will leave skin super clean and ready to receive those delicious butters and moisturizers you love.
Baby Dove Rich Moisture Tip to Toe Wash (1.8 fl oz) From the makers of the #1 cleansing brand used by pediatricians at home. Our tear free Tip to Toe Wash is formulated with the Dove difference. The pH neutral formula goes beyond mild cleansing with a rich, creamy lather that replenishes essential nutrients to help retain its natural moisture, leaving baby's skin clean and soft.
Dapple Baby Laundry Detergent Strips (.9 oz, 5 strips) are a super-concentrated, hypoallergenic, fragrance-free formula in a laundry detergent strip. Strong enough to cut through the toughest messes and gentle enough for your baby's skin, leaving clothes truly clean. Designed for use in hot and cold water. Free of SLS, SLES, artificial fragrances, dyes, parabens, phthalates, chlorine, formaldehyde, and optical brighteners. Suitable for standard and HE machines and dissolve in water.
Oilogic Slumber and Sleep Essential Oil (.07 fl oz) Relaxing vapors from a blend of 100% Pure Essential Oils to rest easy. Slumber and Sleep includes a blend of Lavender Oil, Chamomile Oil, Mandarin Oil, Orange Oil, Grapefruit Oil, Bergamot Oil, safely diluted with Jojoba and Castor Oil for babies 6 months+. Pediatrician and Dermatologist Tested and Made Safe® Certified. Pre-blended and safely diluted oil to apply to bottom of babies' foot, back of neck and chest for a more peaceful rest at bed or nap time.
WaterWipes (10 ct) Clean your baby the purest way possible – with purified water and a drop of fruit extract. These hypoallergenic cotton wipes are so mild (no perfumes, additives or preservatives!) and non-irritating, they've been awarded the National Eczema Association's Seal of Acceptance.
Aveeno Baby Continuous Protection Sensitive Skin Lotion Zinc Oxide Sunscreen SPF 50 (0.5 fl oz) is formulated with naturally sourced 100% Zinc Oxide and Active Naturals® Oat to combine superior broad spectrum UVA/UVB sun protection with soothing benefits. Dermatologist and pediatrician recommended, this quick-absorbing, non-greasy formula is tear-free, hypoallergenic and water resistant. Free of parabens, phthalates, dyes, fragrances and chemical sunscreen ingredients.
UpSpring 100% Organic Coconut Oil Skin Lotion is made from 100% organic coconuts and is formulated for skincare to soothe, moisturize, protect and support healing. It quickly absorbs into skin to soothe and moisturize Baby's skin and can be used to relieve dry or eczema prone skin, to treat and prevent diaper rash, and to treat cradle cap. Plus, it works on stretch marks, chapped lips and more.
Target Baby Boxes are available online only and sell out very quickly. Order your April Target Baby Box today!