The latest trends in makeup and beauty products change every seasons and sometimes more often than that. Whether it's the latest eyeshadow colors or the latest facial cleanser, there's always something new to try. The Beauty Bar Sample Society monthly beauty subscription box makes it easy to find the latest must-have beauty products.
Created in collaboration with Allure magazine, the Beauty Bar Sample Society is designed for on-the-go professionals who want only the best beauty products. Every month, the beauty expert select deluxe-sized samples from the best luxury brands, ranging from skin care products to makeup to fragrance.
Unlike most subscription boxes, the Beauty Bar Sample Society box came in an outer cardboard box with a tear strip.
We opened the outer box and pulled out the Beauty Bar Sample Society box – a high-quality lidded navy blue box that is perfect for gifting (just throw a bow on it) or for at-home storage.
The first thing we saw was the Allure mini-magazine that has a few articles with editors' beauty tips and trends.
There was also a $15 Beautybar.com gift card that can be redeemed on a $50 purchase that includes a product from this month's box. The back of the card has a list and description of all the products in this month's box.
Both the mini-mag and the gift card are included in every Beauty Bar Sample Society box.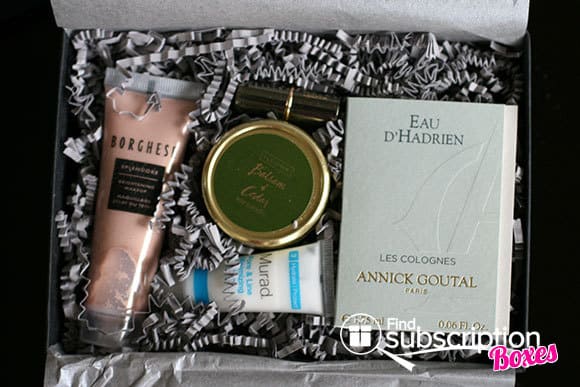 Inside the November 2013 Beauty Bar Sample Society Monthly Subscription Box
There were 5 items in our Beauty Bar Sample Society beauty box.
1. Illume Balsame & Cedar Metallic Tin Candle – 1 oz., Estimated Value: $3.00

This seasonal fragrance captures the wonderful scent of the outdoors. A hint of cinnamon and eucalyptus add wonderful fresh notes and make this soy candle a winner.
2. Murad Anti-Aging Acne Pore & Line Minimizing Hydrator – 0.33 oz., Estimated Value: $9.61
Combat fine lines and reduce the size of pores while also providing hydration – an all-in-one skin care product.
3. Annick Goutal Eau d'Hadrien Eau de Toilette – 0.06 fl oz., Estimated Value: $3.25
This fragrance is clean and refreshing with a hint of lemon.
4. Borghese Splendore Brightening Makeup – 1 fl oz., Retail Value: $29.50
Use this makeup to help brighten up your skin and hide imperfections. Great to help illuminate dull winter skin.
5. Jane Iredale Lip Drink Lip Balm – sample size, Estimated Value: $3.00
This lip balm is wonderful. Goes on easily and provides great moisture and SPF15 protection.
November 2013 Beauty Bar Sample Society  Monthly Subscription Box Wrap-Up
This was a great collection of beauty products for us. While advertised as "deluxe-sized samples", the Borghese Splendore Brightening Makeup was full-sized (although in a tube versus a glass jar.) These were definitely high quality products. I loved that they had a variety of products and weren't all makeups. The candle was a fun twist (and one we'll be buying here!) The total estimated value of the November 2013 Beauty Bar Sample Society beauty box was $48.36.