The Wantable Accessories Box delivers 4 boutique accessories, handpicked by your personal stylist, for just $36 a month. The November 2014 Wantable Accessories Box featured accessories perfect for winter, from bold statement piecies to dantier nacklaces, rings, and bangles.
The Wantable Accessories Box is a patterned gray and white cardboard box with the Wantable W printed on top.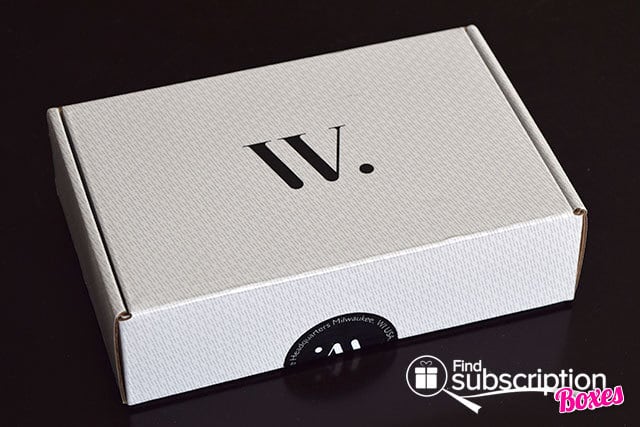 Opening the Wantable box, we found a greeting note from Team Wantable.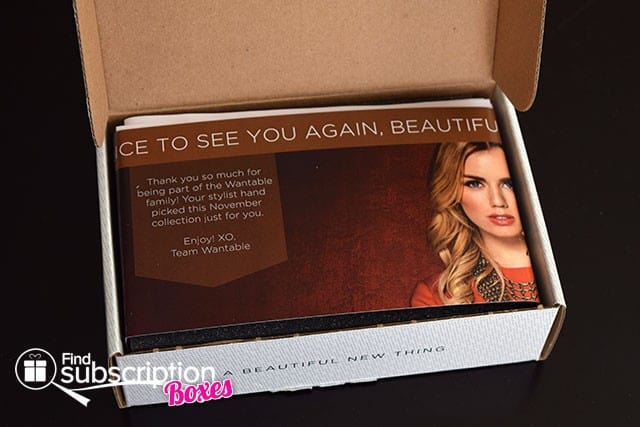 Each Wantable box comes with flyer that describes that month's collection and lists the items, description, and retail value of each of the items in your personalized Wantable accessories box.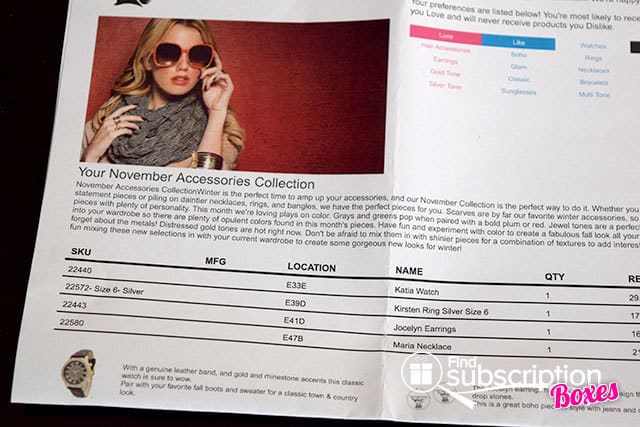 Under the flyer, we got our first look at the Wantable box. We didn't get any hints here, since Wantable Accessories boxes have plenty of padding to ensure your jewelry items arrive safely.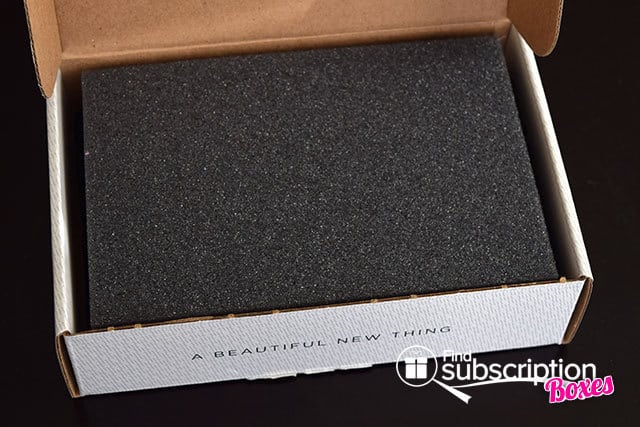 Inside the November 2014 Wantable Accessories Box Review
Our Wantable pieces were wrapped in a velvety (and totally re-usable) jewelry bag (LOVE!) There were 4 jewelry and accessory pieces in our Wantable Accessories November 2014 box.

1. Jocelyn Earrings, Retail Value: $16
With turquoise drop stones and a simple hoop designs, these boho earrings are great with jeans!
2. Kirsten Ring Silver, Retail Value: $17
Three metal rings make up this beautiful set, with a simple band, a rhinestone band, and a solid rhinestone ring.
3. Maria Necklace, Retail Value: $21
Your favorite black sweater has a new accessory – this long silver beaded and layered stone necklace.
4. Katia Watch, Retail Value: $29
This classic watch has a genuine leather band and gold, and gold and rhinestone accents that are perfect for a classic town & country look.
November 2014 Wantable Accessories Box Review Wrap- Up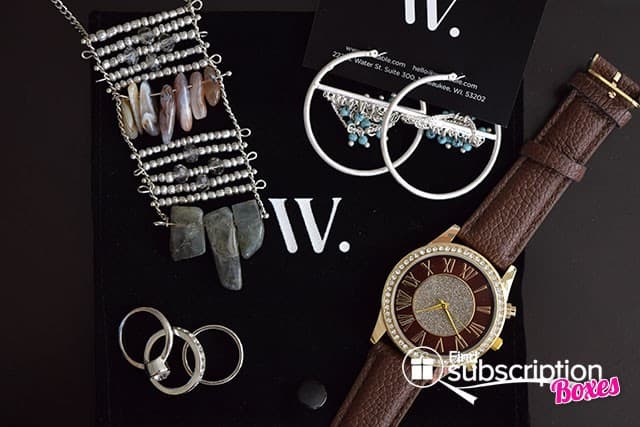 Our November 2014 Wantable Accessories Box was perfectly curated! Our Wantable stylist was able to uniquely capture our sense of classy pieces with a little bling. We loved that we received four different types of accessories (watch, rings, earrings, AND necklace) that could even be mixed and matched. The total retail value of our November 2014 Wantable Accessories Box was $83 – more than double the price of the box!
What was your favorite item from your November Wantable Accessories Box?