Finding the right health and fitness products can be tricky. What works for one person may not work for another. That's the problem that the Bulu Box monthly health and fitness subscription box tries to address.
Every month, Bulu Box sends you a box of health and fitness products samples for you to try. There are a couple of different Bulu Box options – the original Bulu Box, a well-rounded collection of products including vitamins, supplements, and other lifestyle extras – and the Bulu Box Weight Loss box, the first (and only) weight loss subscription box that had premium weight loss items to help you find the weight loss products that work best for you.
This month, we're taking a look at the October 2013 Bulu Box. The bright orange box isn't hard to miss.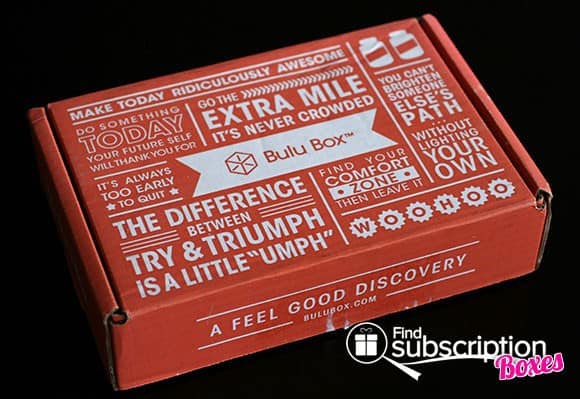 When we opened the box, the first thing we saw was a gift code to www.twinsisters.com that allows you to access almost 2 hours of instrumental music. There was also an informational card describing each item in the box along that had a space for you to document your experience with each sample on the back of the card. Finally, there was a booklet that had suggestions for gym bag essentials, exclusive coupons, and a $25 gift code to spend at LiveWell360.com.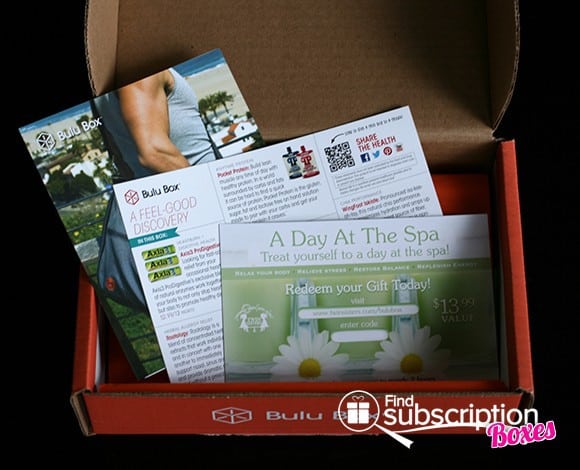 After removing the cards and the orange tissue paper, we got to see what was in the October 2013 Bulu Box.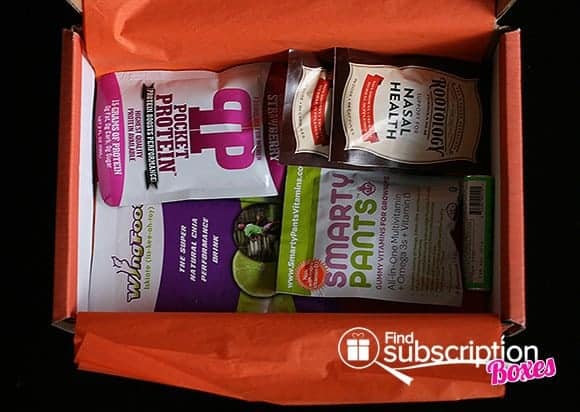 Inside the October 2013 Bulu Box Monthly Subscription Box
Our October 2013 Bulu Box had 5 different samples.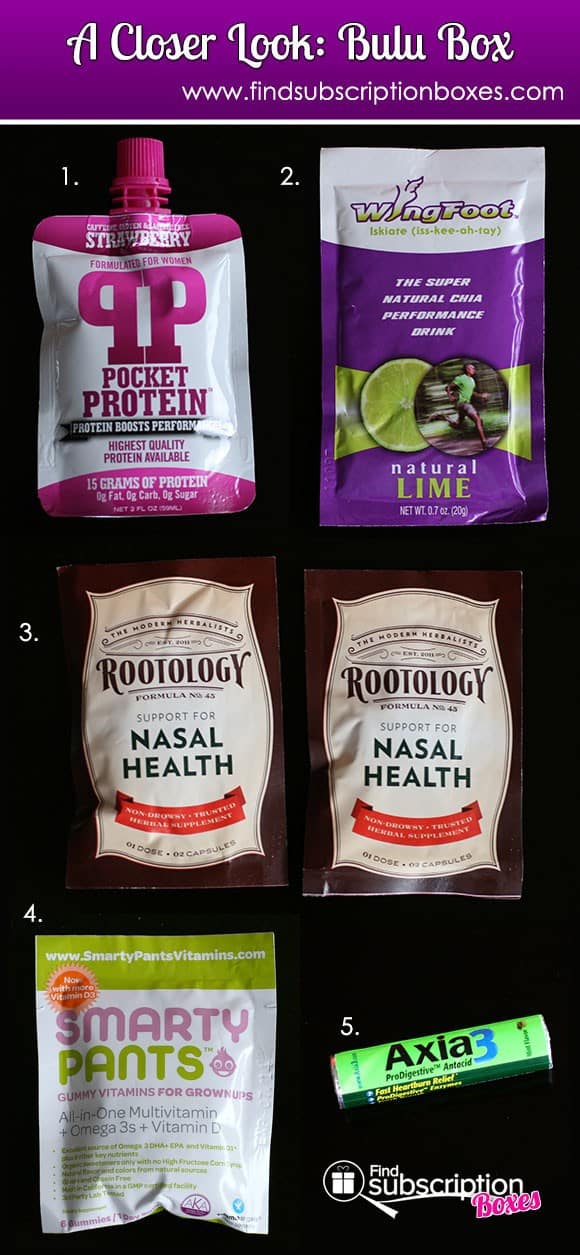 1. Pocket Protein Women's Formula  – Strawberry – 2 fl oz., Estimated Retail Value: $3.10
Skip the powders and bars. This lactose-free Whey Protein supplement helps maintain healthy blood sugar levels and provide energy. Pocket Protein is available in Men's and Women's formulas.
2. Smarty Pants – All-in-One Multivitamin – 1 Day Supply, Estimated Retail Value: $1.00
Eating vitamins has never been more fun. Smarty Pants All-in-One gummy vitamins are available for kids, adults, and in an adult weight management formula.
3. Rootology Support for Nasal Health – 2 doses, Estimated Retail Value: $1.50
If you suffer from allergies, these specially formulated capsules use concentrated herbal extracts to help provide relief from environmental allergies and to help boost your immune health.
4. WingFoot Iskiate Natural – Natural Lime – 0.7 oz., Estimated Retail Value: $2.25
Made with chia seeds and iskiate, this drink mix helps keep you hydrated and provides increased energy and greater endurance.
5. Axia3 ProDigestive Antacid – Mint Flavor – 12 tablets, Estimated Retail Value: $3.20
Not only does Axia3 provide fast, natural heartburn relief, it also has ProDigestive enzymes to promote healthy digestion. Also available in Orange and Berry Flavors.
October 2013 Bulu Box Monthly Subscription Box Wrap-Up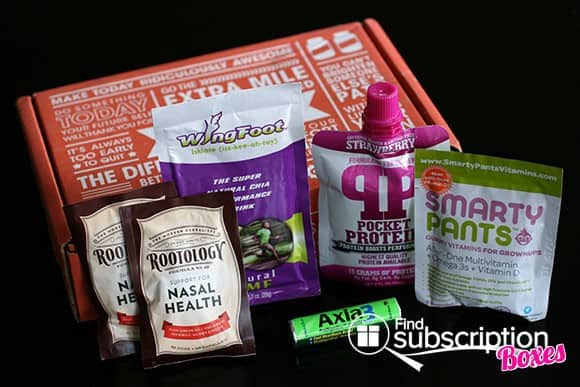 We loved the great mix of products in this month's box. Between the samples in the box plus the Twin Sisters coupon code, the total estimated value of this month's box was $50.04. To make this box an even greater deal, don't forget to use code BULUGAN467 to save 50% off all Bulu Box subscriptions. 12-month subscriptions are just $55 when you use the code, making the boxes LESS THAN $5 per box!
Want to get your own monthly Bulu Box? Click on the "Buy a Box" button below or check out our Bulu Box listing for the latest Bulu Box reviews, coupon codes and promotions.