Every quarter, Guiliana Rancic and the FabFitFun team curate a collection of the hottest fashion, beauty, fitness, and wellness products for the FabFitFun VIP Box. The FabFitFun VIP box is $49.99 per quarter and each box features full-sized fashion finds, glam beauty secrets, and fab fitness gear.
The Summer 2014 FabFitFun VIP Box promised to have $225+ worth of premium products.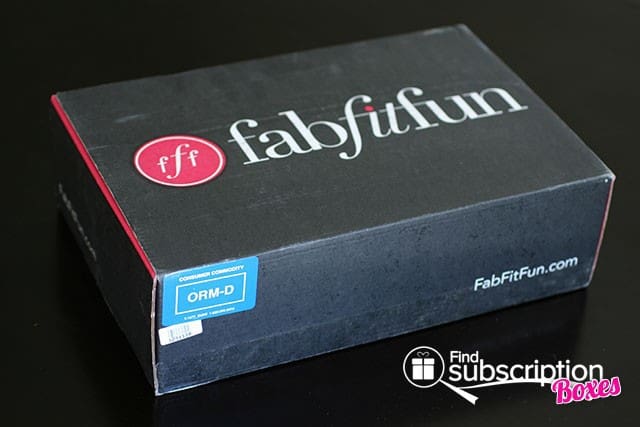 Inside the Summer FabFitFun VIP Box was the product information flyer. In addition to providing details about each of the products, the flyer also included the retail value of each product.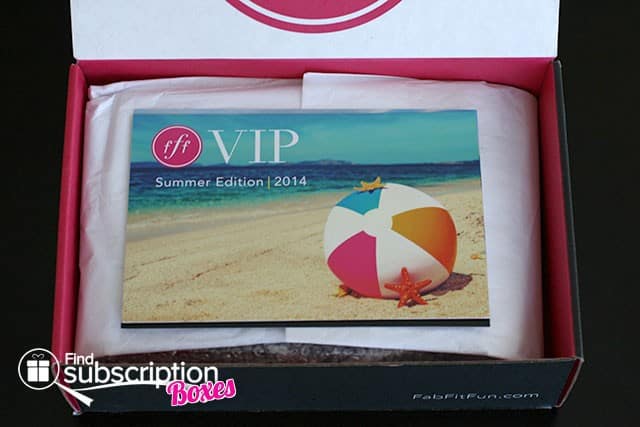 Under the product flyer and the tissue paper, we got our first look at the Summer 2014 FabFitFun VIP Box.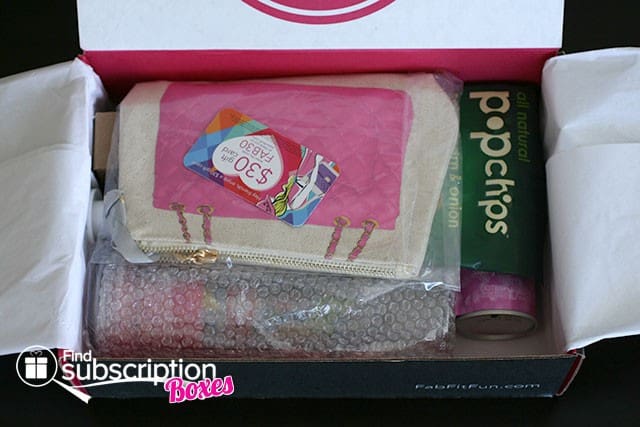 Inside the Summer 2014 FabFitFun VIP Box
There were 11 items in our Summer FabFitFun VIP Box.

1. Sonya Dakara Flash Facial, Retail Value: $95
Reveal softer, plumper, and younger-looking skin in just 60 seconds.
2. pur~lisse pur~protect SPF 30, Retail Value: $55
Protect and nourish your skin with this super lightweight, anti-aging moisturizer with SPF30. Find out why it was recently featured as Vogue's Editor's Favorite Summer Product!
3. Thursday Friday Away Mini Clutch/Makeup Bag, Retail Value: $35
Use this fashionable mini clutch to tote your makeup or essentials in style. The box also include a coupon code to save $30 off a future Thursday Friday purchase.
4. Balanced Guru No Frizz Oil, Retail Value: $25
With a nourishing blend of argan, jojoba, and tamanu oils, control those flyaways and fight frizz without weighing down your hair.
5. FabFitFun Water Infuser BPA-free Water Bottle, Retail Value: $15
Infuse your water with cucumber, mint, fruits, or your favorite flavors.
6. Zoya Nail Polish, Retail Value: $9
Vegan-friendly, and the longest wearing natural nail polish on the market, paint your nails with gorgeous and vibrant colors.
7. KISSTIXX Lip Balm, Retail Value: $5.99
Add a little flavor to your pucker as you mix and match lip balm flavors with that special someone.
8. POPchips, Retail Value: $1.29
Popped to perfecting, these tasty chips are never fried and never baked, making them a great healthy snack option at just 100-130 per bag.
9. Skintimate Shave Gel, Retail Value: $1.99
Give your legs some TLC with this shave gel that will leave your legs feeling healthy and beautiful after every shave.
10. Always Xtra Protection Long Daily Liners, Retail Value: $1.50
These liners will help you keep fresh and dry, whether you're at the gym, at work, or running around town.
11. Slimfast Have Your Cake… Meal Bar, Retail Value: $1
This 180 calory protein meal bar features delicious vanilla cake and frosing with fun sprinkles to make it like your birthday everyday.
Summer 2014 FabFitFun VIP Box Wrap-Up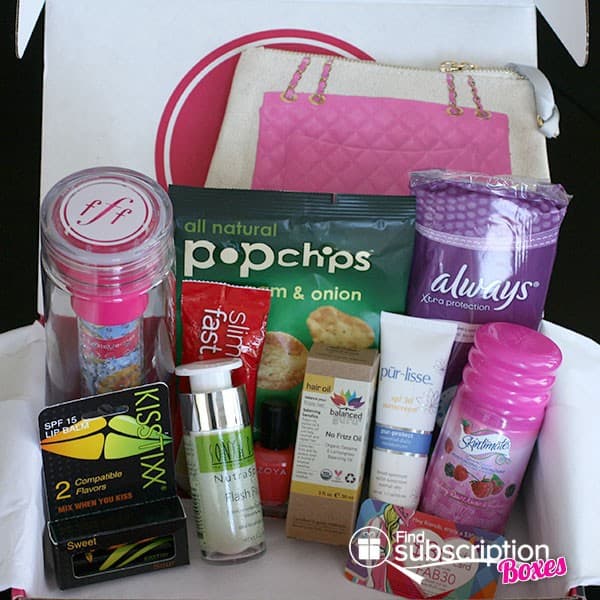 The Summer 2014 FabFitFun VIP Box was filled with products perfect for the summer season. The moisturizer, 60 second facial, hair oil, lip balm and shave gel are great products that will help us look our best through the hot summer days, while the water bottle and chips will make sure we're staying hydrated and healthy. The total retail value of the Summer 2014 FabFitFun VIP Box was $245.77.
Did you get the Summer FabFitFun VIP Box? Leave a comment sharing which was your favorite product from this season's box!
Want your own FabFitFun VIP Box? Through August 31, 2014, use FabFitFun VIP Box coupon code findsub10 to save $10 off your first FabFitFun VIP Box – a 20% savings!
As of July 21, 2014, Summer FabFitFun VIP Boxes are still available! That means you can get this amazing box worth $245 for just $39.99 with our code! Hurry, once the Summer boxes sell out, you'll have to wait until Winter for your next box!