Try The World delivers a curated box of the best foods from around the world to your doorstep every other month. From Paris to Tokyo and othe, you can taste and discover new foods from different countries without using a passport. The February 2015 Try The World Box took us to VENICE!
Our Try The World Venice Box arrived in what looked like a regular cardboard box.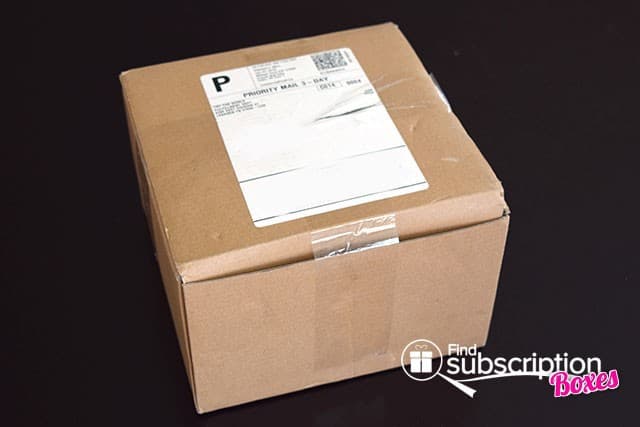 Upon opening it, not only did we discover that the cardboard box was folded origami-style, but it also had a lovely teal, Try The World box inside.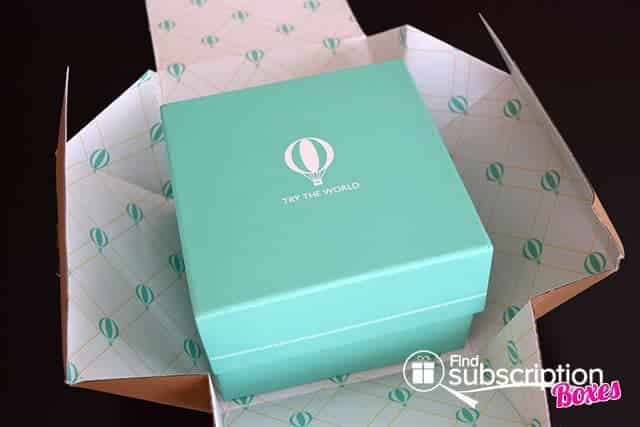 Try The World features food from a different country in each box and includes both a product information card and a cultural guide so you can learn about the food and the country being highlighted that month. We loved the recipes that were included in the guide to Venice.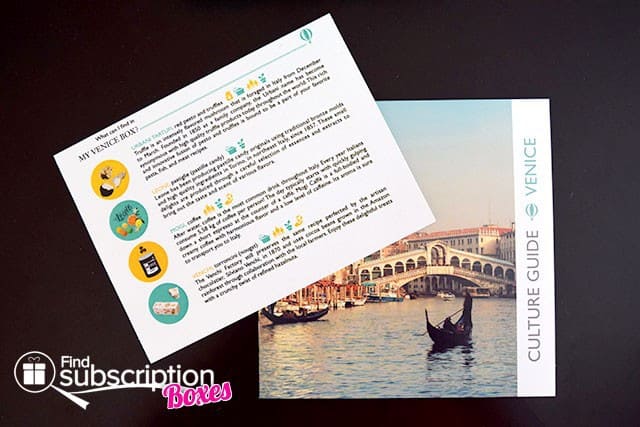 Under the card and guide, we got our first look into the February Try The World Venice Box. This box was packed so well, it reminded us of a treasure hunt. We discovered more and more tasty treats as we kept digging through the filler. :)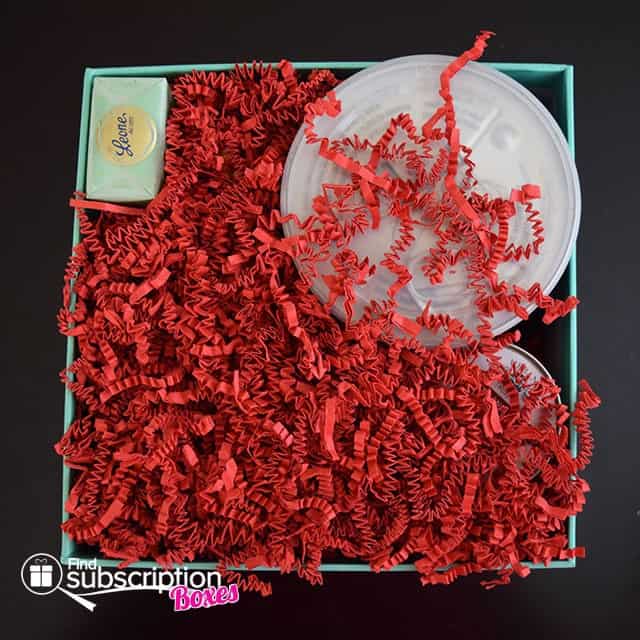 Try The World February 2015 Venice Box
There were 7 different gourmet food items in our Try The World February 2015 Venice Box.

1. MOGI Coffee
This full-bodied and creamy coffee will take you to the streets of Italy with its low level of caffeine and smooth flavor.
2. Perugina Limoncello Chocolate Tab
It doesn't get much better than chocolate and Limoncello. This chocolate bar mixes you Perugina's rich chocolate with a hint of citrus from Italy's classic Limoncello liquer.
3. VENCHI Torroncini (Nougat)
Made with the same recipe perfected in 1870, these nougats combine refined hazelnuts with cocoa beans grown in the Amazon rainforest.
4. LEONE Pastigle (Pastille Candy)
Made using traditional bronze molds, these pastille candies from Torino, Italy have a selection of essences and extracts to bring out the scent and taste of various flavors.
5. Pastificio Dei Campi Pasta
Taste the difference when you cook up this handmade Gragnano pasta.
6. Urbani Tartufi, Red Pesto and Truffles
Use this rich fusion of pesto and truffles to bring flavor to your favorite pasta, fish, or meat dish!
7. Mystery Treat – Waldhonig Forest Honeydew
Included as Mystery Treat, this honeydew is made from the lymph of certain plants (instead of the nectar) producing a complex flavor with a hint of spice.
Try The World February 2015 Venice Box Wrap-Up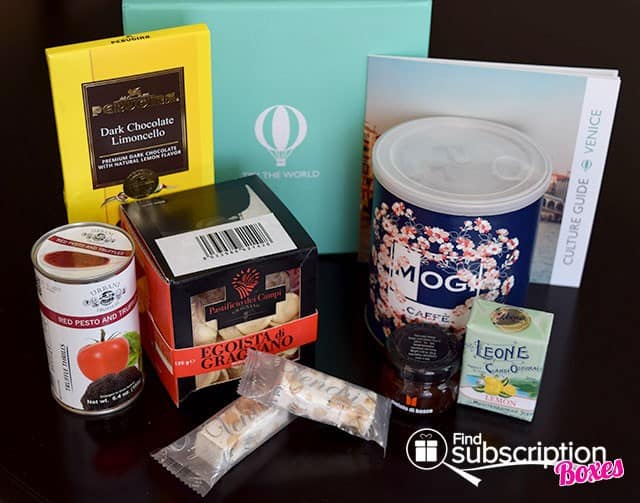 The Try The World February 2015 Venice Box captured the flavors of Venice in gourmet style. From the creamy, smooth Mogi coffee to the rich chocolate with limoncello bits in the Perugina chocolate bar, we enjoyed the Italian version of these popular treats. We loved sampling the different types of Venetian sweets and look forward to cooking up some authentic Italian food with the truffle paste and handmade pasta! When it comes to delivering a taste of Venice, Try The World delivers in their February Try The World Venice box!
What was your favorite gourmet item from the February Try The World Venice Box?
Win a Trip to Venice with New Try The World Subscriptions
Want to visit Venice, not just taste it? Through midnight, February 13, 2015, subscribe to Try The World using this link and be entered to win a FREE trip to Venice for 2!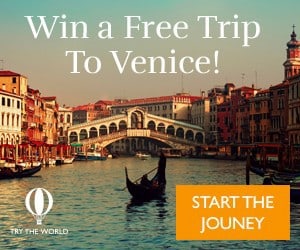 Try The World Coupon Code
Find Subscription Boxes is excited to offer our readers an exclusive Try The World coupon code! Use code FSBTRAVELS to save 30% off your first Try The World box with any new Try The World subscription! (Gift subscriptions not included in discount. Not valid on subscriptions purchased for the Venice trip sweepstakes.)