Vegan Cuts has shared box spoilers for the January 2016 Vegan Cuts Snack Box. The January Vegan Cuts Snack Box was co-curated with Veganuary.
Each Vegan Cuts Snack Box has 7-10 delicious vegan snacks for you to enjoy. Here are 3 of the vegan snacks in the Vegan Cuts January 2016 Snack Box: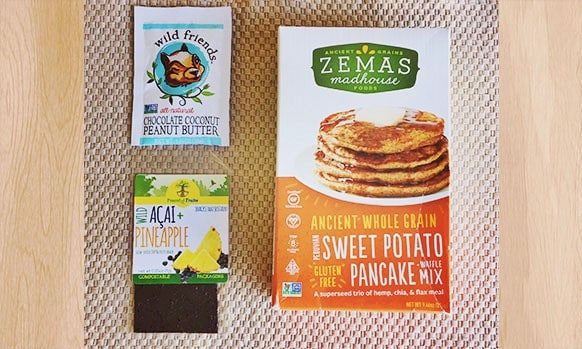 Wild Friends Chocolate Coconut Peanut Butter
Our peanut butters are 100% Non-GMO and used domestically grown peanuts. We set ourselves apart with easy-to-read ingredient lists, low sugar content, and never any preservatives or additives.
Peaceful Fruits Wild Acai + Pineapple Fruit Snack
We take that superfruit acai and blend it with the warm, sweet, zing of pineapple to create a snack that will put a smile on your face and brighten up any afternoon, hike, or kid just home from school!
Zemas Madhouse Peruvian Sweet Potato Pancake & Waffle Mix
Smell the sweet potatoes right out of the bag! Naturally sweet, nutrient dense and unique in character, this mix goes above and beyond what any stack can do. Filled with vitamins, minerals, protein and fiber, your day just got a little brighter.
The Vegan Cuts January 2016 Snack Box starts shipping January 18. Join today to reserve your box!
Which January 2016 Vegan Cuts Snack Box snack are you most excited to try?