Loot Crate has announced the theme and box spoilers for the January 2016 Loot Anime crate. The Loot Anime January 2016 theme is EQUIP! The Loot Anime Episode 3 Equip box will have anime items and apparel to gear you up.
It's Over 9000… Levels of Awesome! Whether facing your mortal enemy, taking down an entire Student Council or destroying an Empire, you need the right gear—and we're here to EQUIP you with the right tools for the job.
Loot Anime January 2016 Box Spoilers
The January 2016 Loot Crate Anime EQUIP crate will have EXCLUSIVE items from Kill la Kill, Dragon Ball Z, Akame ga Kill, Steins Gate and Monster Hunter!
One item in January's Loot Anime Equip Crate is an exclusive anime t-shirt. One of the Loot Anime Equip items is an exclusive manga.
Stay fit, focused and fierce with an epic item from Dragonball Z and EXCLUSIVE items from Kill la Kill and Akame Ga Kill- including an EXCLUSIVE shirt, collectibles and more!
Become a Loot Anime member by 9PM PST, January 27, 2016 to reserve your Equip Loot Anime Crate.
Which Loot Anime January 2016 Equip Crate spoiler are you most excited to receive?
Loot Anime January 2016 Kaiju Crate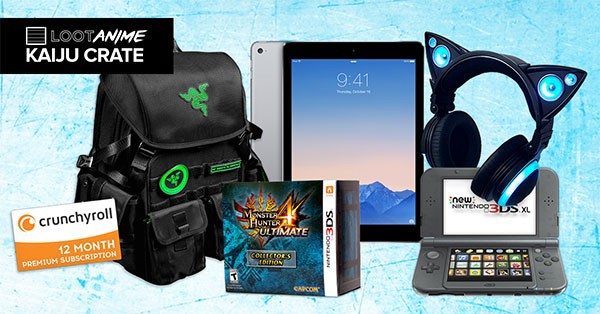 Each month, one lucky Loot Anime subscriber is selected to win a Kaiju Crate prize worth over $1,500! Kaiju Crates have gear, gadgets, game systems, apparel and other anime loot. The January 2016 Kaiju Crate prize pack has:
Razer Tactical Pro Backpack
iPad Air 2 64GB
Cat Ear Headphones
Crunchyroll 12 Month Premium Membership
Nintendo 3DS XL Black
Monster Hunter 4 Ultimate Collectors Edition
Loot Anime Coupon Code
Join Loot Anime now and save on your monthly anime box! Use Loot Anime coupon code SAVE3 to save $3 or SAVE10 to save 10% off new Loot Anime subscriptions.