Love With Food has announced the Love With Food September 2015 snack box theme and snack box spoilers. With subscriptions starting at $9.99 per month, Love With Food delivers a monthly healthy snack box, featuring mix of natural or organic snacks, right to your door.
The September Love With Food theme is Smarty Pants and features snacks that are perfect for back to school and hitting the books.
Love With Food September 2015 Box Spoilers
Here's a first look at 3 of the snacks in the September 2015 Love With Food Tasting Box.
Spoiler #1: Smarty Pants Gummy Vitamins for Grownups
Staying healthy should not be that hard. This is why we created a delicious, all-in-one vitamin that delivers the nutrients that are hardest to get through diet, with no artificial flavors, colors, or any other junk.
Spoiler #2: Mrs. Thinster's Cookie Thins in either Cake Batter or Chocolate Chip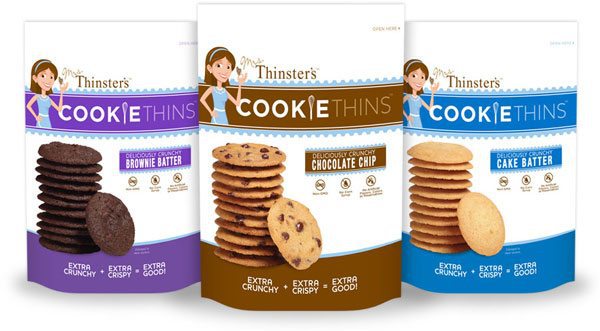 One morning I decided to make a batch of my favorite homemade cookies. Then, realizing I only had enough dough for one tray, I placed the dough on the baking sheet with a teaspoon instead of a tablespoon. The result? Ever so thin, crispy, deliciously crunchy cookies. From then on, I was called Mrs. Thinster!
Spoiler #3: JiMMYBAR Peanut Butter Clutter

Gluten-free, dairy-free, natural, YUMMY. This bar is ridiculously healthy! We only use real, honest food, no white sugar or preservatives. This bar is perfect for a mid-day snack, meal replacement, or a pre-workout boost. The Peanut Butter Clutter bar has a cult following because it provides great natural energy when it's 3pm and you're falling asleep at your desk. It tastes SO good and packs a nice crunch.
Love With Food: What's in the September '15 Box?
Which Love With Food August 2015 snack spoiler are you most excited to try?
Love With Food $5.99 Tasting Box Offer
For a limited time, use our exclusive Love With Food promo offer to save 40% and get September's Smarty Pants Love With Food Tasting Box for just $5.99 + FREE shipping!
Want the best Love With Food deal?  Use exclusive Love With Food promo code FSB20 to save 20% off any Love With Food subscription. A year's worth of tasting boxes (a 12 month subscription) is just $75.88 + FREE shipping after savings. That's less than $6.50 per box!