We have a first look into the March 2016 Vegan Cuts Snack Box. The Vegan Cuts snack box is a vegan snack subscription box delivering 7-10 vegan goodies every month. Here are 3 of the vegan snacks in the Vegan Cuts March 2016 Snack Box: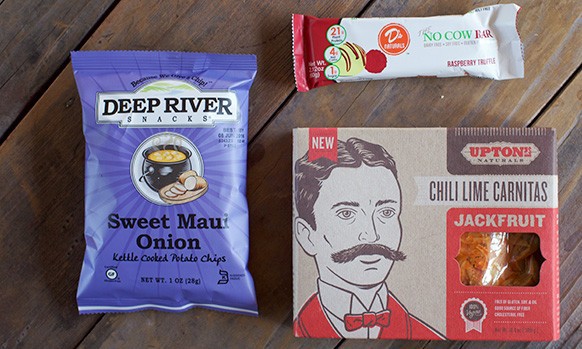 Deep River Snacks Sweet Maui Onion Kettle Chips
Smell the sweet potatoes right out of the bag! Naturally sweet, nutrient dense and unique in character, this mix goes above and beyond what any stack can do. Filled with vitamins, minerals, protein and fiber, your day just got a little brighter.
D's Naturals The No Cow Bar Raspberry Truffle
We use only the healthiest ingredients, so you can believe in what you eat and feel good about the choices you make.
Upton's Naturals Chili Lime Carnitas Jackfruit
Upton's Naturals Jackfruit Chili Lime Carnitas is a meat alternative that had a consistency similar to shredded meat. This meat alternative is great to use for sandwiches, salads, wraps and over rice.
The Vegan Cuts March 2016 Snack Box starts shipping March 18. Join today to reserve your vegan snack box!
Which March 2016 Vegan Cuts Snack Box snack are you most excited to try?
Vegan Cuts Snack Box Free Gift
For a limited time, new Vegan Cuts subscribers will receive a bonus Purely Elizabeth cereal cup in your first box!*
Limited quantity available while supplies last. This promotion is only open to first-time Vegan Cuts Snack Box subscribers with a U.S. address. The first 500 new subscribers activating their subscription on February 22 or later will receive a Purely Elizabeth Puffs Cereal Cup in Original or Cranberry Ancient Grain Granola (1.1 oz) their March Snack Box.
March Vegan Cuts Snack Box Sneak Peek