Created for kids ages 3-8, Kiwi Crate delivers a monthly box of activities and projects designed to inspire creativity and pique curiosity. For a limited time, you can join the Kiwi Crate FREE trial and get a the Pom Pom Pets trial crate FREE as your first box – just pay $3.95 shipping.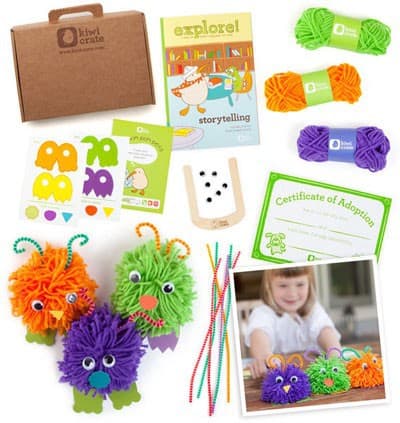 Create three of your very own fuzzy friends to play with! Explore the world of imagination and storytelling with our explore! play & learn magazine filled with bonus projects and activities!
Part of the popular Playful Pets Kiwi Crate, the Kiwi Crate free trial Pom Pom Pets crate includes:
Three skeins of colorful yarn
Custom pom pom winder
Pipe cleaners, googly eyes and stickers to decorate your pom pom pets
Certificate of adoption for your pets
16 page explore! magazine filled with puzzles, DIY activities and a bonus finger puppet project
Start Your Kiwi Crate free trial today!
Want to a full Kiwi Crate for your first box? Through October 31, 2014 use Kiwi Crate coupon code OCTOBER25 to save 25% off your first month of new Kiwi Crate subscriptions.