Powered Geek Box has announced the geek theme for the September 2016 Powered Geek Box! We also have a sneak peek into this month's geeky collectibles. Powered Geek Box delivers a  monthly subscription boxes of epic items for geeks, gamers, and nerds. The Powered Geek Box September 2016 geek theme is HEROES!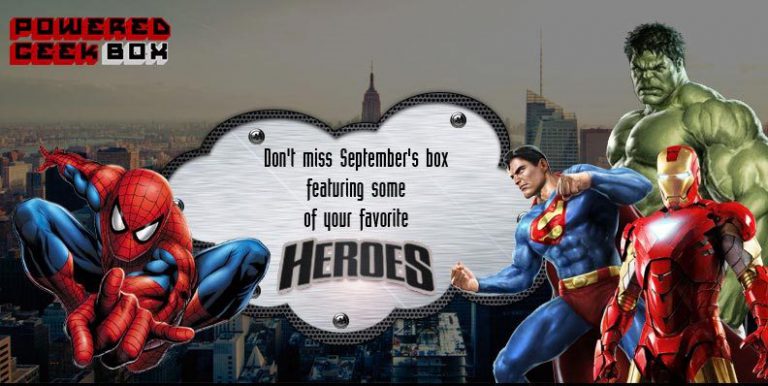 Whether it's up in the sky, or below in the batcave, you'll find a hero surveying his city for threats. These heroes put their lives on the line daily to save civilians. Metropolis, Gotham, New York City, and you sleep a little more soundly at night knowing the bad guys are put away. We all need a HERO in our life or the world, as we know it, would cease to exist.
September 2016 Powered Geek Box Spoilers
With this month's theme reveal Powered Geek Box has also shared a few hints for the September geek collectibles. Based off the theme description, we thing this month's geek box will feature geek goodies from Superman, Batman, Spiderman and Marvel's The Avengers.
Are you excited about the Powered Geek Box Heroes theme?
Hurry, September 2016 Powered Geek Boxes are only available through September 17, 2016. Reserve your box today!
September 2016 Powered Geek Box Coupon
For a limited time, use Powered Geek Box coupon code SUMMER3 to save $3 off your first Premium Powered Geek Box!