The subscription box industry is booming. From the recent $1 billion buyout of Dollar Shave Club by Unilever to new platforms built to start subscription boxes, investors have noticed the opportunities the recurring revenue model offers to new business. New services continue to be created to support the growing industry, like affiliate networks catering to subscription boxes and the new Aftermarket Marketplace for subscription box fans.
Now, the industry has a new conference – The Subscription Summit.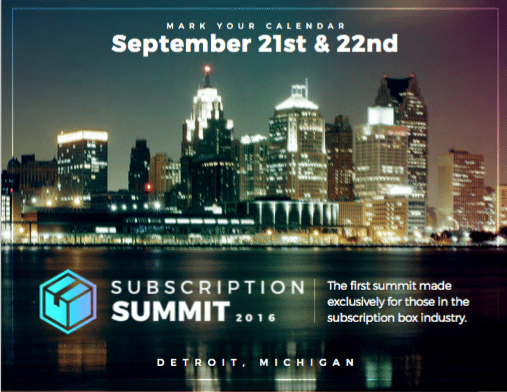 The Subscription Summit runs from September 21-22, 2016 in Detroit, MI. The subscription box conference is geared for people who work in or together with the subscription box industry. The conference agenda promises a variety of speakers including Katia Beauchamp, Co-Founder and CEO of Birchbox, FabFitFun Co-CEO, Michael Broukhum, and popular subscription box blogger, and conference host, Liz Cadman of My Subscription Addiction.
The Subscription Summit is focused on providing attendees Idea Sharing, Education, and Engagement through open dialogue, educational sessions, and networking opportunities.
The Subscription Summit Agenda
The following is an overview of the conference agenda:
Ryan Shram – The State of Influencer Marketing
Kathy Ossian – The Many Sides of Big Data
Liz Cadman – Making the Most of Your Blogger Relationships
Raising Money
Jeff McMann – Fulfillment: In-House or Out-Sourced?
Charlie Wollborg – If You're Not Pissing Off a Few People, You're Probably Not Exciting Anybody Either
Packaging with a Punch
Nadia Boujarwah & Felicity Fromholz – Reducing Your Subscriber Churn
Brad Noble & Nick Agnetti – The Ins and Outs of International Shipping
Katia Beauchamp – Build the World's Largest Subscription Box Company
Nick Shah – How to Win a Paid Social Media Marketing
Matt Fieldler – 10 Things Every Subscription Business Owner Needs to Know
Social Media Best Practices
Email Marketing: Still Worth It?
What is this About?
Registration for the conference is currently open. The Networking Pass is $450. The VIP Pass is $650 and also includes access to the private VIP reception and Inaugural Awards Ceremony. Breakfast and lunch are provided both days of the conference with both passes.