We have a first look into the April 2015 Vegan Cuts Snack Box. Each month, the Vegan Cuts Snack Box features 7-10 full-size and sample-size vegan goodies and delivers them to your door. Check out these 3 Vegan Cuts April 2015 Snack Box spoilers, brought to us by Will Travel for Vegan Food's, Kristin Lajeunesse.
Box Spoiler #1: Flamous Original Falafel Chips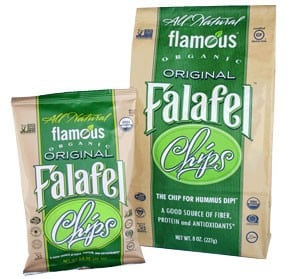 Our Organic Original Falafel Chips™ deliver the authentic, exotic flavor of falafel – an East Mediterranean seasoned vegetarian patty. Falafel, naturally rich in protein and dietary fiber, has been eaten with hummus for centuries. Our chips – made with a mix of 21 herbs, spices, vegetables, and legumes – capture the same great flavor of falafel and are as nutrient rich as their inspiration!
Box Spoiler #2: Pop Art Thai Coconut Curry Gourmet Popcorn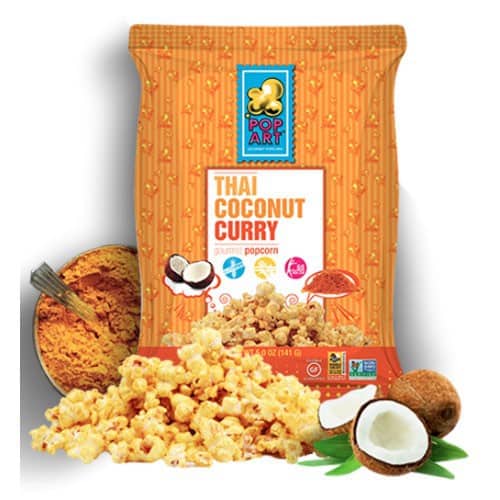 Our Thai Coconut Curry Popcorn will bring you back to your favorite Thai restaurant or if you are lucky enough to have been, your favorite beach in Thailand. This exotic blend of spices like turmeric, cumin coriander, paprika, cardamom and cinnamon, infused with a smooth and creamy touch of coconut milk, creates a popcorn loaded with flavor and a bright orange curry color.
Box Spoiler #3: YumEarth Naturals Sour Beans and YumEarth Organics Fruit Snacks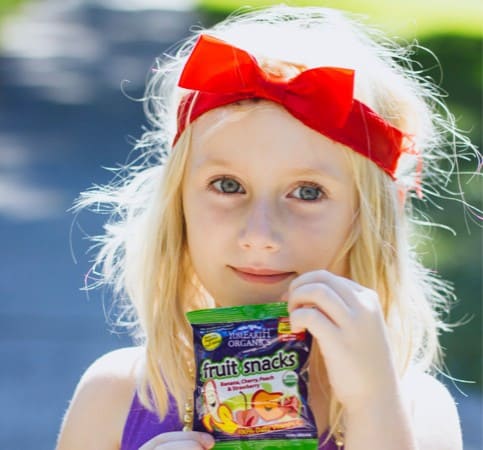 YumEarth treats are made with all-natural ingredients, no artificial colors or artificial dyes, no gluten, no peanuts, and no tree-nuts, just award-winning taste.
Exclusive Sneak Peek: Vegan Cuts' April Snack Box
The April Vegan Cuts snack box starts shipping April 16, 2015. Reserve your Vegan Cuts April 2015 Snack Box today!
Are you excited to try this month's Vegan Cuts April box spoilers?