TODAY is the last day to save 90% off the Vegan Cuts Healthy Vegan Starter Kit. For just $19, you'll receive an electronic bundle of resources that includes go-to meal plans, eBooks, magazines, and more.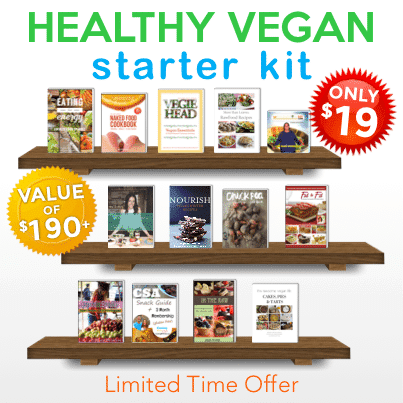 The Vegan Cuts Healthy Vegan Starter Kit includes 14 digital resources that include hundreds of recipes (with raw and gluten-free options), meal plans, and more, valued at over $190:
CSA Snack Guide and 3-Month Recipe Membership by Sarah O'Toole & Peter Hagstrom ($41 value)
Nourish Vegan Winter Recipes by Jenné Claiborne ($10 value)
Vegan Cooking at Home: Plant-Based Living Made Easy by Bridget ($10 value)
In the Raw: Small Indulgences from The Sweet Life by Sarah McMinn ($7.99 value)
Must Have Raw Vegan Recipes by Rebecca Irey ($19.97 value)
Chickpea Magazine Fall and Winter Digital Issues by Bob Lawton ($8.00 value)
Eating for Energy: Awaken Your Sparkle by Rebecca Weller ($15.00 value)
Unsupersize Me by Juan-Carlos Asse ($15.00 value)
Vegan Essentials by Adele McConnell ($14.95 value)
Cakes, Pies & Tarts by Emily von Euw ($7.00 value)
Naked Food Magazine – Naked Food eCookbook by Margarita Restrepo ($24.00 value)
More than Leaves: Raw Food Recipes eBook by Leigh-Chantelle ($11.00 value)
Conscious Evolution: Vegan Recipes, Life & Consciousness by Lyn & Joshua Rose ($15.99 value)
Order your Vegan Cuts Healthy Vegan Start Kit today. Expires 1/12/14.