Love With Food is a monthly snacks subscription box that delivers healthy, all natural or organic snacks every month. The theme of the March 2015 Love With Food Tasting Free Box was Healthy Food Finds by Healthy Grocery Girl. This month's Love With Food Tasting Box featured junk-free snacks curated by Healthy Grocery Girl, Megan Roosevelt, a plant-based Registered Dietitian and the founder and CEO of HealthyGroceryGirl.com.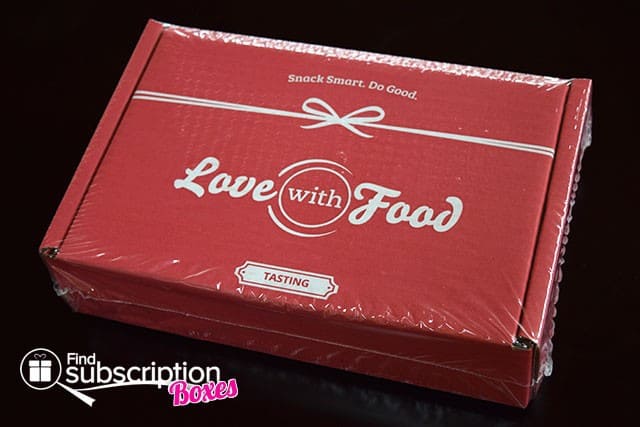 Each Love With Food Tasting Box includes a product flyer that details each of the snacks in that month's box. Love With Food also includes snack ingredients, as well as whether the snack is Gluten-Free, Vegan, non-GMO, and/or Organic.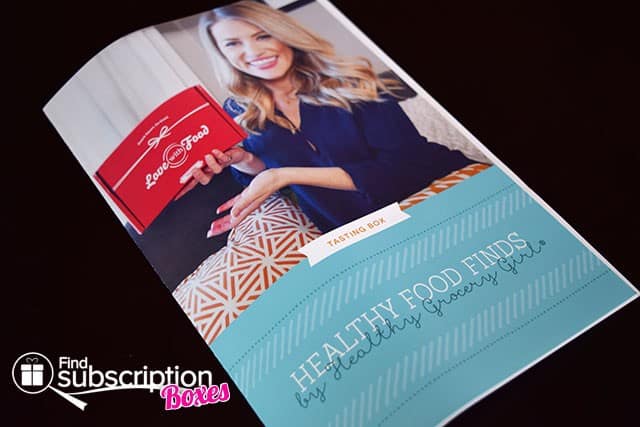 Here's a first look in our Love With Food March 2015 Healthy Grocery Girl Tasting Box.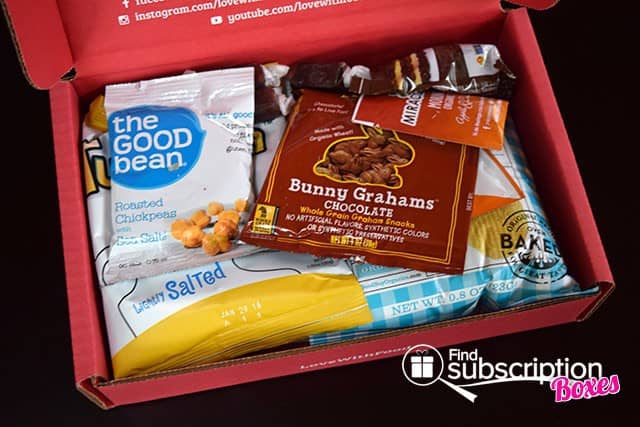 Inside the Love With Food March 2015 Healthy Grocery Girl Tasting Box
There were 9 different snacks in our March Love With Food Tasting Box.

1. Nutty Rice Bites with Cranberries by 180 Snacks
These bites have cranberries, cashews, crispy rice, and other nuts and seeds all packed together in one tasty bite.
2. Lightly Salted Plantain Chips by Turbana
Swap out your potato chips with these delicious plantain chips that are light sweet and salty snack.
3. Roasted Chickpeas with Sea Salt by The Good Bean
These crunchy chickpeas have a hint of sea salt and are the perfect healthy treat with 4 grams of protein and 4 grams of fiber.
4. Hemp Hearts by Manitoba Harvest
Top your salads or sandwiches with these protein-packed hemp seeds.
5. Sea Salt Bops by Good Boy Organics
Organic, gluten-free, and GMO-free, these baked potato chips are a lighter twist on a popular snack.
6. Annies Chocolate Bunny Grahams
With 8 grams of whole grain per serving, these crunchy bunny snacks are a fulfilling, organic whole wheat treat.
7. Moringa Organic Tea by Miracle Tree
This delicious and nutritious tea is great for a quick pick me up.
8. Almond Butter Cacao Truffle by Two Moms in the Raw
Indulge guilt-free with these truffles, made with gluten-free, raw ingredients.
9. Choco Chews by TruJoy Sweets
Vegan, gluten-free and organic, these chocolate chewes are a candy everyone can enjoy.
Love With Food March 2015 Healthy Grocery Girl Tasting Box Review Wrap-Up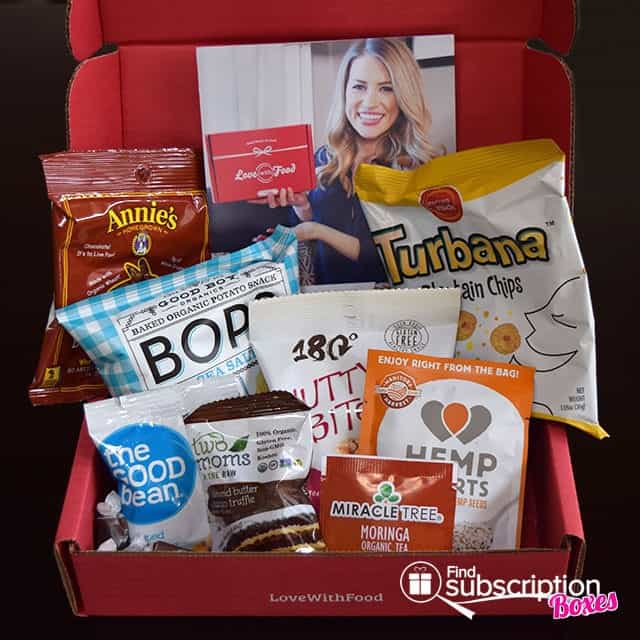 Healthy Grocery Girl introduced us to several new favorite snacks with the March 2015 Healthy Grocery Girl Love With Food Tasting Box. There was a great mix of both sweet and savory snacks. The roasted chickpeas were a surprising hit and the rice bites with cranberries were the perfect combination of healthy ingredients in one delicious bite. We couldn't get enough of the plantain chips – returning to our box multiple times in hopes another bag had magically appeared. (For those who want more snacks, Love With Food also offers a Deluxe Tasting Box with double the snacks.)
What was your favorite snacks from the March Love With Food Healthy Grocery Girl Tasting Box?
Love With Food Box Sweepstakes
Find Subscription Boxes is excited to bring our readers this exclusive Love With Food Sweepstakes. One lucky winner will receive a 3 month Love With Food Deluxe Box subscription – a $59 prize value!
Love With Food Sweepstakes for Find Subscription Boxes

All online entries must be received by April 10, 2015 11:59PM PT.