Taking good care of your four-legged friend just got a whole lot easier.
After a long day of waiting for you to get home, your pet deserves a treat – and dinner. Don't disappoint with the crumbs at the bottom of the bag. Have all of your pet supplies on hand when you need them with Pet Flow.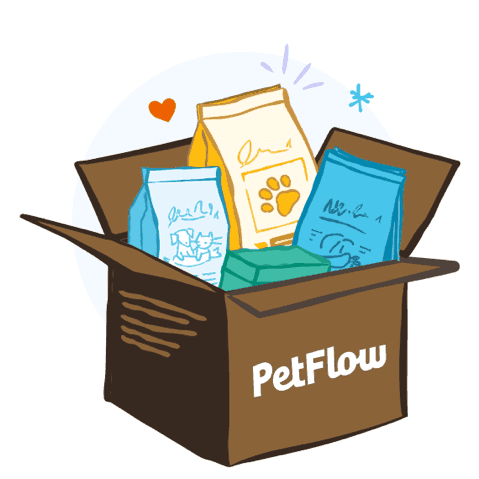 The purr-fect solution for pet owners everywhere, Pet Flow allows you to get your pet's food, treats, and even medications delivered straight to your door with a simple monthly subscription. Just fill in your preferences, select how often you need delivery (how hungry is Fido?), and get started today!
From daily food to special supplements and even supplies for backyard clean up, everything your pet needs can be found on Pet Flow. Automate your pet's essentials and never worry about letting down your best friend (or letting down yourself by having to run out in the middle of the night to find that one type of food that he loves).
Choose from brands like Blue, Natural Balance, Royal Canin, Merrick, Taste of the Wild and so many more!
Create your subscription box yourself, handpicking the products you and your pet loves. No surprises or disappointments!
Pet Flow is everything you need to be the best pet parent possible.
Delivery Details
Currently, Pet Flow only delivers within the United States, not including Alaska or Hawaii. Each box takes 1 to 10 days to arrive, depending on the products. Boxes that include medication generally take longer to ship than those that don't.
Pack your box with supplies that totals over $49, and you will receive FREE shipping for your Pet Flow box! (Orders under $49 are charged a flat $5.95 shipping fee.)