CORRECTION: Super Smash Bros will be in the December 2014 Arcade Block!
Each month, Arcade Block delivers a mystery box of video-game themed t-shirts, collectibles and other goodies for gamers. Arcade Block has announced box spoilers for their first video-game themed mystery box of January 2015!
The January 2015 Arcade Block will feature an item from Super Smash Bros!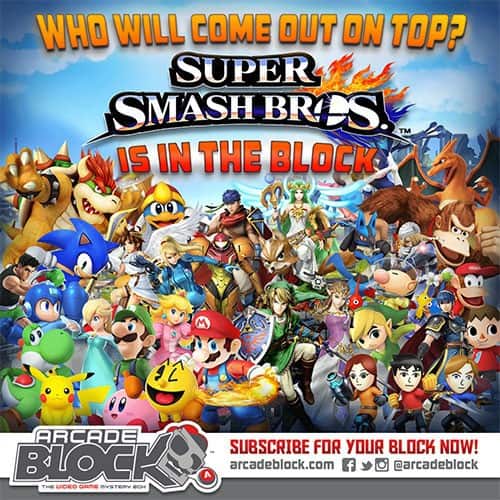 Arcade Block has recently launched new multi-month subscriptions. You can now save as much as 20% off Arcade Block when you purchase a new 12 month subscription – that's just $15.99 per block after savings! Purchase multiple Nerd Block subscriptions, including Arcade Block, Nerd Block Jr., Nerd Block Classic, and Horror Block and get even more savings across ALL subscriptions. BONUS: You can now pay with PayPal!
What do you think about the first Arcade Block January 2015 box spoilers?
There's still time to reserve your December Arcade Block! Check out a few Arcade Block December 2014 block spoilers for a peek into this month's box. New Arcade Block subscribers can save 10% off monthly subscriptions with code SUPERHERO. (Coupon code does not apply to multi-month subscriptions.)
Hurry, Horror Block and Arcade Blocks are shipping early – starting on Monday December 22nd!