Spark creativity and imagination in kids ages 4-8 years every month with a subscription to the Kiwi Crate subscription box for kids. We have the theme and project box spoilers for the January 2015 Kiwi Crate! The theme of the Kiwi Crat January 2015 crate is Let's Bake!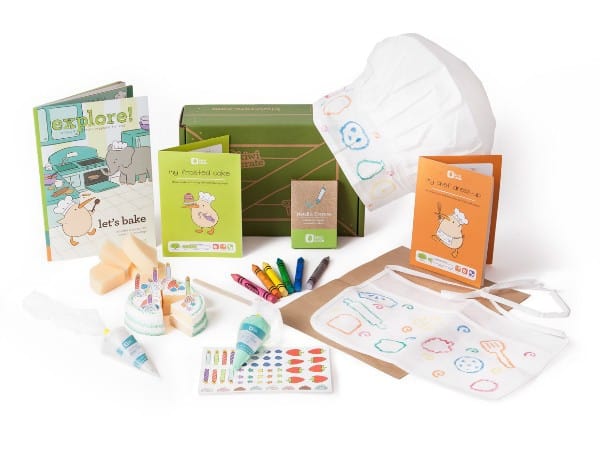 Begin your baking adventure by pulling out your very own chef's hat and apron included in your crate to decorate. Learn about the tools you need to bake and make your own frosted cake with icing clay and fun toppings – yum! Plus, learn all about the chemistry of baking and the "magic" that makes cakes rise.
The projects in the Kiwi Crate January 2015 Let's Bake crate include:
My Chef Dress-Up – "Decorate your chef's hat and apron using fun food-shaped stickers and crayons."
My Frosted Cake – "In this project – which is great for inspiring imaginative play – create your own layered cake with sponge cake pieces."
In the January 2015 explore! magazine, Steve the Kiwi makes a mud pie with his new friend, Dave the Elephant!
Which January 2015 Kiwi Crate project do you think your child will love more?
Exclusive Kiwi Crate Coupon
New Kiwi Crate subscribers can save 30% off your first month of any new Kiwi Crate family subscription when you use exclusive coupon code FSB30 at checkout.