Available as a Tasters Box, Deluxe Box, or a Gluten Free Box, the Love With Food snack subscription box is a great way to discover new all natural or organic, delicious snacks every month. We have our first box spoilers and the theme for the January 2015 Love With Food Box!
The theme of the Love With Food January 2015 Snack Box is "Live, Laugh, Restore," and features wholesome snacks to help you unwind from the hustle and bustles of the holidays and kickstart the new year on a delicious note.
Here are the tasty box spoilers for the January 2015 Love With Food snack box.
Spoiler #1: Luna Chocolate Dipped Coconut Mini Bar
A deliciously decadent combination of toasted coconut and chocolate. How can something so good for us be so delicious? It's simple. Start with the best ingredients possible (nothing artificial, 70% organic) and nutrition that matters most to women (gluten-free, low glycemic.) Mix with flavors that make mouths water and the rest is sweet (and healthy!) history.
Spoiler #2: Alter Eco Chocolate Truffles
Organic and non-GMO, these fair trade truffles give you an over-the-top chocolate experience with dark milk chocolates from Peruvian an Ecuadorian-sourced dark chocolate.
Spoiler #3: Big Slice Kettle Cooked Energy Apples – Raspberry, Hibiscus, & Green Coffee Extract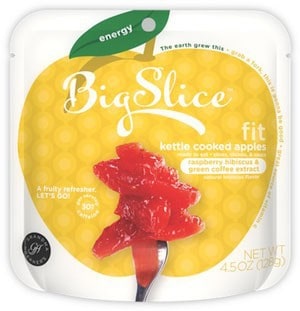 Wow! Apples, raspberries, hibiscus and green coffee extract! So amazingly flavorful! This combo will bring a joyous lift to your spirit and body. This snack is made with real fruit, delicious & refreshing, non-GMO, and gluten-free.
Love With Food: What's in the January'15 Box?
What's your favorite snack box spoiler for the Love With Food January Snack Box?
Want to become a Love With Food subscriber? Sign-up for the Love With Food FREE Trial and get your first Love With Food Tasters Box FREE – just pay $2 shipping.
Know someone who would love to receive the Love With Food snack subscription box? Through December 25, 2014, use coupon code SNOWFLAKE2014 to save $10 off any Love With Food subscription PLUS get $15 to spend at Soap.com.