Vegan Cuts October 2015 Snack Box spoilers have been revealed. The Vegan Cuts Snack Box is a monthly vegan snack subscription box that delivers 7-10 vegan, gluten-free snacks to your door – from chips to cookies and sodas to teas.
The October Vegan Cuts snack box was curated by The Vegan Zombie.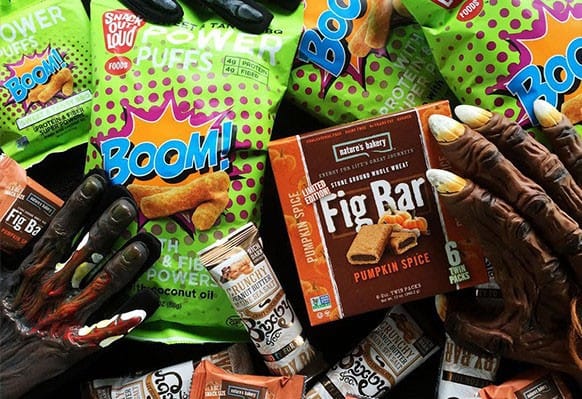 Here are 3 of the vegan snacks in the Vegan Cuts October Snack Box:
Spoiler #1: Dark Chocolate Crunchy Peanut Butter Bixby Bars
Bixby Bar = organic chocolate + fruit + nut + spice. Hand crafted in small batches. Real Food Pure and Simple.
Spoiler #2: Snack Out Loud BBQ Puffs
Our POWER PUFFS™ snacks rescue snack time with taste, flavors and nutrition never before seen in snack puffs. Made with navy beans, brown rice and coconut oil, POWER PUFFS snacks deliver protein, fiber and healthy fat that fuel the superhero in all of us.
Spoiler #3: Nature's Bakery Pumpkin Spice Fig Bars
Whether you're on a light hike with a friend or traversing the mountaineers trail solo-style, break out the pumpkin spice for a little boost with the taste of fall in two perfect little bites.
Which October Vegan Cuts Snack Box spoiler are you most excited to try?
October Snack Box | Vegan Goodies