A subscription box designed specifically for women who love to accessorize, Rocksbox gives you options so that your monthly box is tailored specifically to your style and taste.
One of the only jewelry subscription boxes available, Rocksbox features stunning jewelry and at an affordable monthly price. By building your style profile, you ensure that what you get each month is something you'll really love.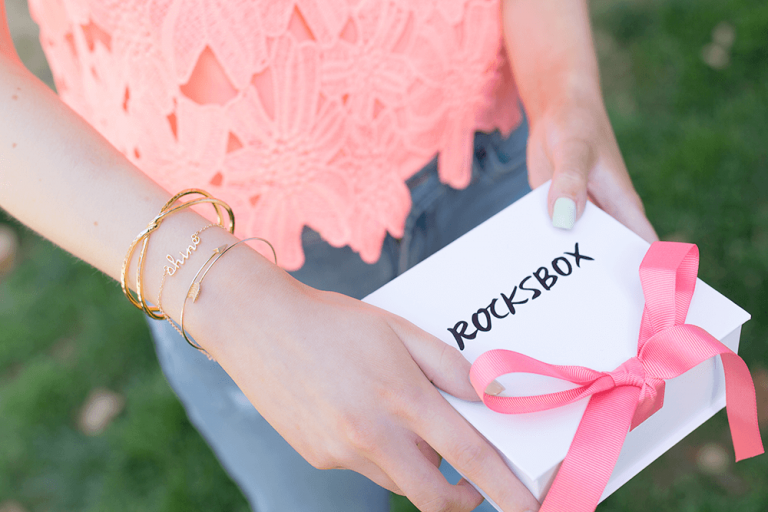 Don't wait for someone to buy you jewelry. It's time to spoil yourself!
Rocksbox partners with over thirty stylish designers, giving you a chance to discover new styles and accessories.
The best part?
Rocksbox allows you to keep whatever you want for as long as you want! Ready to try something new? Send back your Rocksbox accessories and receive a brand new box complete with brand new items. Love something so much you can't let it go? Use your monthly subscription price and apply it towards purchasing the item so it's yours to keep forever!
Rocksbox is the smart way to shop for jewelry, giving you access to beautiful pieces without needing to commit. Because, let's face it, there are so many pieces of jewelry we own and rarely wear!
Featured in Forbes, People, Refinery29, and Glamour just to name a few, Rocksbox is delivering fresh jewelry to women's doorsteps everywhere.
Subscription Details
Rocksbox offers one easy membership that only costs $21 each month, giving you plenty of room to play when you find that must-have piece (or two, or three).
Designed for stylish women that love to keep up with current trends, Rocksbox sends three pieces of jewelry at once, all hand-selected by your personal stylist using your completed style profile and custom wish list.
Delivery Details
Right now, Rocksbox only delivers within the United States and to its territories.