Piquant Post is a monthly subscription box that sends out four exotic spices and four curated recipe cards. Each spice blend is high quality and freshly ground, and you will receive enough to make the recipes. There is almost always a little extra leftover! I currently have dozens of their spices in my pantry, and I love being able to add a special touch to my recipes.
There are three subscription options:
Month to Month: $11.99/month
6 Month Prepay: $65.94 ($10.99/month)
12 Month Prepay $119.88 ($9.99/month)
Piquant Post selects a different country as their theme each month. I am reviewing August's box, which was Turkey. Let's take a look at what I received!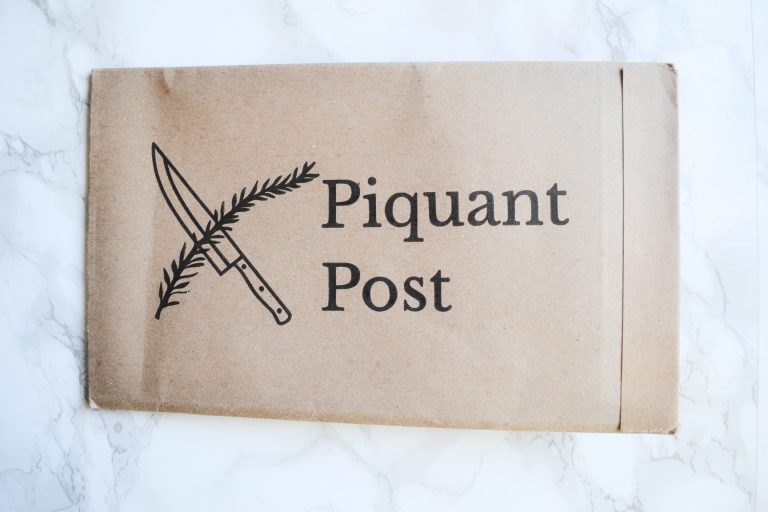 My spices arrived in a thin cardboard mailer. There is no packing material, but I have never had a problem with damaged or open items. The four spices I received in August were Nutty Sumac, Turkish Herb Blend, Sweet Nigella Blend, and Urfa Biber.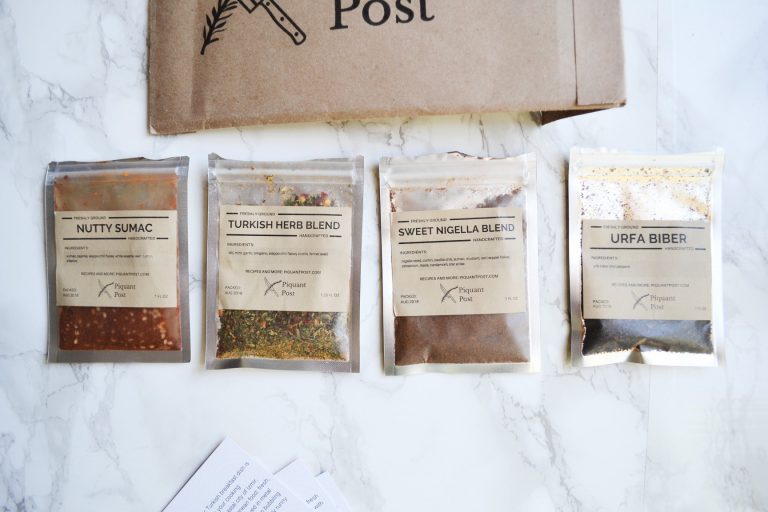 Nutty Sumac contains sumac, paprika, Aleppo chili, white sesame seed, cumin, and allspice. Sumac is made from tart berries native to the Meditteranean, and it is popular in Midde Eastern recipes. Sumac powder is sour-sweet, and goes wonderfully with earthy flavors and chilis. This spice blend is tart, smoky, and a little sweet.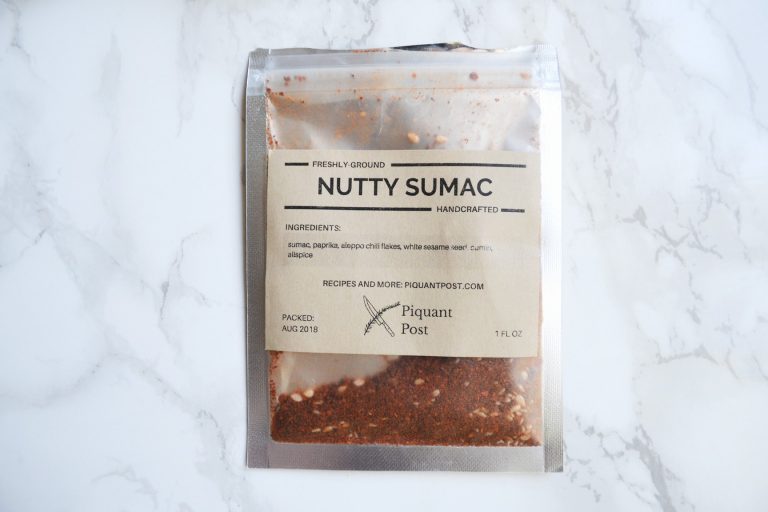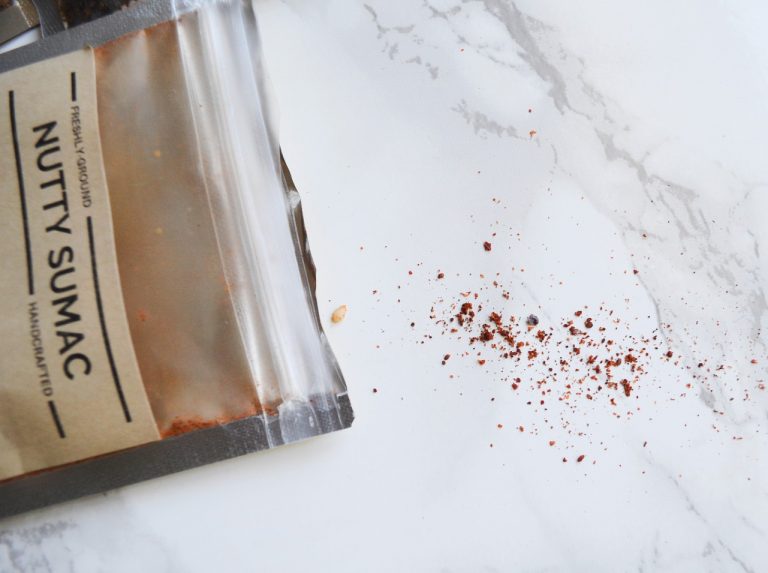 The recipe that corresponds with Nutty Sumac is Turkish Quinoa Salad.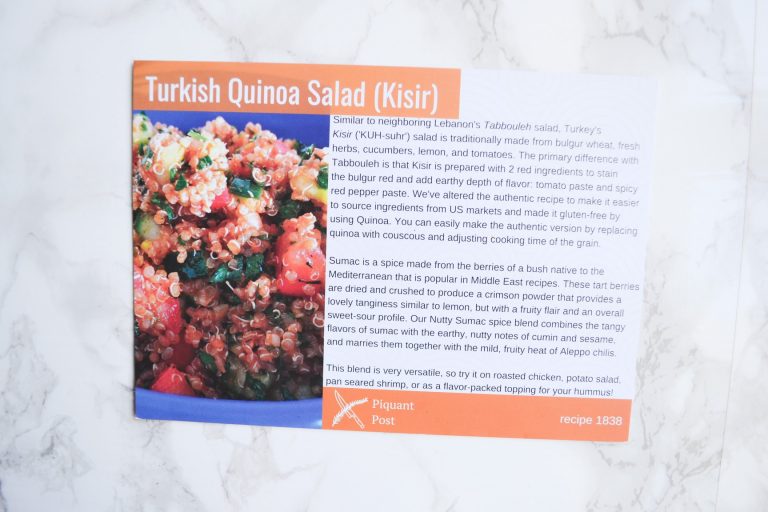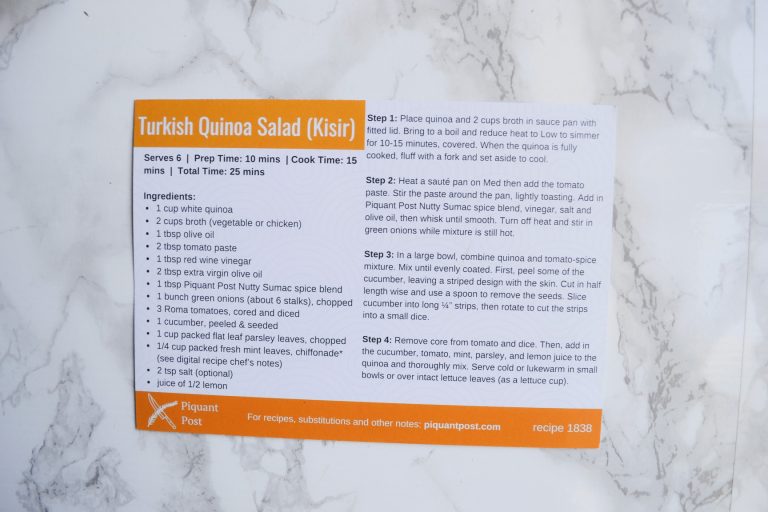 I strongly dislike quinoa, so I decided to use this spice in another way. My fiance was making baked chicken, and the recipe called for cumin and paprika. I realized that the Nutty Sumac blend contains both of those spices, so I had him add it in! We added about a 1.5 tablespoons, and I absolutely love the smoky, nutty flavor it lent to the peppers and mushrooms.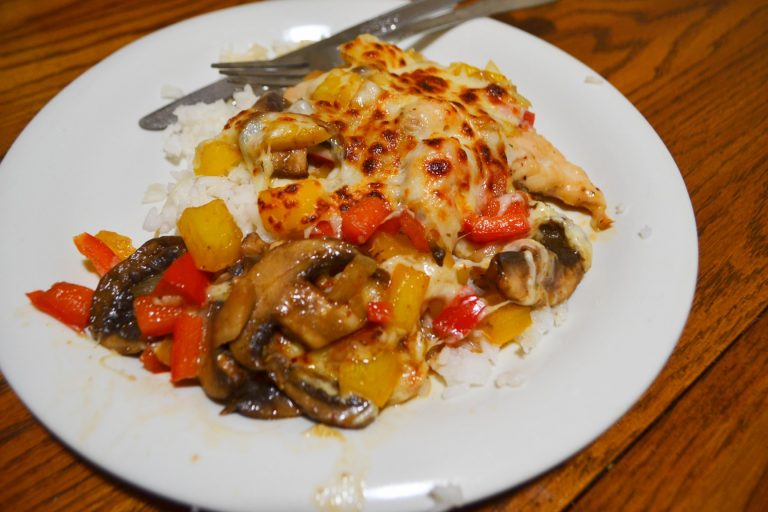 Turkish Herb Blend contains dill, mint, garlic, oregano, aleppo chili flakes, and fennel seed. These are classic Turkish flavors, and the dill stand out the strongest to me.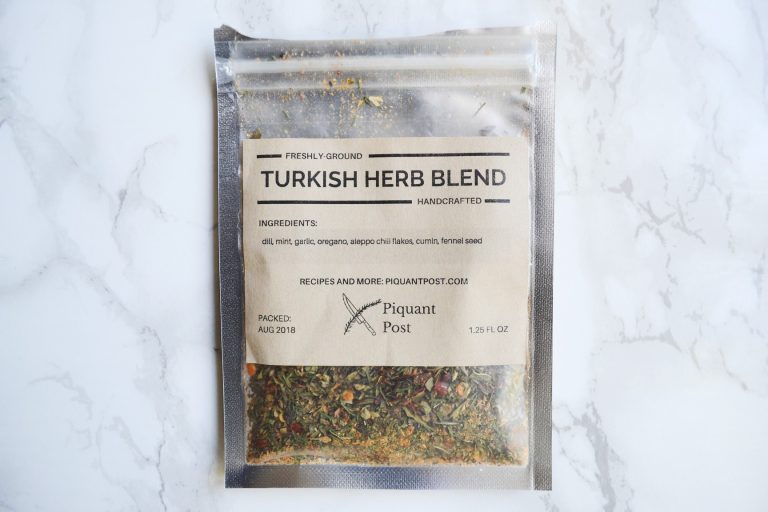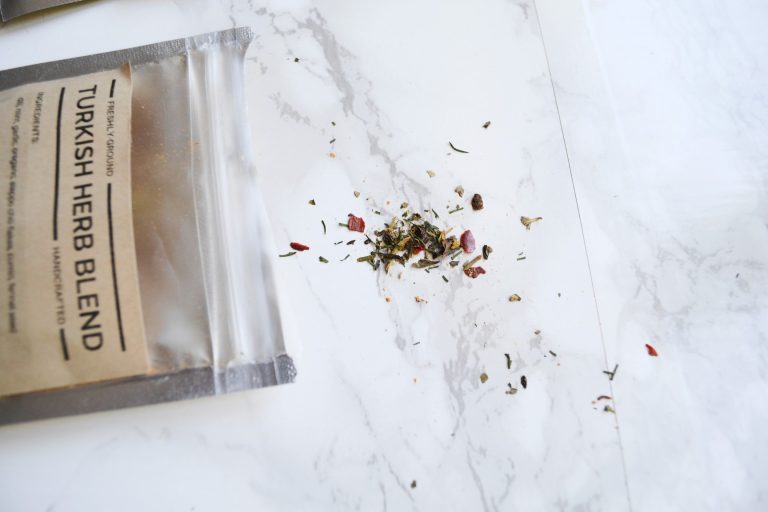 The Turkish Heb Blend's corresponding recipe is Stuffed Eggplant.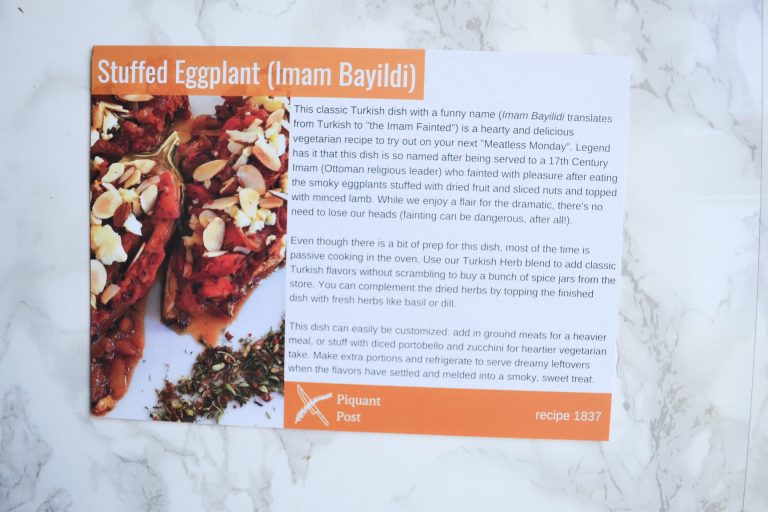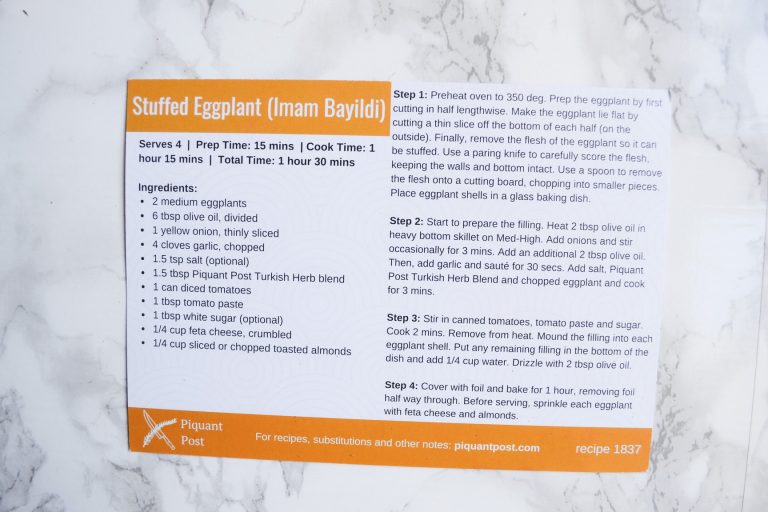 I really REALLY dislike eggplant and I'm allergic to almonds, so I looked on Piquant Post's website for an alternative recipe. I decided to make this zucchini fritter recipe.  I love that Piquant Post always suggests several alternatives to their curated recipes. I'm a bit of a picky eater and am allergic to a lot of foods, so I think this feature is really useful. Anyways, the zuchinni fritters were absolutely delicious! I've made fritters before, but this was the first time that I stuffed them with feta. The Turkish Herb Blend worked wonderfully with the feta, and gave the fritters a bright and slightly nutty taste.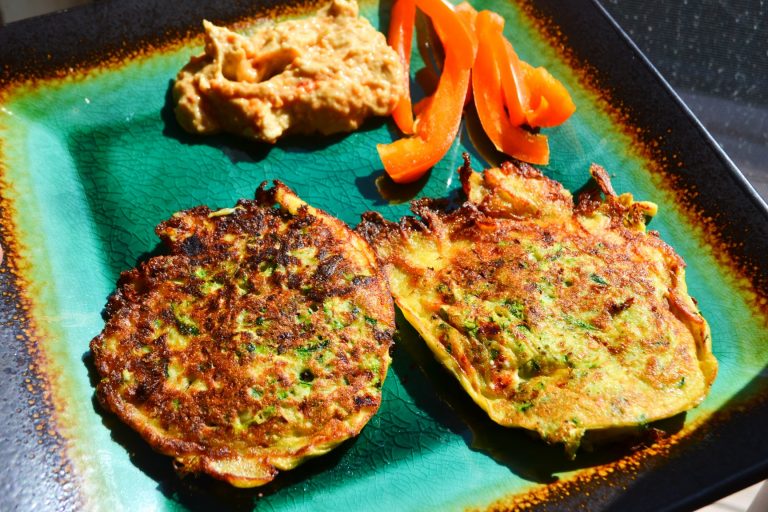 Sweet Nigella Blend contains nigella seed, cumin, pasilla chili, sumac, mustard, red pepper flakes, cinnamon, mace, cardamom, and star anise. This is a beautiful sweet and smoky blend, and I love that the star anise and cardamom shines through. I think this would be amazing in some butternut squash soup.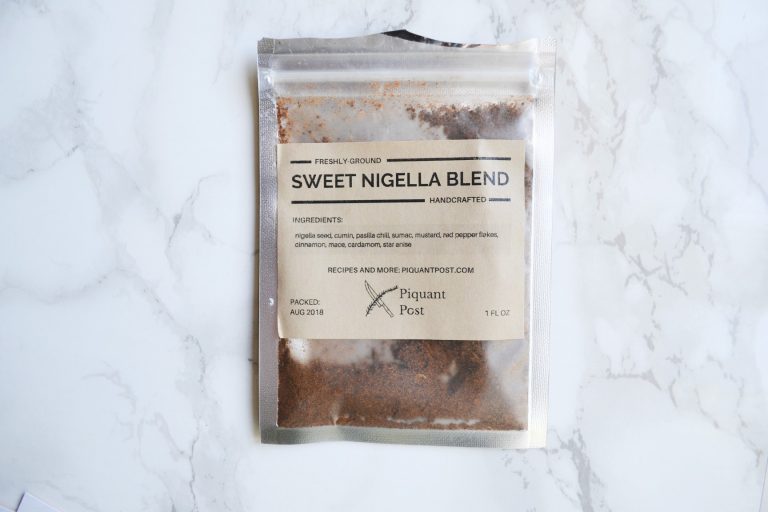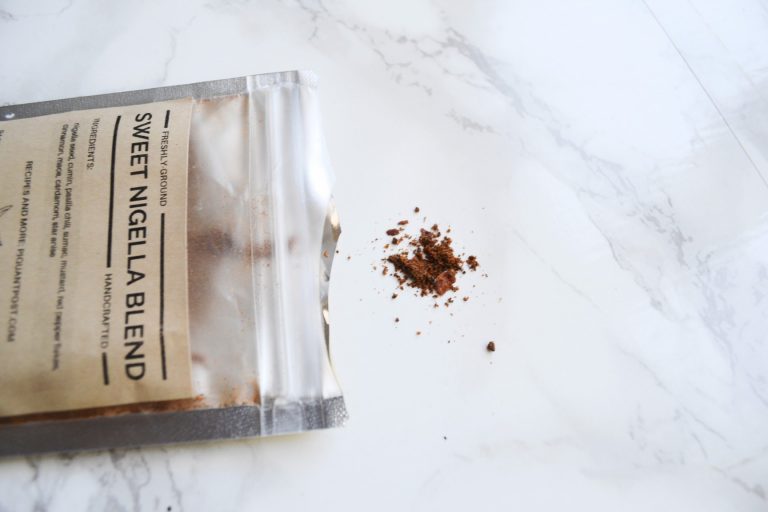 The corresponding recipe for Sweet Nigella Blend is Turkish Kofte with Tzatziki. The recipe card got thrown away during post-dinner cleanup, so I've taken screenshots from Piquant Post's website: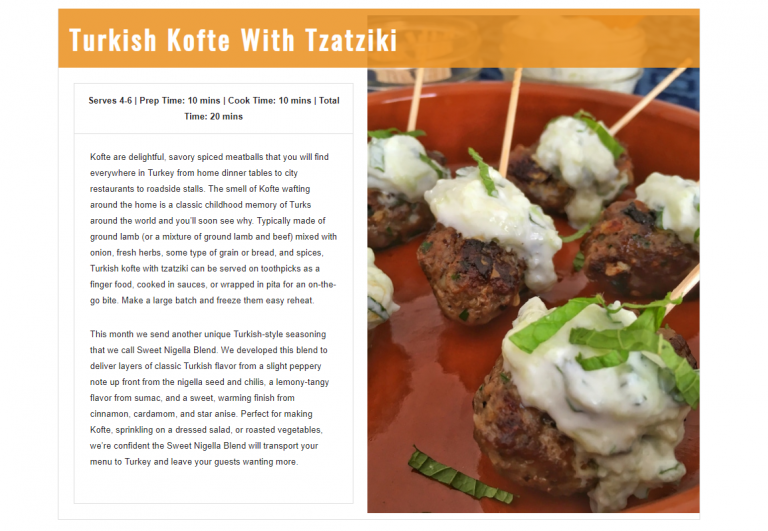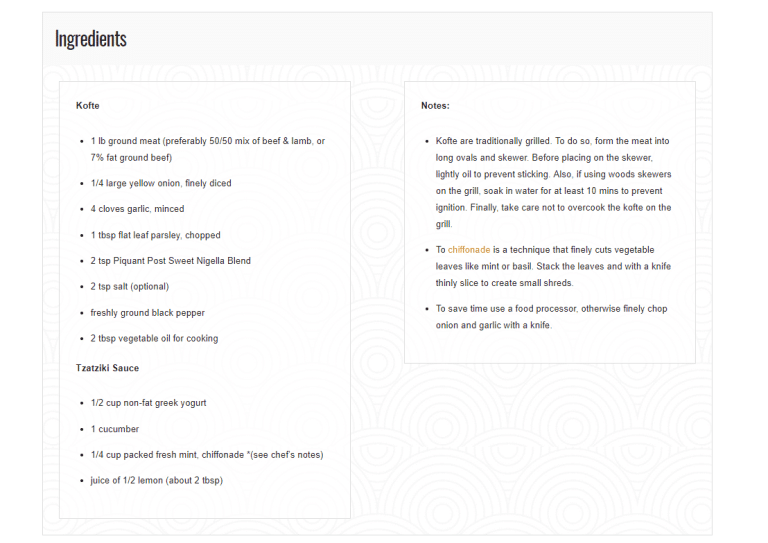 I love both Kofte and Tzatziki, so I followed this recipe almost perfectly. I did make one little substitution – I replaced the beef with ground turkey. This turned out amazing; the meatballs were very moist and flavorful, and the tzatziki was nice and tart. I will definitely be making this again!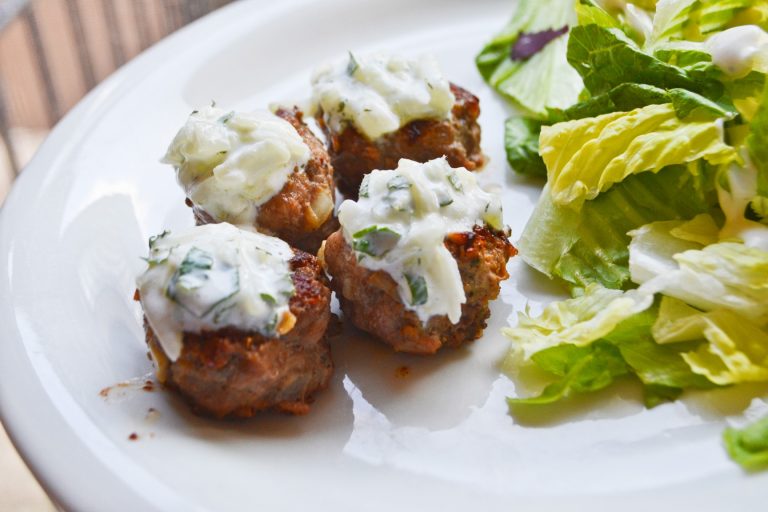 Urfa Biber contains ground urfa biber chili peppers. I sampled a little of this straight out of the packet, and it has a very earthy, salty flavor. It definitely has some heat, but it doesn't scorch your tongue like other chilis. This is more of a slow-burning warmth.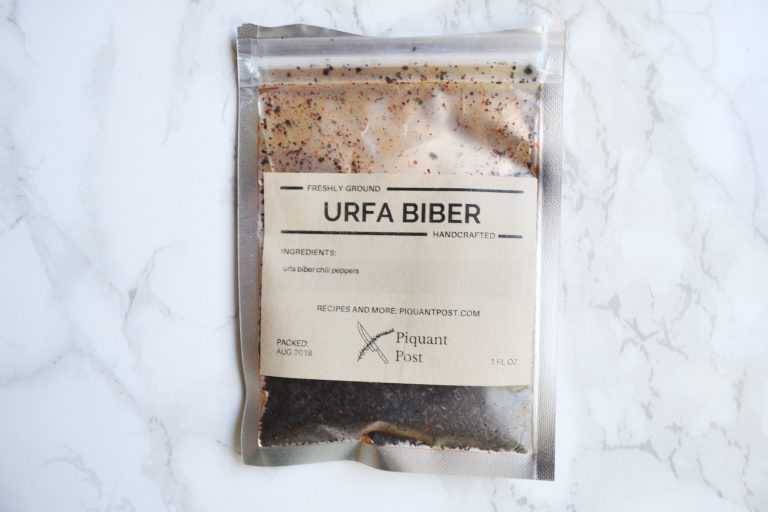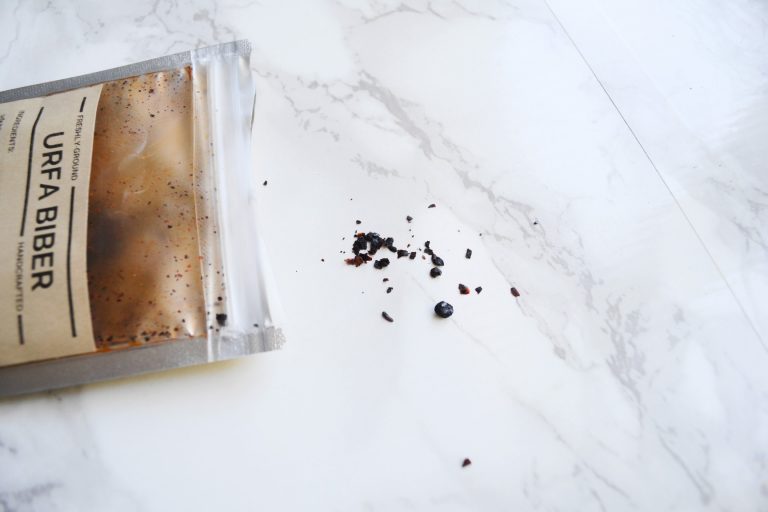 The corresponding recipe for Urfa Biber is Menemen Turkish Scramble.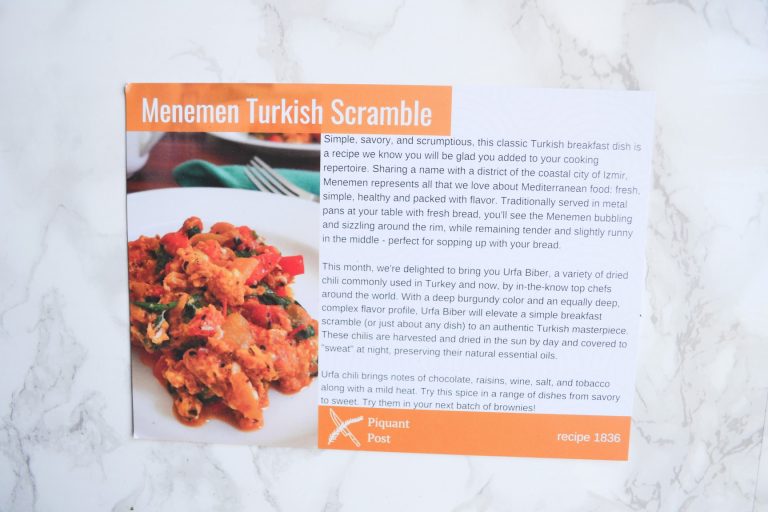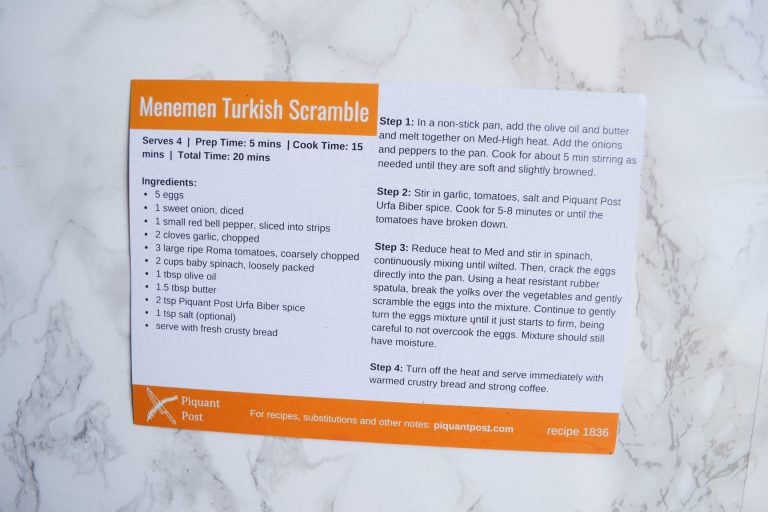 I make veggie-packed scrambled eggs a couple times per week, and this recipe was actually quite similar to what I already do! The only difference is that the Urfa Biber lends a smoky, earthy flavor and a little bit of heat. I think this was absolutely delicious, and I've continued to sprinkle a little bit of the spice blend over my eggs.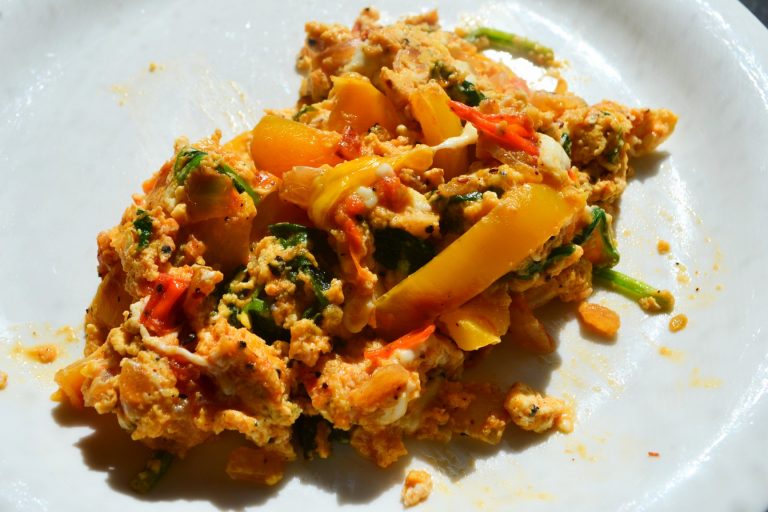 I loved the spices in August's Piquant Post, and I had a great time exploring Turkish cuisine. It's hard for me to pick a favorite spice, but it is probably the Sweet Nigella Blend. I feel like I hit the jackpot with the Kofte recipe! Piquant Post is such a wonderful way to explore international cuisine from the comfort of your own home.