Vine Oh is a warm and snugly subscription this winter! You receive two full-sized bottles of wine and 5-6 items in each subscription. The subscription service is a quarterly service so you receive a shipment every three months! The best part is you have the ability to choose between white wines, red wines, a mix of both or even sweet wines! If you choose to just pay for the quarter, the total is $59.99, if you pay for the whole year, the total is $224.99! all this comes with free shipping! what a great Christmas gift!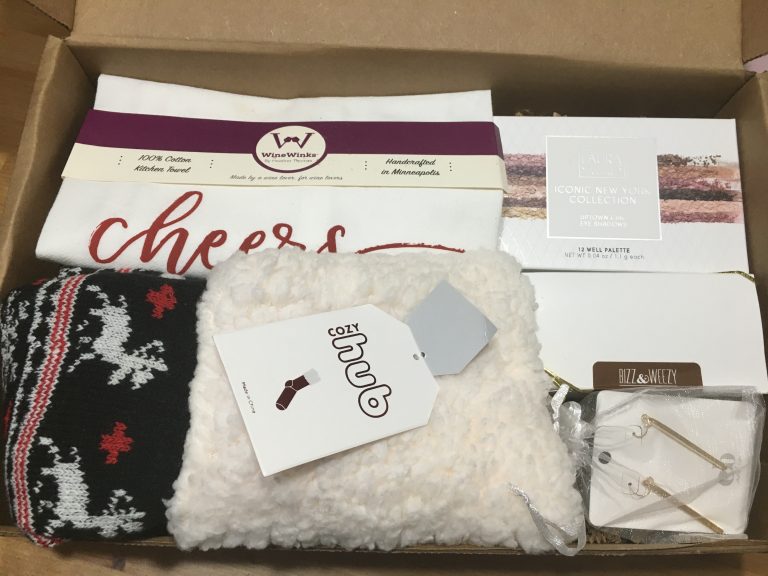 So I was not actually expecting this Holiday Oh! Ho Ho! box. However I was super excited when it was delivered. As always it required a signature, so I was especially happy I was home to receive it.  The packaging was in amazing condition and the glass bottles arrived snug and safe. This box value was over $158! I love how the items are also wrapped in protection if needed, and stored around a paper packing material. Amazing really.
  The first item up in the box, was this pair of EB and Co earrings. The style for me was perfect. I love the simplicity in the dangle. I love earrings, but i do not like them to be gaudy. They are Gold plated, roughly two inches long and I could wear them with any casual or dress outfit. The biggest bonus? They are exclusive to Vine oh customers! Definitely a good item to include in this seasons box.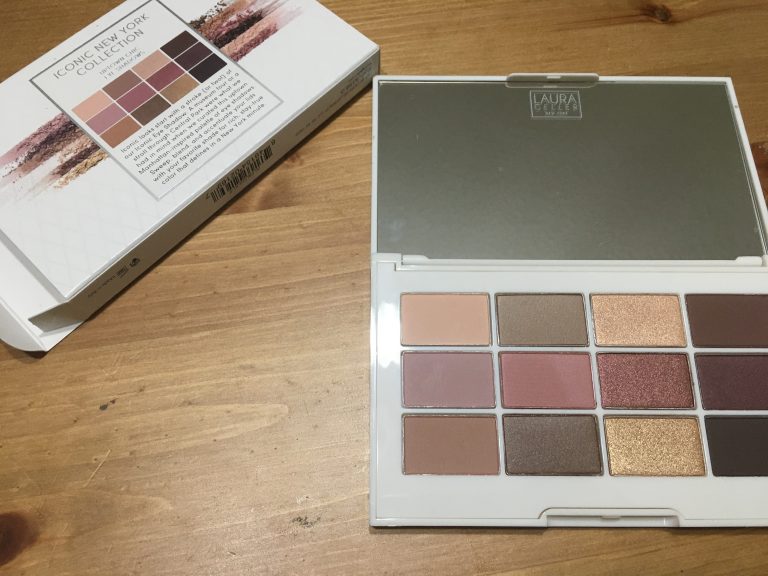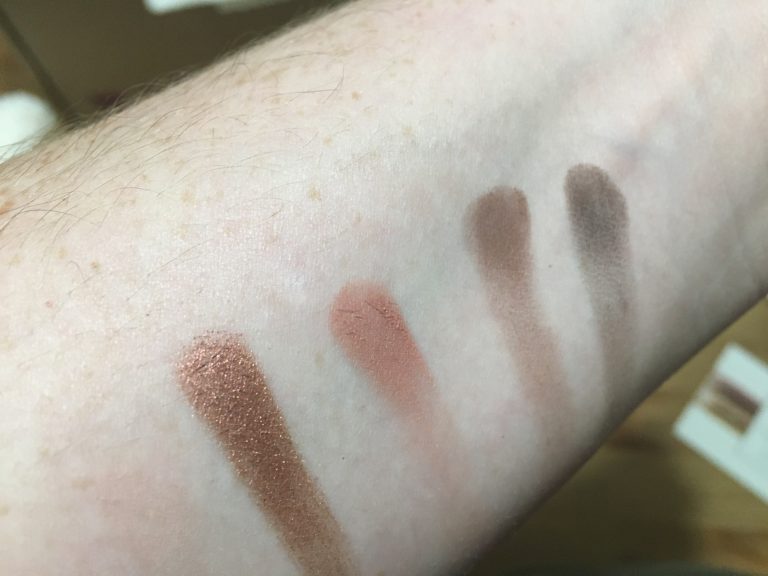 The second item in this seasonal box was the Lauren Geller New York eye shadow palette. It retails for $42. The pigmentation was stellar. Sometimes I find that subscription palettes are lackluster but that was not the case this time. The color palatte for this palette was also pretty stellar as they are all colors I would use on a daily basis. I have green eyes so browns and reddish browns really make my eyes pop. I look forward to using this in my makeup routine.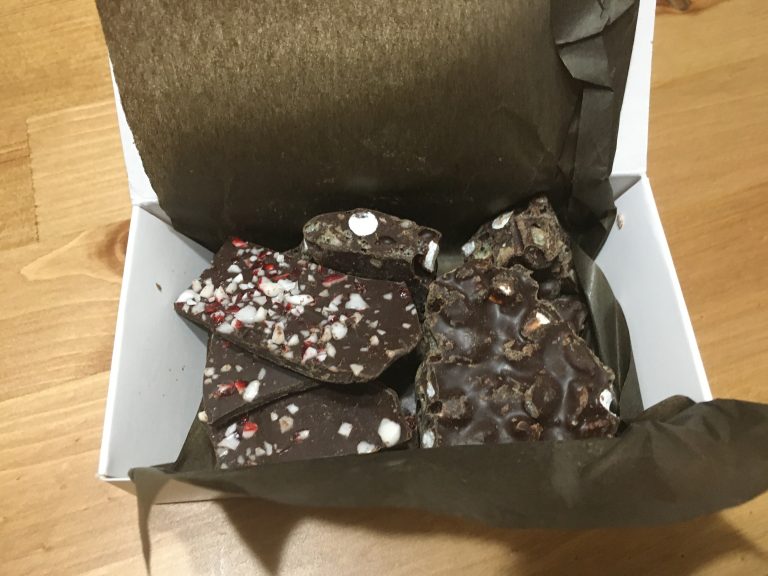 Thirdly, there was bark. No, not tree bark. chocolate bark. Bizz and Weey Confections Chocolate bark is some of the best bark I have ever had. There were two different types of bark included, a delicious peppermint and a marshmallow crunch dark chocolate. While peppermint is my absolute favorite of all time, somehow the dark chocolate and marshmallows beat it out for best bark in this box.
No kitchen is complete without a good dish towel. Vine oh delivers an adorable cotton kitchen towel with a super cute and unique wine Christmas pattern. I love that it looks like a nice sketch of sorts on the cloth. WineWinks really delivered on this product. It feels like a quality towel that could be used for drying dishes or used as just a kitchen accent piece.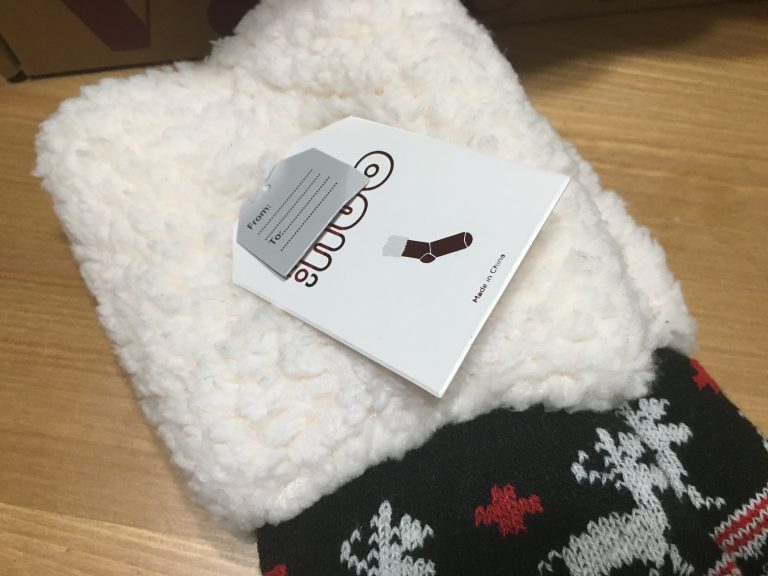 Probably the highlight of this box, aside from the wine of course, were these socks. They are so fluffy and warm. the socks were more than suitable to be work around the house thanks to the grips on the bottom. If you live in a cold environment they perfectly fit in but even in a warm environment like Florida they are good for lazing around the house. I love the woolly pattern and design on these as well.
Finally, the absolute top of the box was the wine. The wine was the whole reason for getting this subscription. I personally get a mix of red and white wine. The Merlot had a really rich flavor and pairs well with steak that my husband likes to grill. The Pinot Grigio however is my favorite. I have some with chicken, I can use it when I cook chicken, and I can mix it with juice and make a pretty darn good mimosa! The wine is top quality.
If you love the items you see as much as I do, definitely sign up for Vine Oh! today! Click here and you can even send it as a gift for a loved one this year!