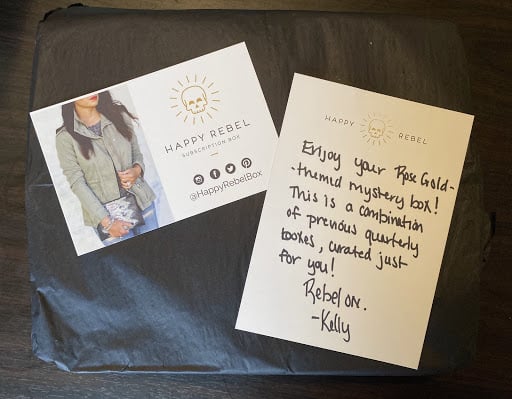 Happy Rebel is a company that provides a variety of lifestyle pieces all with an amazing purpose. For each box that is purchased, the company donates 10% to nonprofit charities around the world with the intent to help impoverished women and children. This company is doing something stand out and you can know your purchases, while giving you the joy of the mystery items you receive, is also really doing something to help. Every three months you can receive the new high end mystery box for the price of $100! Distinctive items really make it worth your while!
The box arrived really fast this month, each item carefully placed and packed to keep them safe in transit. There was a lovely not explaining that the items in the box were a variety of items from previous boxes mixed together. I expected this as the company was in the midst of a new owner change up. You never would have been able to tell that the items came from multiple previous boxes because they blended well. The fact that the boxes are this good before the change, makes me excited to see the new improvements that will be coming.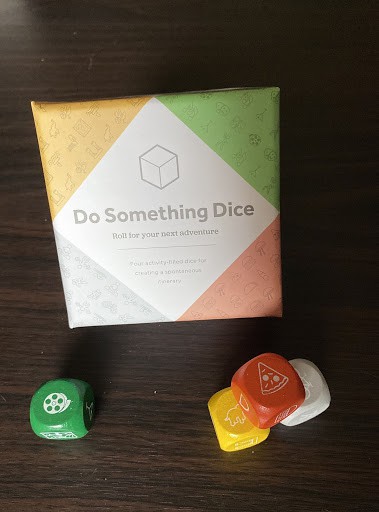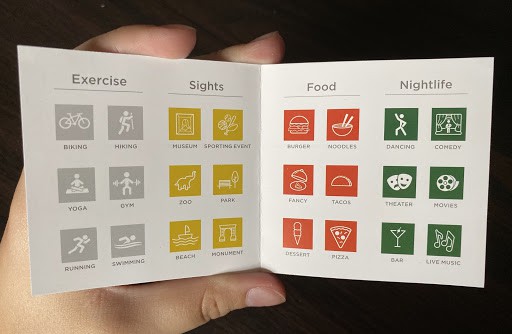 While the Do Something Dice didn't particularly match everything else in color, they did match that social aspect of the box. The dice are dedicated to four categories: exercise, sights, food, and nightlife. They are perfect for times that you're sitting at home, unsure of what to do with yourself. If you've heard the question "what are we having for dinner?" at least once, you'd understand how difficult it can be coming up with an answer yourself. These dice take away the element of uncertainty. I can see these being very useful to someone living in a lively area that has plenty going on around them to be indecisive about. They're cute, quick to use, and these are great for anyone who has the options around them.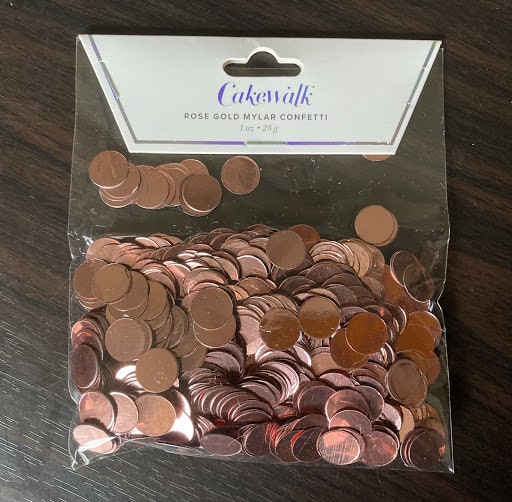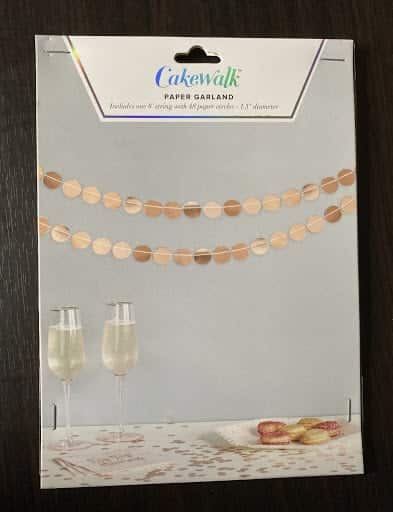 The next products are paper garland and matching confetti! I plan on saving both of these items for a New Year's Party. Which seems like a perfect use for them! They both have  great asthetic purpose if you have the ability to keep them out, but with kids or pets that could become an issue. However both will find a place once the new year of 2020 comes around in my home. I imagine the garland on a photo wall of sorts while the confetti will be scattered on the table holding cups, plates, food, and drinks. Breaking into these items is going to be fun.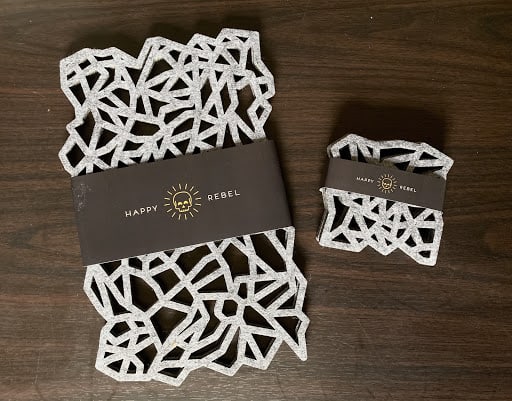 The Happy Rebel subscription box also came with light gray coasters and placemats. The box came with four coasters, and two of the larger mats all made of a gold plated foam. Admittedly the place mats are an awkward size for me. They're too small for my plates, so I will likely use them for aesthetic purposes instead. I use the one of the coasters daily while drinking my morning coffee. I'm clumsy too, so I do spill my drink on them every once in a while, but much like it claims to do, it's easy enough to wash off. I let it air-dry and it's good to go. More than the utility of it, I appreciate the design of both. The fact that they match is cute, but the intricate assortment of geometric shapes is unique. 
I didn't know how high to hold my expectations for the glasses as a lot of the time they can look and feel like cheap plastic, so I set my bar low this time around. It was a pleasant surprise to find that the dark glass itself didn't feel like that in the slightest. I love the contrasting dark gray to the rose gold color, however the lower portion of the glasses dipped in rose gold looks and feels lesser quality. They're dishwasher safe which is always a bonus!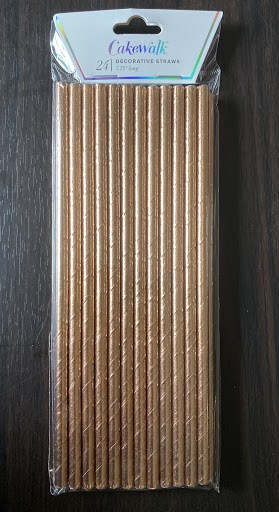 The straws are cute and disposable. I've used a good number of them but decided to save the rest for that New Year's party that I mentioned. In trying them out, I did notice that they don't give your beverages that paper taste. Some do, some don't, but it's a baseline expectation I have for the straws I use and it passed my test. The straws do get weaker the longer that it settles in liquid, but they are paper.  I noticed after reusing the same straw for three drinks, that it started getting a little floppy. To me it is not a deal breaker though. They are still amazing.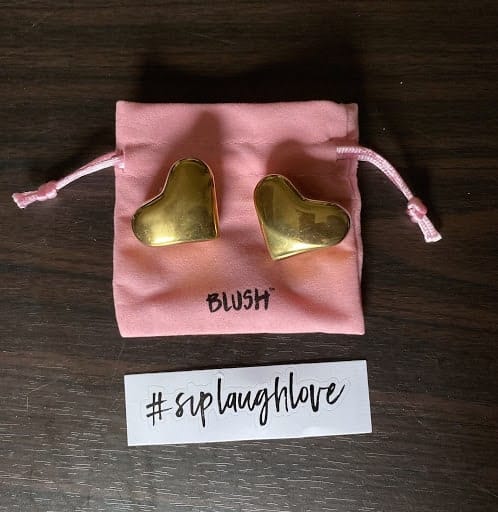 The last item in the box were these awesome Wine + Whiskey stone hearts. The first thing I want to say is that it's really easy to slip these hearts into the bags and place them in the freezer. The hearts themselves are a decent size both easily fitting into the palm of my hand. They definitely do the job as far as chilling your drink goes! It is a matter of preference in terms of cubes like this or regular ice cubes. I may have to wash these before refreezing, but I personally much prefer that to watering down my drink with regular cubes as they melt away.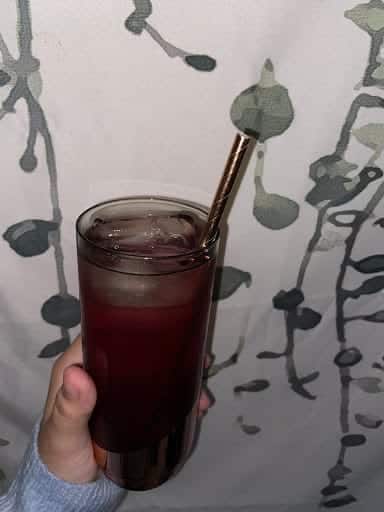 In Conclusion
The entire box fit a great theme and had me smiling from beginning to end. The colors and designs really fit my style and all items are really good quality. I feel like this is a box any strong young woman could use. If you are interested in a box that shows strength with a purpose, check it out here! Over the holidays through December 20th there is a huge blowout sale on previous items from the boxes!! You can get items 50-85% off! While the sale is going on the regular monthly mystery boxes will be paused, however it will be well worth it! Check out their site and get some awesome Christmas gifts while you wait!