Geek Fuel delivers monthly geek subscription boxes filled with over $50 worth of exclusive geek t-shirts, toys, collectibles, and more. Every Geek Fuel box also includes a full downloadable video game from steam. With today's Geek Fuel review, we're unboxing the April 2016 Geek Fuel box.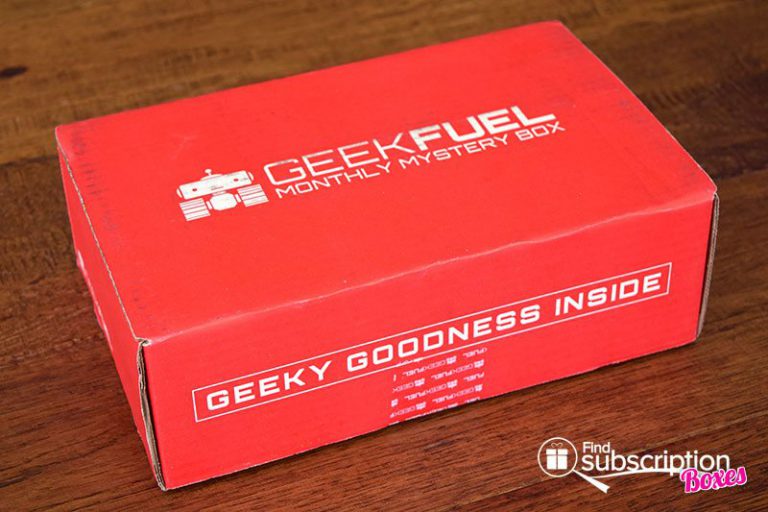 An issue of Geek Fuel Magazine is included in each Geek Fuel box. April's Issue #16 included a Gamer Corner that reviewed upcoming game releases and an Ultimate Geek Gift Guide. Geek Fuel boxes also have a product card that describes each of that month's geek goodies.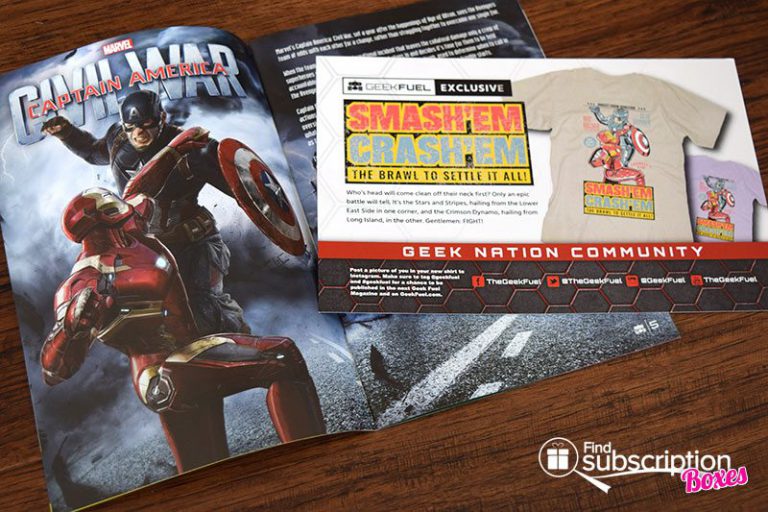 Here's a first look inside our Geek Fuel April 2016 geek box.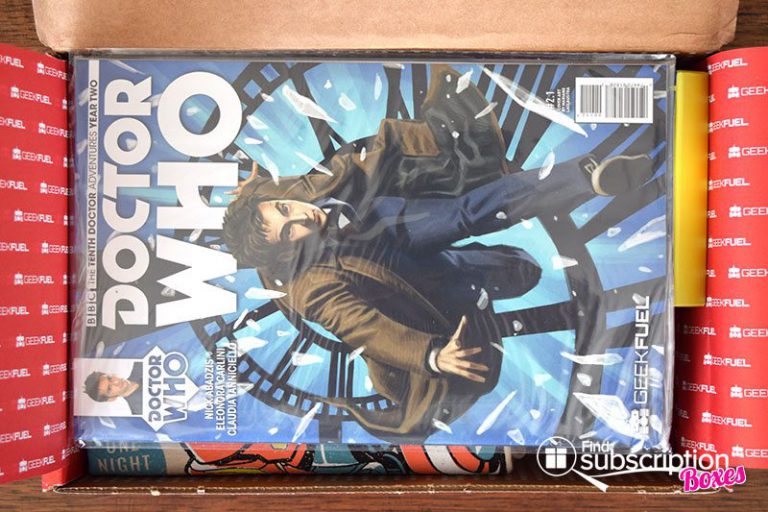 Inside the April 2016 Geek Fuel Box
There were 5 geek goodies in our Geek Fuel April 2016 geek box.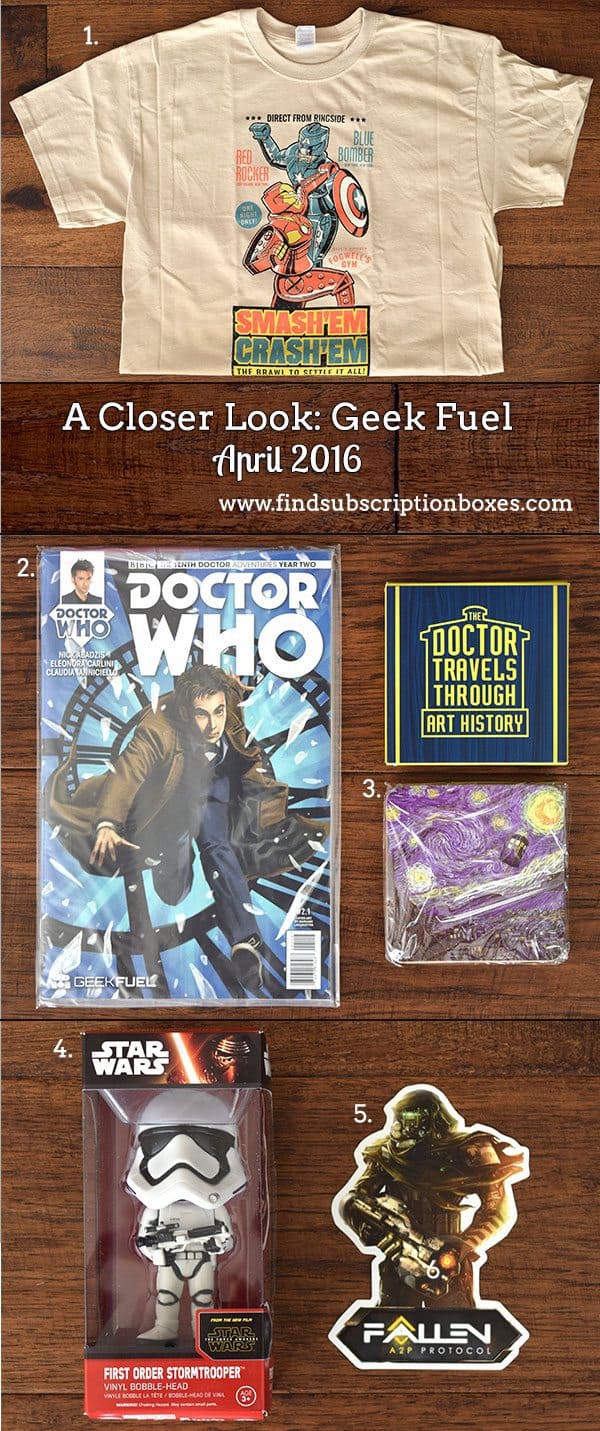 EXCLUSIVE Smash 'Em Crash 'Em T-Shirt
The Brawl to settle it all, this exclusive tee features Captain America and Ironman Rock 'Em Sock 'Em Robots facing off in the ring.
EXCLUSIVE Doctor Who: The Tenth Doctor Year Two #1 Comic Book
BBC's Doctor Who travels from the TV to your comic book collection. Join the Tenth Doctor and companion Gabriella Gonzalez as they take a relaxing trip to Earth Station Presley only to walk straight into a war!
EXCLUSIVE The Doctor Travels Through Art History Coaster Set
Place your drink on one of these exclusive coasters that feature the Doctor's time-travelling phone booth in different works of art.
Funko Star Wars First Order Vinyl Bobble-Head
We received a First Order Stormtrooper – others received a Flametrooper – that's a great addition to our Star Wars: The Force Awakens vinyl figure collection.
Fallen A2P Protocol Downloadable Game
In this turn-based combat and strategy game, players fight to survive in a post-apocalyptic world.
April 2016 Geek Fuel Review Wrap-Up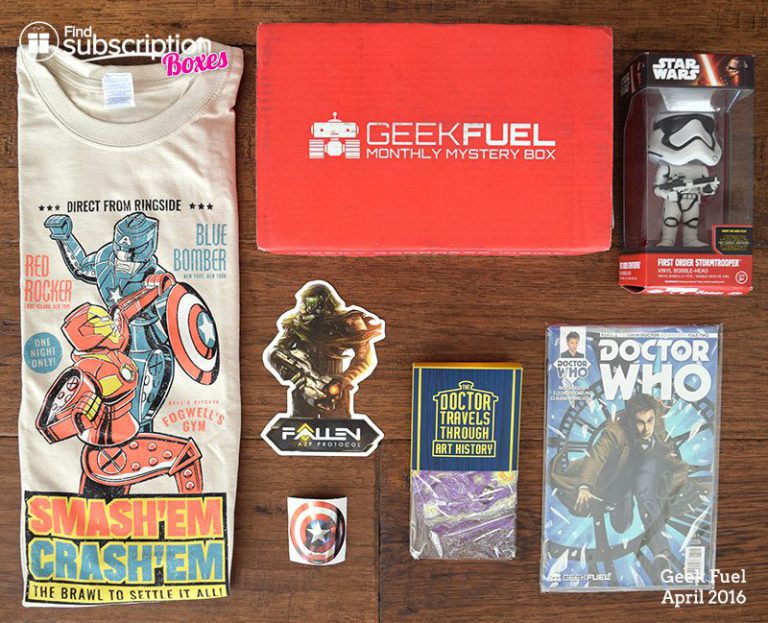 April's Geek Fuel box delivered great collectibles from Captain America, Star Wars and Doctor Who! Marvel and Rock 'Em, Sock 'Em meet in this month's Captain America: Civil War t-shirt that depicts this epic battle in robot style. The Funko Star Wars Stormtrooper Bobble-head is armed ready to acknowledge your next command. It's a great addition to any Star Wars vinyl figure collection.
The Doctor Who coaster set is a great piece of geek art decor. The set includes the Tardis in famous works of Picasso's Starry Night, American Gothic by Grant Wood, and other famous works of art. For a fun afternoon read, the Doctor Who comic book follows the Doctor and Gabby on their latest journey through the universe.
What was your favorite Geek Fuel April 2016 geek item?
Get a sneak peek into this month's mystery box with these Geek Fuel May 2016 box spoilers!
Geek Fuel Free Gift Coupon
For a limited time, new Geek Fuel subscribers can get a free Star Wars item or Star Wars Gift Pack with new 3, 6 and 12 month Geek Fuel subscriptions. Subscribe now to reserve your May Geek Fuel box and claim your free geek gift.