Loot Crate is a monthly mystery subscription box for geeks and gamers. Monthly Loot Crate geek crates have fun geek themes and are filled with geek t-shirts, vinyl figures and other collectibles. With today's Loot Crate Review, we're unboxing the April 2016 Loot Crate. The April Loot Crate theme was Quest.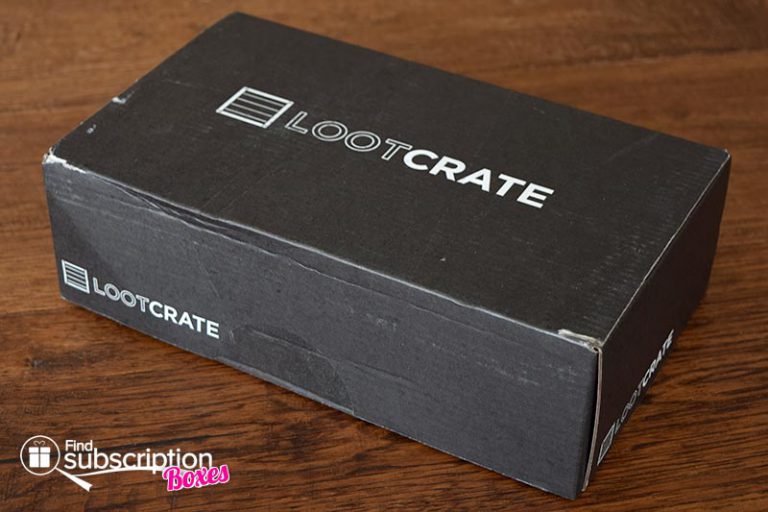 A monthly Loot Crate magazine is included in each crate. This month's April 2016 LC Magazine issue shared descriptions of this month's Quest geek items, recipes for "mythic" drinks, and "A Guide to Safely Avoiding Quests."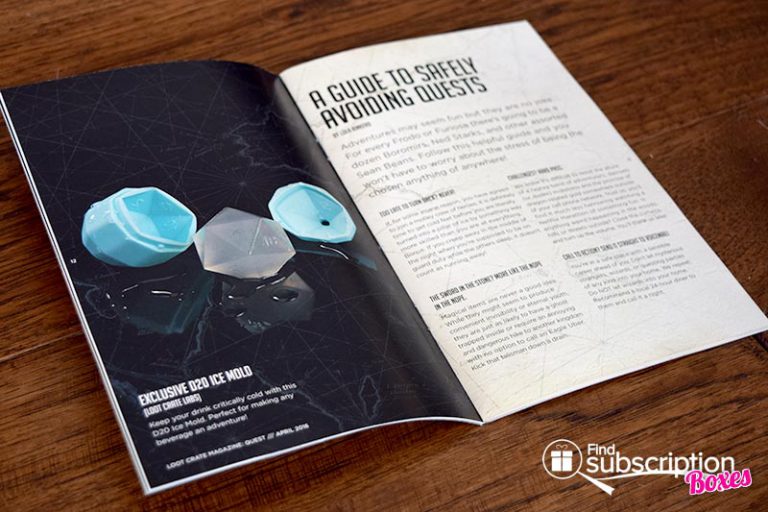 Inside the April 2016 Loot Crate Quest Crate
There were 5 geek and gamer collectibles in the April Quest Loot Crate.

EXCLUSIVE Uncharted 4: A Thief's End Poster
Get ready for the release of Uncharted 4 and Nathan Drake's quest for valuable artifacts with this exclusive poster.
EXCLUSIVE Labyrinth T-Shirt
Search for your next quest, or the sibling you accidentally wished away, in this exclusive shirt featuring David Bowie's Goblin King.
EXCLUSIVE D20 Ice Mold
Keep you drink cold with this 20 sided dice ice mod. Just add water, freeze, and you're ready to roll!
EXCLUSIVE Vikings Drinking Horn with Strap
Enjoy a horn of your favorite drink with this 1:2 replica of a Vikings drinking horn. It comes with a leather neck strap for hands-free portability.
EXCLUSIVE Harry Potter Socks
Harry completed the biggest quest of them all, destroying all of Voldemort's Horcruxes and featuring them on these stylish socks.
EXCLUSIVE April 2016 Loot Pin
The April Loot Pin has a D20 shield design and gives looters a Gelatinous Cube Companion for Neverwinter.
April 2016 Loot Crate Review Wrap-Up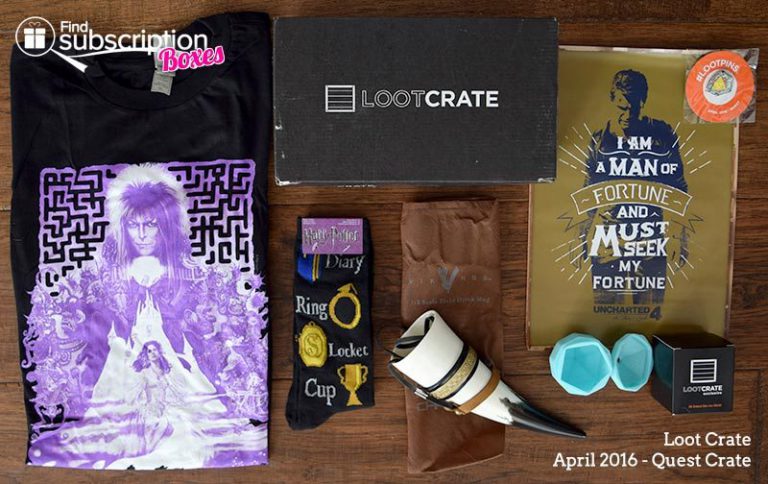 The April Quest Loot Crate had geek exclusives from quest-inspired movies, popular tv shows and video games.  The BBC Vikings Drinking Horn replica is a statement neck piece that will instantly upgrade your Viking status. Hang the Uncharted 4 poster wall to get inspired for the upcoming May 10th release of this action-adventure 3rd person shooter.
Every Harry Potter fan would love to get their feet into a pair of these exclusive socks honoring all of Harry's adventures as he journeys to destroy all of Voldemort's Horcruxes.. We love the ice mold that makes every drink instantly cool with one huge ice cube with 20 sides. Tip: Get perfectly clear D20 cubes by carefully using boiling water into the molds.
What was your favorite April Loot Crate Quest crate collectible?
Loot Crate Coupon Code
Don't miss another box! Save $3 off new Loot Crate subscriptions when you use coupon code LOOTR3or use code FINDBOXES to save 10% off any Loot Crate subscription.