Pampered Mommy Box is a monthly subscription box for moms. Each Pampered Mommy Box has 5-7 beauty, bath, lifestyle, health, or wellness products and other mommy gifts. With today's Pampered Mommy Box review, we're unboxing the April 2016 Pampered Mommy Box. Pampered Mommy Box includes a product card that shares a message from Pampered Mommy Box and describes all of the mom gifts in that month's box.
Inside the April 2016 Pampered Mommy Box
The April Pampered Mommy Box contains a lot of products to pamper mom. Included in the box is: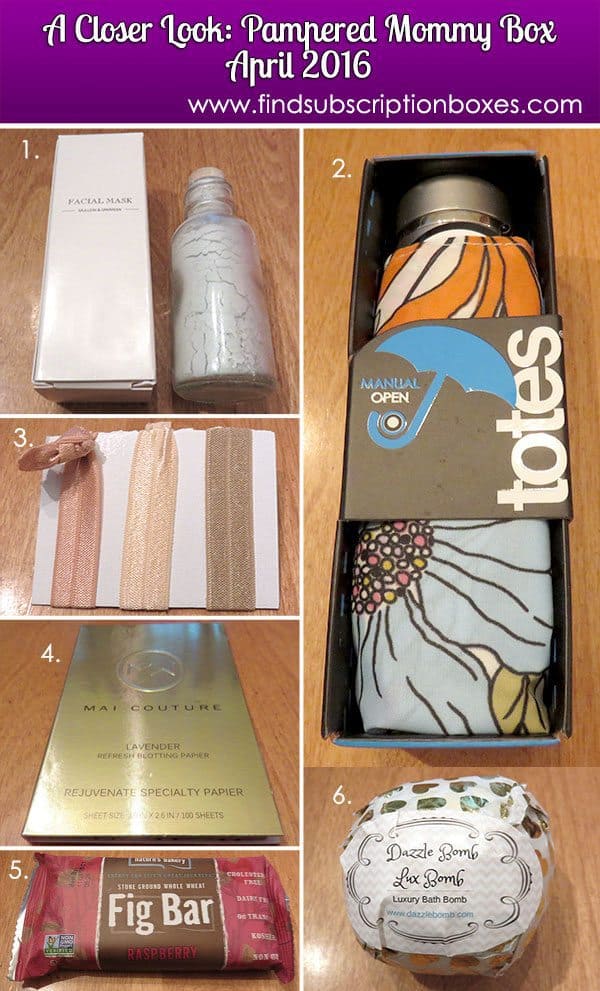 Mullein & Sparrow Face Mask, $15, a clay-based blend, just add water to create a paste, apply to face, let dry, then remove with water. Easy to pamper oneself weekly.
Totes Mini Umbrella, $24, this is the perfect accessory for Spring showers! It's small enough to fit in a purse, diaper bag, or your gym bag.
No Crease Hair Ties, $3.99, hair ties in Spring colors which are perfect for pony tails or a quick bun. They're designed to not leave a crease when you release your hair.
Mai Couture Lavender Blotting Paper, $12, a pack of 100 blotting papers to reduce shine and leave you with only a healthy glow without removing makeup.
Dazzle Bomb Bath Bomb, $6, enjoy the luxury of bath with this bath bomb infused with soothing oils and natural ingredients while you relax in the tub.
Nature's Bakery Fig Bar, $1.25, yummy treat for a quick pick-me-up when you're on the run. They're tasty, Non-GMO, dairy-free, and Kosher.
April 2016 Pampered Mommy Box Review Wrap-Up
The April Pampered Mommy Box delivered a mix of beauty and lifestyle products for Spring that are also a special treat for Moms. During your alone time, draw a bath, toss in the bath bomb and relax. Use the clay face mask at the same time to detox your face and reveal fresh, rejuvenated skin. The mini umbrella is the perfect on-the-go rain gear. It has a fun floral pattern and can easily fit in a purse or backpack. The April Pampered Mommy Box had over $62 worth of pampering goodies for mom!
What was your favorite Pampered Mommy Box April item?
Pampered Mommy Box Coupon
For a limited time, use code MAYPAMPERED to save 10% off your first Pampered Mommy Box with new monthly subscriptions.