Blue Apron is a meal subscription program which makes "mealtime unforgettable with premium ingredients, farm-fresh produce & unique seasonal recipes—all delivered right to your door." The Blue Apron Experience is in four steps, 1) original recipes, 2) you choose the menu, 3) a refrigerated box is delivered to you free, and 4) you prep and cook the meal in about 35 minutes. With today's Blue Apron review, we're unboxing our August 2016 Blue Apron Week 4 meal delivery box.
Our August 2016 Blue Apron Week 4 box had two meals with four servings each: Pesto Meatball & Mozzarella Paninis with Summer Squash Slaw and Chicken Hiyashi Chuka with Cucumbers, Summer Beans & Corn. Our featured ingredient for the shipment was Sesame: seeds and oil. We learned some fun facts, history, and the ingredient was used in one of our recipes. Our shipment arrived by an overnight shipper in refrigerated packaging and on ice. The packaging can be recycled back to Blue Apron—instructions are on the website. This packaging ensures the fresh ingredients of protein, dairy, and produce maintain a proper cool temperature.
The recipe cards are colorful and show the exact items needed from the shipment. The cards have easy to follow, step-by-step instructions for making each dish. You can also go to the Blue Apron website for cooking tips for each recipe. In addition, each recipe includes a wine pairing suggestion.
We made the Pesto Meatball & Mozzarella Paninis first. It made a quick meal for a Sunday evening. The pesto was a nice exchange for the typical red sauce usually paired with meatball sandwiches. Blue Apron included all the ingredients, except pantry staples such as salt, pepper, and olive oil. No special tools are needed other than a good knife and cutting board for prepping food and bowls for mixing. This meal was a big hit with the kids.
Next, we made Chicken Hiyashi Chuka, a Japanese-inspired brothless ramen dish traditionally served cold. After prepping the ingredients, this meal came together quickly. All we needed to add was salt, pepper, and water. If you've never blanched veggies before, you'll learn how it easy it is.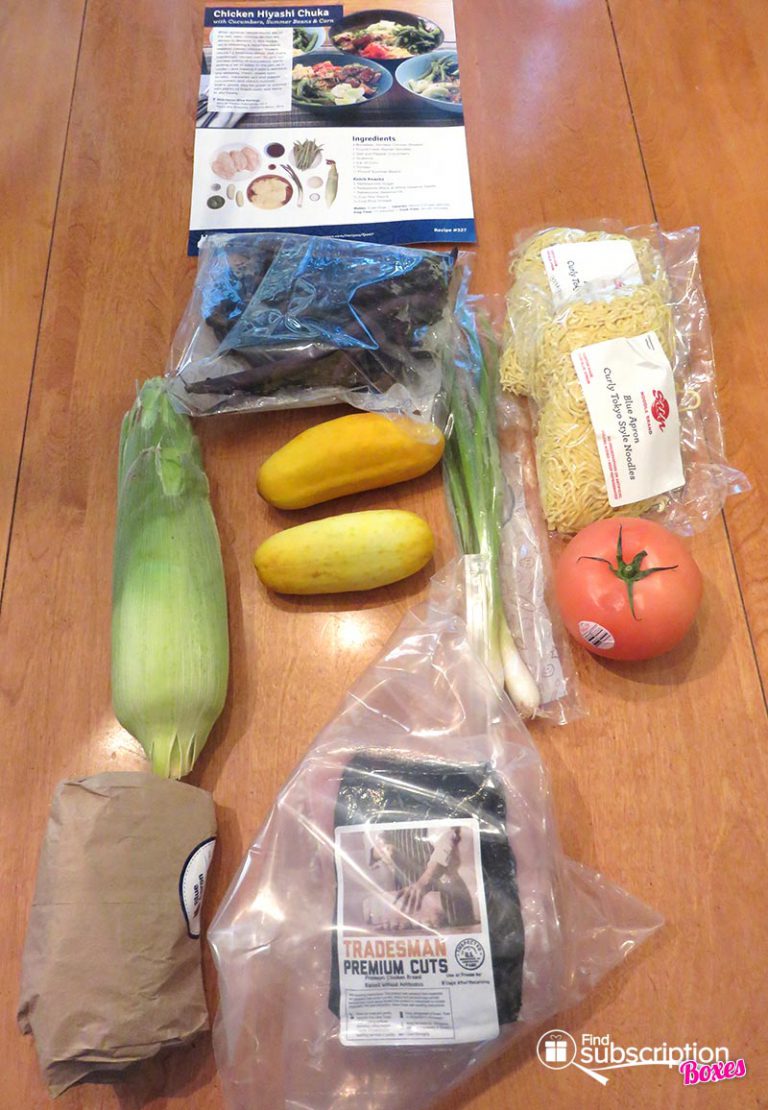 Even though Blue Apron suggests this dish to be served in bowls, since it's brothless, it could easily be served on a plate. It was fun to put this dish together and the whole family enjoyed this meal.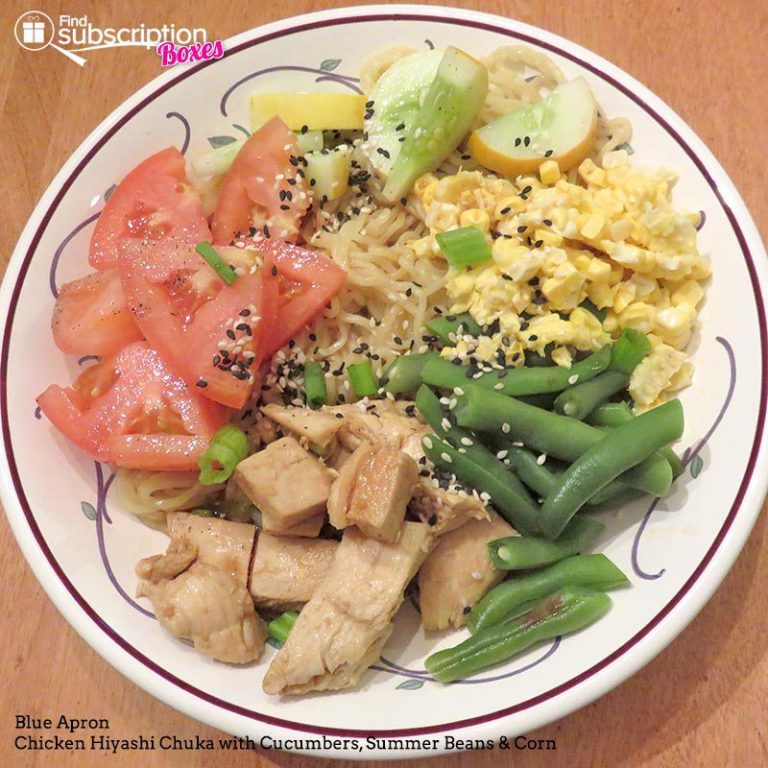 Blue Apron makes cooking delicious meals easier. Their meals are also healthier since they're made with sustainably sourced, fresh ingredients. Each of our August 2016  Blue Apron Week 4 meals were quick to prepare from start to finish. Every meal had wonderful flavor and nothing is complicated to make. Anyone with basic kitchen skills will love the ease of making a gourmet meal at home with a subscription to Blue Apron.
August 2016 Blue Apron 3 Free Meals Coupon
Get free meals delivered with when you join using our Blue Apron coupon link! Click Here for THREE FREE meals when you join Blue Apron today!