Geek Fuel delivers is a monthly subscription box for nerds and geek. Monthly Geek Fuel boxes are filled with over $50 worth of exclusive geek t-shirts, toys, collectibles, and more. Every Geek Fuel box also includes a full downloadable video game from Steam. With today's Geek Fuel review, we're unboxing the August 2016 Geek Fuel box.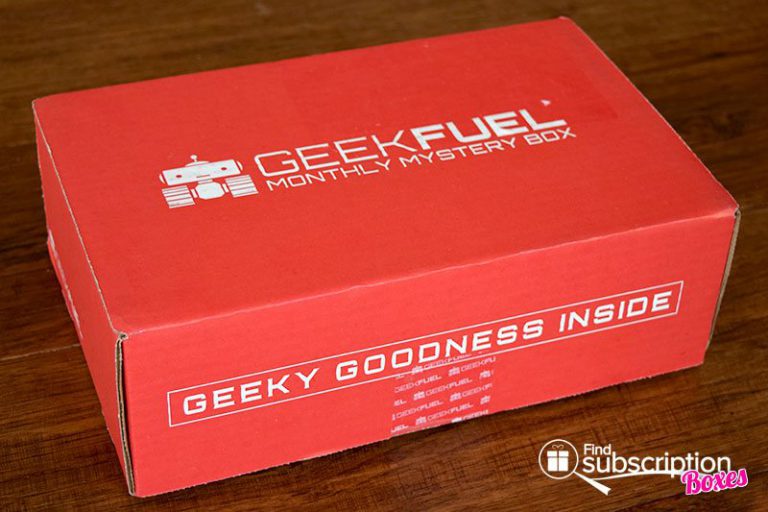 Geek Fuel includes an issue of Geek Fuel Magazine in each mystery Geek Fuel box. August's geek magazine had an article ranking the top 10 Jokers, as well as an in-depth look at the "Rebirth" of DC Comics. Geek Fuel boxes also have a product card that describes each of that month's geek goodies.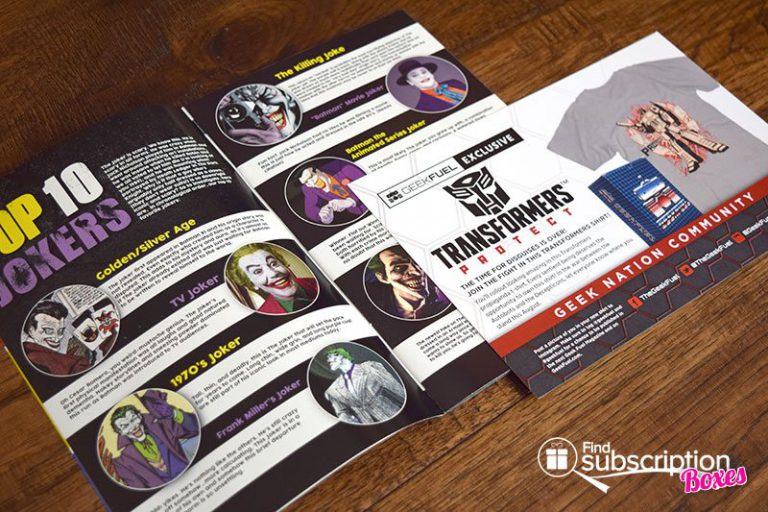 Here's a first look inside our Geek Fuel August 2016 monthly geek box.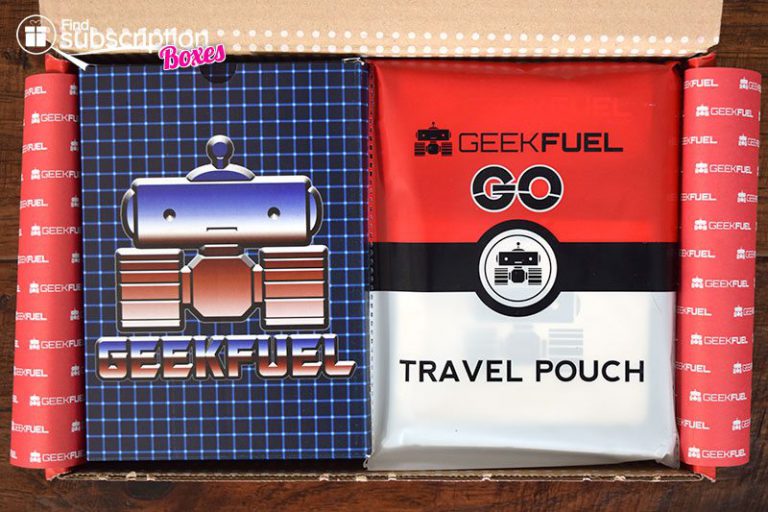 Inside the August 2016 Geek Fuel Box
There were 6 geek goodies in our Geek Fuel August 2016 geek box.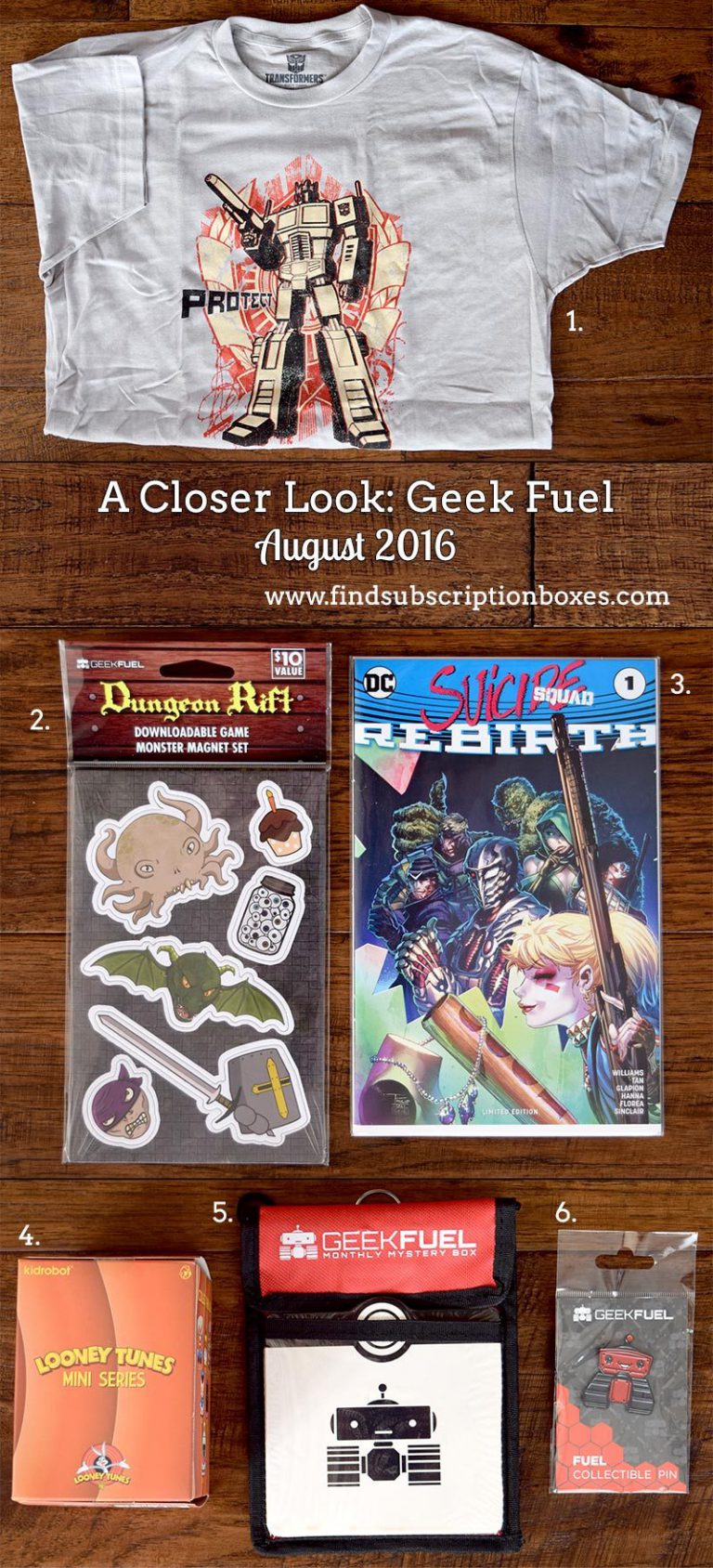 EXCLUSIVE Transformers Protect T-Shirt
Show that you and the Autobots are ready to protect the planet from the Decepticons with this exclusive Transformers shirt.
DC Comics Suicide Squad: Rebirth Issue #1 with Exclusive Variant Cover
This 1st edition Suicide Squad Rebirth Comic follows this dangerous group as they get a fresh start.
Dungeon Rift Downloadable Steam Game + EXCLUSIVE Dungeon Rift Monster Magnet Set
Join Sir Bucket as he journeys through Dungeon Rift, killing everybody on the level and grabbing the loot while avoiding the monsters.
Kidrobot Looney Tunes Mini Series Blind Box
Which Looney Tunes character will you get? Each box has a 3″ mini vinyl figure.
EXCLUSIVE Geek Fuel Go Travel Pouch
When you're on the go, this exclusive Geek Fuel Travel Pouch will help you keep your cash, coins and collectibles close at hand..
EXCLUSIVE Geek Fuel Collectible Enamel Pin
The first in a new series from Geek Fuel, this first exclusive pin features Geek Fuel's mascot – Fuel.
August 2016 Geek Fuel Review Wrap-Up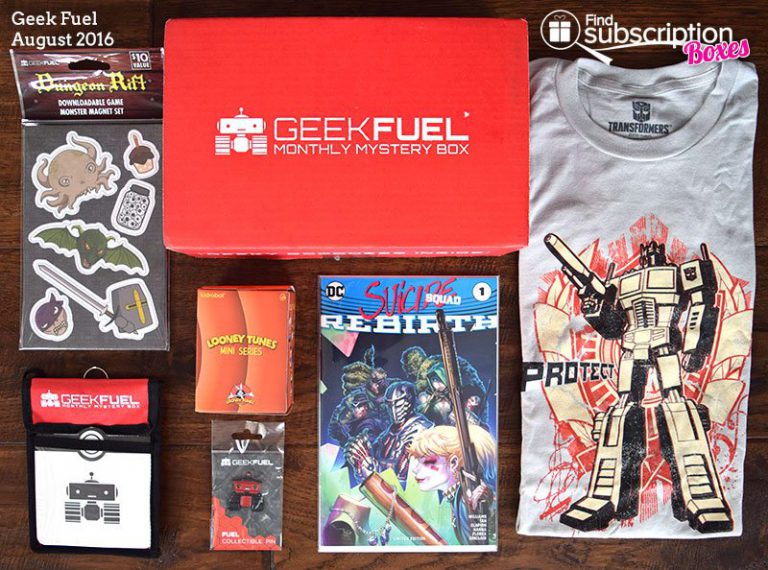 The August Geek Fuel box had 5 exclusive geek items. First is the Suicide Squad: Rebirth Issue #1 Comic from DC Comics. The DC Rebirth series uses the end of The New 52 as a starting point for the new story line. Harley Quinn, Killer Croc, Deadshot, Katana, Boomerang and others make up this new team. Speaking of teams, with the Autobots and the Decepticons at war, you can show that you support Optimus Prime and his team with this exclusive Transformers shirt.
The Looney Tunes mini figure from Kidrobot is the first Looney Tunes vinyl for our collection.  Each blind box has of one of your favorite Looney Tunes cartoon heroes and anti-heroes from Bugs Bunny to Pepe LePew, Yosemite Sam to Marvin the Martian.
Geek Fuel introduced us to two new products in the August box. Inspired by Pokemon Go, the Geek Fuel Go travel pouch features a classic Pokeball design with its red and white colors. Trainers can use this convenient pouch to carry their cash, cards and/or phone while out hunting Pokemon. It includes Team Instinct, Team Valor, and Team Mystic cards you can use to show your team pride.  The Fuel Enamel Pin is the first in their new (pin?) series and we're looking forward to see what geek icons and figures are featured next.
This month's full downloadable STEAM video game is another new one for us. With this dungeon crawl, your character moves through different dungeon levels, slaying monsters with a variety of weapons. There are different locations you can discover and the monsters get leveled up as you progress through the game. The exclusive Dungeon Rift magnet set features some of the monsters you'll face in the dungeon.
What was your favorite Geek Fuel August 2016 geek item?
The first September 2016 Geek Fuel box spoiler has been revealed. Check it out!
Geek Fuel Free Gift Coupon
For a limited time, new Geek Fuel subscribers can get a free Star Wars $30 Value Bonus Pack with new 3, 6 and 12 month Geek Fuel subscriptions. Subscribe now to claim your free geek gift.