Nerd Block Classic delivers monthly mystery subscription boxes of nerd gear and collectibles. Each Nerd Block Classic has 4-6 nerd collectibles, including an exclusive nerd t-shirt, with a total $60+ value. Every Nerd Block also includes a free $10 credit to ShirtPunch.com! With today's Nerd Block Classic  review, we're unboxing the August 2016 Nerd Block Classic nerd subscription box.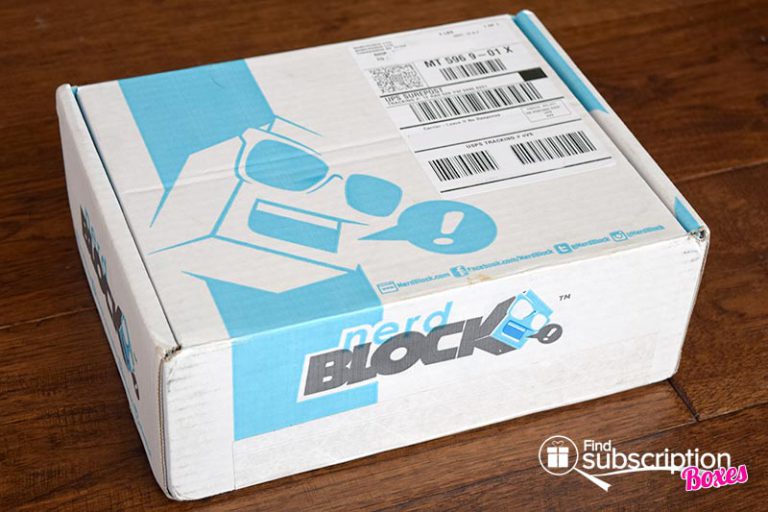 Nerd Block Classic boxes include a product card sharing information about the nerd collectibles in that month's nerd box. There was also a spoiler for the September Nerd Block Classic box.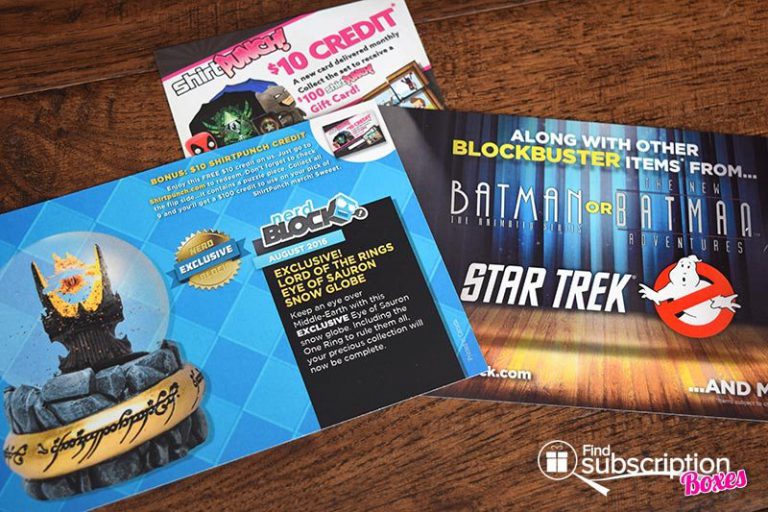 Here's a first look inside our Nerd Block Classic August nerd subscription box.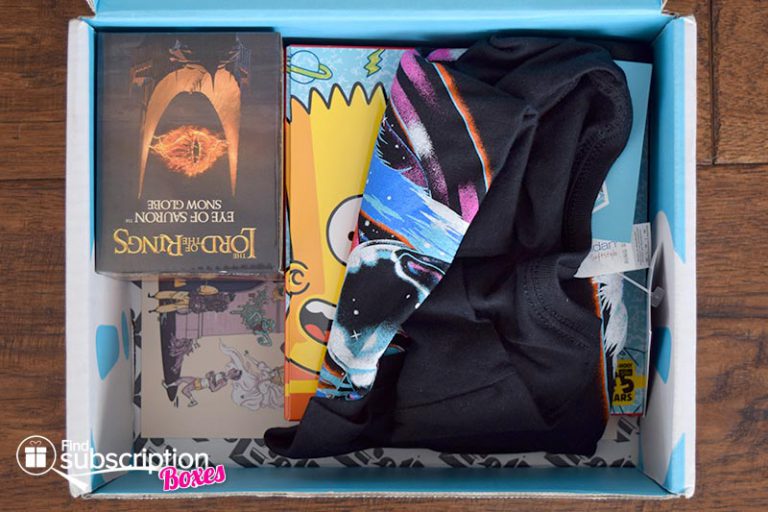 Inside the August 2016 Nerd Block Classic
There were 6 collectibles in our August Nerd Block Classic monthly nerd box.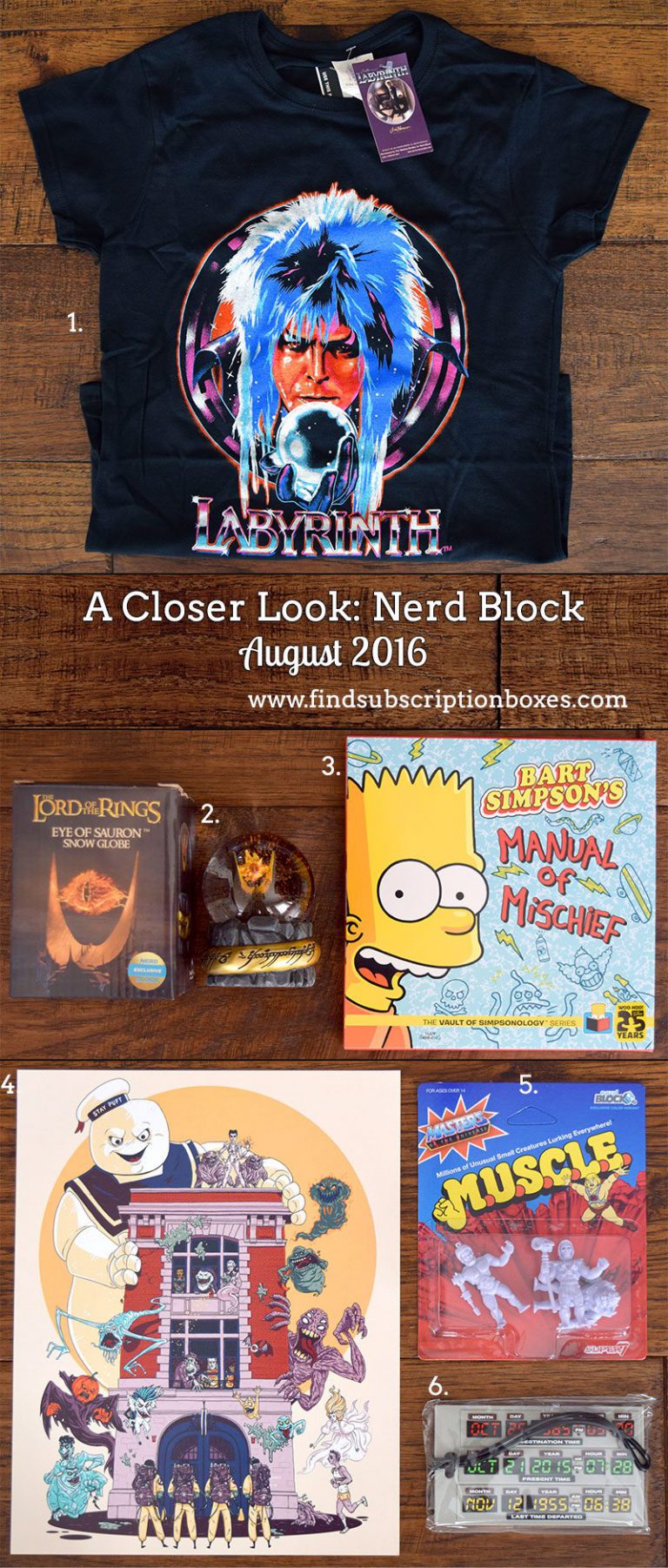 EXCLUSIVE ShirtPunch T-Shirt: Labyrinth
Celebrate the classic film with this exclusive Labyrinth shirt that features the late, great David Bowie.
EXCLUSIVE Lord of the Rings Eye of Sauron Snow Globe
Add this exclusive Lord of the Rings snow globe to your precious collection and keep and eye over Middle-Earth.
Book: Vault of Simpsonology – Bart Simpson's Manual of Mischief
Get one of 4 Simpson books to help you be like your favorite character – from ruling the world like Montgomery Burns or causing trouble like Bart Simpson.
EXCLUSIVE Ghostbusters Art Print
Protect your house from pesky ghosts with this Ghostbusters art print by famed illustrator Fredrik Eden.
EXCLUSIVE Masters of the Universe M.O.T.U.S.C.L.E.
Kick off your Masters of the Universe M.O.T.U.S.C.L.E. collection with 3 of the 12 unstoppable figures.
EXCLUSIVE Back to the Future Time Circuit Luggage Tag
Keep track of your luggage whether traveling to the past or future, with this exclusive Back to the Future-inspired luggage tag.
August 2016 Nerd Block Classic Review Wrap-Up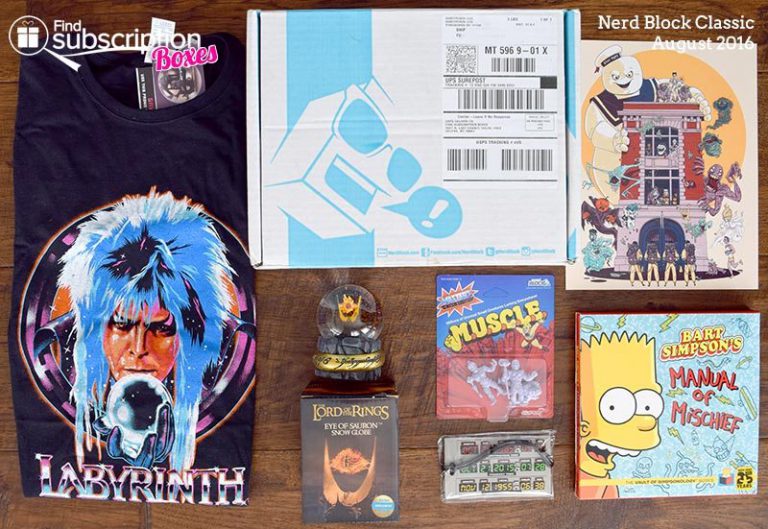 The August Nerd Block Classic Block was packed with unique exclusive nerd collectibles from favorite TV shows and classic movies. The Eye of Sauron is one of our first Lord of the Rings collectibles. The globe has orange sparkles that swirl around Sauron's ominous eye inside. The One Ring to Rule them All decorates the base of the snow globe.
The Ghostbusters art print shows Stay Puft and other ghosts around the Ghostbusters firehouse. It's perfect for framing and showing that you ain't afraid of no ghosts.
The late David Bowie is featured in this month's Labyrinth t-shirt. This shirt has the Goblin King designed in bright colors that pop.
If you're looking for a fun read, open up your new The Simpsons book. Subscribers received 1 of 4 books from the Vault of Simpsonology. We received Bart's Manual of Mischief which shares his best prank secrets including how to make a prank phone call to creating the perfect spy kit.
Super7 has brought back their classic rubber Masters of the Universe figures. These figures are in an exclusive gray color. Our package included Skeletor, Beastman and Trap Jaw.
Finally, the Back to the Future Luggage Tag is a great way to make your luggage easier to find. You can write your contact information on the back. The time travel dashboard with colorful numbers will help you quickly find your bag.
Which was your favorite August Nerd Block Classic nerd item?
August 2016 Nerd Block Classic Coupon
Join Nerd Block Classic today and save on your first nerd mystery box! Use Nerd Block Classic coupon code FindSubBox16 to save 15% off the first month of new monthly Nerd Block Classic subscriptions. Save more with multi-block and multi-month subscriptions!