Sci-Fi Block is a monthly sci-fi subscription box for science fiction fans. Every month, Nerd Block hand-picks a collection of licensed merchandise and collectibles representing the very best in science fiction entertainment to include in your monthly sci-fi box. With today's Sci-Fi Block review, we're unboxing the August 2016 Sci-Fi Block.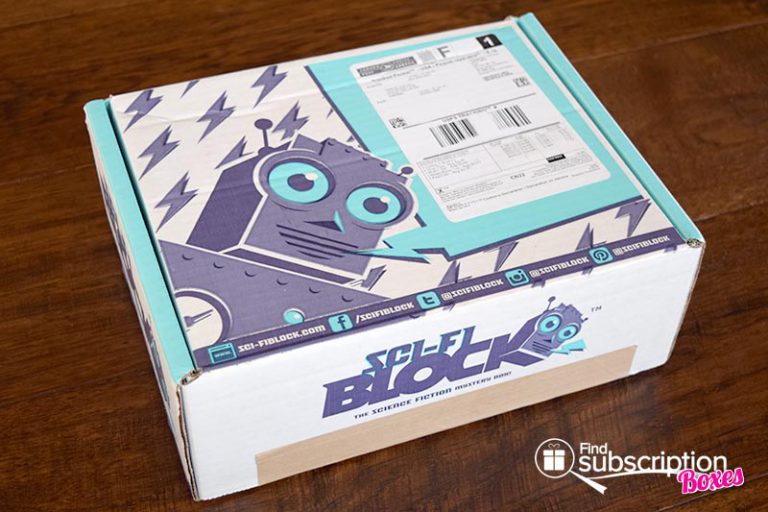 Sci-Fi Block includes a colorful product card that has the information about the science fiction collectibles in that month's box.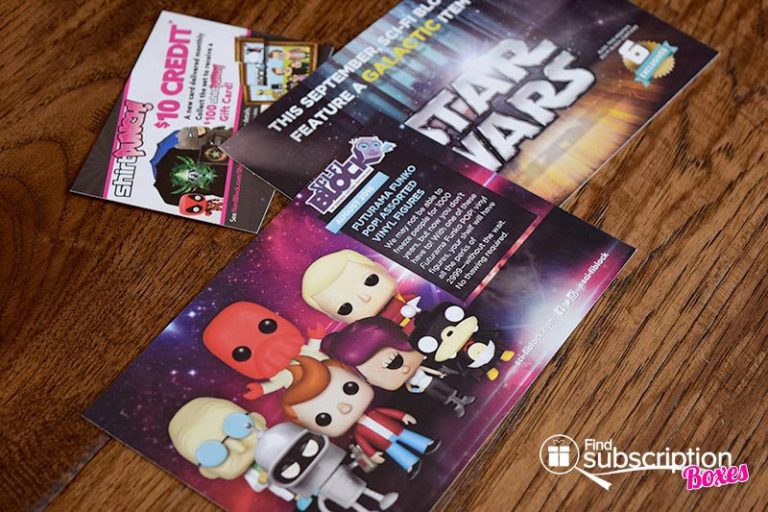 Here's a first look inside our August Sci-Fi Block.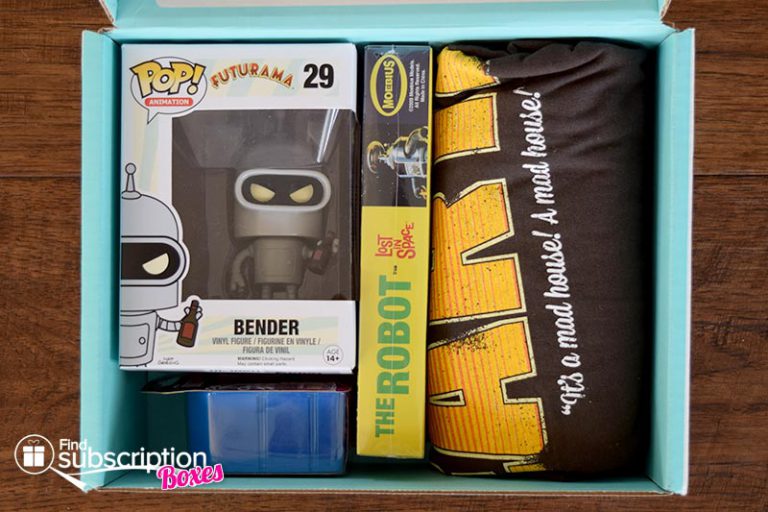 Inside the August 2016 Sci-Fi Block
There were 5 sci-fi items in our Sci-Fi Block August 2016 monthly sci-fi box.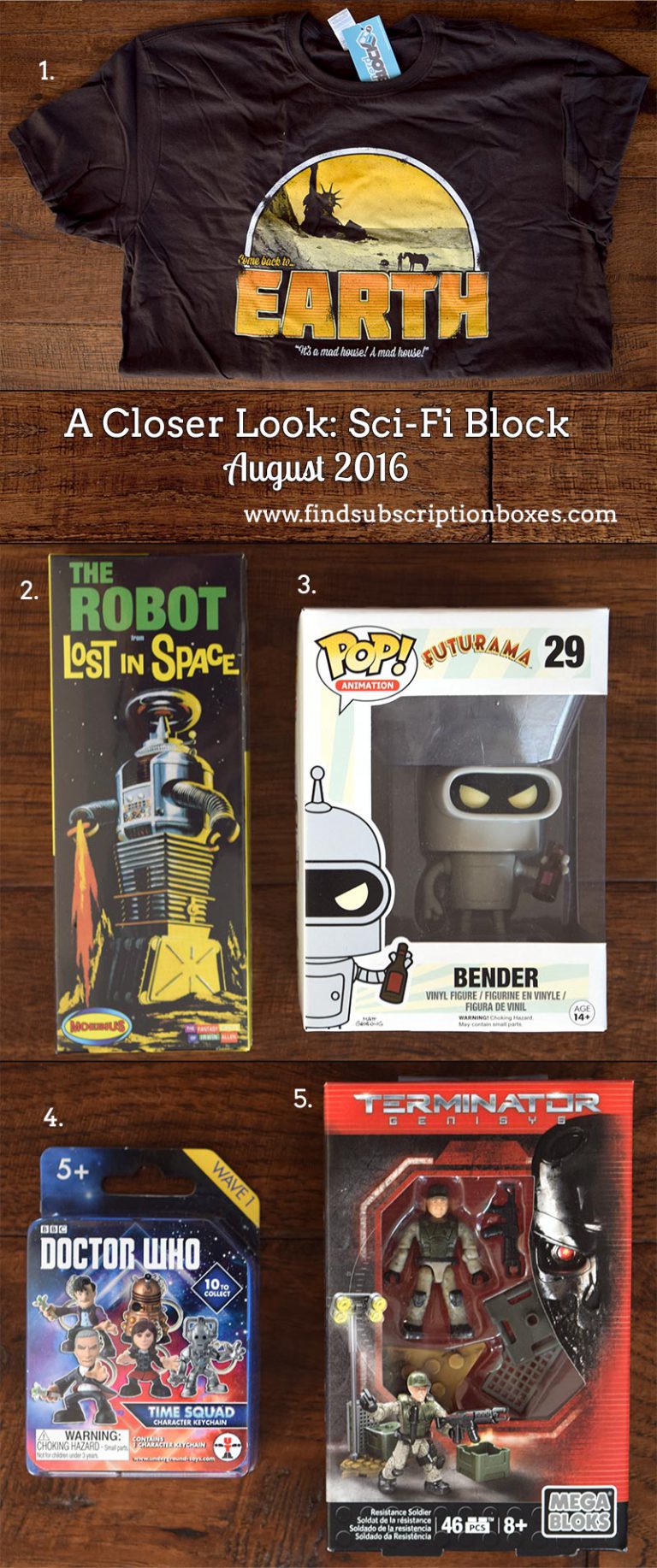 EXCLUSIVE ShirtPunch Planet of the Apes T-Shirt
This exclusive Planet of the Apes T-shirt calls out to the lost astronauts to come back to Earth.
Lost in Space Model Robot
Danger, Will Robinson! Become a rocket scientist with this buildable Lost in Space model robot.
Futurama Funko Pop! Bender Vinyl Figure
Add this Futurama Funko POP! to your collection for all the perks of 2999 – without the wait.
Doctor Who Assorted Time Squad Keychain
Whovians can show off their time mastery with this Doctor Who Time Squad key chain.
Terminator Mega Blocks Buildable Character
Build up this Terminator, then knock him down, to keep him from destroying mankind's only hope for survival.
Bonus: Every Sci-Fi Block also includes a $10 credit to ShirtPunch. Collect all 9 card designs to receive a $100 ShirtPunch credit.
August 2016 Sci-Fi Block Review Wrap-Up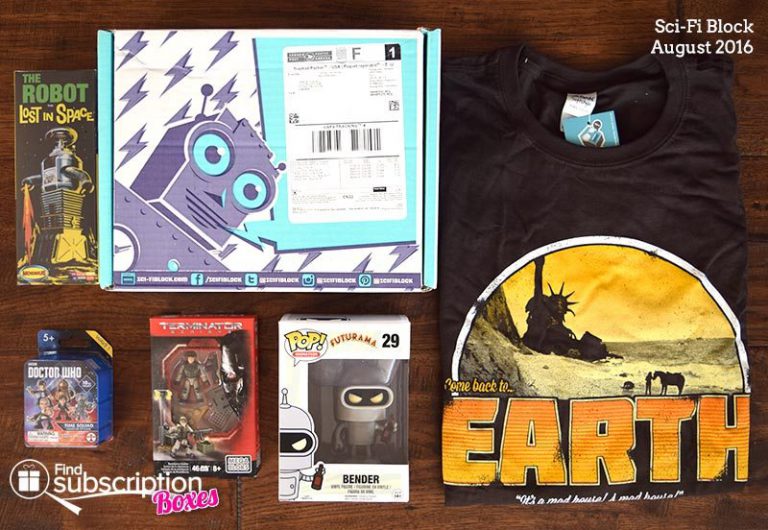 The August Sci-Fi Block definitely delivered some fun and unique sci-fi goodies. This month there were two "build" figures. First was the Robot from Lost in Space model. The Robot consists of 24 unassembled and unpainted pieces. Using a hobby knife and plastic cement, you can build this robot and give it a classic or custom paint job. Next is the Terminator Genisys Mega Block model. We received a Resistance Solider figure, along with a base for the included spotlights and building, and a storage box.
The BBC Doctor Who Keychain has 10 different Doctor Who Time Squad characters, including the 11th and 12th Doctors, Clara, Cyberman, Dalek, and other popular characters from Doctor Who. The Blind Box includes one keychain with a 2.5″ vinyl figure.
Whether you're a fan of the original Planet of the Apes movie or have been enjoying the latest releases, the exclusive Planet of the Apes t-shirt is the perfect shirt to show off your fandom. It features the iconic Statue of Liberty peeking out of the ocean and Charlton Heston's famous quote: "It's a mad house! A mad house!"
August Sci-Fi Block had one of 7 Futurama Funko Pop! figures. We received the Bender figure which stands 3 3/4″ tall and is holding a beer bottle in his left robotic hand.
What was your favorite August Sci-Fi Block nerd collectible?
Sci-Fi Block Coupon Code
For a limited time, save 15% off your first Sci-Fi Block with new monthly subscriptions. Use Sci-Fi Block coupon code FindSubBox16 to at checkout to get your discount.