Shirt Block is the new geek t-shirt subscription box from Nerd Block. Every month, Shirt Block delivers 5 geek t-shirts, worth $100, from your favorite fandoms for just $29.99. Shirts have 100% exclusive designs that represent the very best of popular and geek culture. In addition, every Shirt Block also includes a free $10 credit to ShirtPunch.com With today's Shirt Block review, we're unboxing the August 2016 Shirt Block subscription box.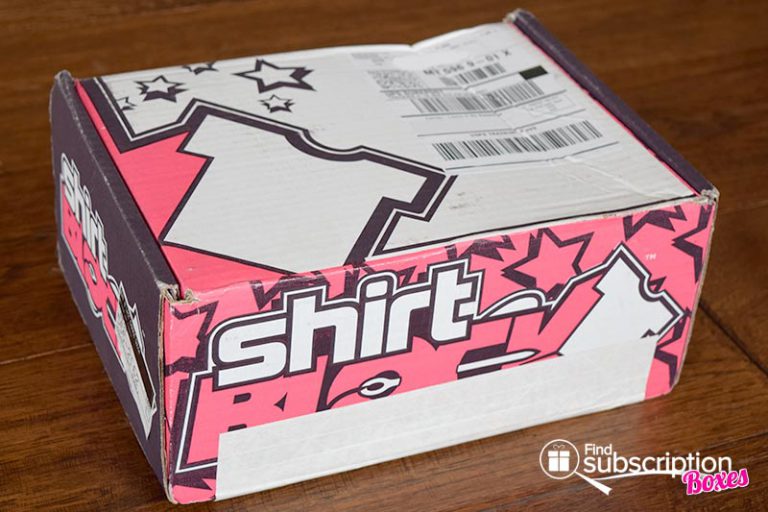 Shirt Block t-shirt boxes include a product card sharing information about that month's t-shirts. This month featured an exclusively designed t-shirt from Hillary White.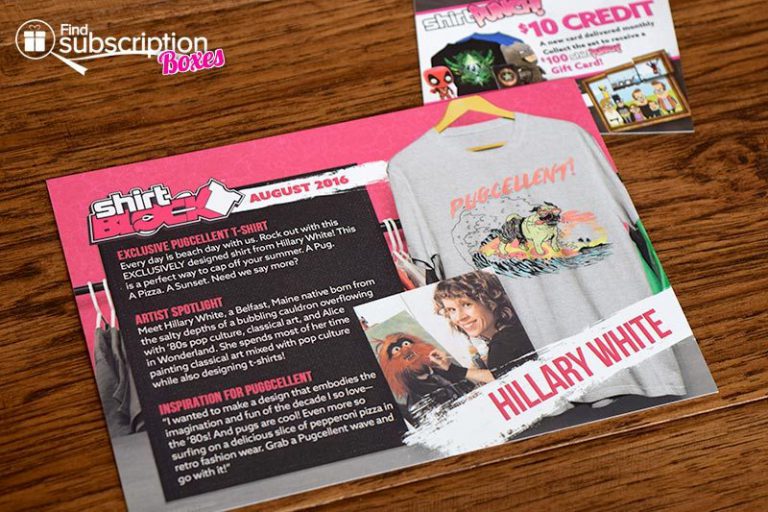 Here's a first look inside our Shirt Block August geek t-shirt mystery box.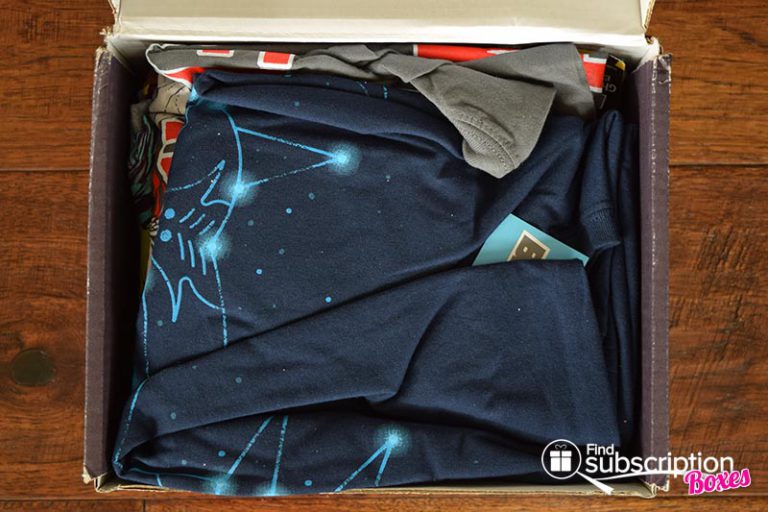 Inside the August 2016 Shirt Block
There were 5 geeky and nerdy shirts in our August Shirt Block monthly box.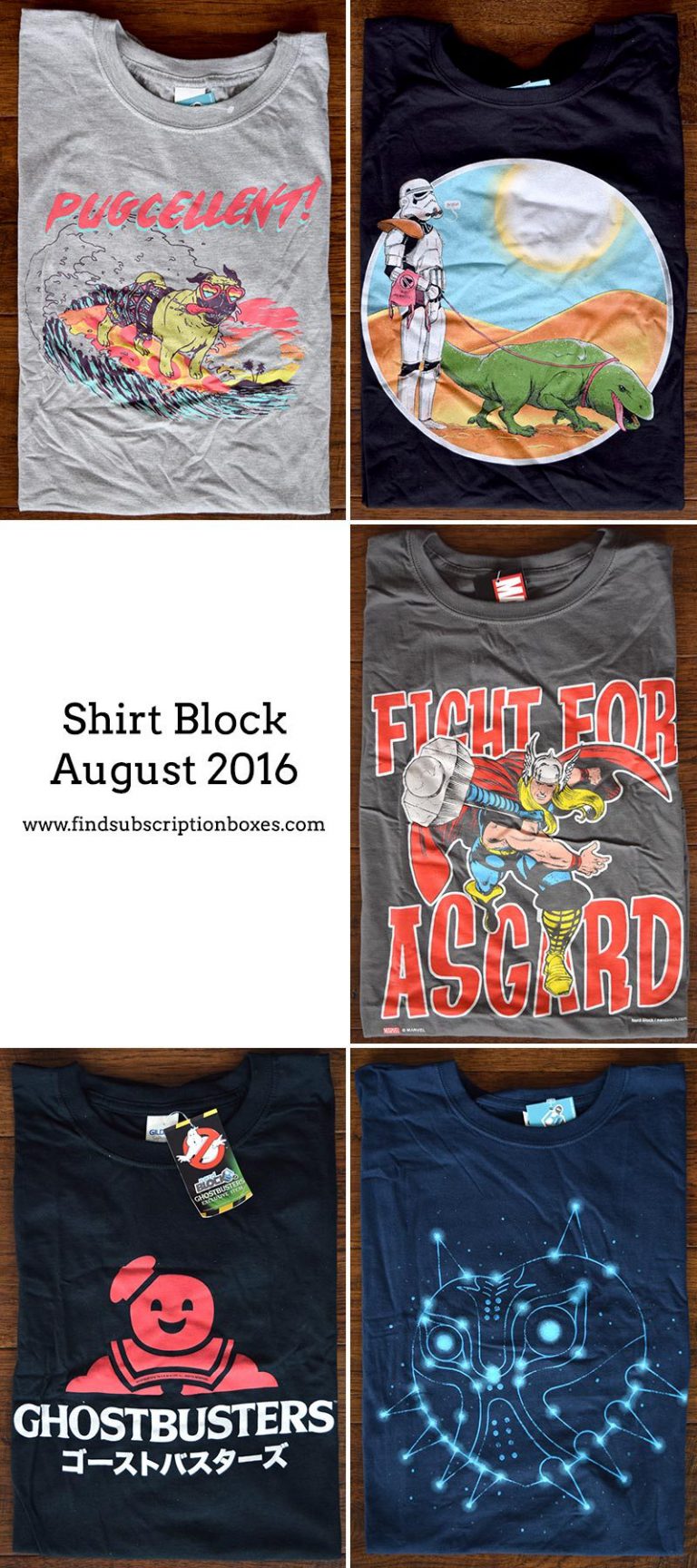 EXCLUSIVE Pugcellent T-shirt
This exclusively designed shirt features a pug, wearing sunglasses, surfing a pizza at sunset. It's the perfect shirt for the end of summer.
EXCLUSIVE Sandtrooper's Best Friend T-shirt
Dewbacks are a Sandtrooper's best friend, but walking them in the desert isn't much fun.
EXCLUSIVE Fight for Asgard  T-shirt
It's Hammer Time! Prove your worth to the Odinson with this exclusive shirt featuring The God of Thunder and his Mjolnir.
EXCLUSIVE Ghostbusters Japan T-shirt
Rep your team with this exclusive Ghostbusters t-shirt featuring the Stay Puft Marshmallow man.
EXCLUSIVE Majora's Mask Constellation T-Shirt
This glow-in-the-dark t-shirt features a design of Majora's Mask to help light your way.
August 2016 Shirt Block Review Wrap-Up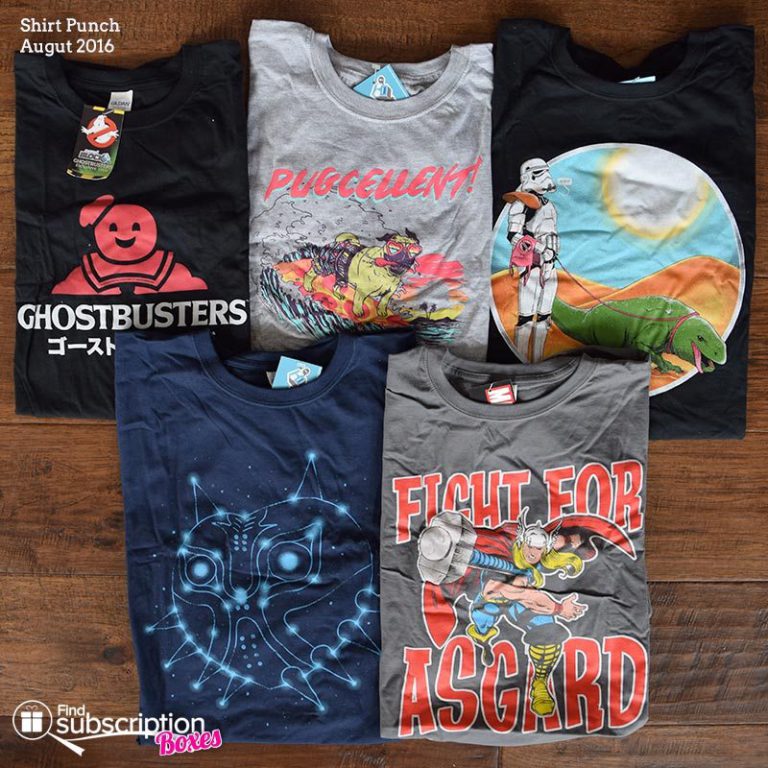 The August Shirt Block delivered exclusive t-shirts representing some of our favorite movies, comic books and video games. The Star Wars Sandtrooper shirt features a design that most dog-owners can relate too. Walking your dog can be fun. "Picking up" after it, not so much. We can only imagine what it would be like to pick up after a giant lizard…. Actually, we'd rather not.
One dog that knows how to have fun is the pizza-slice wearing pug featured on the Pugcellent shirt. We love the humor and the bright colors of this design.
Ghostbusting isn't just in the US. The Ghostbusters Japan t-shirt has a simple Stay Puft man over white text. We suspect the Japanese characters also say "Ghostbusters."
The Fight for Asgard shirt has a retro-designed Thor throwing his hammer. This is an officially licensed Marvel shirt.
Finally, there's the glow-in-the-dark Zelda Majora's Mask t-shirt. The stars on the shirt create an outline of the ancient artifact that glows green in the dark.
Which was your favorite August Shirt Block t-shirt?
August 2016 Shirt Block Coupon
Join Shirt Block today and save on your first box of geek t-shirts! Use Shirt Block coupon code FindSubBox16 to save 15% off the first month of new monthly Shirt Block subscriptions. Save more with multi-block and multi-month subscriptions!