It's that time again and I cannot wait to show you this month's Sock Panda package. Sock Panda is monthly subscription box that delivers 2 pairs of socks to your door every month. With today's Sock Panda review, I'm unboxing my August 2017 Sock Panda sock subscription. It is by far my favorite 2 pair of socks yet. You and I both know that I love the style and flair of the fun socks from Sock Panda, plus they donate a pair to those in need for each pair you purchase, so this subscription is the gift that keeps on giving!
The great thing about Sock Panda socks are that they are soft and feel really comfortable and breathable on your feet. I like to show them off while I wear my slides out to run errands.
I mean what is the fun in fun socks without being able to show them off!? Each new month, a new design, and a fun way to show off just how fun you are! The August 2017 Sock Panda Patterns & Prints sock delivery features 2 hot designs.
One I like to call Artsy, because it looks like paint splatters (right up my crafty and creative alley).
The second pattern is called "one for one" a cute cat design and these cats have the big cheese all across their faces. They are doing lots of fun activities from volleyball to DJ'ing.
Are these socks just the cutest ever? I absolutely loved the August Sock Panda Women's Patterns and Prints subscription. For more information on the different subscriptions, or on how the company gives with each subscription, visit Sock Panda.
August 2017 Sock Panda Coupon Code
For a limited time, get a FREE month of Sock Panda! Just click here and sign-up for a 6 month subscription and get your 7th month FREE when you use code SUMMERSOCKS at checkout.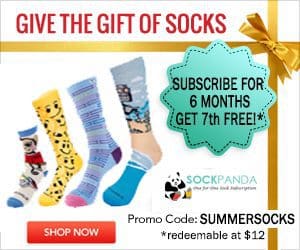 You can also use Sock Panda promo code PANDA10 to save 10% off any new Sock Panda subscription!