A Bean Box Coffee Subscription lets you sample fresh, artisan coffee straight from Seattle! You can choose whether you would like to receive all roasts, or if you want light, medium, dark, espresso, or decaf coffee. Plans start from $16.50/month.
Today I will be reviewing September's All Roast box! My box came with a little sticker that let me know the coffee was roasted during the week of September 10th. I love that Bean Box ships out the roasted beans immediately; freshness really makes such a difference in coffee quality.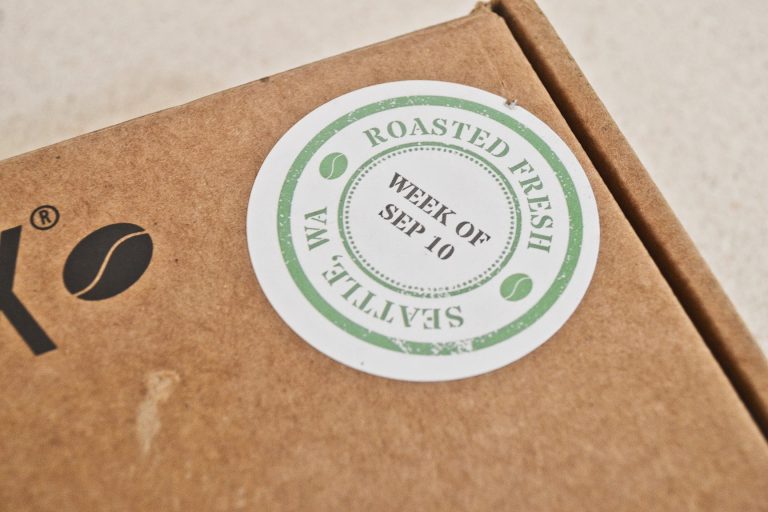 The inside of the box has an illustration of the Seattle skyline. I think this is a great touch! I've never been to Seattle, but I want to visit solely for their coffee (and maybe their mountains).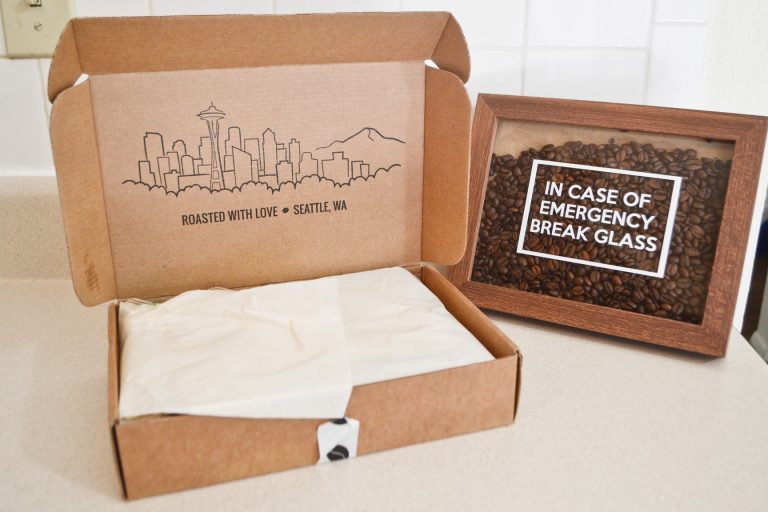 My box contained several pieces of literature. First was a card with information about Bean Box, as well as a $5 coupon code: "CC-MORNING-5"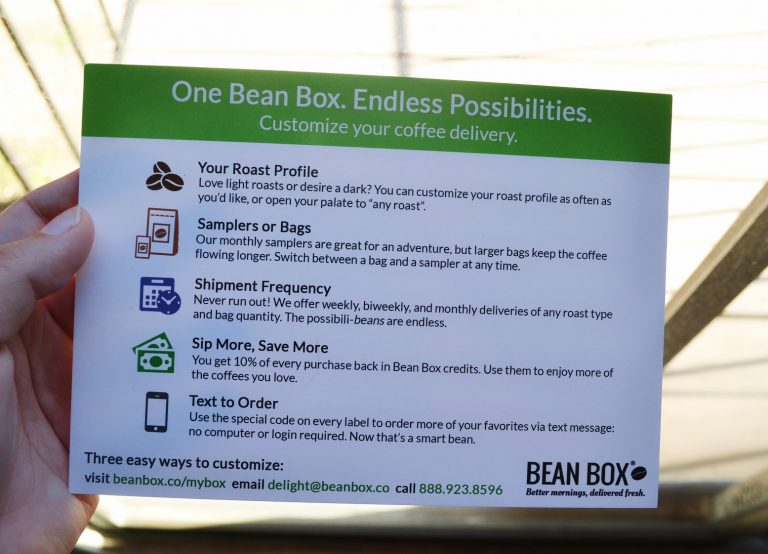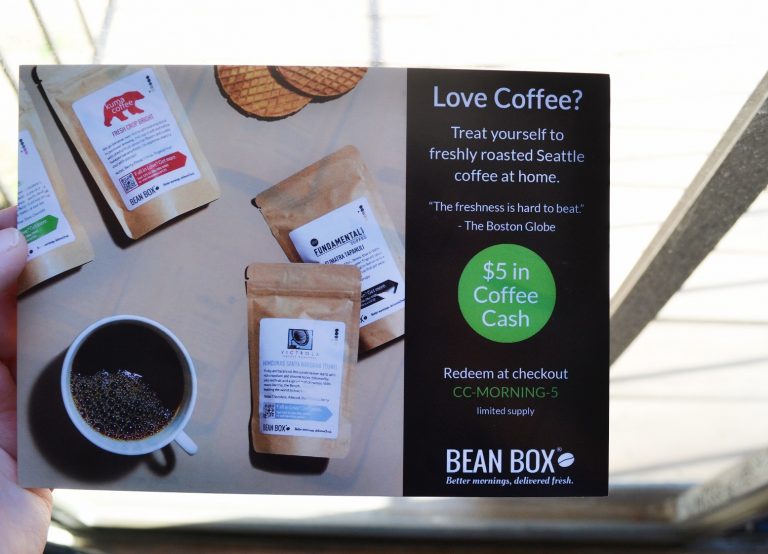 Next, I received a card that explained the history of coffee!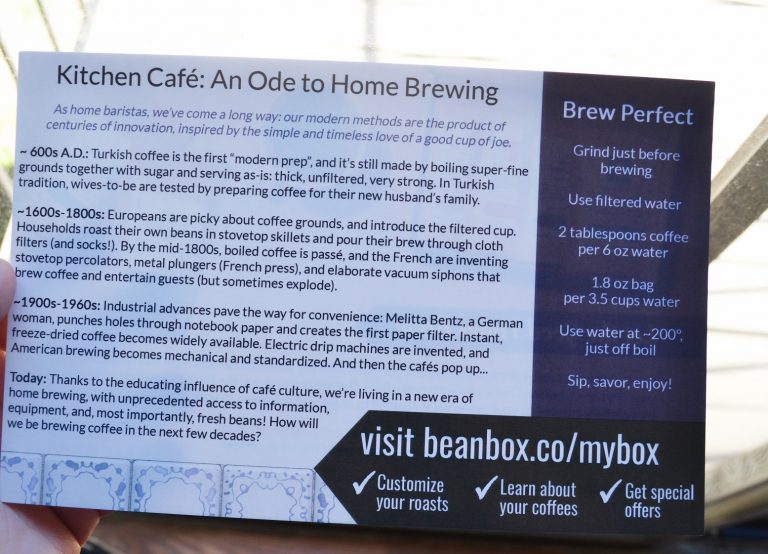 Here's a quick look inside September's box: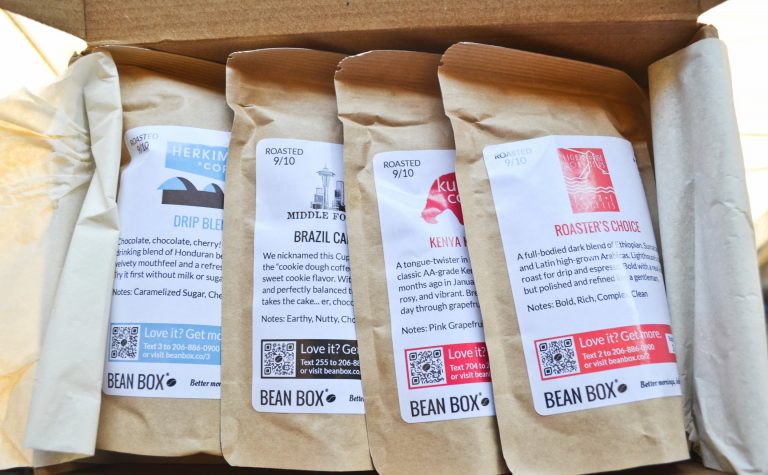 I received two dark roast, a medium roast, and a light roast coffee in this month's box! I personally love coffee of all kinds, so I'm excited to try a variety. Each bag should contain enough to make 3 -4 cups of coffee. I became pretty reliant on coffee once I started working at 5 a.m.,  so I always seem to be running low. It will be nice to have these on hand to make a quick cuppa.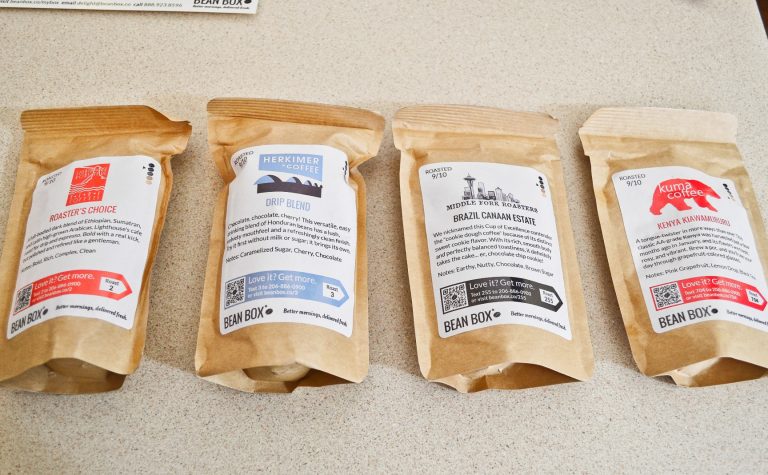 The first coffee I received was Roaster's Choice from Lighthouse Roasters. This is a dark blend of Ethiopian, Sumatran, and Latin Arabicas. The beans are glossy and almost black, and smell divine! I like my coffee to be on the bold and smoky side, so I quite liked this. If you don't know much about dark roast coffee, I'll give you the rundown. Dark roasted coffee beans have been roasted longer, and have a sheen of oil because of this. That's what gives them an attractive, glossy look. Dark roasted beans have less caffeine than light roast, and their flavor comes almost entirely from the roast rather than the  original coffee's qualities.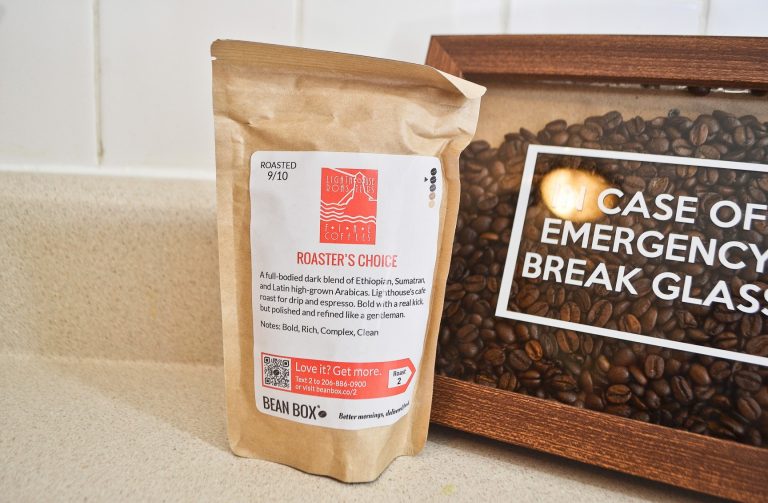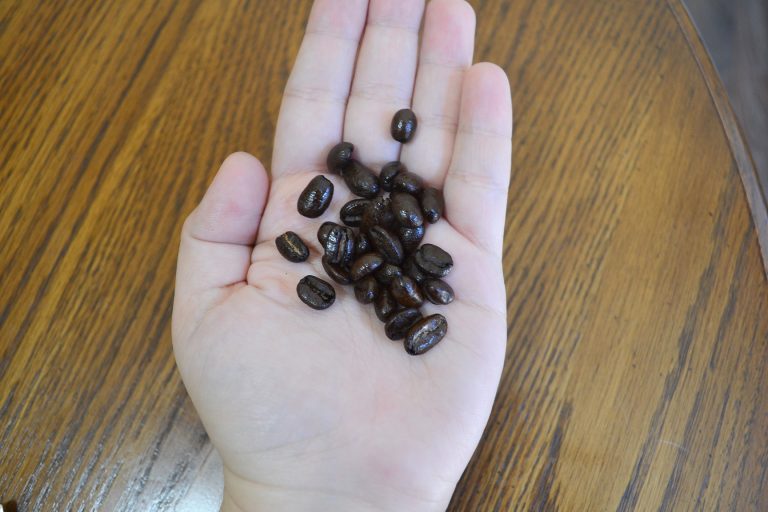 Next, I received Herkimer Coffee's Drip Blend, which is a blend of Honduran beans that has notes of caramelized sugar, cherry, and chocolate. This is a medium roast, which means it hasn't been roasted as long as a dark roast. Medium roast coffee beans have a good balance between acidity and body, and you can taste qualities of both the bean and the roast. This would be a good choice if you want a richer flavor than light roast, but you don't enjoy the bitter & sometimes burnt taste of dark roast. I would say I drink medium roast coffee more often than dark or light roasts, so I was pretty comfortable with this blend. I tried it without cream or sugar, as the packet suggested, but that was just a little too bitter for me. With cream & sugar though, it was perfect!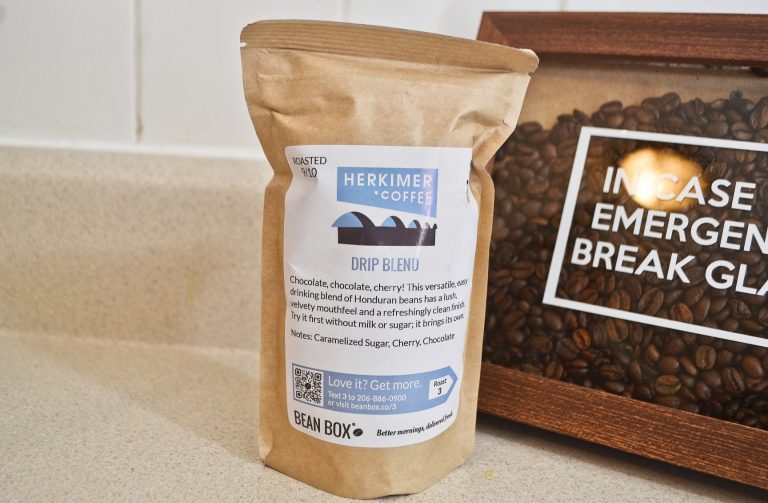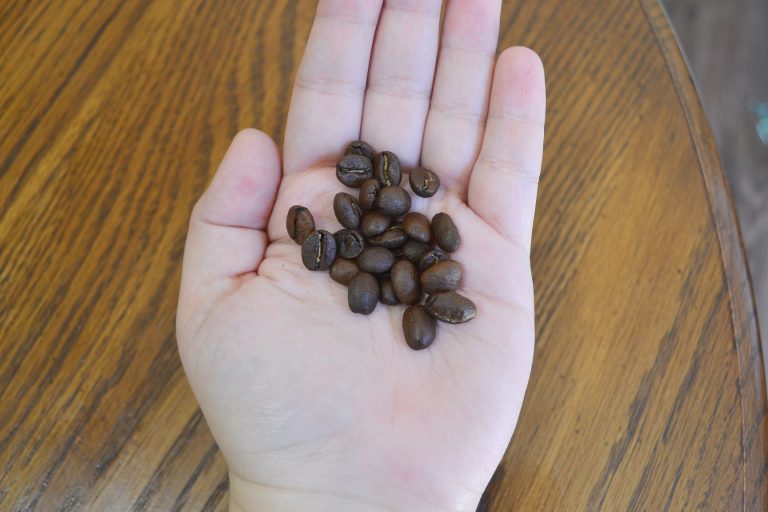 I also received Middle Fork Roaster's Brazil Canaan Estate, which is another middle roast coffee with earthy, nutty, chocolate, and brown sugar notes. This is supposed to be a little sweet, and remind one of a cookie. Well, this didn't quite make me think of a cookie, but I absolutely loved the nuttiness. This was actually the first coffee I tried, and I remember running out to the living room to make my fiance take a sip.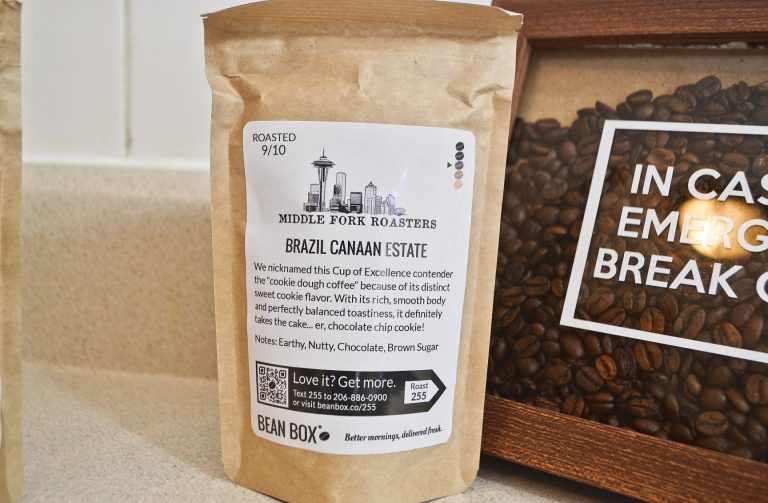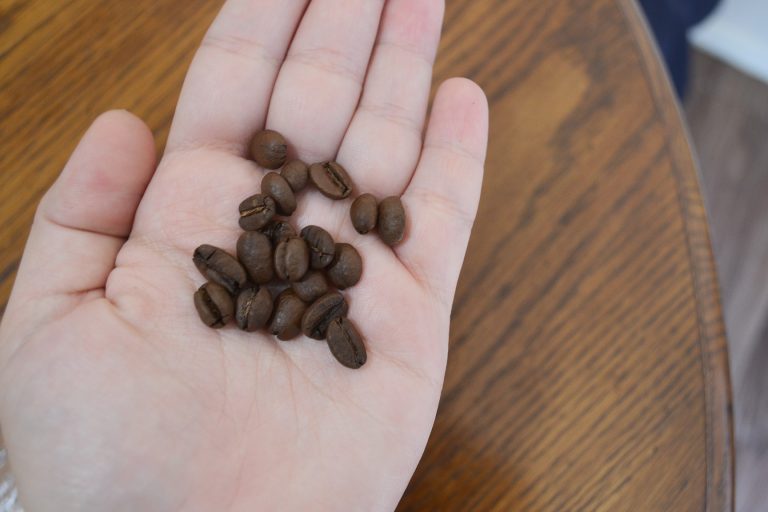 The final coffee I received was Kuma Coffee's Kenya Kiawamururu coffee (wow, what a mouthful!) This is a light roast with notes of pink grapefruit, lemon drop, and black tea. Light roasts have more caffeine than medium and dark roasts, and they have been roasted for the least amount of time. They have the highest acidity, and lack any sort of oily sheen. Light roasts' original bean flavors are retained more than any other kind of roast! I don't really enjoy light roast coffee, as I prefer a more smoky and rich flavor to my coffee. I will say, it was nice having the extra buzz of caffeine from this though.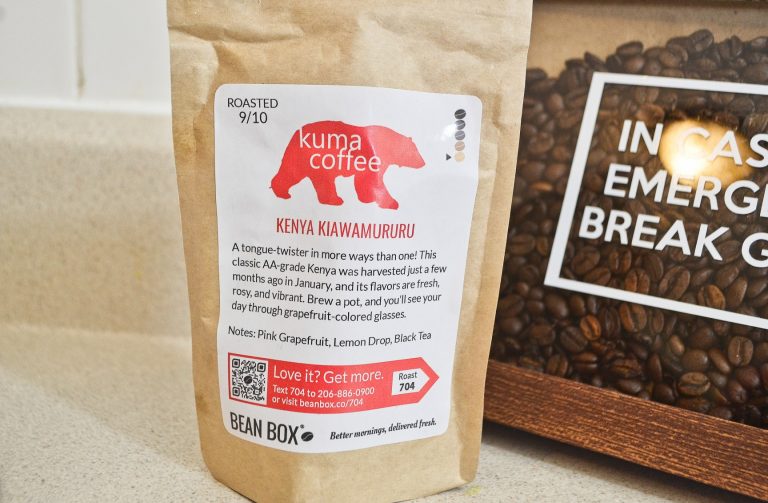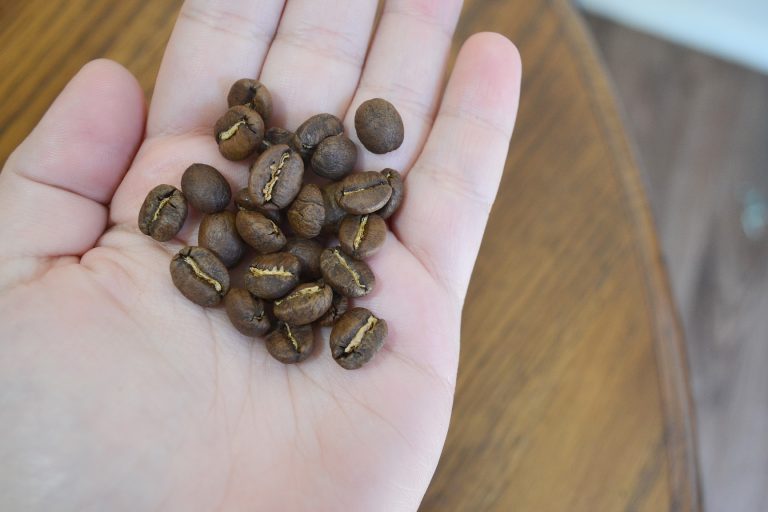 Please note, if you do not have a coffee grinder, you may want to explore Bean Box's ground coffee subscription. I had to run out and get a coffee grinder, because I've only ever used ground coffee. I picked up a Mr. Coffee 12 Cup Grinder for $15 at Target, and it works perfectly!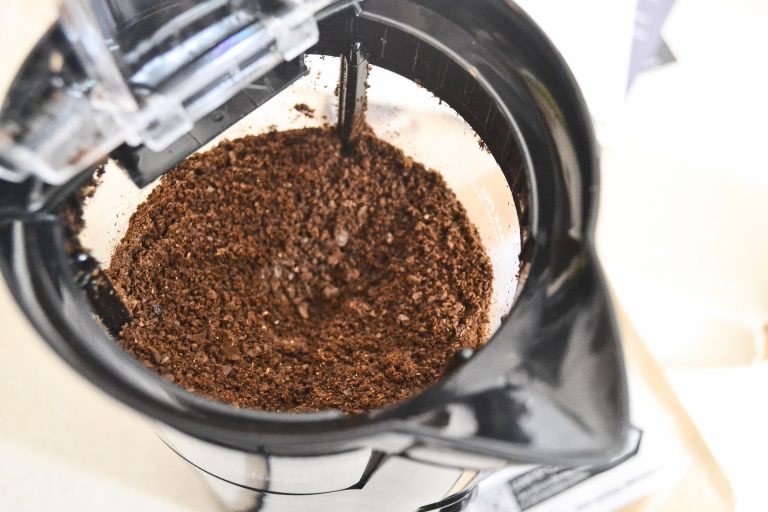 I had a lot of fun trying out Bean Box! I used to rarely  drink coffee, but a caffeine boost has become necessary with my job hours. I'm glad that I can make my caffeine addiction fun by trying out artisan coffees from Seattle! Bean Box is a wonderful way to discover new roasters, for an affordable price.