Bokksu is a subscription box that send out snacks sourced directly from Japan. Bokksu currently offers two subscription options. The Classic Box contains 20-25 snacks and a tea pairing, as well as a tasting guide and free shipping. Prices for this box range from $33 – $39, depending on how many months you prepay. The Tasting Box contains 8 – 10 snacks, and it also has the tea pairing, tasting guide, and free shipping. Prices for this box range from $16 to $19.
Today, I will be reviewing June's Classic box!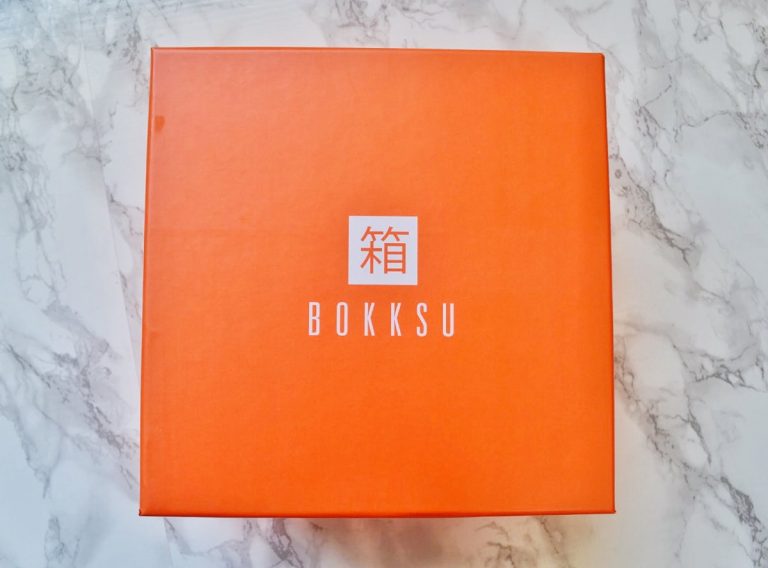 June's Bokksu theme is "Nagoya Eats". Nagoya is Japan's fourth most populous city, and its cultural and historical differences from other regions led to the development of unique dishes. The June box contained several snacks that are popular in this region.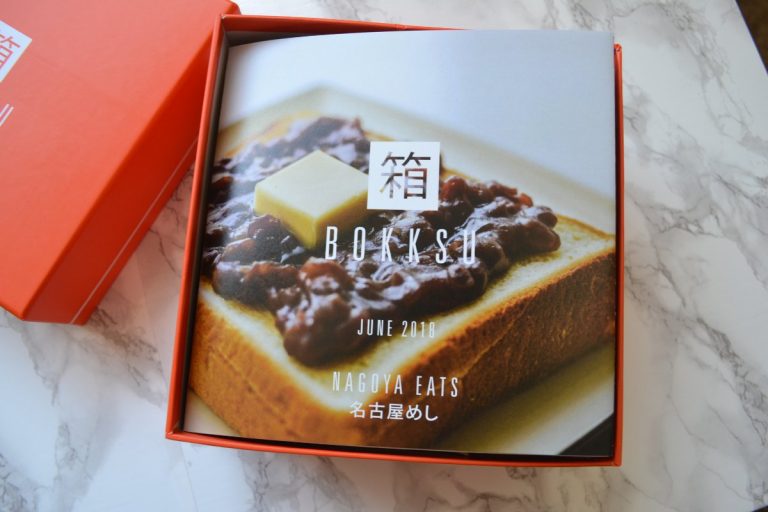 Here is a look at the tasting guide that came inside my box: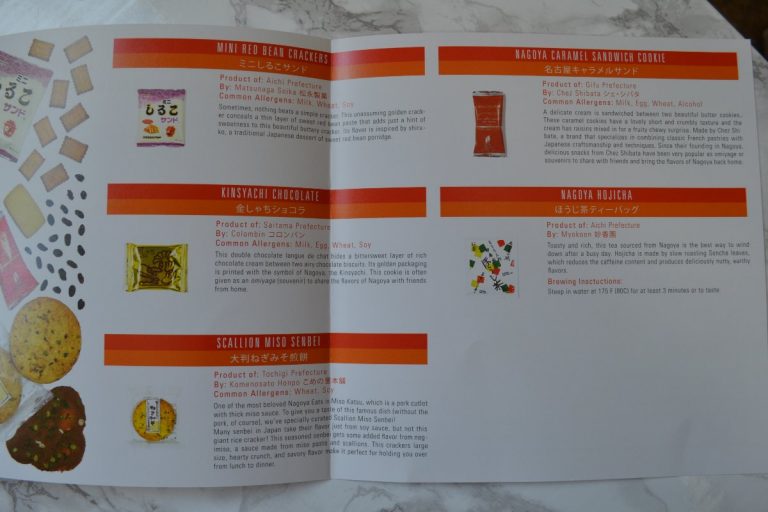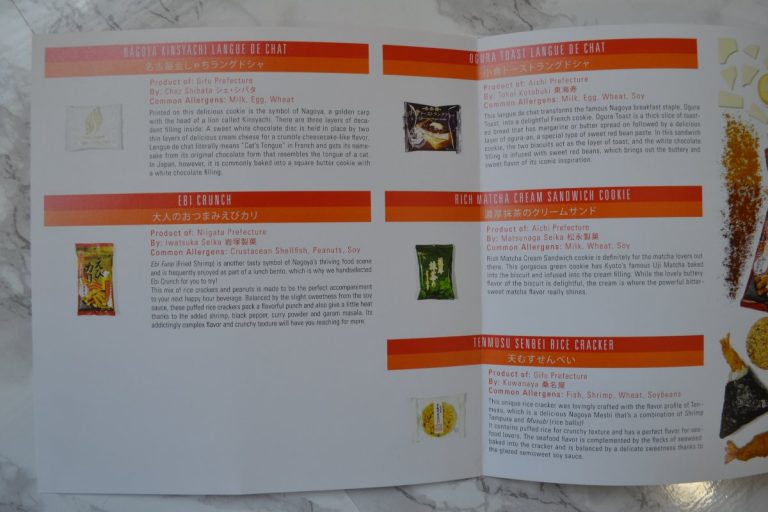 Here is everything that arrived in my June Box. All together, there were 17 snacks and three tea bags! Normally there are a couple more snacks, but the products in this month's box were pretty large.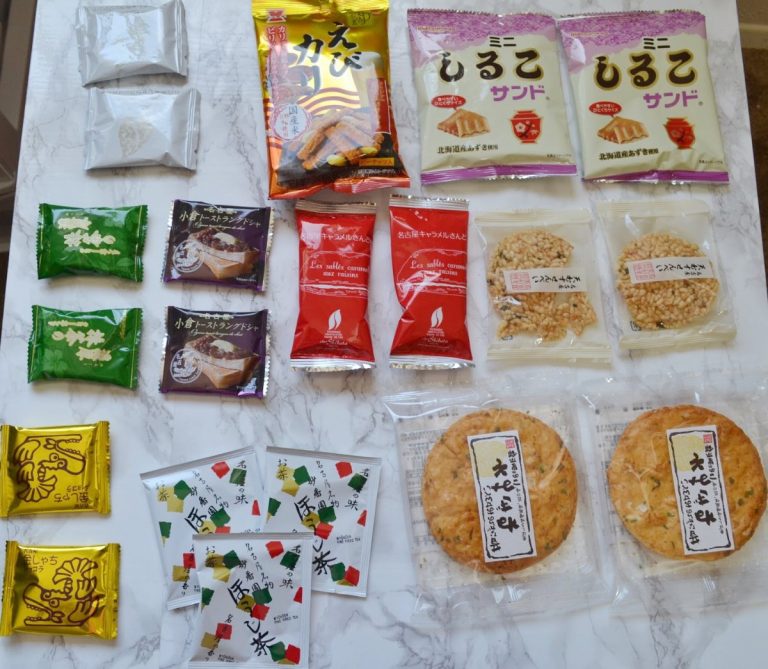 Ebi Crunch ($3)
Ebi Furai, or fried shrimp, is commonly enjoyed in Nagoya. Ebi Crunch embodies the flavors of Ebi Furai in this mix of puffed rice crackers and peanuts. This snack uses shrimp, black pepper, curry powder, and garam masala to pack a flavorful punch. I generally prefer sweet snacks over savory, but I still quite liked this! The rice crackers were crisp and fragrant, and would go great with a beer.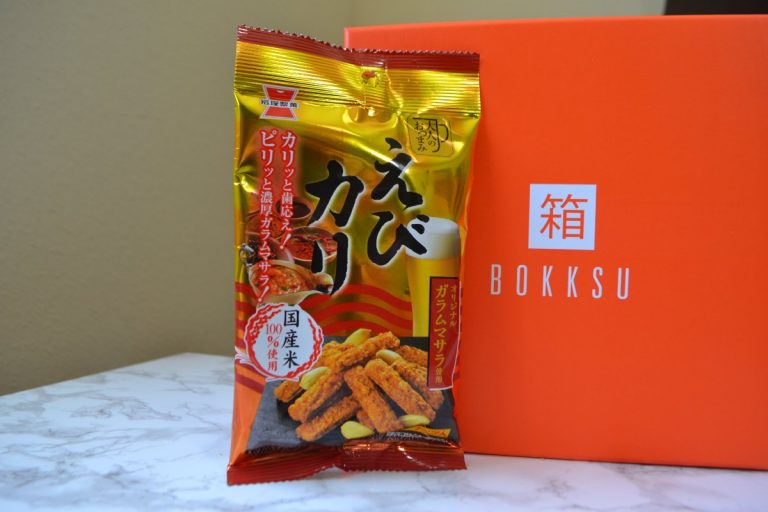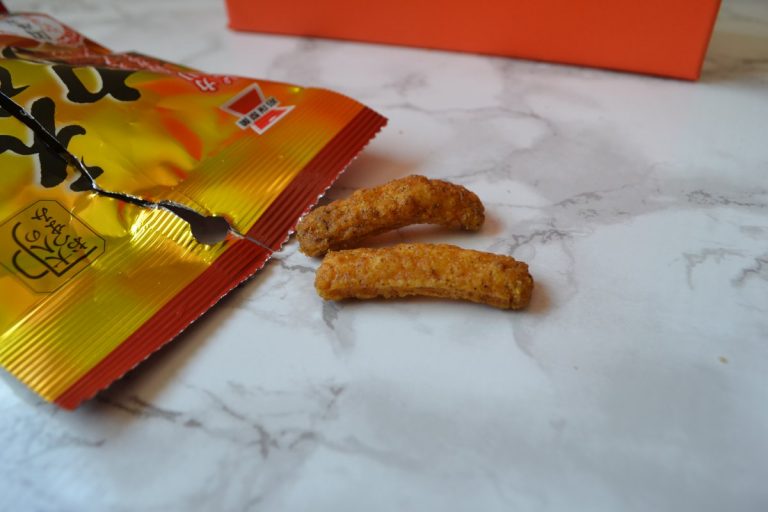 Scallion Miso Senbei x2 ($6)
Another beloved Nagoyan dish is Miso Katsu, which is a pork cutlet with thick miso sauce. This senbei doesn't contain pork, but it is flavored with negimiso – a sauce made from miso paste and scallions. These rice crackers are about the size of the palm of my hand. They are salty, crunchy, and a great savory snack.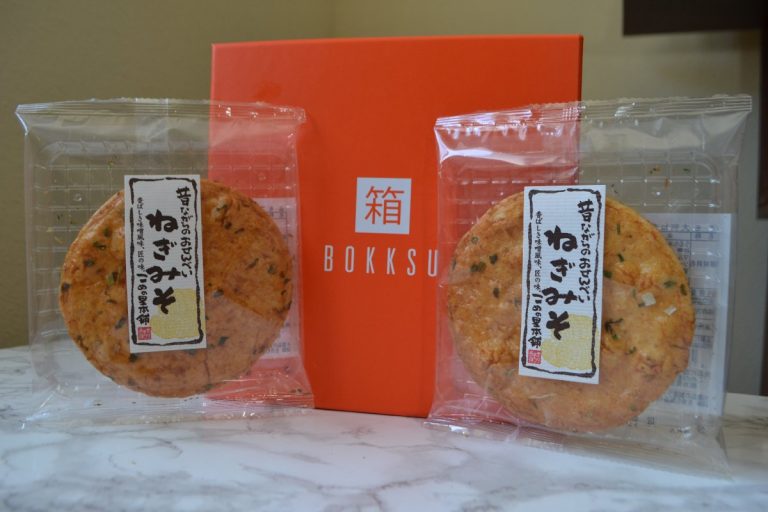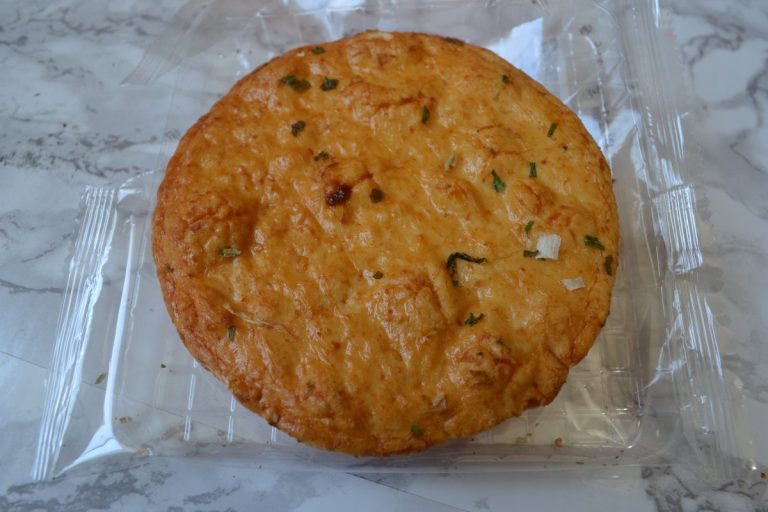 Tenmusu Senbei Rice Cracker x3 ($3)
Tenmusu is a Nagoyan dish made of shrimp tempura and rice balls. These rice crackers capture the flavor of Tenmusu by using puffed rice, soy sauce, seaweed, and shrimp to create a fishy taste. I personally do not like fishy flavored snacks, so this was not my favorite.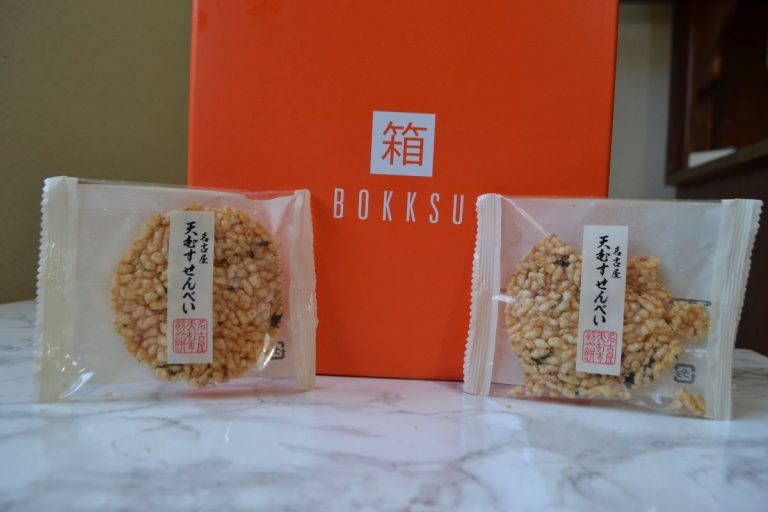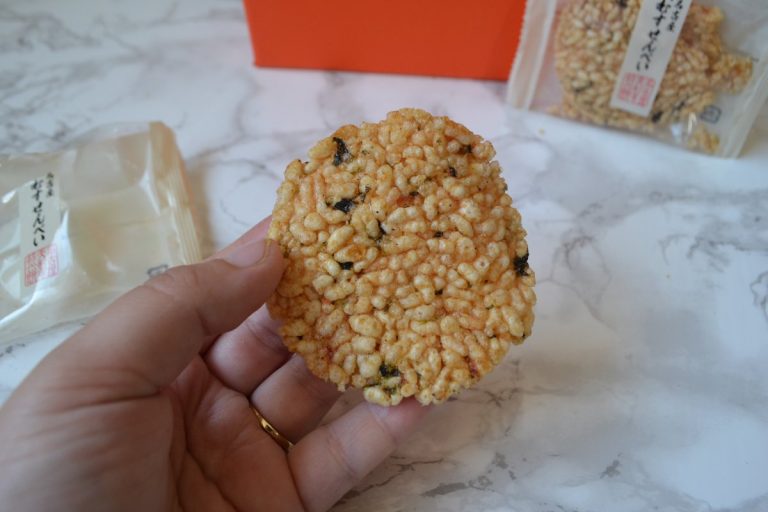 Rich Matcha Cream Sandwich Cookie x2 ($4)
These cookies have Kyoto's Uji Matcha baked into the cookie, and infused in the cream filling. It is a little bitter, but so is pretty much any matcha based snack. Most of my Bokksu boxes have had some sort of matcha snack, and the flavor has slowly grown on me. I ended up really liking this cookie, even though I probably wouldn't have a few months ago!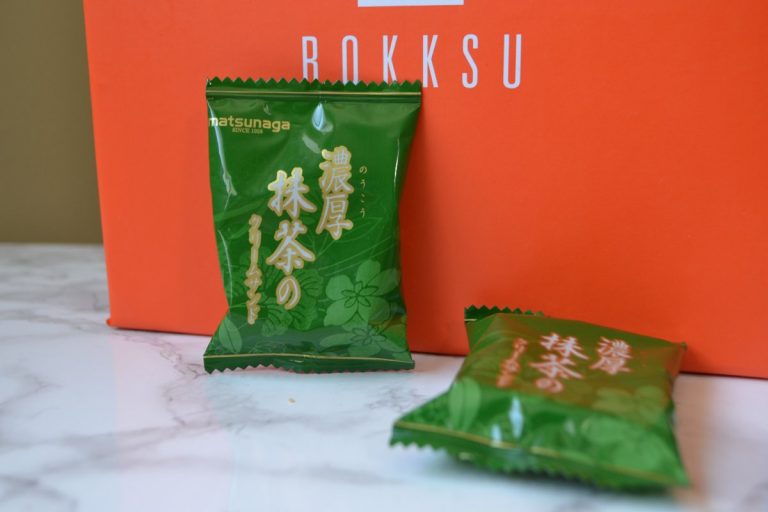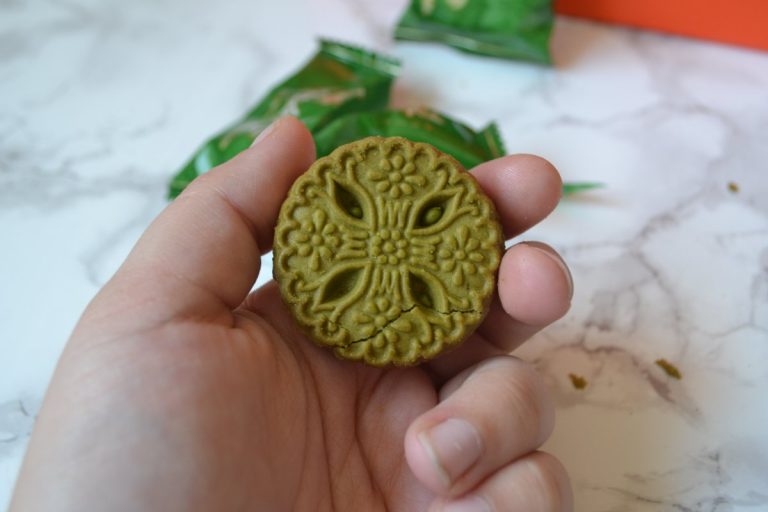 Ogura Toast Langue De Chat x2 ($5)
Langues De Chat are one of my favorite snacks, so I was really excited to see this in my box! Ogura Toast is a Nagoyan breakfast staple, made from a slice of toasted bread, butter, and sweet red bean paste. This Langue De Chat uses two buttery biscuits as the "toast", and the center is made from red bean infused white chocolate. I was a little worried about how the red bean paste would taste, but it is subtly sweet. It actually reminds me of a sweet potato!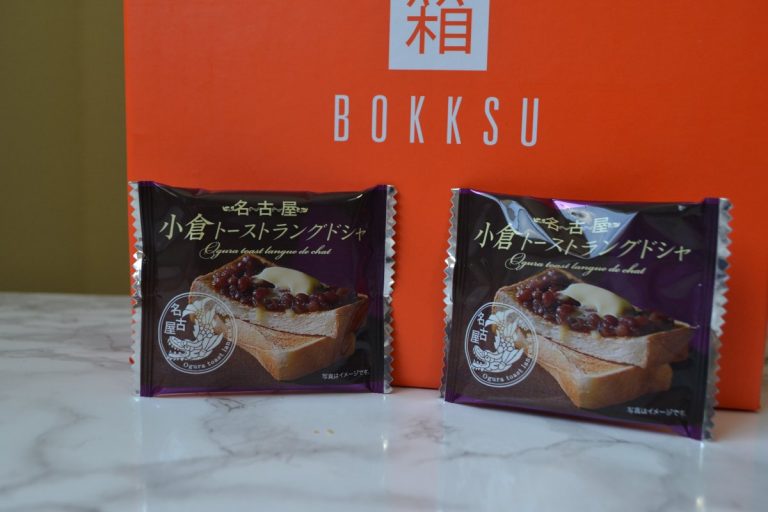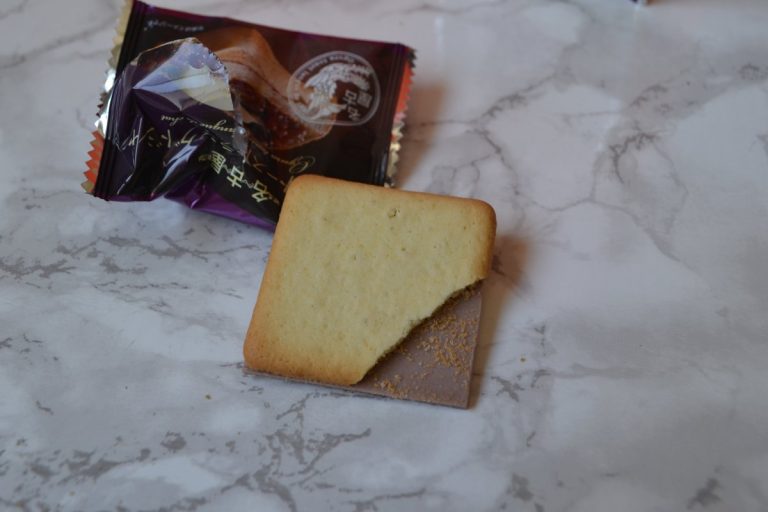 Nagoya Kinsyachi Langue De Chat x2 ($5)
This delicious cookie Kinsyachi printed on it, a golden carp with the head of a lion. This is my favorite Langue De Chat of the box; it has a layer of white chocolate surrounded by two layers of cream cheese. The resulting flavor is surprisingly similar to cheesecake.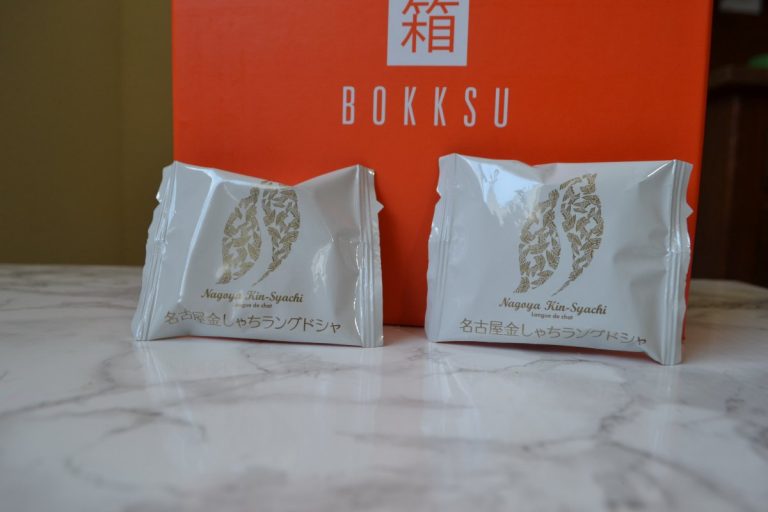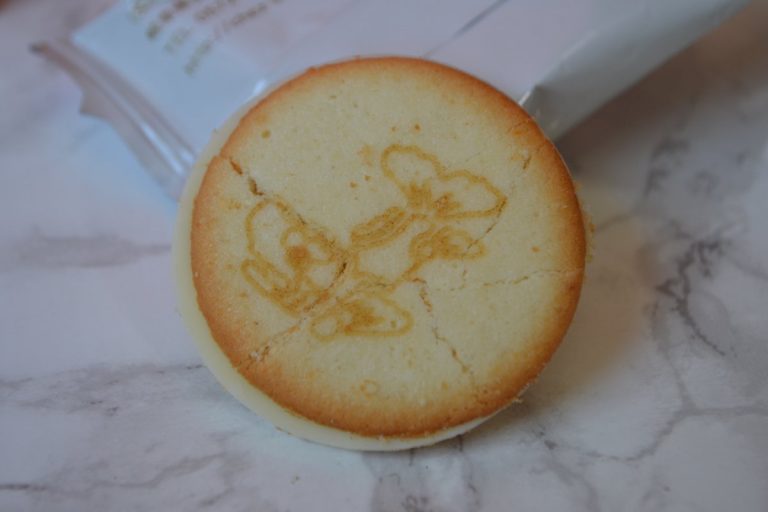 Kinsyachi Chocolate x2 (price unknown)
These Langues De Chat are made of airy chocolate biscuits, and a bittersweet chocolate cream filling. I normally enjoy chocolate flavored snacks, but I thought these were a little plain. I suppose Bokksu has spoiled me with their other unique snacks!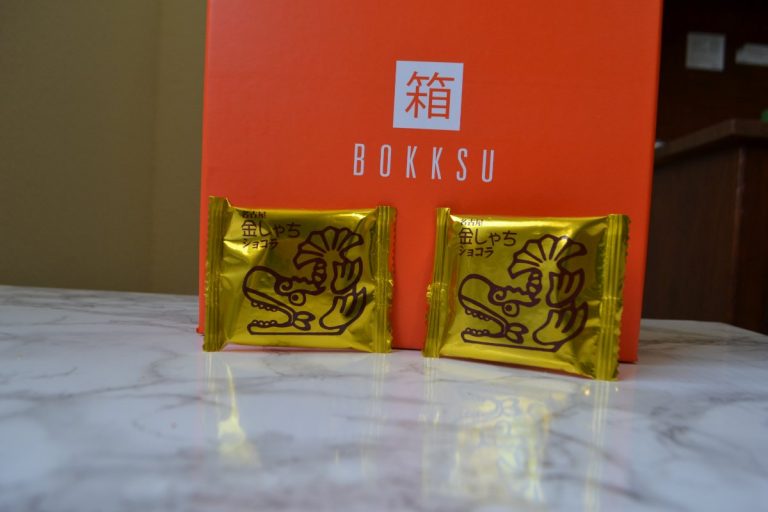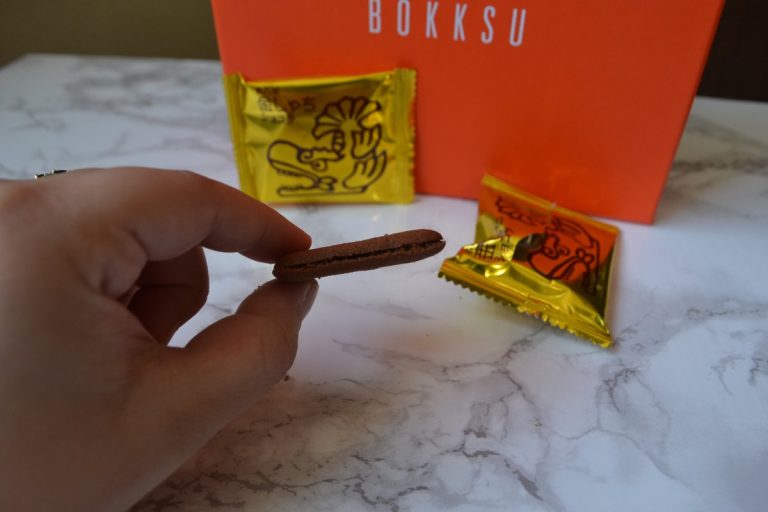 Mini Red Bean Crackers x2 ($2)
These little crackers are filled with a thin layer of red bean paste. Just like the Ogura Toast Langues de Chat, the red bean paste reminds me of sweet potatoes. These are subtly sweet, crunchy, and altogether addictive.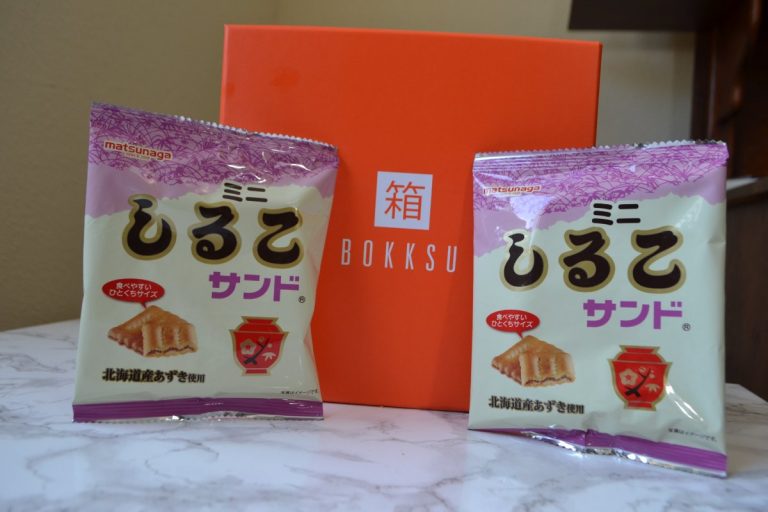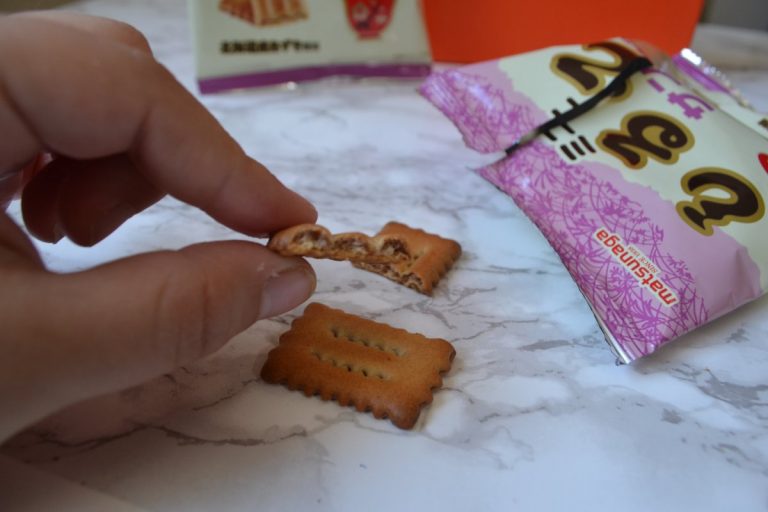 Nagoya Caramel Sandwich Cookie x2 ($5)
This caramel cookie has raisins mixed into its creamy center. It is incredibly sweet, and the raisins give it a nice chewy texture. This is soft, rich, and would go wonderfully with tea.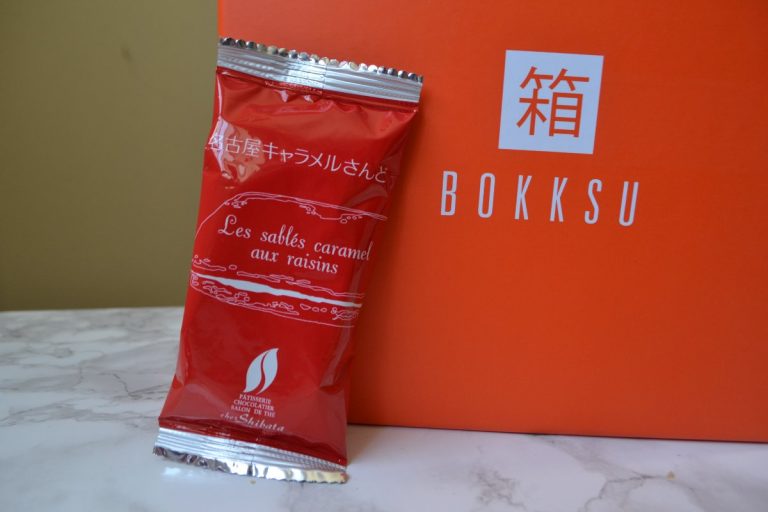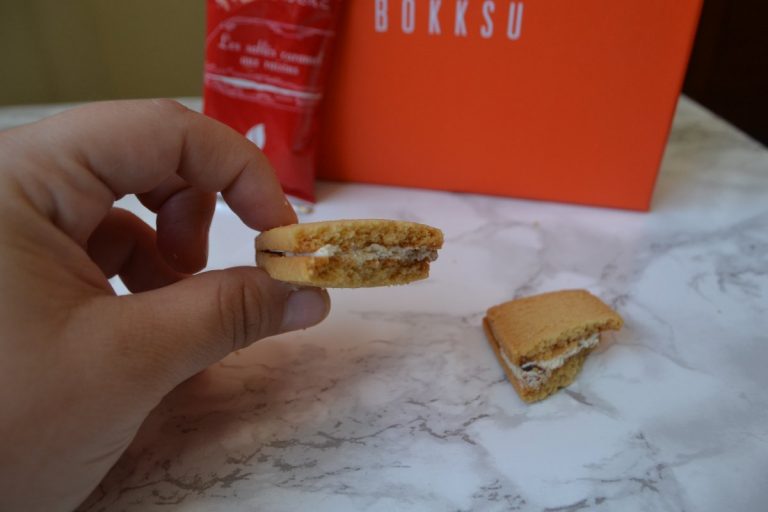 Nagoya Hojicha x3 ($3)
Hojicha is made from slow roasting sencha leaves, which produces a nutty, earthy flavor. I don't really like earthy teas, but it tasted a lot better with some honey mixed in.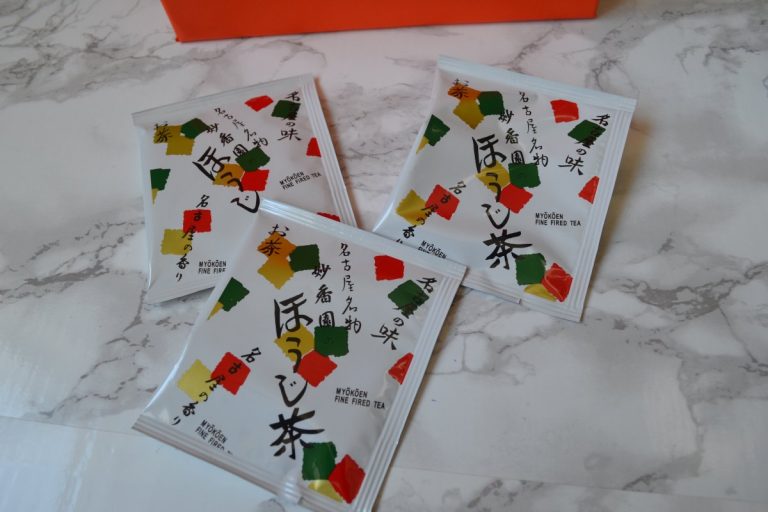 Okay, I loved this month's Bokksu! Like I said earlier, Langues de Chat are one of my favorite snacks, and this box had three variations. I was in heaven! Plus, the value of the box was pretty high. I could not find a price for the Nagoyan Chocolate, but the rest of the box was worth $36. So, you are definitely getting your money's worth. I think Bokksu is a fun way to try out Japanese snacks, without spending a bunch of money on shipping.