Bokksu is a monthly subscription box that sends assortments of premium Japanese snacks and tea/drink pairings. A Tasting Bokksu subscription costs $19 each month, and will contain 8-10 snacks. A Classic Bokksu subscription costs $39, and has a whopping 20 -25 snacks! And you don't have to worry about the shipping from Japan breaking the bank; shipping is free worldwide.
Bokksu sources high quality, gourmet snacks directly from snack makers in Japan. You won't be able to find these in your local Asian market. Each month has a curated theme; today I will be reviewing March's box, which had the theme Glamorous Tokyo. Here is Bokksu's description of their theme:
"From the neon-lit streets of Akihabara to the high fashion of Harajuku, Tokyo has come a long way from its days as a small fishing village. Formerly called Edo, Tokyo is now a city internationally recognized for being on the cutting edge of design, delights, and desserts! There is no better paragon of this trifecta than Chika Tillman, who gained world renown as the executive chef of ChikaLicious in New York City by innovating on Japanese and French-inspired desserts that far surpass their sweet predecessors. This month, we are thrilled to partner with ChikaLicious Tokyo to curate the best and most lovingly-crafted dessert snacks for you to indulge in Glamorous Tokyo!"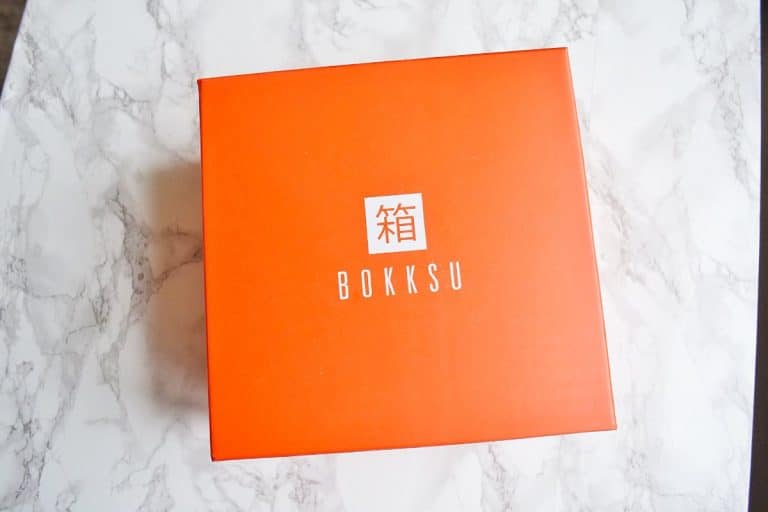 My snacks came packaged in a bright red cardboard box. Even coming all the way from Japan, every snack arrived intact.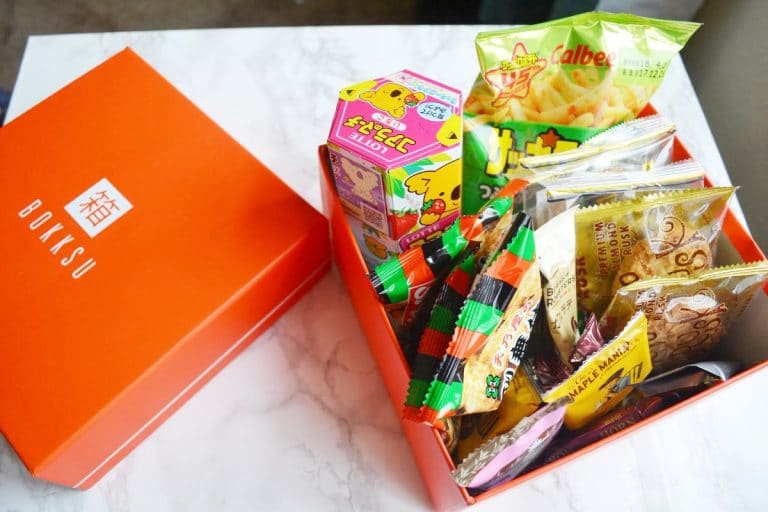 Here's a quick look at what I received. Overall, my box contained 22 snacks and two drink mixes.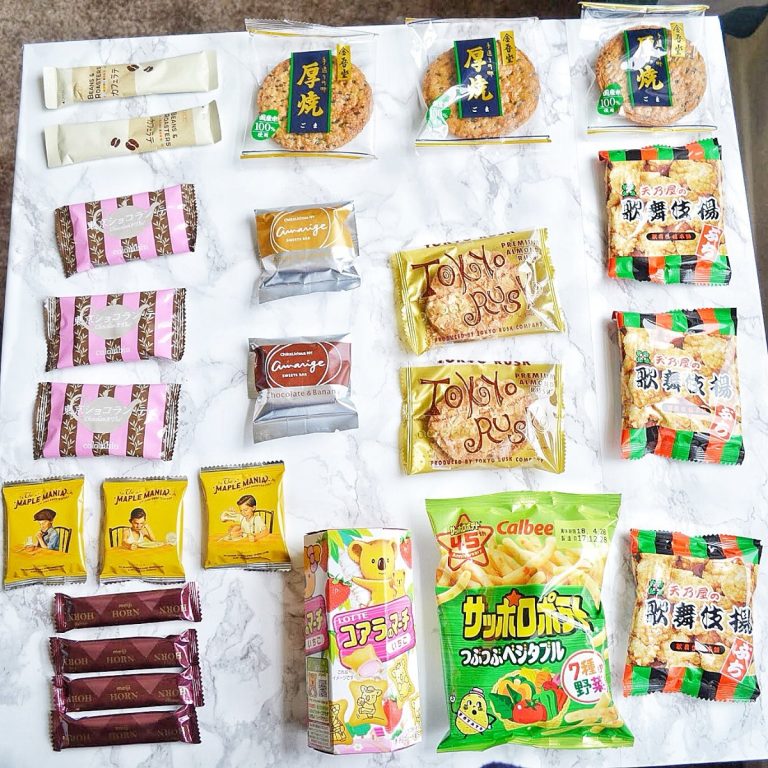 I also received a pamphlet with information about each snack. I found this really useful! Sometimes a Japanese snack looks like it will be quite sweet, and is instead very salty – or vice versa. This helped me prepare for each flavor!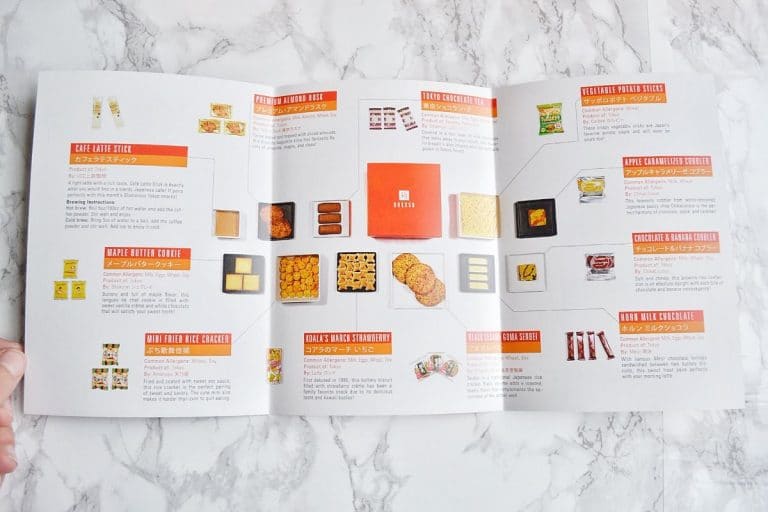 Koala's March Strawberry ($2)
I squealed when I saw this snack! These cute buttery biscuits are shaped like koalas and have happy little faces printed on the front, which I think is absolutely adorable. They are filled with a yummy strawberry cream, and are so addictive. This was such a kawaii snack!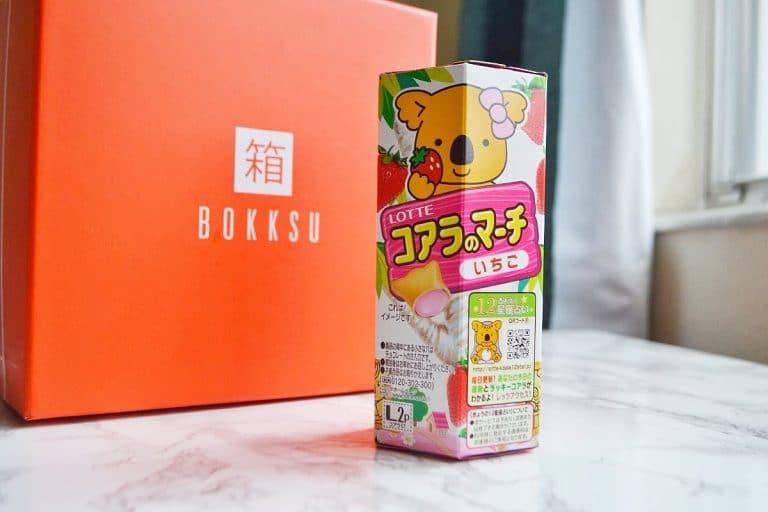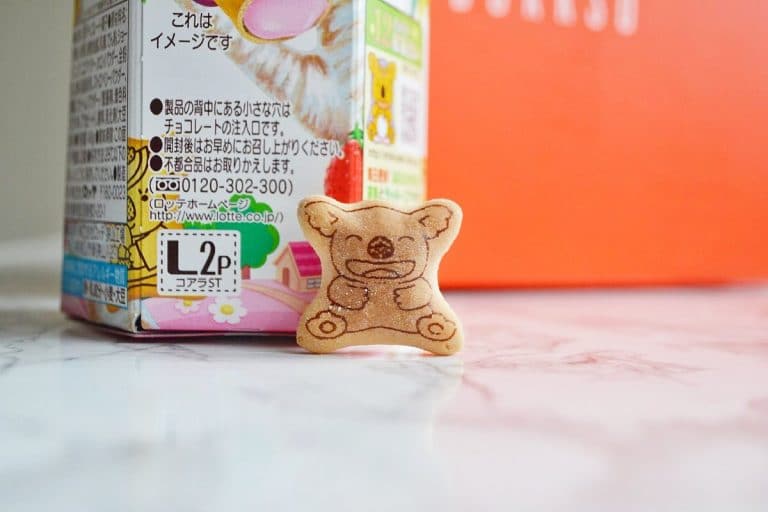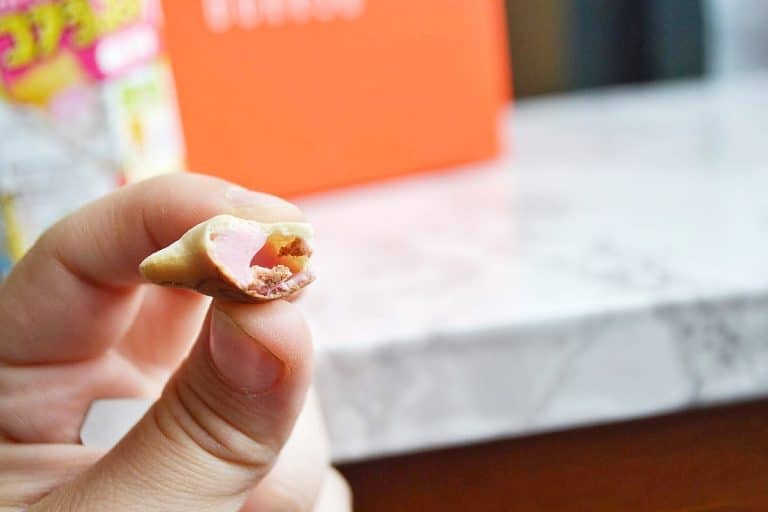 Premium Almond Rusk x3 ($2)
These are twice baked baguette slices that are crusted with sliced almonds and caramel. I usually avoid eating almonds because they make my throat swell a little, but I couldn't resist taking a tiny nibble. It was delightful – it reminded me a little of buttery toffee. I resisted the urge to finish the rusk, and gave it to my boyfriend instead. He loved it just as much as I did!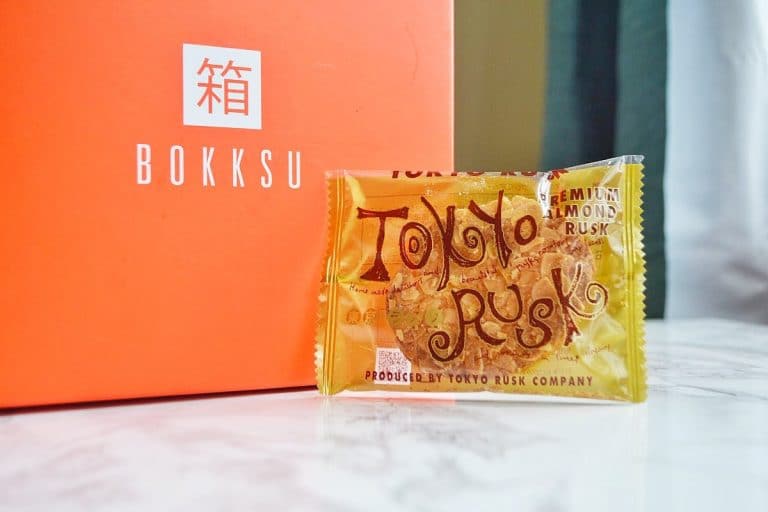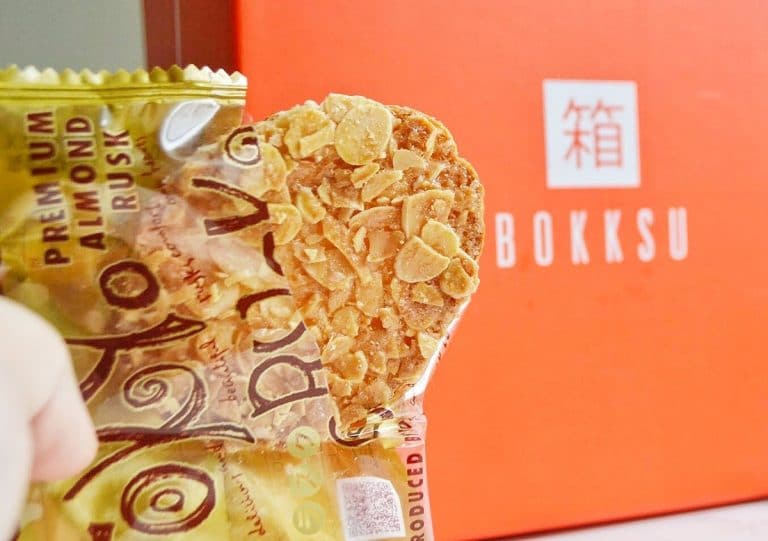 Black Sesame Goma Senbei x3 ($2)
Senbei is a traditional Japanese rice cracker that is glazed with soy sauce. These Black Sesame Goma Senbei are topped with black sesame seeds, for a complementing toasty flavor. I don't love soy sauce, and this snack was too salty for me. I'm more of a dessert kind of person!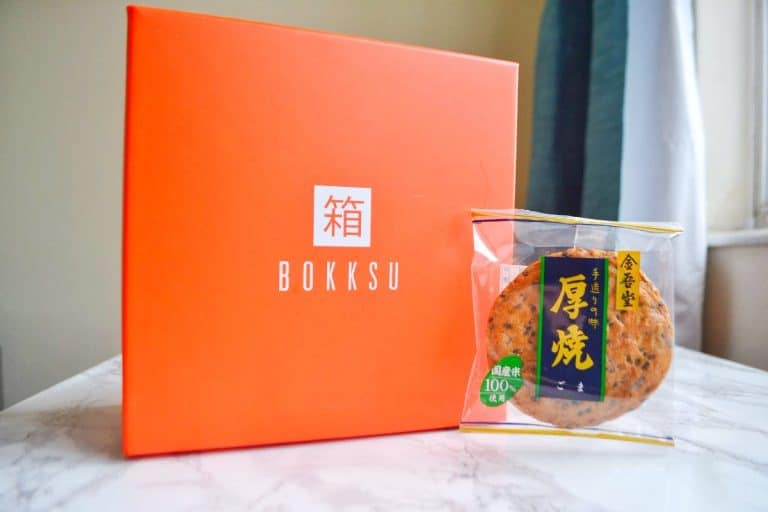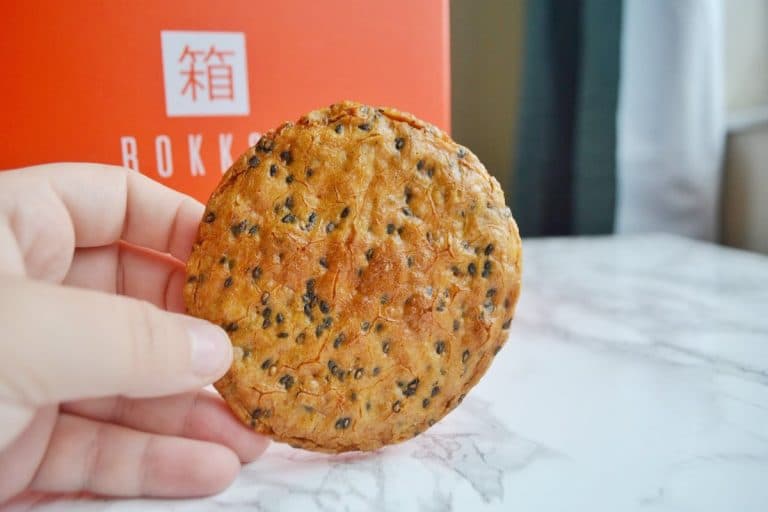 Chickalicious Caramelized Apple & Chocolate Banana Cobbler Bars
Bokksu partnered with ChikaLicious Tokyo to create two cobbler bars! One was chocolate and banana flavored, and the other was caramelized apple. I couldn't find a price for these, but I would estimate they would be similar in value to the other snacks at $2 apiece. These were incredibly moist, and tasted like I had bought them fresh from a bakery that very day. The Caramelized Apple one was my favorite – it had an actually caramelized apple slice on top and tasted like a bite of apple pie.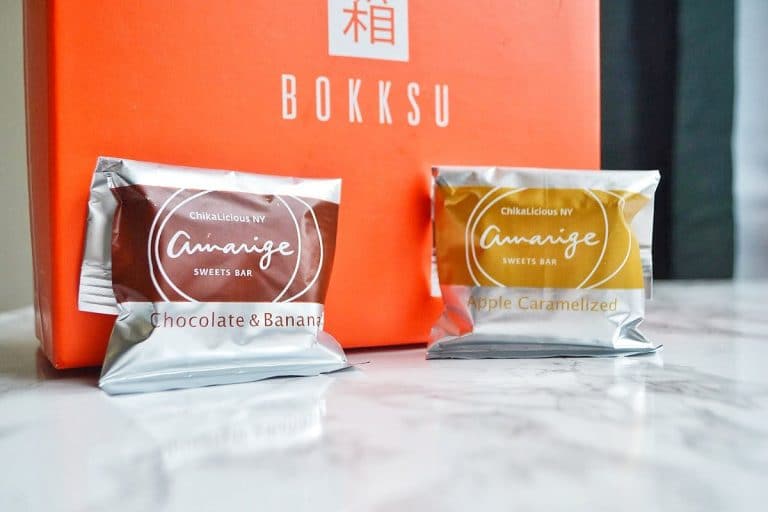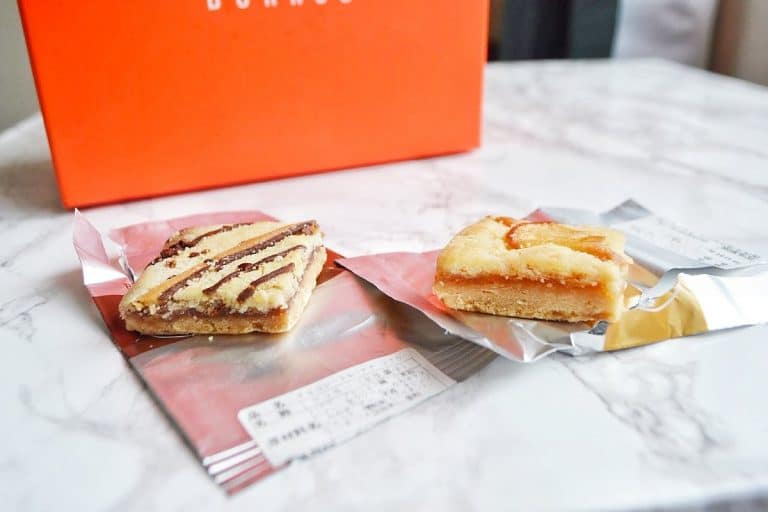 Tokyo Chocolate Tea x 3 ($1.50)
I have a major weakness for chocolate snacks, so these milk-chocolate coated biscuits were one of my favorite snacks! They are infused with tea grown in Totoro forest – which was the region that inspired the animated film "My Neighbor Totoro".  These biscuits melted in my mouth, and were an indulgent treat.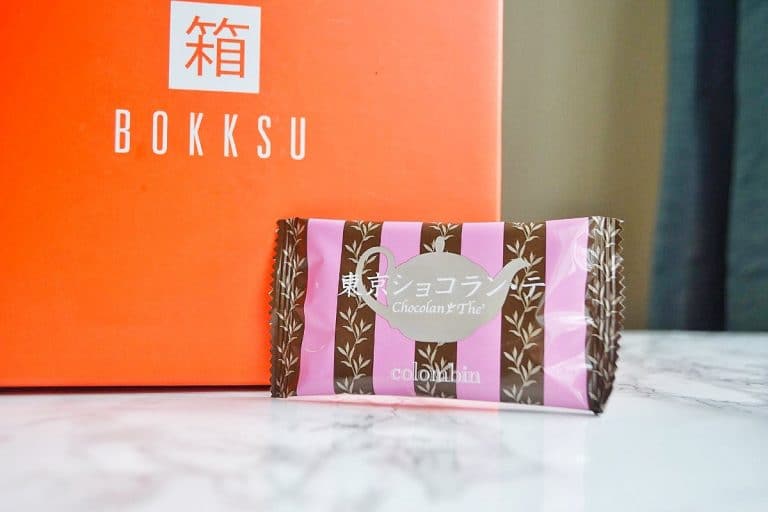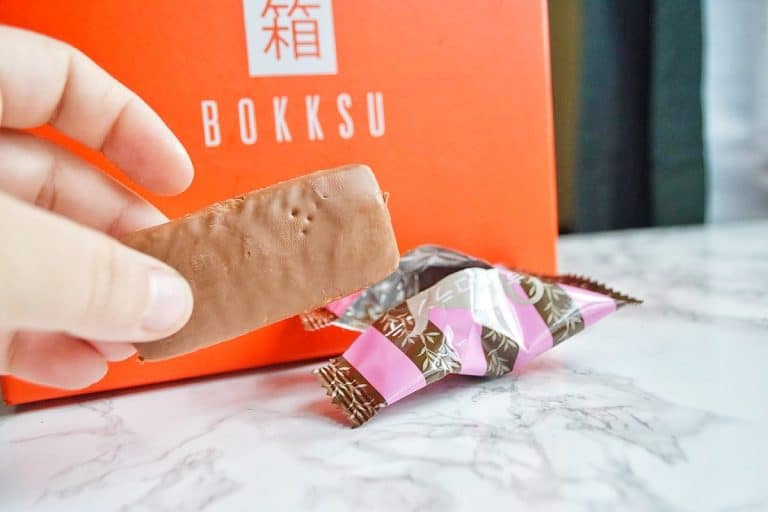 Horn Milk Chocolate x4 ($2)
Yay, another chocolate treat! This box might not be good for my waistline, but it's wonderful for my soul. These are like the reverse of the Tokyo Chocolate Tea treats – milk chocolate sandwiched between two buttery biscuits. So good!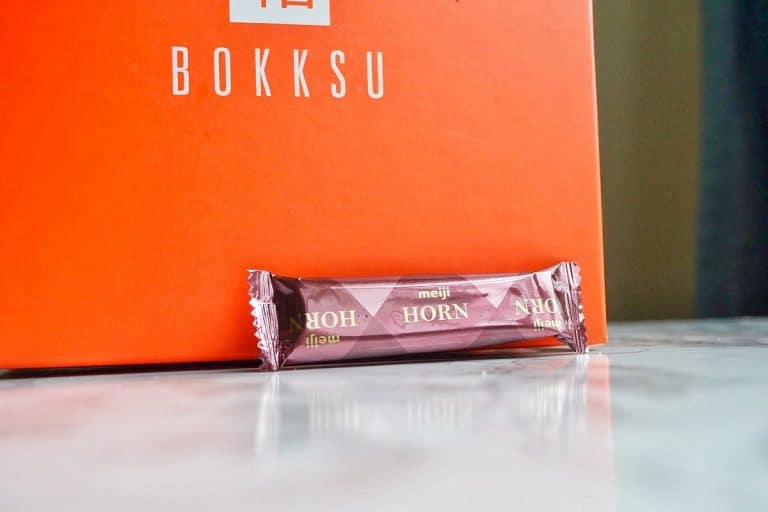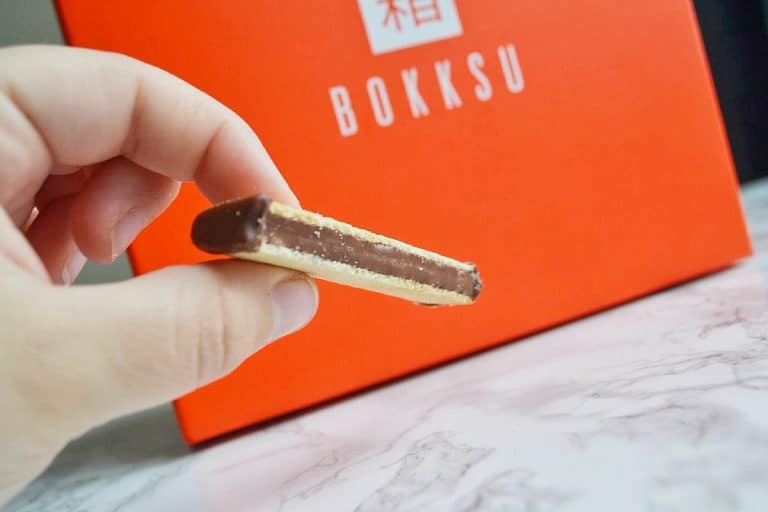 Mini Fried Rice Cracker ($1)
I have actually received these in another international subscription box, so I knew what to expect. These shell-shaped, deep fried crackers are coated in soy sauce. They are a little too salty for me, but my boyfriend is obsessed with them! He was so excited to see that I received another bag.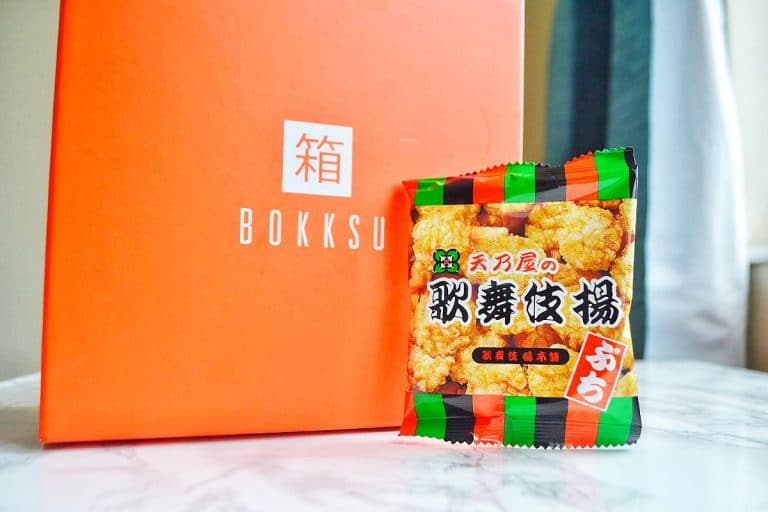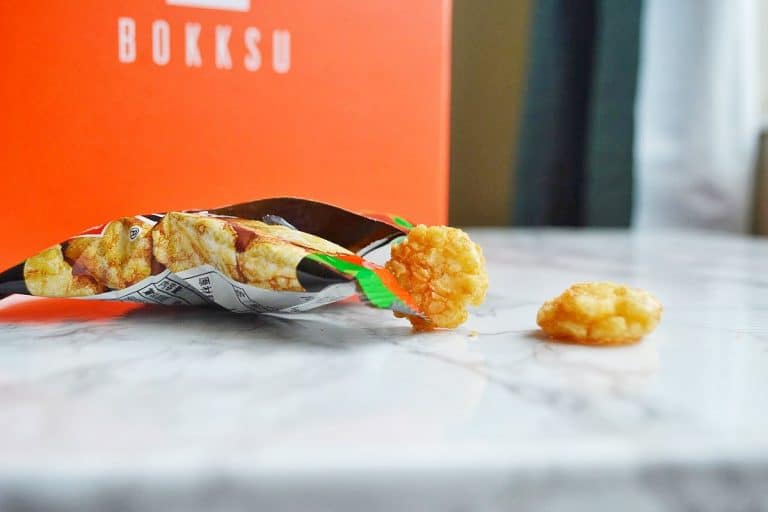 Sapporo Vegetable Potato Sticks ($1)
These remind me of an old favorite snack, Veggie Straws! These are crispy potato sticks embedded with little chunks of what appears to be bell pepper and tomato (judging by the picture on the package). These are so addictive, and I actually used them as an alternative to croutons on my salad one night.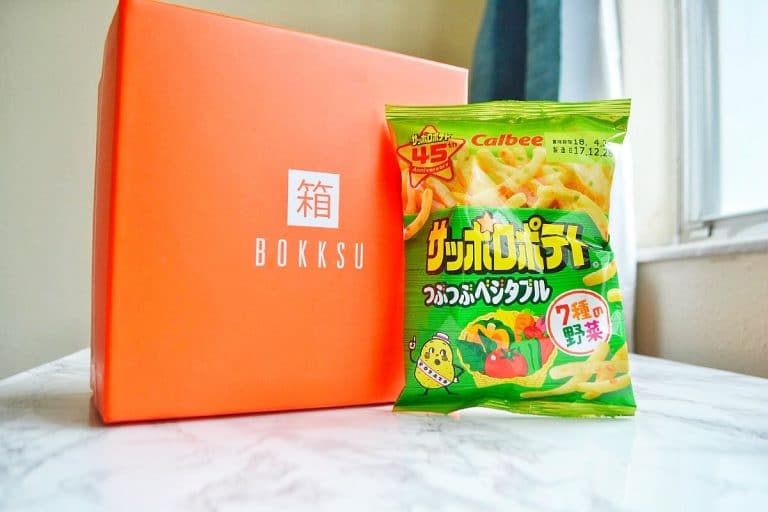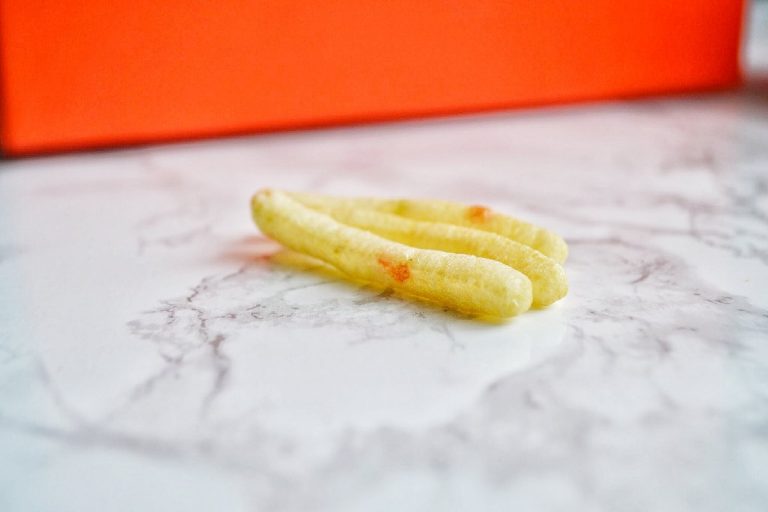 Maple Butter Cookie x3 ($3.75)
In my opinion, these maple butter cookies were the best tasting snack in the entire box! They are square maple butter cookies, filled with a vanilla and white chocolate cream. Oh my GOODNESS, they are delicious!  I wish there had been 20 in the box. I actually went on to the Bokksu marketplace to buy some more, but they are sold out.
Cafe Latte Sticks x2 ($2.50)
Normally Bokksu includes tea pairings in their box, but this month they sent out packs of instant coffee. The Cafe Latte Sticks include cream and sugar, so they are really convenient and great to take on the go. I normally don't like instant coffee, but this was surprisingly good! It was rich, and paired very well with all the sweet snacks in this box.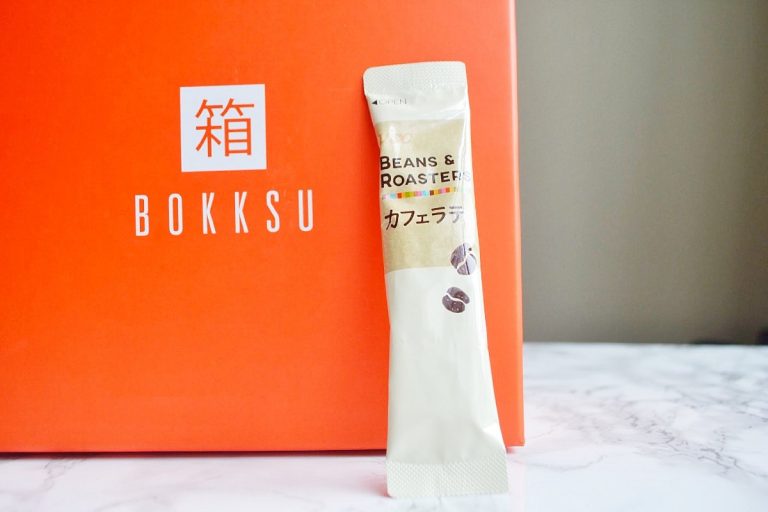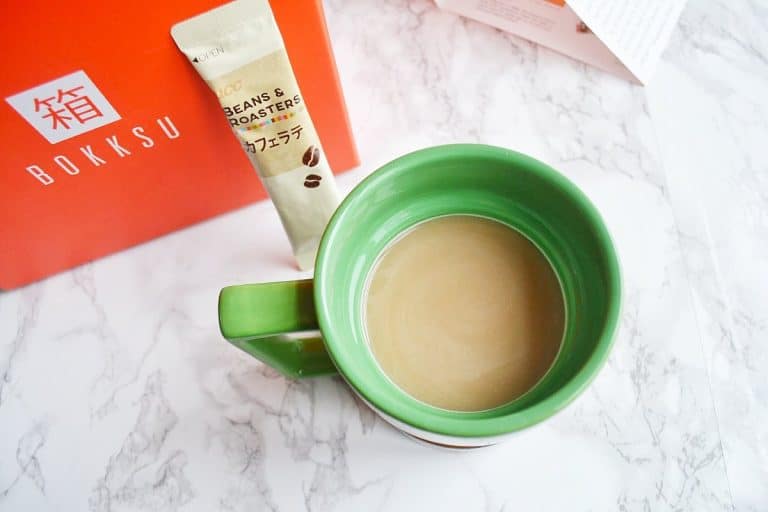 I had so much fun trying out the Japanese snacks in March's Bokksu! I loved most of them – especially the Maple Butter Cookies and the Cobbler Bars. Overall, the box was worth approximately $22. The Classic Bokksu subscription costs $39, so you it isn't the best value for your money. However, this gives you access to a bunch of Japanese snacks that you wouldn't be able to get your hands on otherwise. I think it is well worth it for anybody with a passion for trying international foods!