Bokksu is a monthly subscription that sends out delicious snacks sourced directly from Japan. Bokksu currently offers two subscriptions options. The Classic Box contains 20-25 snacks and a tea pairing, as well as a tasting guide and free shipping. Prices for this box range from $33 – $39, depending on how many months you prepay. The Tasting Box contains 8 – 10 snacks, and it also has the tea pairing, tasting guide, and free shipping. Prices for this box range from $16 to $19.
Today, I will be reviewing May's box. Bokksu celebrated their 2 year anniversary by sending out their most popular snacks.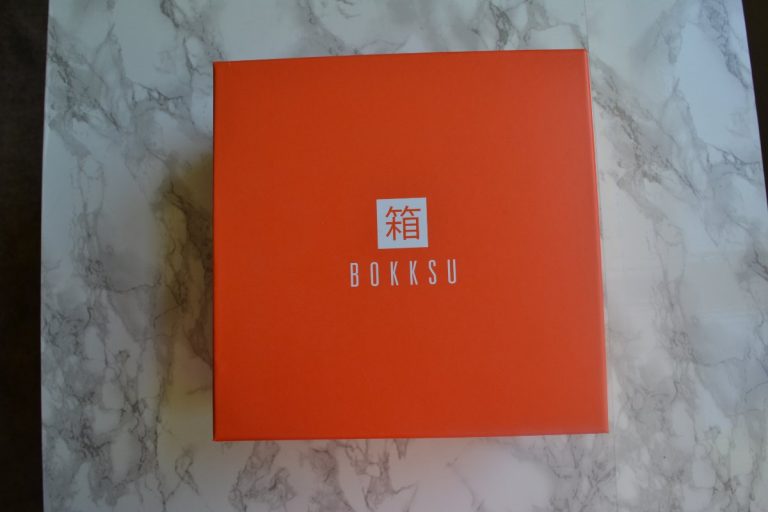 Bokksu included a pamphlet with information about each product. I am always so thankful for this, because I can't read any of the Japanese writing on the snack packages!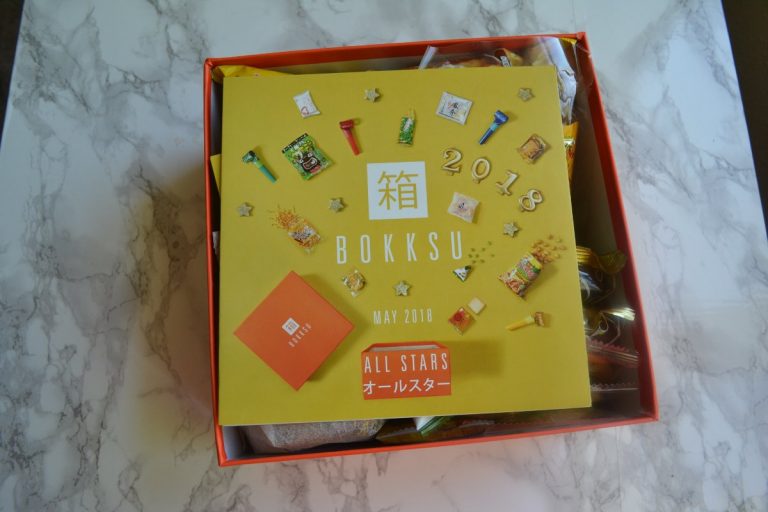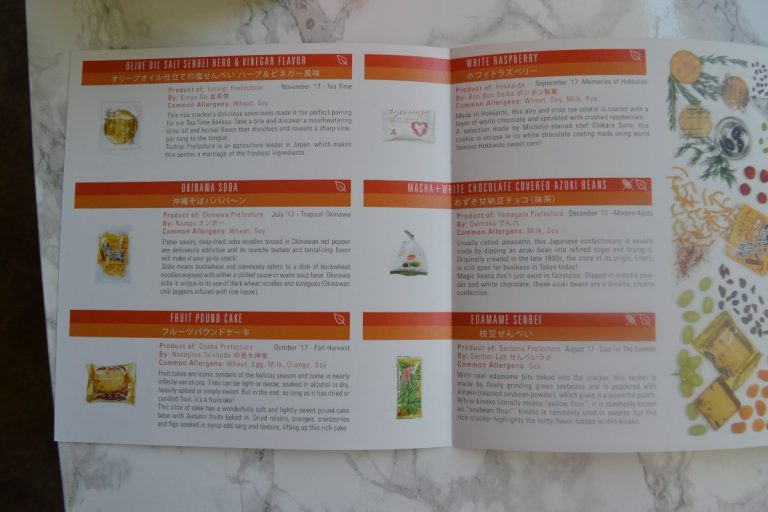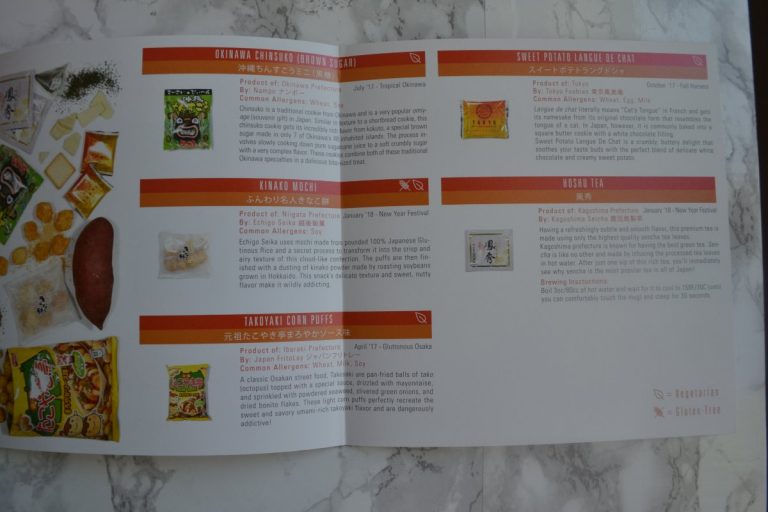 Here is a look at each snack I received. Wow, there were 15 items in May's box!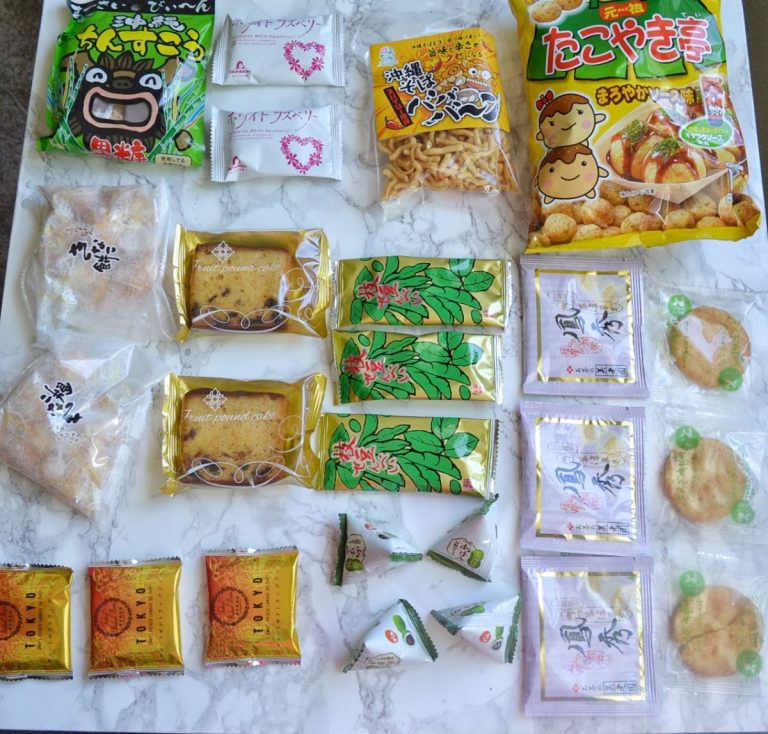 Olive Oil Salt Senbei Herb & Vinegar Flavor (x3) – $1
I have received a lot of senbei in past Bokksus, but normally they are soy sauce flavored. I really enjoyed the tangy herb & vinegar flavor of this snack! These rice crackers are crunchy, flavorful, and addictive.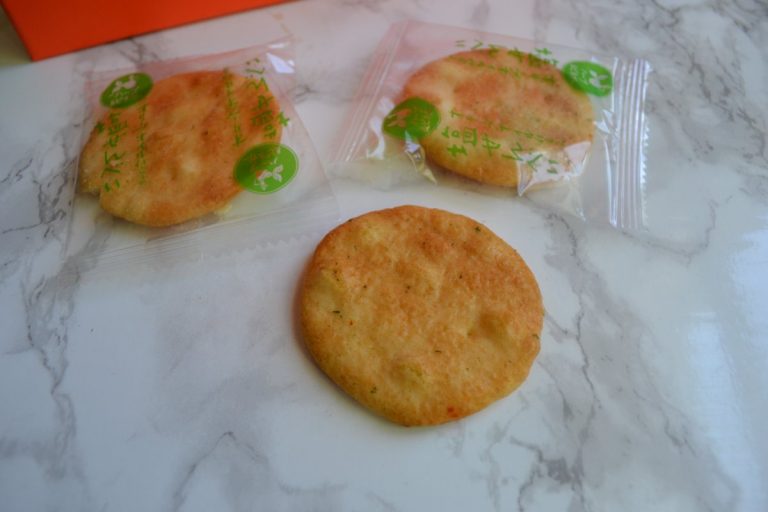 Takoyaki Corn Puffs – $3
These corn puffs are inspired by the classic Osakan street food of Takoyaki, which are pan fried octopus balls topped with sauce, drizzled with mayonnaise,and sprinkled with powdered seaweed, green onions, and bonito flakes. That is a lot of flavors going on! I have never had real Takoyaki, but I like to imagine it tastes quite similar to these corn puffs. To me, they taste a little meaty, a little fishy, and a bit like gravy.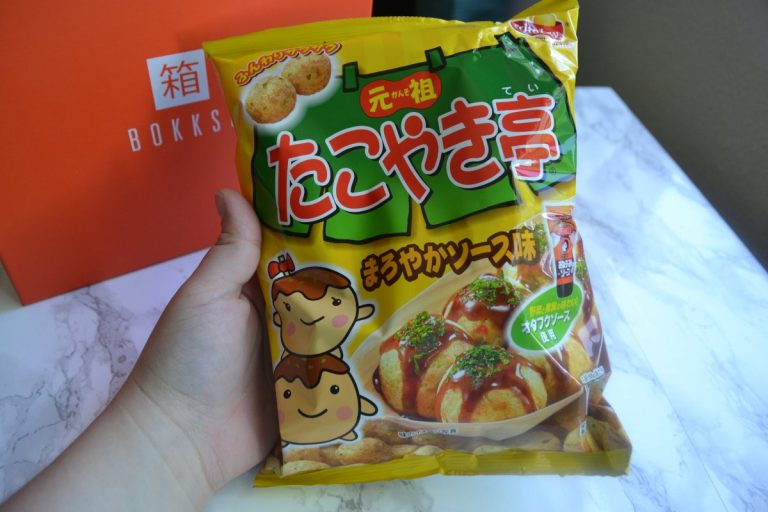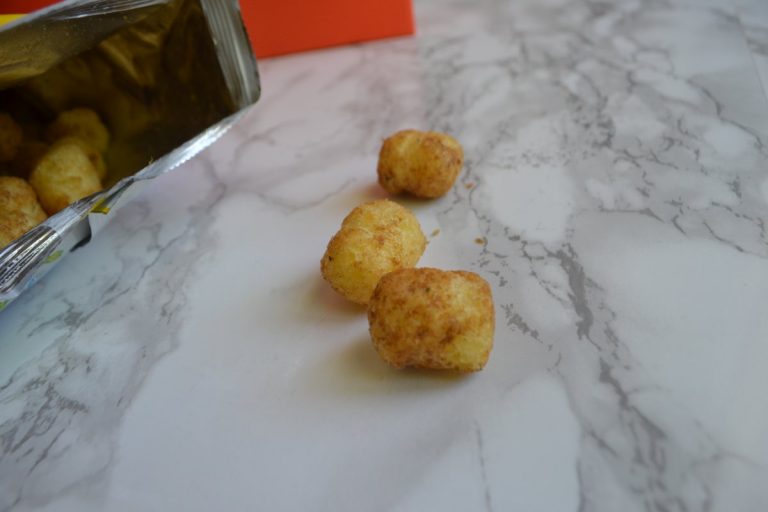 Okinawa Chinsuko (Brown Sugar) – $3
These were absolutely delicious cookies flavored with kutoko, which is a brown sugar made in 7 of Okinawa's islands. The cookies are sweet, crumbly, and melt in your mouth. My only complaint is that there were only five in the bag!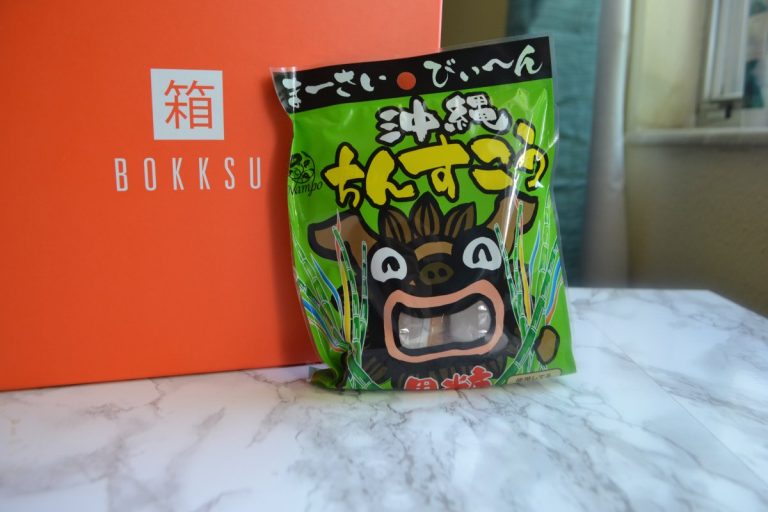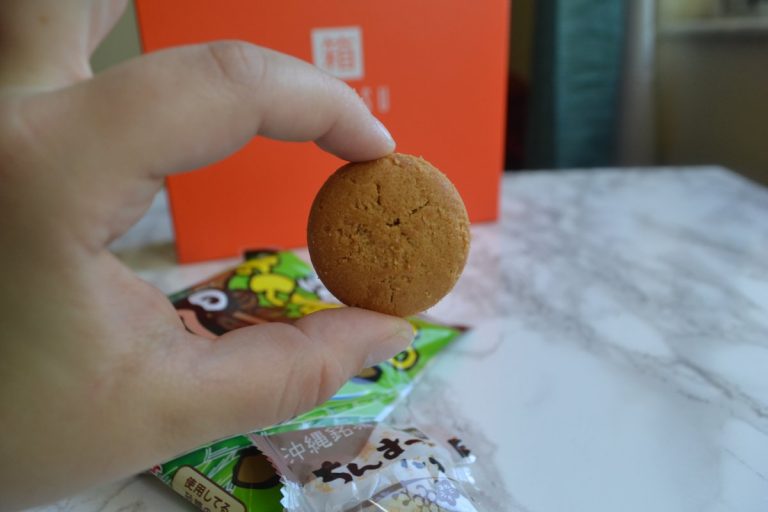 Kinako Mochi (x2) – $4
This was my first time having mochi, and I really enjoyed its crisp and airy texture. However, I wasn't too keen on the flavor. It started out sweet and yummy, but ended nutty and a little savory. The mochi are dusted with roasted soybean powder, so I think that is where the nutty flavor is coming from. These weren't my favorite, but I still enjoyed testing them out.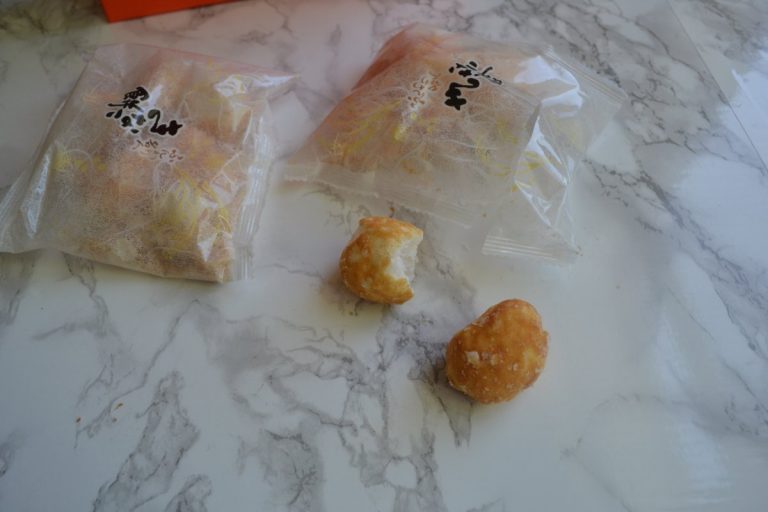 Sweet Potato Langue De Chat (x3)  – $6
I really love Langue De Chat cookies, and this Sweet Potato one was no exception. The outside sweet potato flavored cookies are crumbly and buttery, and the white chocolate filling is smooth and creamy. Its flavor is so unique, and this ended up being my favorite snack in the box.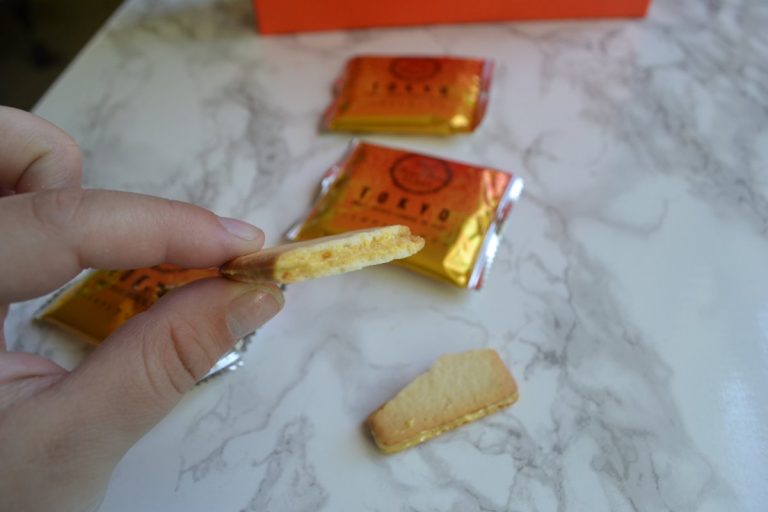 Edamame Senbei x3 – $3
I received a second senbei product in my box; this time it had edamame bits baked into the cracker and roasted soybean powder roasted on top. This was nutty, and unexpectedly sweet. It reminded me a little of the Kinako Moki. Even though I didn't like the mochi, I loved the senbei! It was more nutty than sweet, and had such a depth of flavor.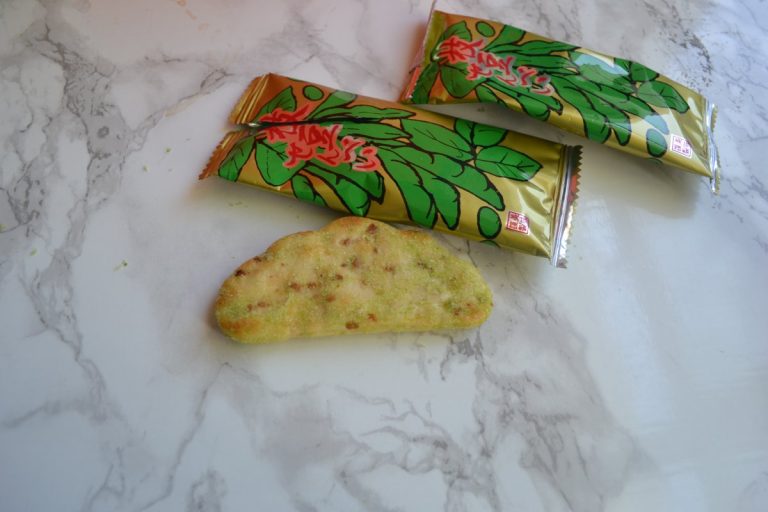 Fruit Pound Cake (x2) – $4
I have actually never had fruit cake before. When I was in elementary school, I read a Junie B. Jones book that featured a fruitcake that was nasty and as hard as a rock. I suppose I've just assumed that is what all fruitcake is like – I know, that's silly of me. Anyways, these fruit pound cakes were the complete opposite! They were soft and moist, and so delicious. They had raisins, orange, cranberries, and figs embedded in the cake, which cut the richness and added a little bit of tang.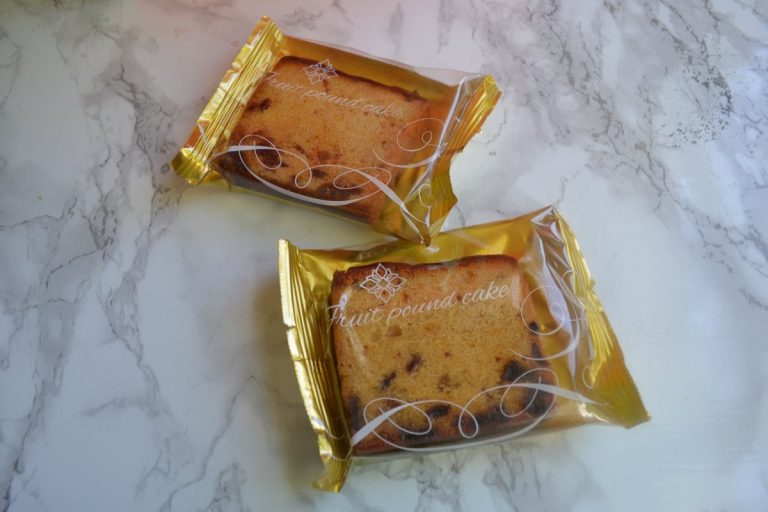 White Raspberry (x2) – $4
The White Raspberry rye cookies are coated with a layer of white chocolate and sprinkled with crushed raspberries. The white chocolate coating is made using Hokkaido sweet corn! I can't taste the corn, but I think the snack is so delicious. The white chocolate makes it creamy and sweet, and the raspberry adds refreshing tartness.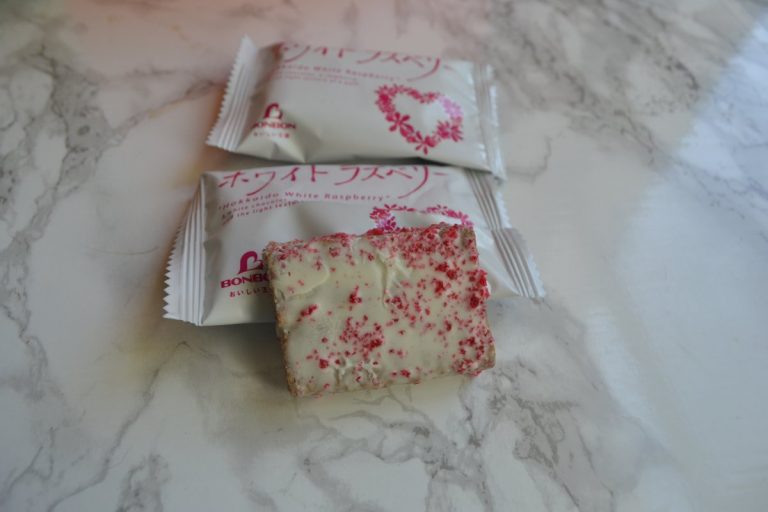 Macha + White Chocolate Covered Azuki Beans (x4) – $4
My mom would sometimes cook azuki beans when I was younger, and I always thought it was weird that they had a sweet taste. However, this snack takes advantage of their natural sweetness!  The matcha coating tastes a little bitter when you first bite in, but soon you taste white chocolate and azuki bliss.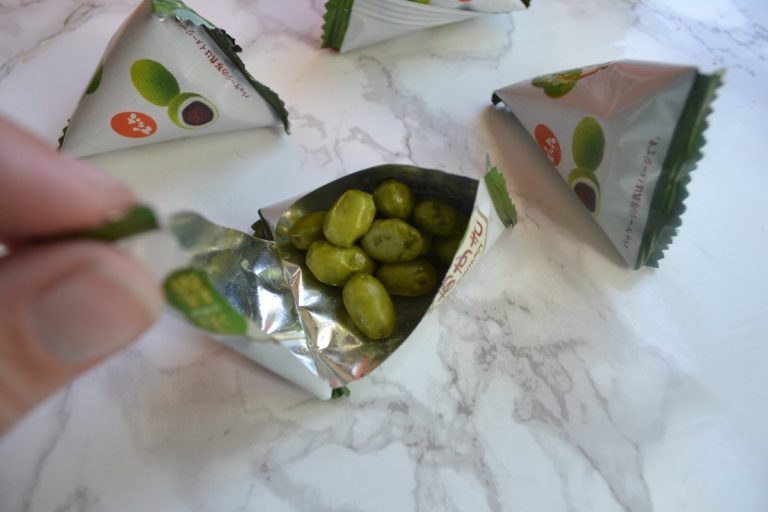 Okinawa Soba – $4
This bag is filled with deep fried soba noodles, tossed in Okinawan red pepper. They are subtly spicy (definitely not as hot as the packaging implies), and so addictive. I have been using these instead of croutons on my salad.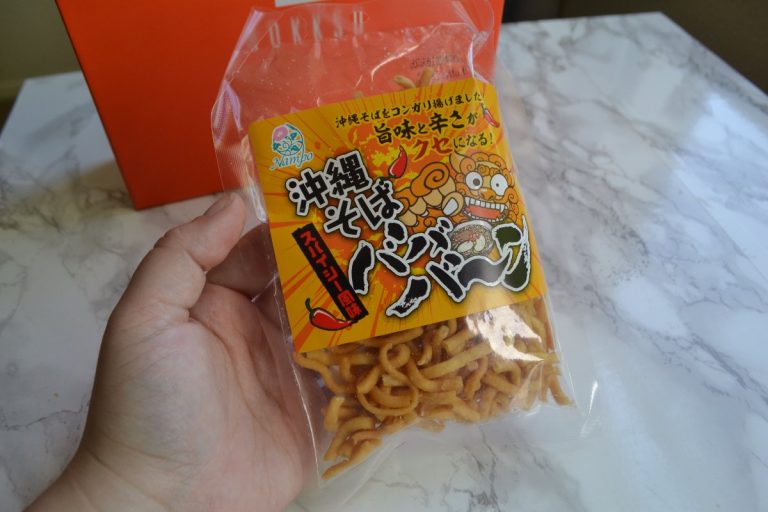 Hoshu Tea (x3) – $6
This month's tea pairing is a green tea made from sencha leaves. It is rich, subtle, and smooth. I have been enjoying this tea with a little bit of honey.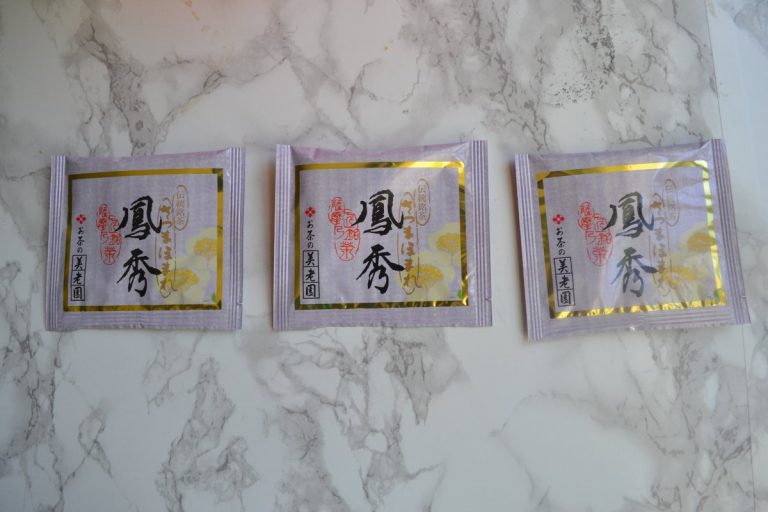 I loved the snacks in May's box, and I can definitely see why they were fan favorites. I especially enjoyed the Sweet Potato Langue de Chat and the White Raspberry Cookie. Bokksu made a great move by celebrating favorite snacks on their 2 year anniversary. This was an excellent box, and I stand by my recommendation of Bokksu for anybody who wants to try hard-to-get Japanese snacks.