Bokksu is a monthly food subscription box that sends out snacks sourced directly from Japan. Bokksu currently offers two subscription options. The Classic Box contains 20-25 snacks and a tea pairing, as well as a tasting guide and free shipping. Prices for this box range from $33 – $39, depending on how many months you prepay. The Tasting Box contains 8 – 10 snacks, and it also has the tea pairing, tasting guide, and free shipping. Prices for this box range from $16 to $19. Today I will be reviewing October's Bokksu!
A note for subscribers: Japan has been hit by an unusual number of typhoons lately, and Bokksu's Osaku warehouse was affected. This is severely impacting shipping time. Bokksu is working with subscribers to make sure everybody received their box.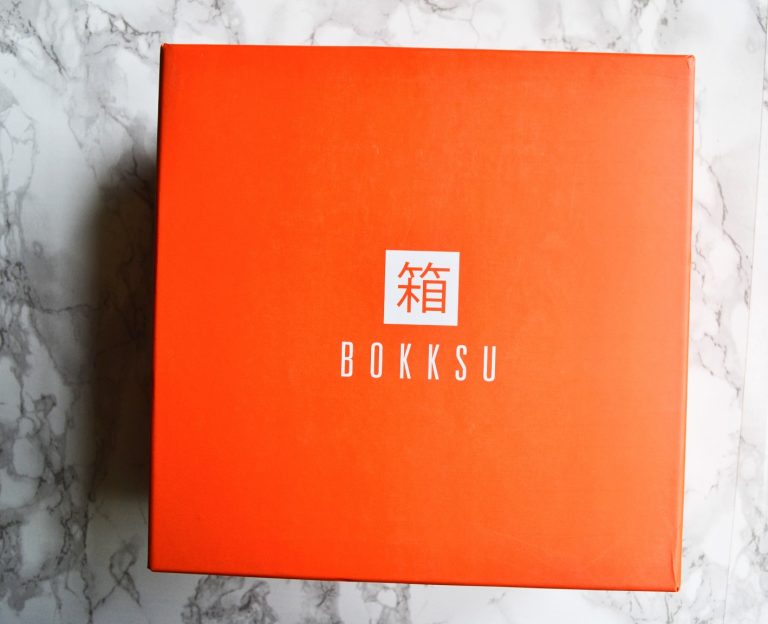 My box included a little note from the founder, and explained that this box contains snacks that showcase Japanese fall flavors and Halloween treats.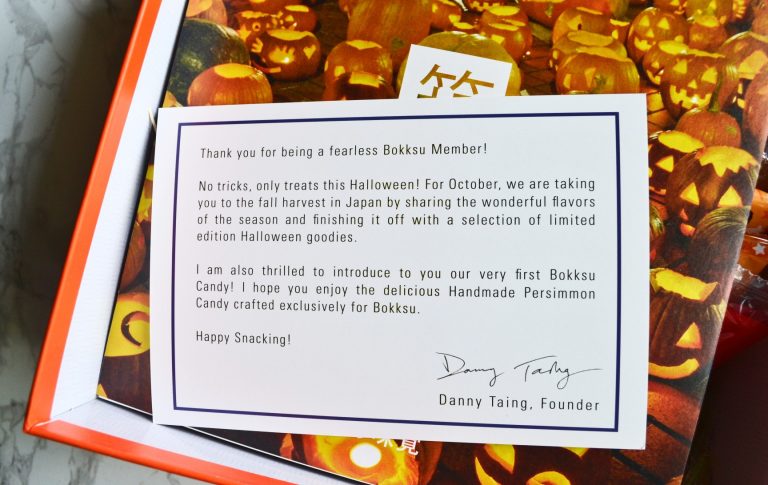 It also contained a pamphlet with a map of the snacks' regions in Japan, as well as information about each product.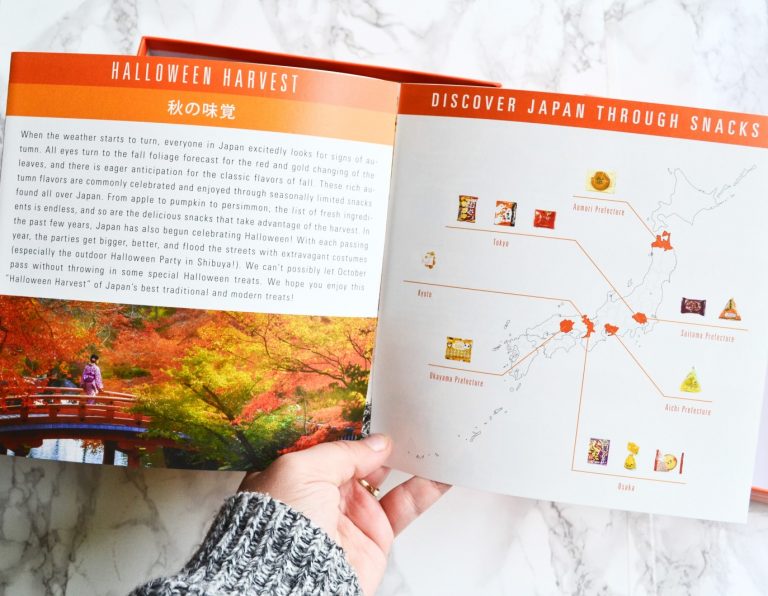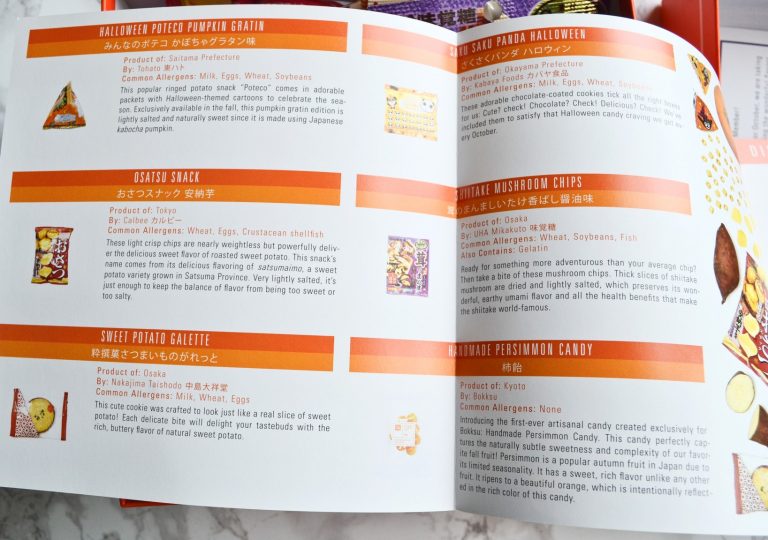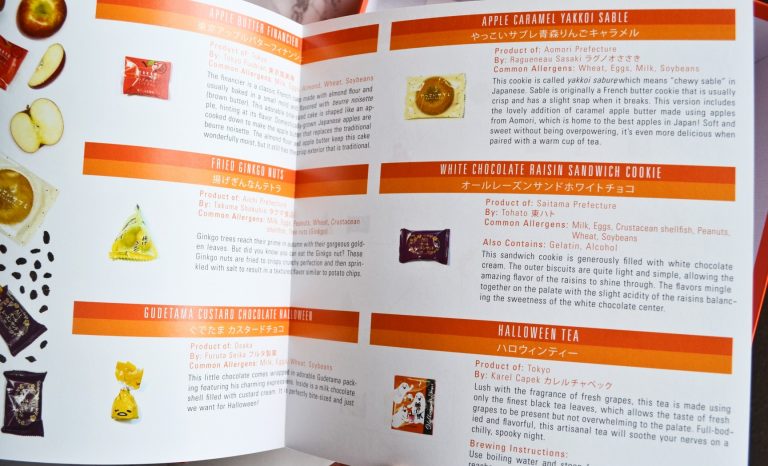 Here's a look at each item I received in October's Classic box. There was a total of 21 snacks and two teas! The color scheme is mostly reds and oranges, and it definitely feels like a Fall box.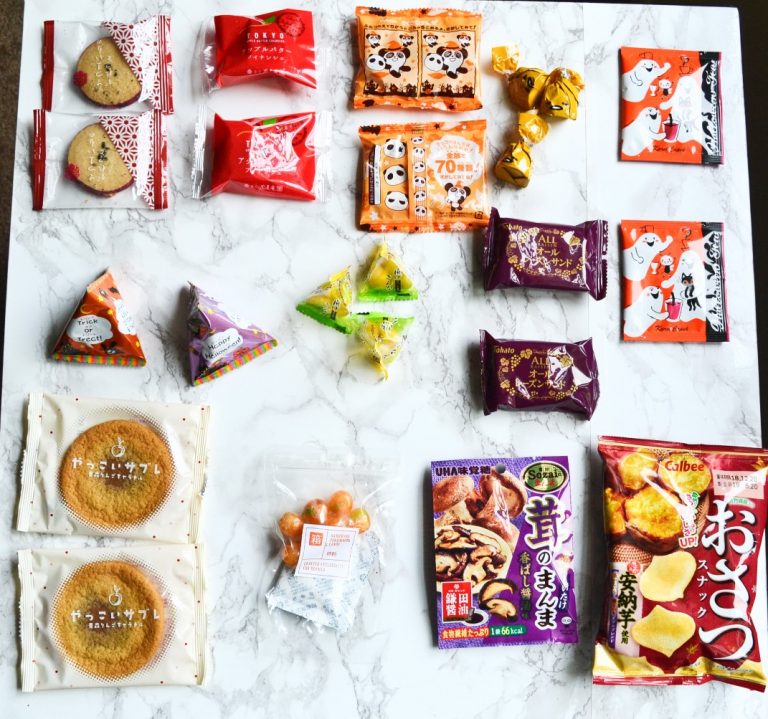 Halloween Tea x2
This black tea is grape flavored, but it doesn't taste medicinal or overwhelming. I love sweet, fruity teas so I'm really happy to have received this. I also love the cute little ghosts on the packets!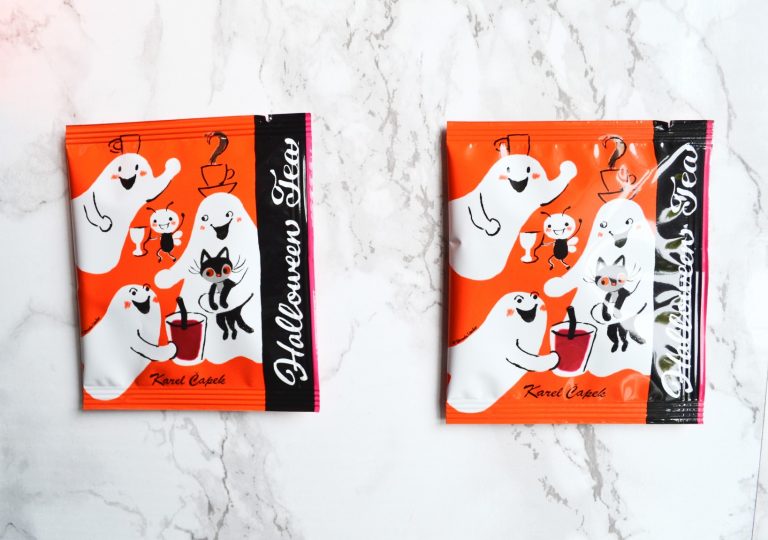 Handmade Persimmon Candy
This is the first ever artisnal candy created exclusively for Bokksu. A couple months ago, I received similar candies but shaped and flavored like apples. Those were one of the best candies I've ever tried, and I'm happy to report that the persimmon candies are just as amazing! I've never tried an actual persimmon before, but it has a beautiful honeyed flavor. The candies are also expertly crafted, and really look like tiny persimmons.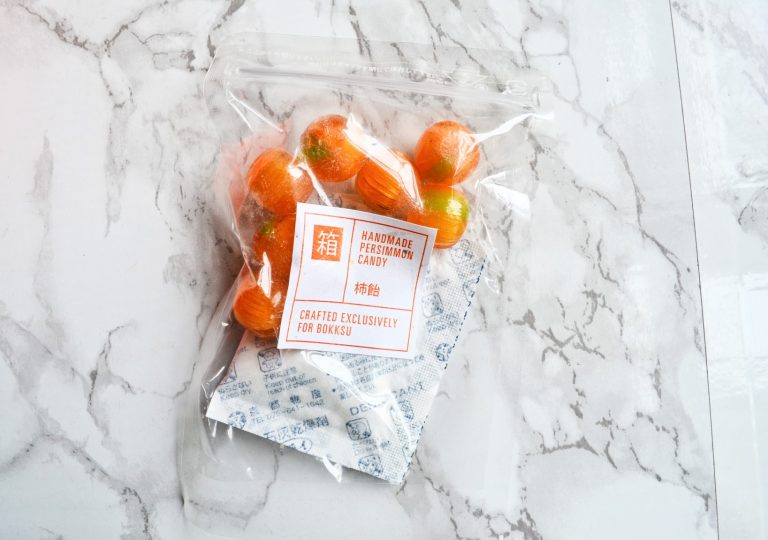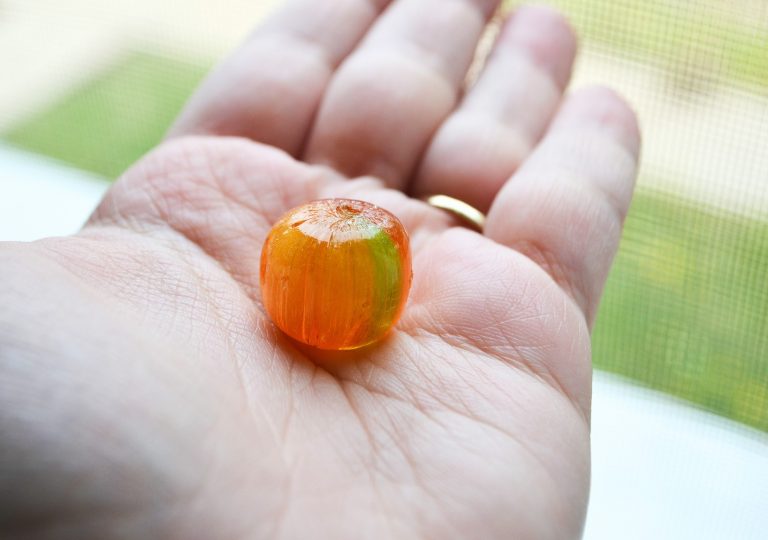 Osatsu Snack
These light chips These chips are light and crispy, and taste like roasted sweet potato. They are the perfect balance of sweet and salty, and are totally addictive. I like letting them melt in my mouth, and savoring the sweet potato flavor.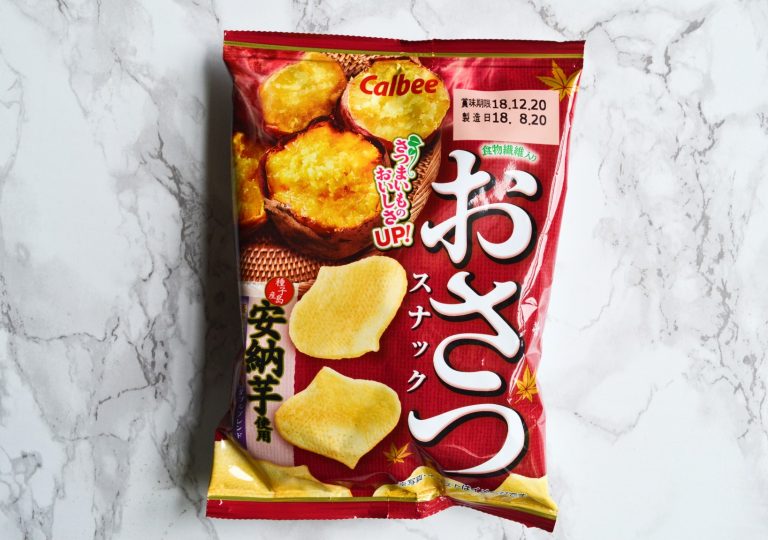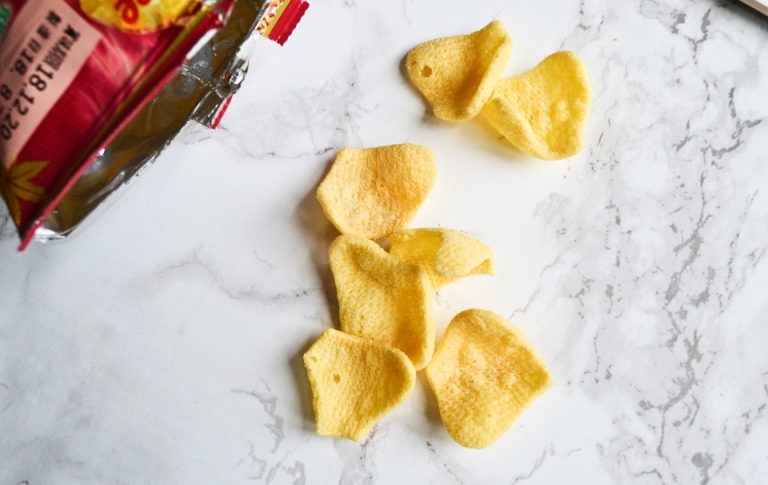 Shiitake Mushroom Chips
These are dried, salted sliced of shiitake mushroom, which are supposed to have wonderful health benefits. However, I really dislike shiitake mushrooms, and couldn't eat these. I took a nibble and had to spit it right out! However, my mushroom-loving fiance really enjoyed these. They are earthy and savory, and a little spongy.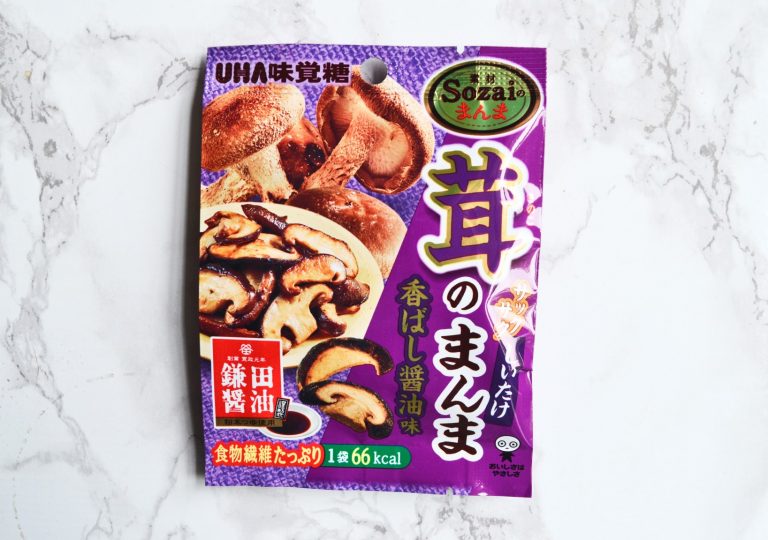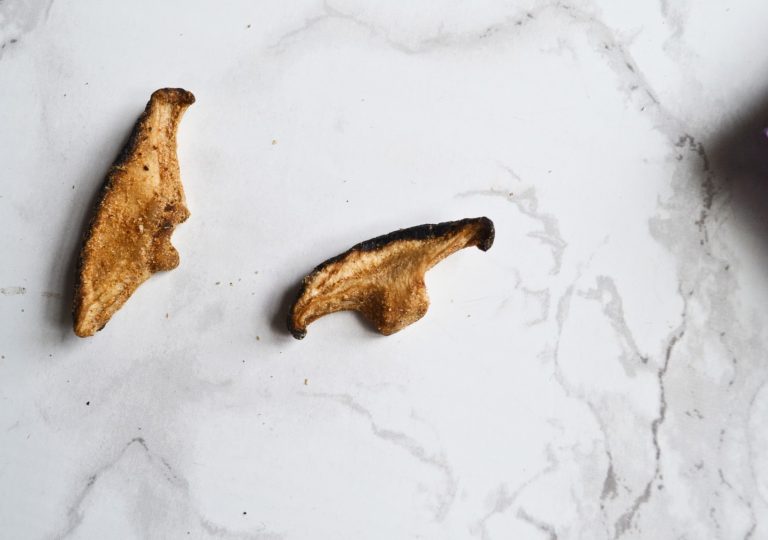 White Chocolate Raisin Sandwich Cookie x2
This sandwich cookie has raisins baked into buttery biscuits, and a rich white chocolate filling. I love raisins, so I adored this snack. It's sweet and rich – but not too sweet. The raisins cut through the white chocolate, and brings a nice acidity. This is a wonderful example of how a lot of Japanese snack companies balance flavors and create something that tastes delicious, rather than something that just tastes like sugar.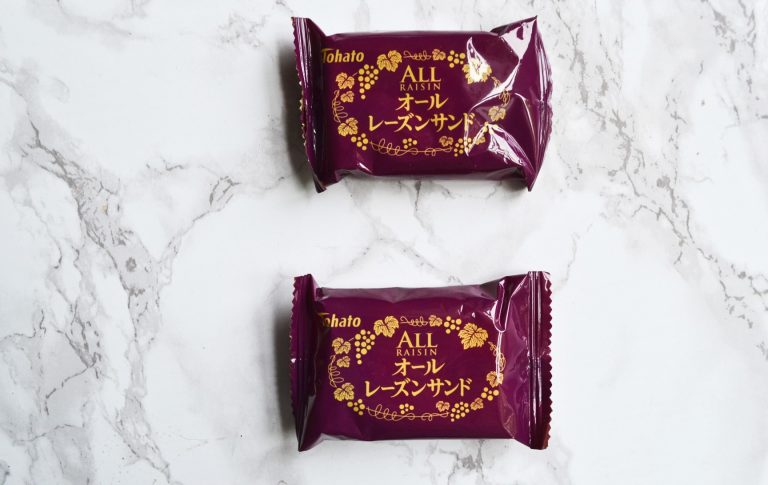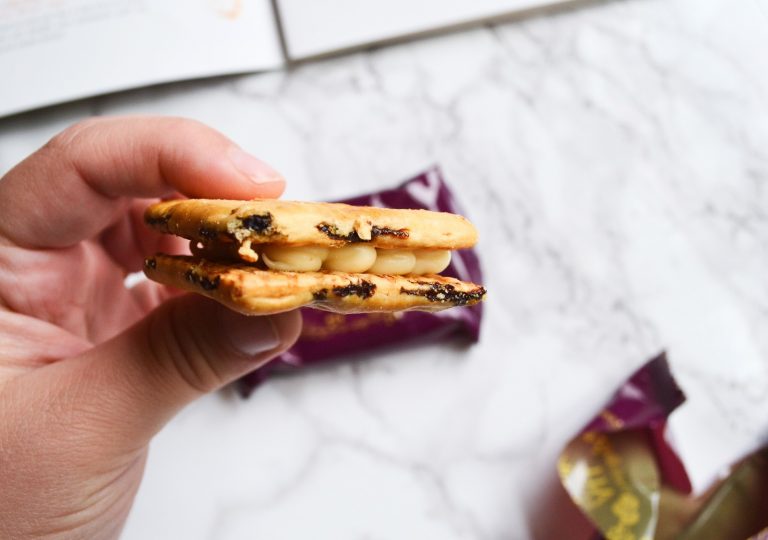 Saku Saku Panda Halloween x2
These are adorable little panda-shaped cookies, coated in chocolate! It is a pretty simple snack, but the cuteness factor is a 10/10. I'm also a massive chocolate fiend, and would happily down a couple packets of these in one go.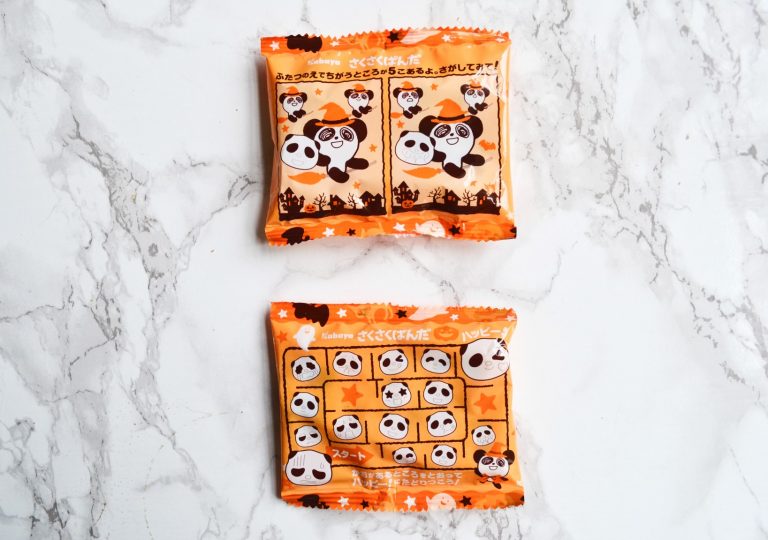 Aaah, look how cute! Their mouths do look a little naughty though ;)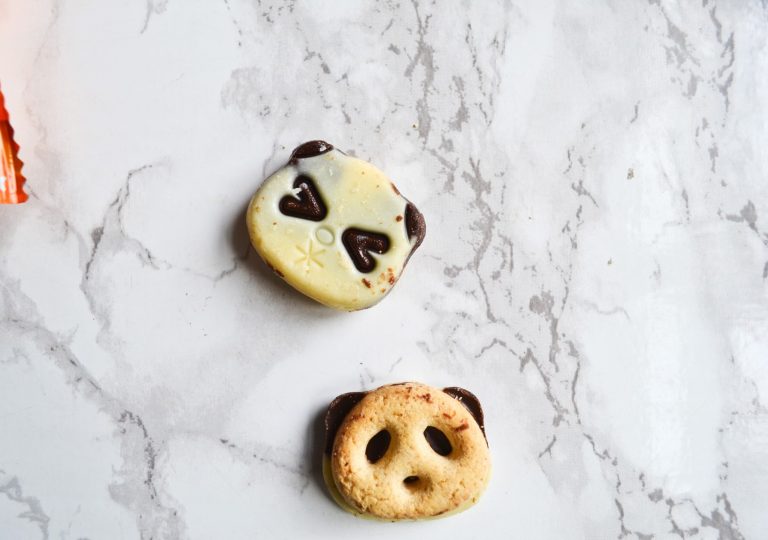 Halloween Poteco Pumpkin Gratin x2
This little ringed potato snack is flavored with Japanese kabocha pumpkin. It has all the saltiness and savory flavor of a potato chip, but also a subtle sweetness from the pumpkin. These are seriously addictive! My only complaint is that these are so small, so you can a whole pack is just a mouthful. But, I suppose this would be the perfect size for a Halloween treat.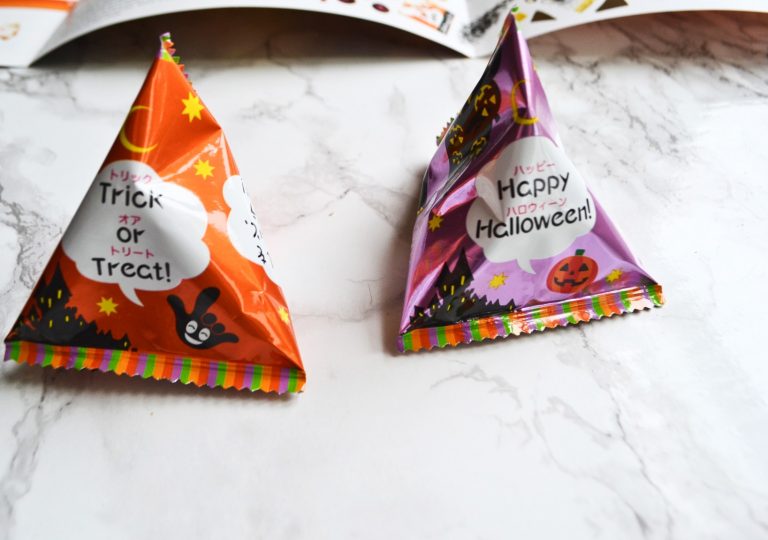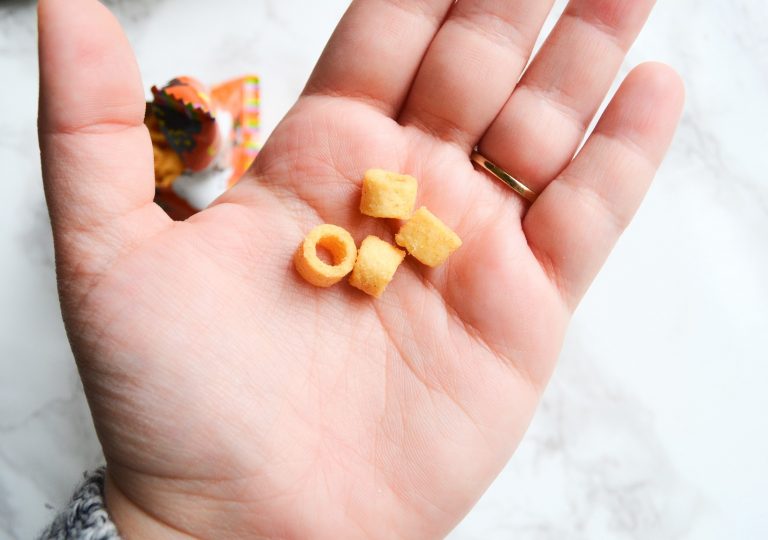 Gudetama Custard Chocolate x3
Gudetama is a very unique Sanrio character – he is a lazy, melancholy egg. I know that sounds odd, but he is super cute and I even have a makeup bag with his picture on it. I was so excited to see this in my box, because I love all things Gudetama! The snack itself is a white chocolate shell, filled with a custard cream. Again, I'm being spoiled by all of these chocolate treats.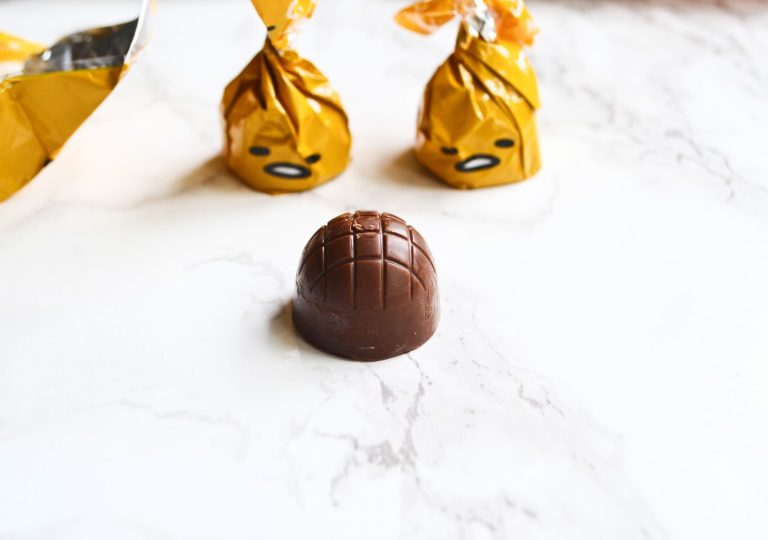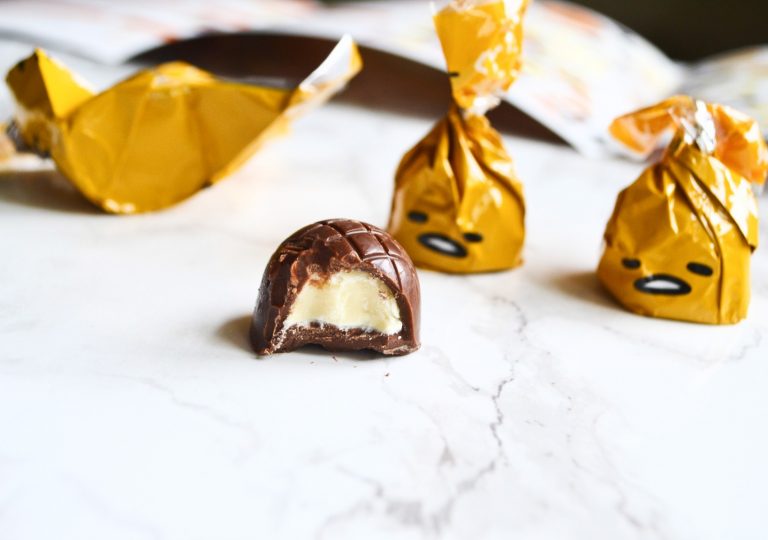 Apple Caramel Yakkoi Sable (x2)
Holy moly, these chewy cookies are gigantic! They are larger than the palm of my hand, and are filled with a tasty caramel apple butter center. I love their soft texture, but I wish the cookies had a little more tartness to counter the super-sweetness of the apple butter.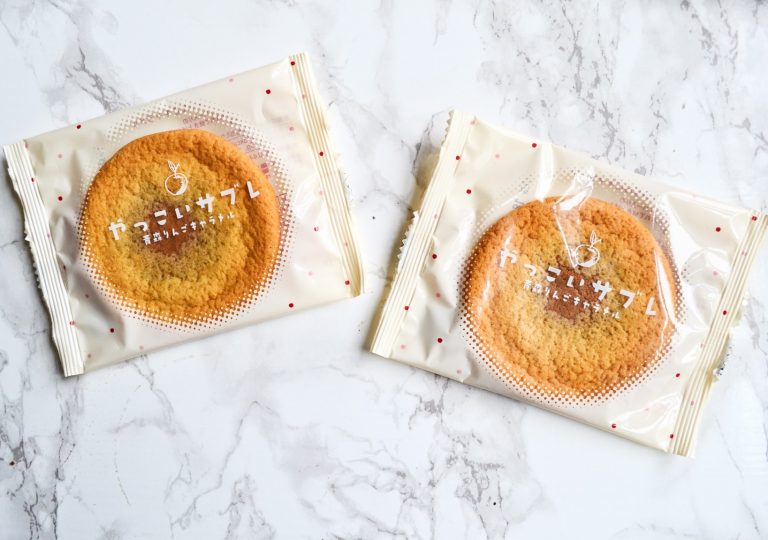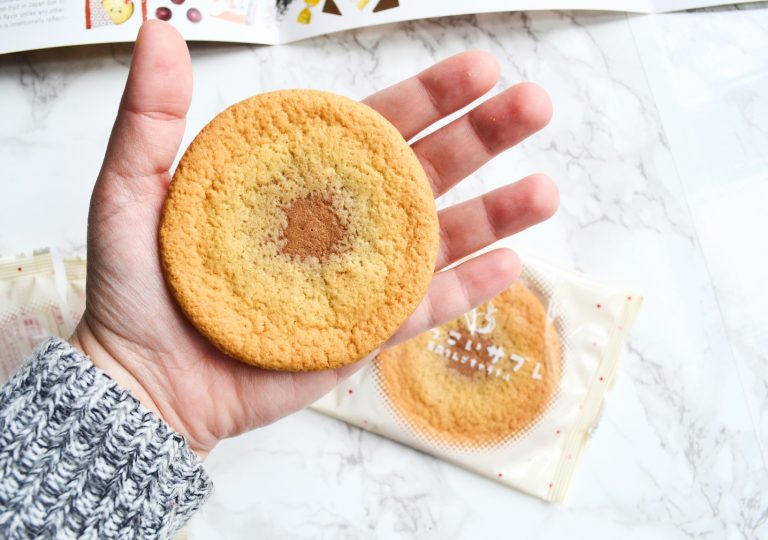 Sweet Potato Galette x2
These adorable cookies are crafted to look like a slice of sweet potato. They are buttery and crumbly, and have a subtle sweet potato flavor. They are visually stunning; I love this trend of eating snacks that look like their inspired flavors.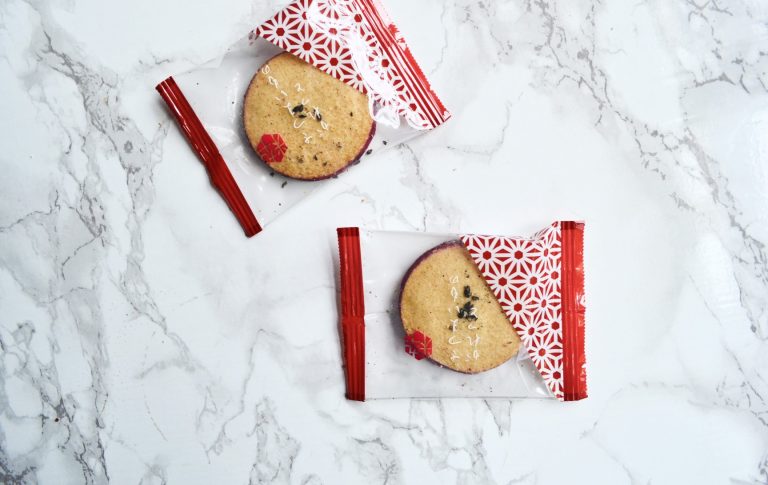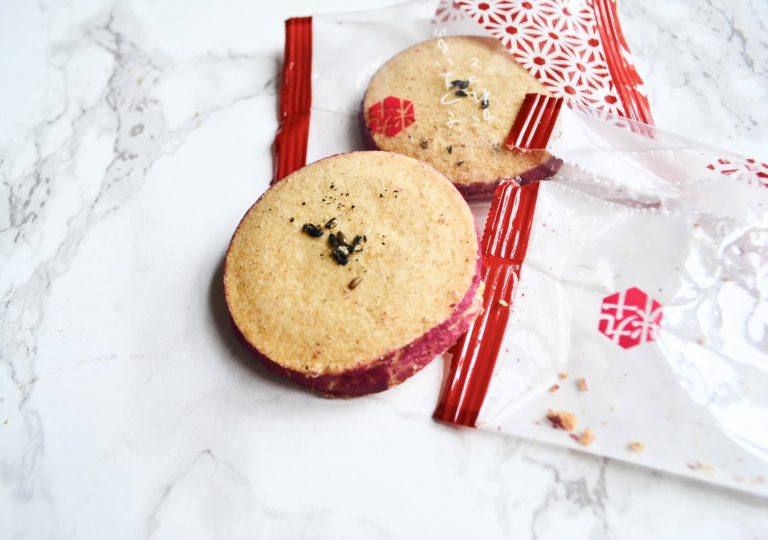 Apple Butter Financier x2
Classic financier is flavored with brown butter, but this version uses apple butter instead! These cakes are also made with almond flour, which gives it a chewy texture and slightly nutty flavor. My mom used to make almond flour cookies weekly, and this brought me right back. These might be even more delicious… Sorry, mom! ;)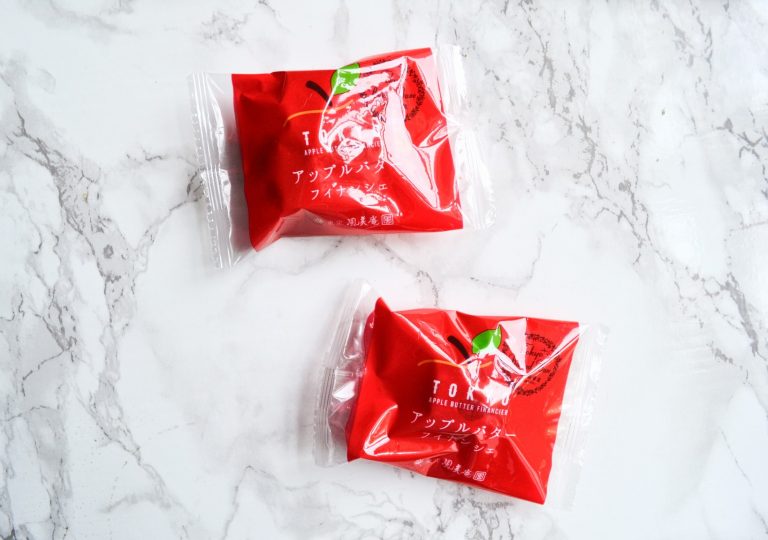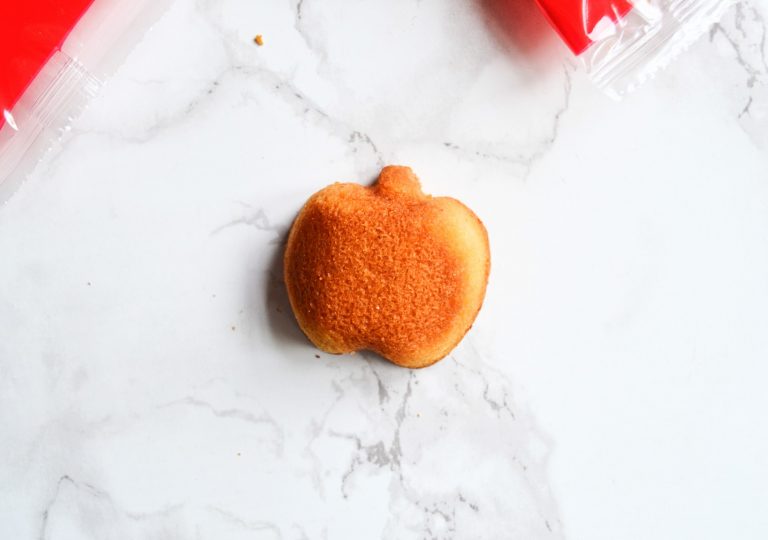 I think Bokksu has been doing a great job curating a Halloween snack box. In my opinion, all of these Japanese treats are way better than any of the candies we traditionally give out in the U.S. This felt like one of the most unique Bokksu boxes!