Box of Style is a seasonal beauty and fashion subscription box that is curated by fashion designer Rachel Zoe. Each box contains over $400 worth of items that is styled for effortless glamour, according to her website. Box of Style currently offers two payment plans:
Monthly: $99.99
Annually: $349.99 ($87.49 per box)
This is a very expensive box, and it only contains a few items. I am going to be scrutinizing every detail of the box and determining if the quality of the goods makes up for the steep price point.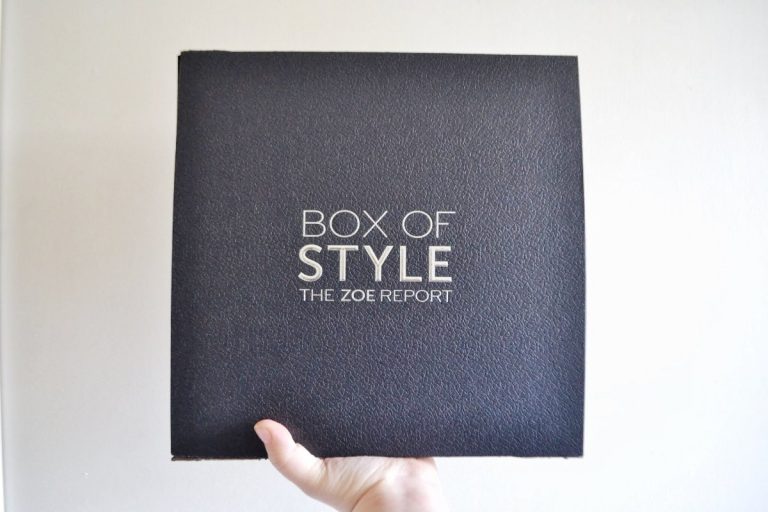 The Winter Box of Style shipped out in Mid-December, and I received it before Christmas. It was shipped inside of a plain cardboard box. The black subscription box was inside, and the sides were completely busted. I don't know how that happened, because the outer cardboard box wasn't damaged at all.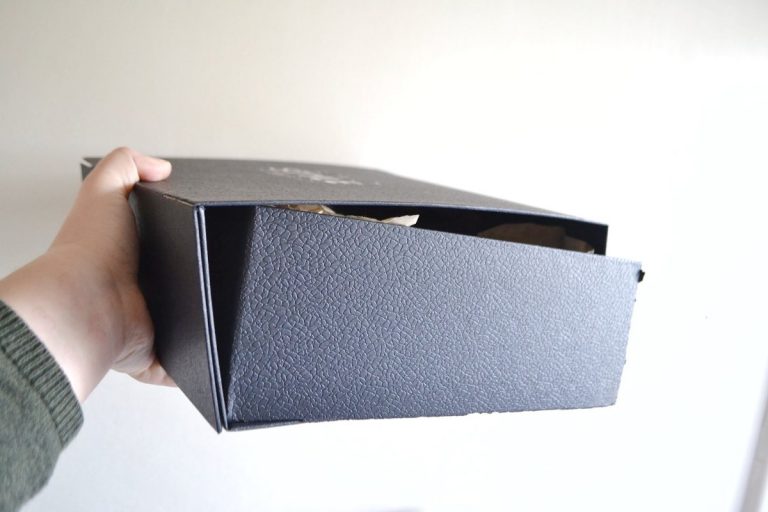 As you can see, the box was literally busted at the seams. Two sides were broken, which is unacceptable in my opinion. I have never had this issue with a subscription box before. I know that the appearance of the box is less important than the goodies that are inside, but for a $100 box I am expecting pristine packaging.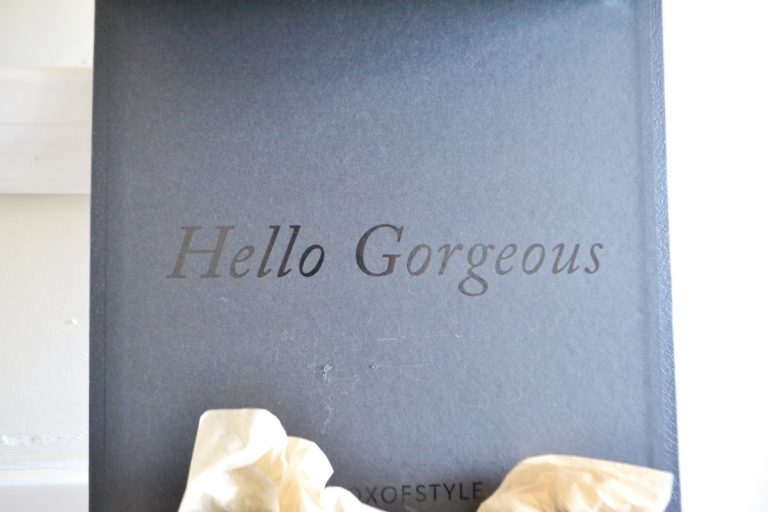 Inside the box was the phrase "Hello Gorgeous". This was a cute touch.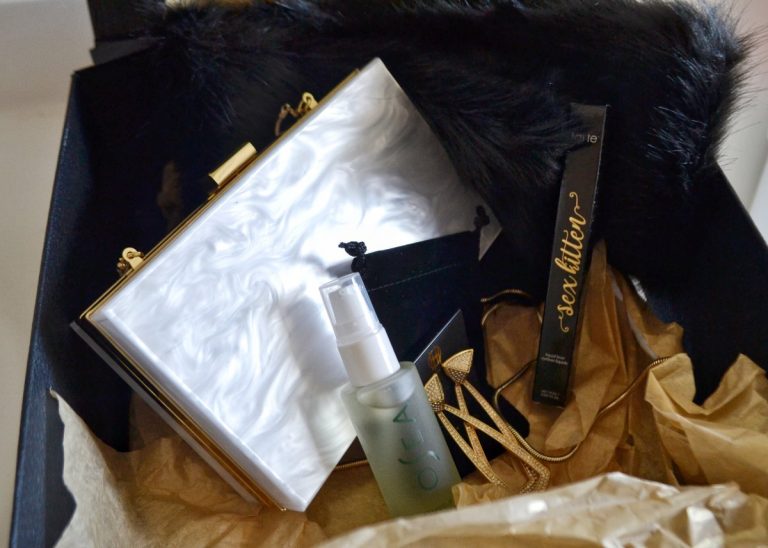 There were six items in the Winter box, and there was a good mix of products. There was a clutch, an eyeliner, a hydrating oil, a planner, and a faux fur stole. The total retail value of this box was $451. 
There was also a pamphlet inside the box, which contained information about each product. I really love it when subscription boxes include this! It makes it easy to know how to use the products, and it also tells me the retail value of every item.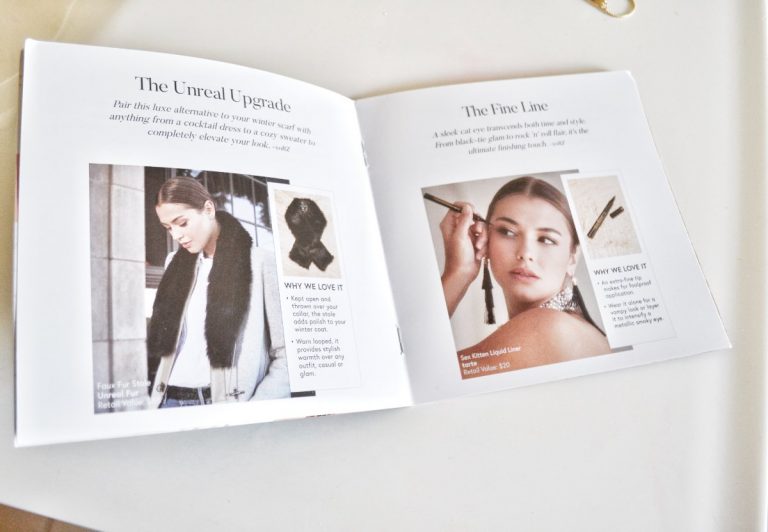 There were high quality images on each page, and it almost felt like reading a fashion blog.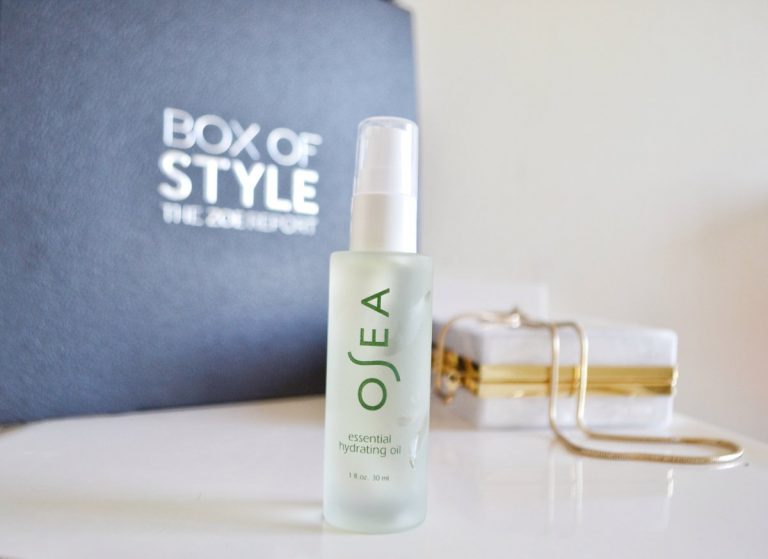 The first item I received was Osea Essential Hydrating Oil. This bottle contains 1 fl oz of product, and is worth $68. It contains ingredients such as jojoba and  sesame seed oil to hydrate your skin, as well as rosewood, lavender, and geranium essential oils to illuminate your complexion. It smells amazing, and just a couple drops covers my entire face. I have a very oily T-zone that is prone to clogged pores and cystic pimples. I was a little nervous about using a facial oil, but it didn't cause any break outs. I really like this product! The only thing I wasn't too happy about was that it had slightly leaked during shipping. However, all of the items were wrapped in gold tissue paper, so the oil didn't get on any of the other products.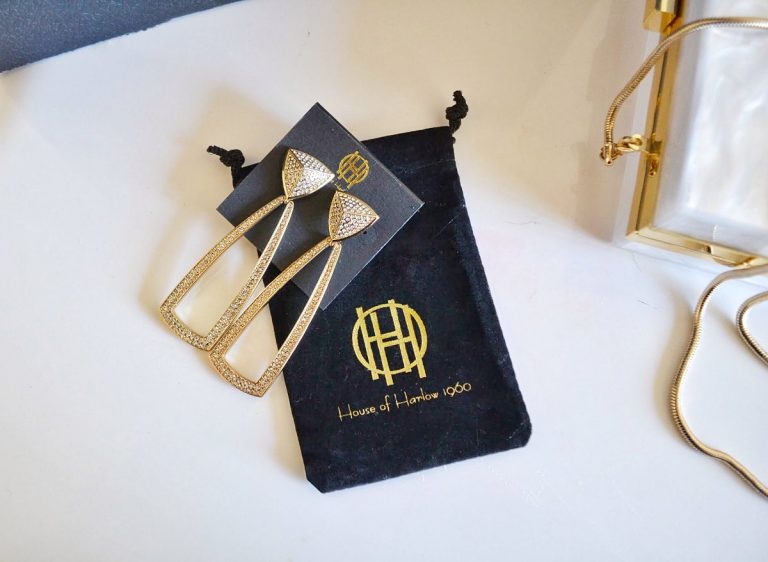 The next item I received was a pair of Mesa Door Knocker Earrings from House of Harlow 1960. These were created exclusively for this box, and are valued at $115. I was a little confused by why these are worth so much money. I went onto the House of Harlow 1960 website, and the most expensive pair of earrings there is $72. This is almost double that price! Because this was created exclusively for Box of Style, I feel like they gave it an expensive price to drive up the value of the box. I could be wrong, but I don't see any other reason why this would be worth so much more than any of their other earrings.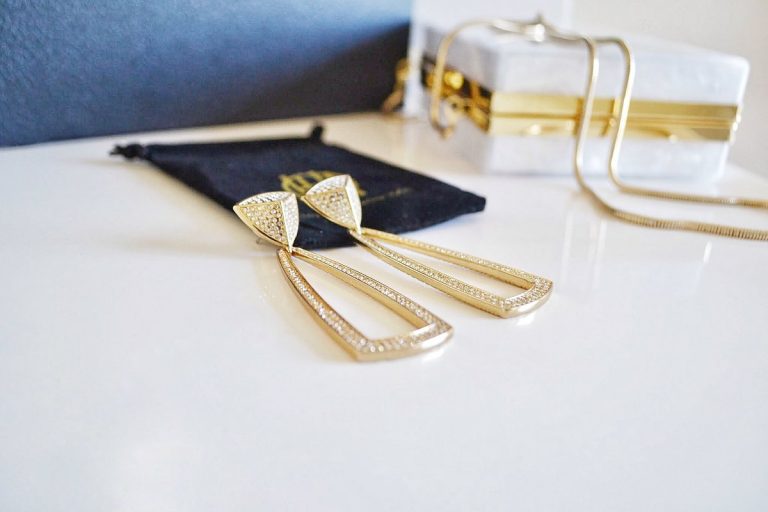 The earrings themselves are beautiful. Because they aren't sold on the House of Harlow 60 website, I can't find information about whether they are plated with real gold or not. However, they look high quality, and have the perfect amount of sparkle. They are slightly heavy on the ears, but less than I was expecting.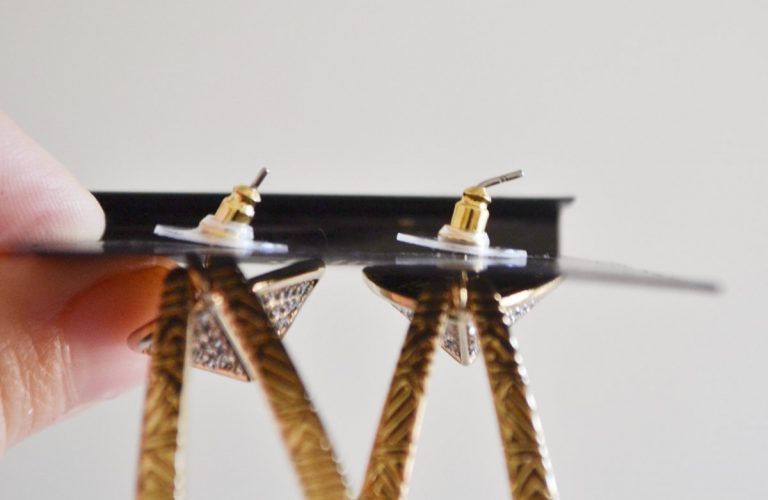 Unfortunately, the earring posts arrived completely bent. I read some reviews of the Winter box online, and dozens of people are saying that their earrings arrived bent too. One person even claimed that they contact customer service, who told them that the posts were supposed to be bent. I have a really hard time believing that the bent posts were intentional. Look at the earring on the right in the photo above. This post was so bent that it took me about five minutes to take the back off! I was able to straighten it out most of the way afterwards, but it was a pain and this was technically a damaged product.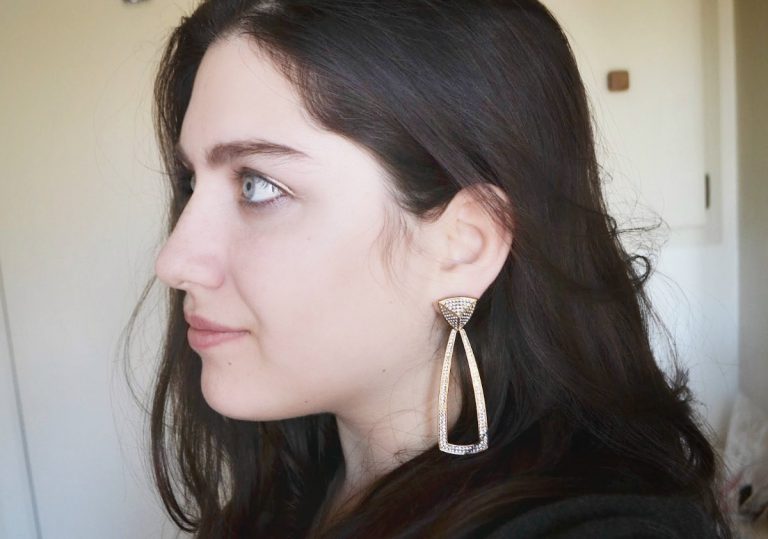 Even though the posts were bent, I still really like the earrings. These would be perfect for a New Year's Eve party!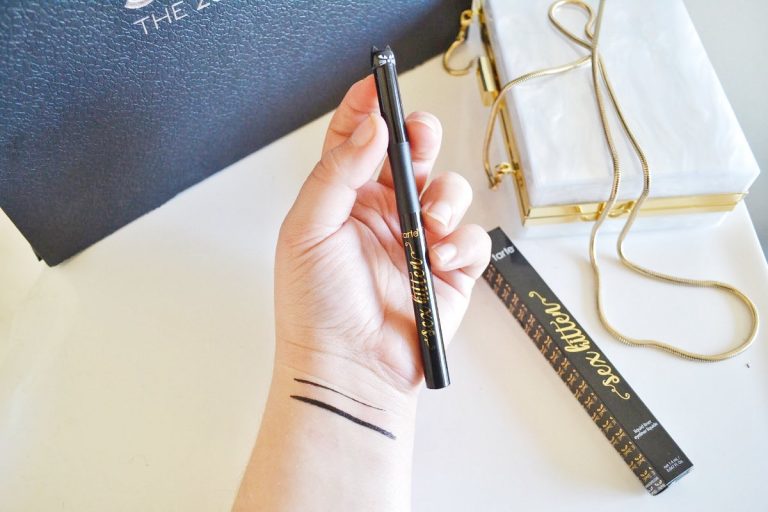 The next item I received was a Sex Kitten Eyeliner from Tarte. Tarte is one of my favorite makeup brands, so I am always very excited when I receive one of their products in a subscription box. This is a felt tipped liquid eyeliner that retails for $20. The packaging is too cute, and even has an adorable kitten head at the top! Felt tip eyeliner is my favorite kind, because it makes it so easy to get a precise line. This is jet black, and smudgeproof. It is also supposed to be waterproof, but I found it came off quite easily with water. Most waterproof eyeliners don't come off easily unless you are using some sort of cleansing oil.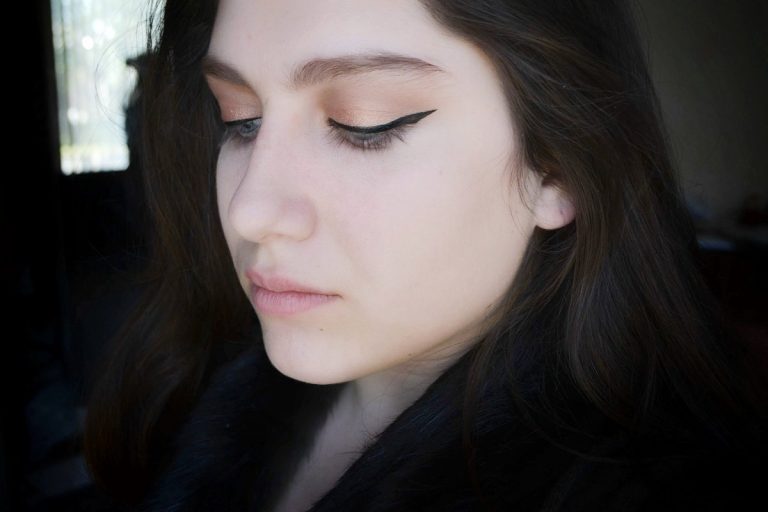 I am not really great at doing winged liner, but the Sex Kitten liner made it look better than it normally does. I am in love with how jet black it is. It also glides on smoothly, and doesn't skip on the lid at all.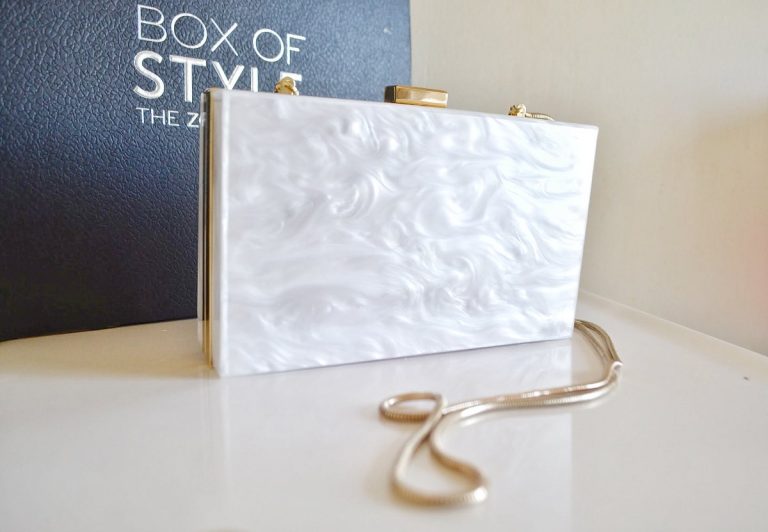 Next, I received a Box Clutch, which was designed by Rachel Zoe exclusively for Box of Style. Subscribers could choose between this pearly white color, or black. This has a retail value of $115. In my opinion, it isn't worth $115. It is made of plastic, has no liner or compartments on the inside, no logo on the outside, and looks like something I could get for $15 at Forever 21. Don't get me wrong, it is very cute. But it isn't high enough in quality to warrant a $115 price tag. Again, this was exclusively made for Box of Style, so I feel like the high price is to drive up the value of the box.
Box clutches really aren't my style anyway, so I will probably end up donating this purse.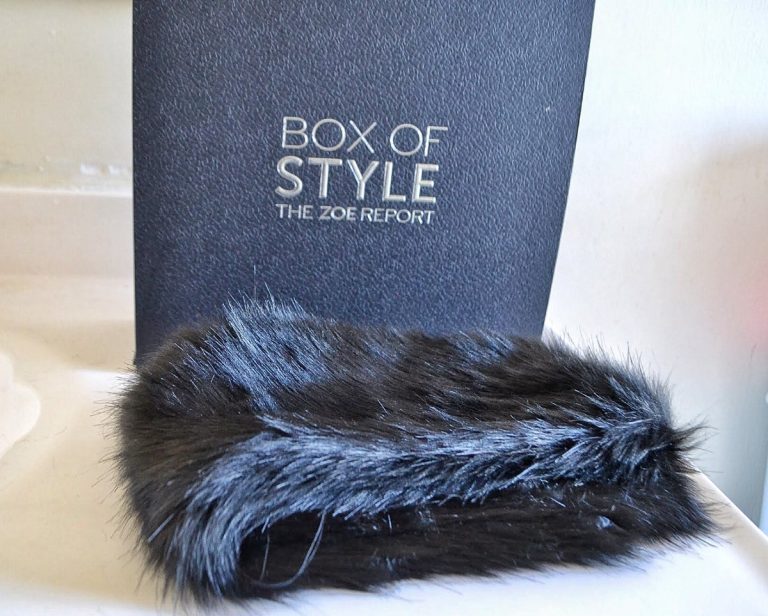 I also received a faux fur stole from Unreal Fur, which retails for $85. This is one of my favorite items in the box! I was so happy to see that it is not real fur. It keeps my neck warm, and instantly glamourizes any outfit. You can wear it open over a coat, or threaded like a scarf with any outfit.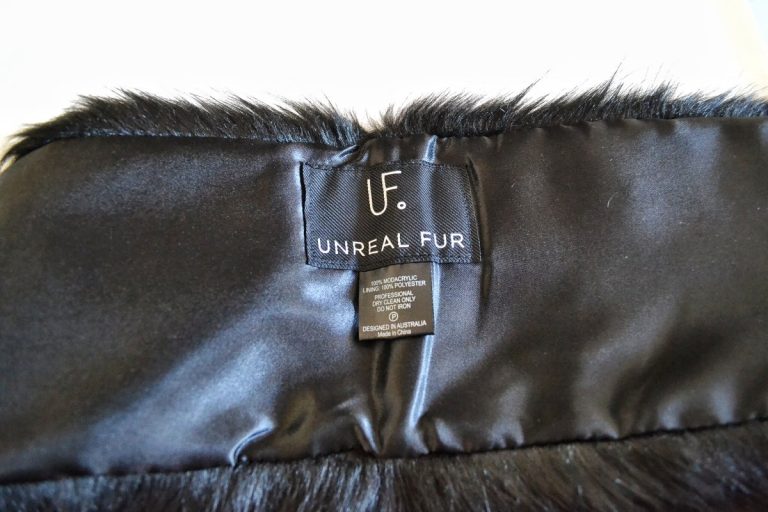 As you can see from the tag, the stole is 100% polyester.
I think this stole looks absolutely gorgeous, and is a great option for anybody who doesn't want to contribute to the inhumane fur industry.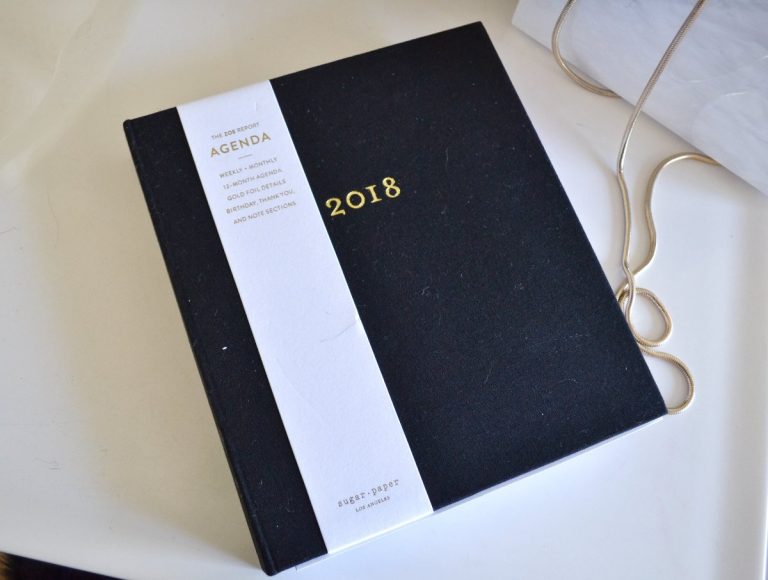 The final item I received was a 2018 agenda. I love planners, and I was actually going to purchase one for 2018 soon. I was glad to see this in my box!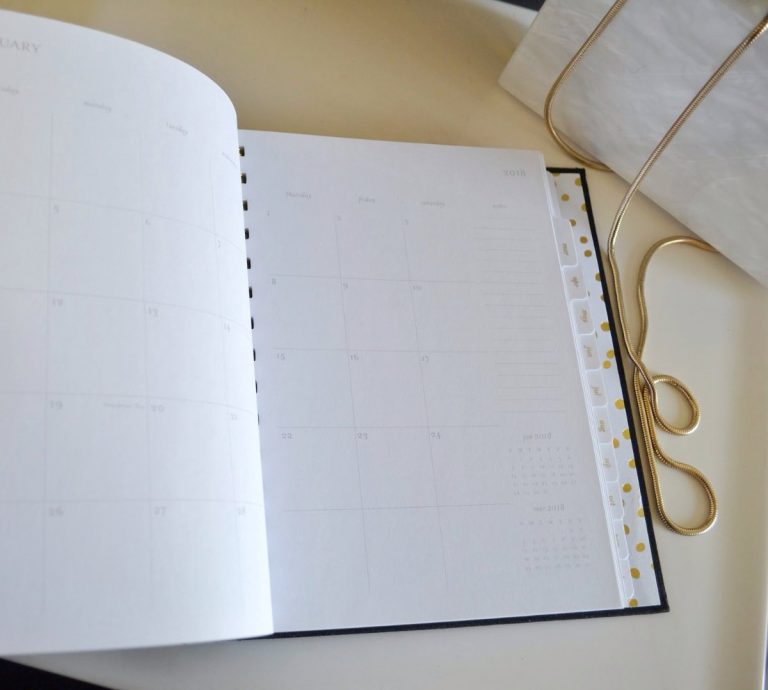 The inside has very cute gold detailing. The months are tabbed, and each section has a page for notes, and a calendar. My only issue with the agenda is how faded the words are. It is very hard to read the dates, and from a foot away the page almost looks blank. And I have good eyesight! Perhaps it was meant to be stylish, but it really took away from the practicality.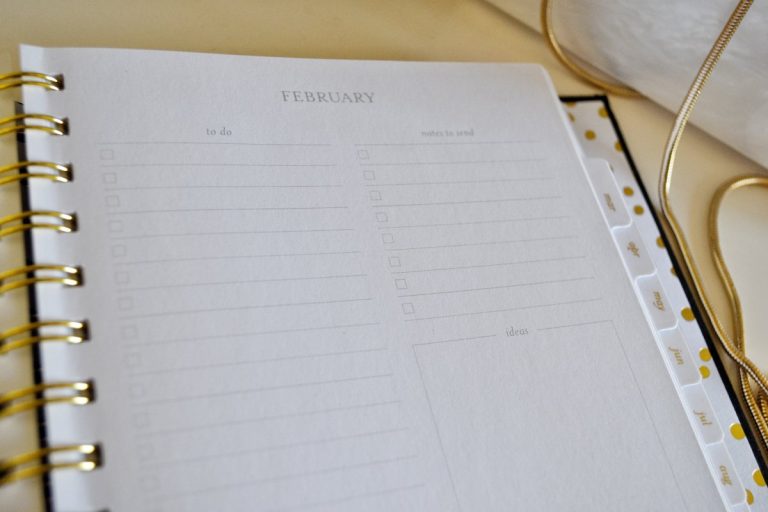 As you can see, it is still very hard to read even if you are up close to the page. I will still use the agenda because I needed one anyway. I don't hate it, but I don't love it.
Those are all of the items I received in this month's box. Keep reading to see my verdict!