Brick Loot is a subscription box for children who love creating with LEGO and Brick. Each monthly subscription has unique, custom, and never-before-seen creations which work with LEGO and custom building projects. Each Brick Loot subscription box delivers 4-8 items hand-curated by Brick specialists who scour worldwide for the latest and greatest features. With today's Brick Loot review, we're unboxing the Brick Loot August 2016 box.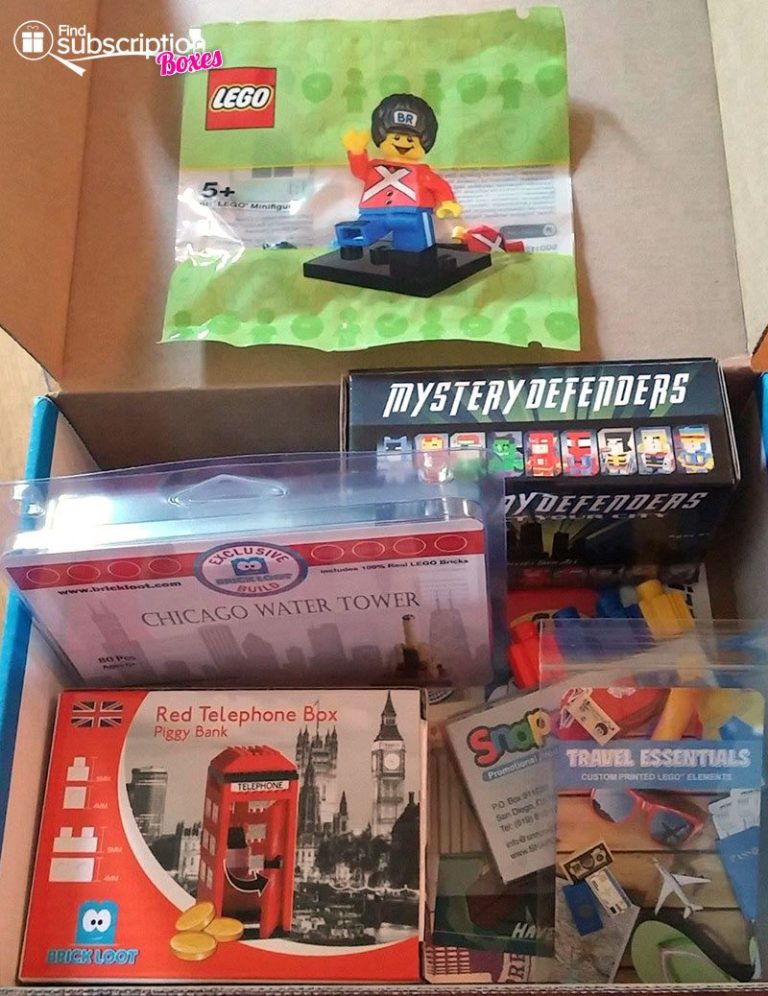 The Brick Loot August 2016 LEGO and Brick box theme is "Have Bricks Will Travel." Our creator was excited to find seven items in his box, plus a sticker of the theme, because he has a collection of buildings made from various brand of bricks.
The first item is the Chicago Water Tower, an Exclusive Build designed by Rocco Buttliere. All of his skyscraper and landmark models are built to a common 1:650 scale.
The next item is a Red Telephone Box-Piggy Bank. The red phone box is a British cultural icon. This item is made with miniature bricks, and with a hole at the top and a door which opens, it can be used as a bank for a little loose change.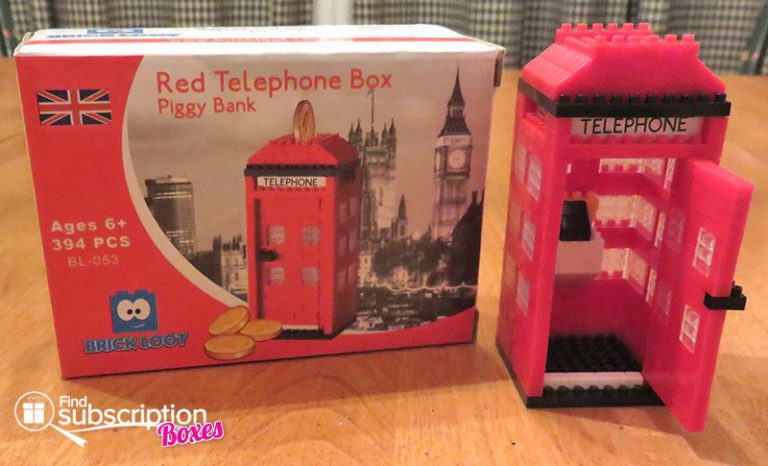 Handling the tiny pieces of the red telephone build may require a little more dexterity.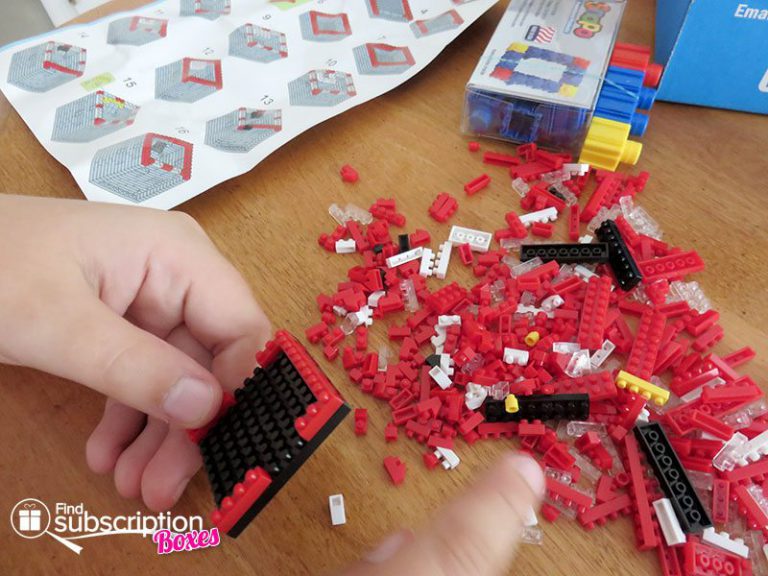 The BR Lego Minifigure is 100% genuine Lego and depicts the mascot for the BR Toy Store. It's a rare 2013 collector's item released to celebrate the 50th anniversary of the Danish Toy Store.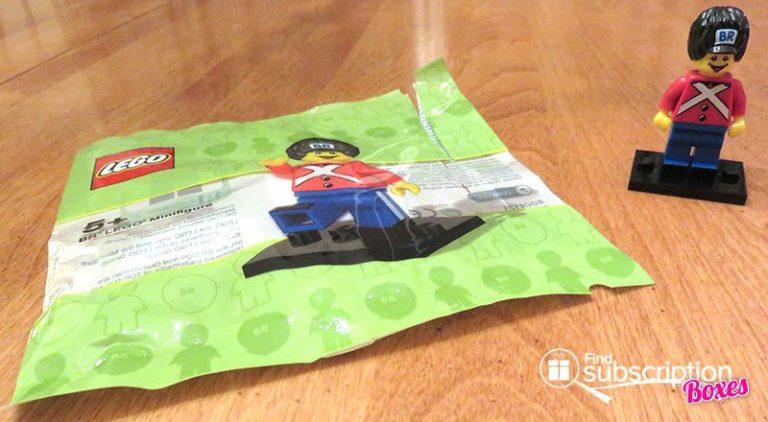 The Travel Essentials Tile pack has four tile bricks printed with passport, cash, and ticket images designed and printed by United Bricks.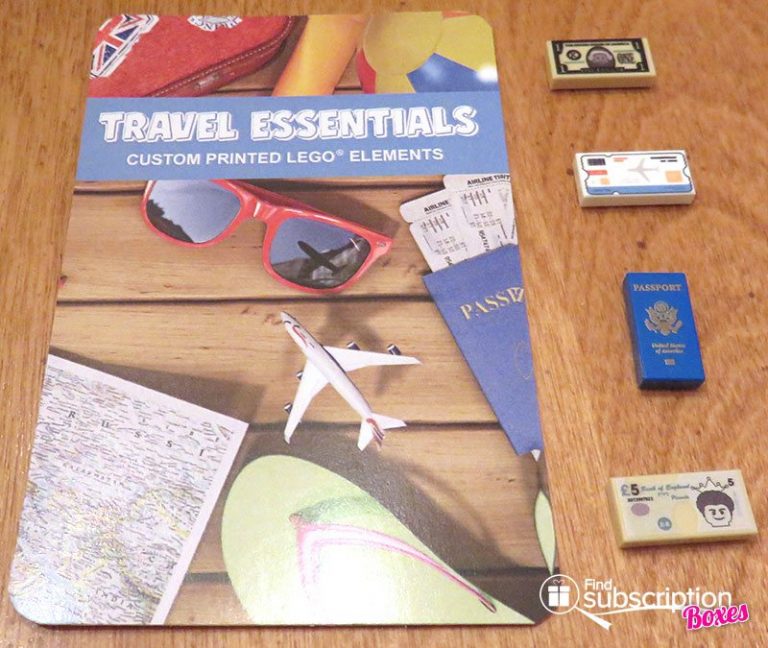 The Mystery Defenders box contains the parts and directions to make one of the super heroes pictured on the front. Each box contains one mystery character.
There's an exclusive art print by Felix Winter, a Lego fan since 2007, and creator of Lego art for the past year.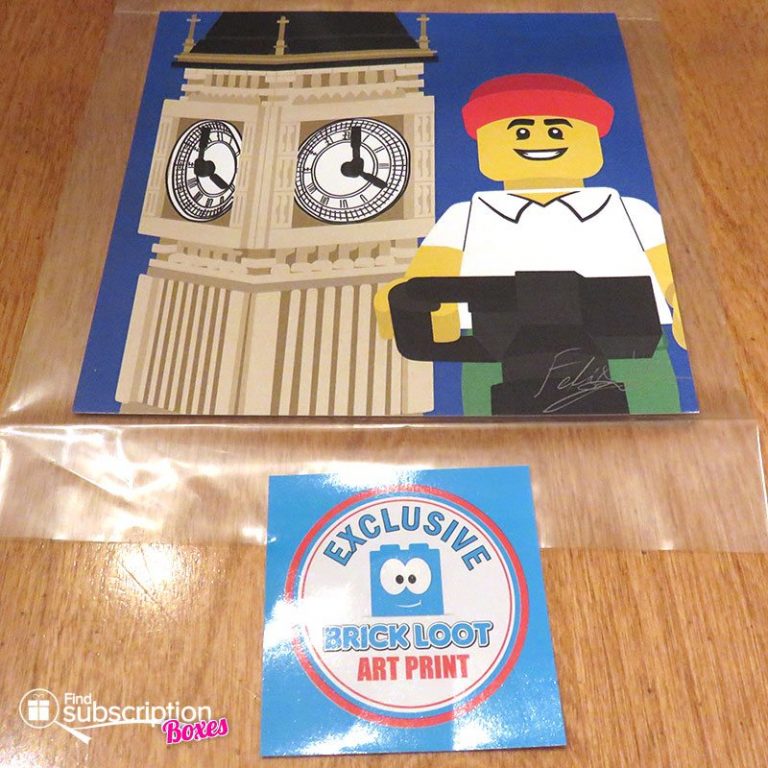 A fun Snapo sample pack contains pieces which "snap" together in multiple directions and all sides so the builder can create whatever is in the imagination while expanding spatial and fine motor skills.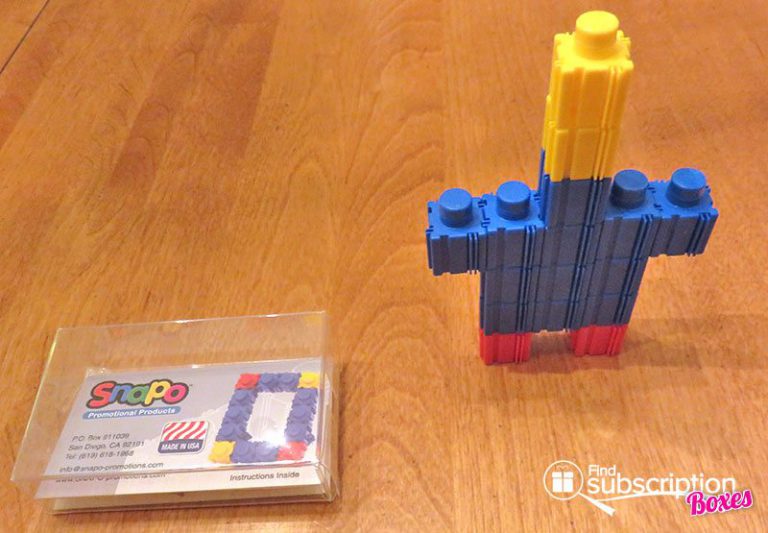 The "Have Bricks Will Travel" sticker is nice for the collector. It reminds us of all the places one can travel while creating and building with Brick Loot.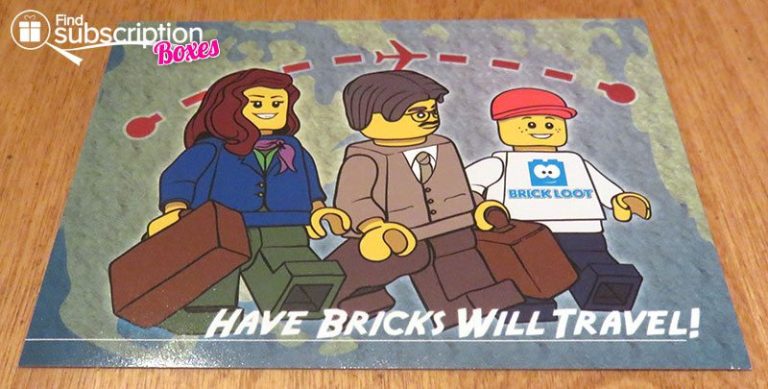 Brick Loot August 2016 Review Wrap-Up
Our builder had fun this month with all of the creations included in the shipment. The theme was nice for the end of summer, and the collector's items are wonderful for the long term. The Brick Loot boxes are geared for anyone ages 6+ (yes, adults, too). Each month's contents are a surprise. Subscribers can choose from several subscription plans and gift options.
Brick Loot Coupon Code
Exclusively for Find Subscription Boxes readers, use Brick Loot coupon code FSB10 to save 10% off any Brick Loot subscription!