Brick Loot is a box subscription company for LEGO and Brick fanatics! Subscribers will receive a monthly box filled with unique, custom, and never-before-seen items that work with LEGO bricks and custom building. Each month the Brick Loot box is filled with 4-8 items that were hand picked by Brick specialists who scour the world for the newest and coolest products for you to collect.
The November 2017 box was full of goodies! This months theme was all about the SWEETS! Sweet bricks & Sweet Pete were the highlight of the box.
Sweet Pete's mini city Candy Shop is way too cute! Sweet Pete's is not only a famous candy brand, but they have a CANDY MANSION as well! It's the largest candy mansion in the United States. You LEGO city NEEDS a candy shop!
My kids were especially excited to see the Candy Tray in the box. Who doesn't love gummy candy? We can't wait to make Sweet Pete's special gummy recipe which was included in the box. We also plan on using it as a jello and ice mold.
I am currently looking for a frame to put the exclusive art print by Greg Hyland in. The kids are beginning to decorate their room in LEGO and this is the perfect addition. We love the zombies chasing Sweet Pete!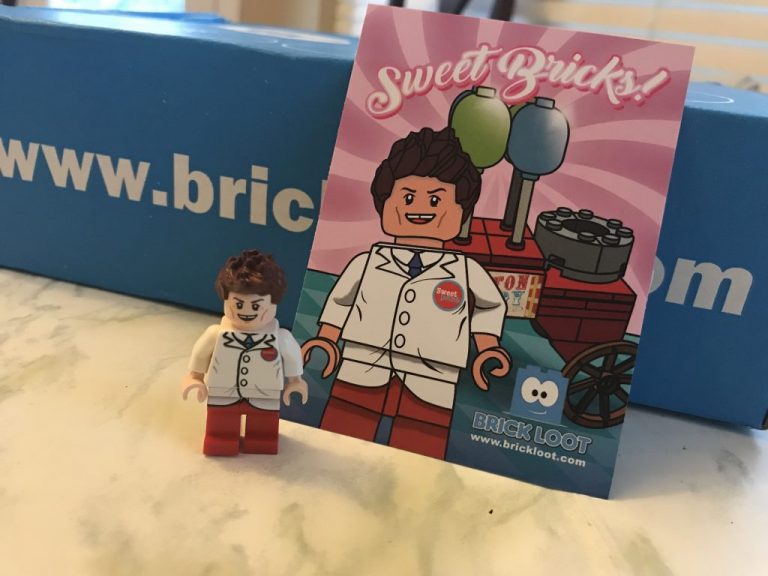 The mini figure in this box is none other that Sweet Pete himself! It is a 100% custom LEGO mini figure. Peter Behringer is the owner of Sweet Pete's. He was raised in the chocolate industry and his colorful, handcrafted candies have become quite famous. He was featured on the CNBC hit reality series The Profit. Today, Sweet Pete's sells over a thousand different types of candies with five stores across the USA.
The box included a sweet discount coupon code to use on an order from Sweet Pete's candy shop as well as a discount to the Brick Loot Magazine.
You may just have a craving for cotton candy, lollipops, ice cream and chocolate by the time you are done drooling over your new Brick Loot Box!
We can 't wait for next months theme. While it may not be quite as "Sweet" we know it will be SUPER AWESOME!!!
Brick Loot boxes are for ages 6+. We know that there are some LEGO & Brick crazy adults out there that would love this box!
You can choose a one month, three month or six month subscription to Brick Loot. Each month promises awesome items every month, a great value and a thrilling surprise every time you open your box.
This would be a fabulous idea to gift someone for Christmas. Treat yourself for someone you love!
Happy Building!